The wedding season is here and with this starts the endless parade of Sharmaji's son and Agarwalji's nephew and duur ki bua ka beta – each of who you could possibly marry and pop a few children with. Your parents wouldn't have it any other way- because hey, your best friend got married and her friend got married too and their mutual friend even had a kid in less than a year from her wedding date… WTF…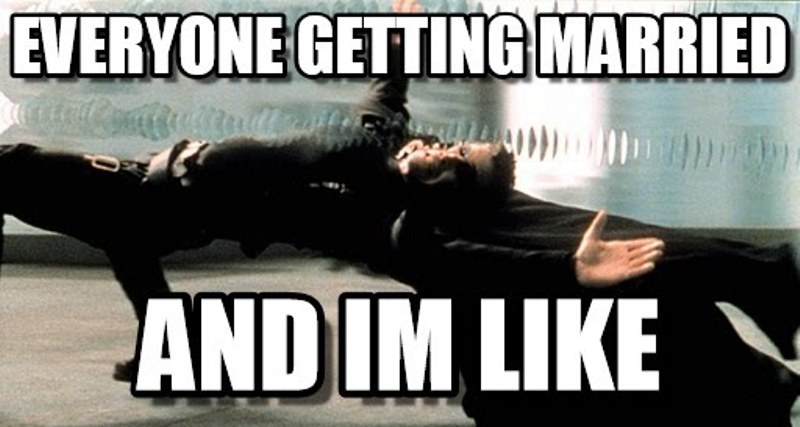 Image source: bodybuilding
And the only thing you want to say in the midst of this gripping 'marriage' fever is- seriously, who wants to do marriage? Marriage is an overrated institution in our society. Why, you ask? Because..
1. Where's the freedom
Once you tie the knot, you tie yourself down. Gone are the days of short dresses, long parties and even longer hangovers..
2. The drama
Ever been to your sister's sasural? I bet you know the drama I am talking of.
3. The *aadarsh* bahu epidemic
Ever since Ekta Kapoor eternalized the aadarsh bahu, these mountain sized expectations have been striking down far too many of us.
4. The (un)relatives
Oh, no point trying to count how many extended relatives you will have. Also, you need to send them gifts on their birthdays, anniversaries and it's-just-another-Monday-thinking-of-you!
5. The mother-in-law
Now, c'mon people- this species is the b*tt of all jokes for a reason!
---
Suggested read: Awesome ways to dodge your parents' questions
---
6. That sister-in-law
Oh! God bless you if you are married in the typical Rajshri-type family with the all knowing sister in law. She is going to instruct you about everything from the color of your bed sheet and the length of your hair. Muft..muft..muft..
7. Tears and traps
With Ekta Kapoor letting the women of the household in on lethal saazish secrets, you can expect to be morphed into a tear-producing machine.
8. Toilet seats are never the same
ENOUGH SAID.
9. Deadly dishes
This one never ends really. Keep washing the dishes. What did I grow up for? To get diploma in being a maid. Clean sink… turn around… another pile- seriously, it's magic!
10. Stop the stalking
No one lets a married girl stalk her crazy crushes! FML…
11. Changes, changes, and some more changes
Ever heard 'thoda aur…' Well guess what- this 'thoda aur' will continue until there isn't 'aur' life left in you..
12. Killer kitchen
Every day, you will wish to burn your kitchen up in flames. Every single fu*king day!
13. The wrong guy
This may happen. *chills*
14. Chaar log
They're gonna pop every two seconds once you're (un)happily married.
15. The *aspirin* ceremony
When your hard-earned money goes down the drain in feeding 500 guests who care little about your marriage and more about what you have NOT put on your wedding menu, you will know what I'm talkin'of…aspirin?
---
Suggested read: 8 dating habits that will cost you big time!
---
16. Two to three
You're barely going to be in your first year of marriage and dearest daadi will like you to pop some great grandchildren. A teeny tiny tot popping from your vajajaa… sounds fun, isn't it?
17. Can't check out other guys
Imagine giving up on all those smoking hot guys that put your heart in your eyes..Damn..
18. Because the society really sucks
One reason why marriage isn't as sweet is because of the society we live in. Terrible people and terrible traditions. F**k the s**t.
19. Marriage isn't necessarily love
With so many couples married but not in love, there's no hurry to get hitched because a lifetime is a long time to spend with someone we barely know!
20. Where's the fun
In all these reasons, one thing that stands out unanswered is- where is the fun…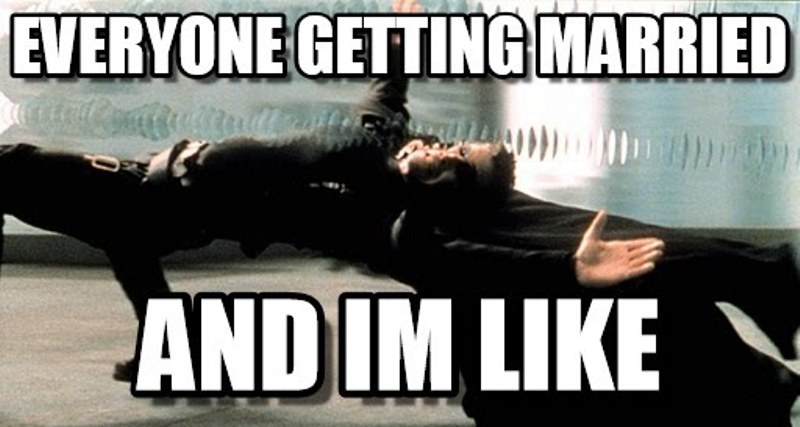 Image source: bodybuilding
So, why tie life when you could fly through life? 😉
Featured image source: memegenerator
Summary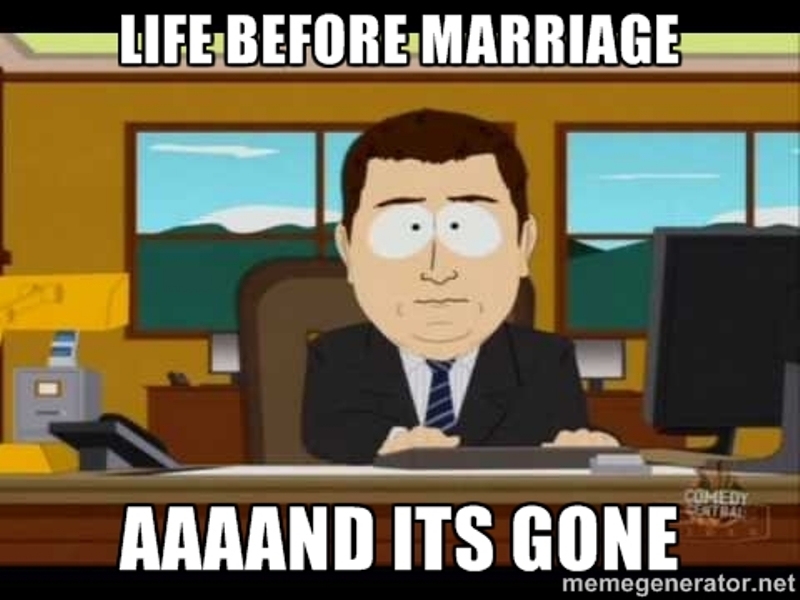 Article Name
20 Reasons Marriage Is Totally Overrated
Author
Description
Life before marriage - Oh yeah! Life after marriage - Oh NO!