Red roses are timeless. There is something about their LOVE-ly beauty that makes them rank high in every bride's list. After all, it is the one day in her life when she can cover just about anything in roses and peonies and nobody would be thinking she's gone OTT!
---
Suggested read: 75 summer wedding ideas that are too HOTT to miss!
---
Having said that, this iconic symbol of love and beauty – the red rose – can do more than just adorn wedding bouquets! After all, red roses don't have to just sit there by themselves, looking pretty! There's so much more one can do with red roses! Especially so when red roses are going to be the face of the wedding! And to that beautiful end, we have rounded up some of the most elegant ways to incorporate these classic beauties- red roses- on the D-day:
1. Use red rose wedding escort cards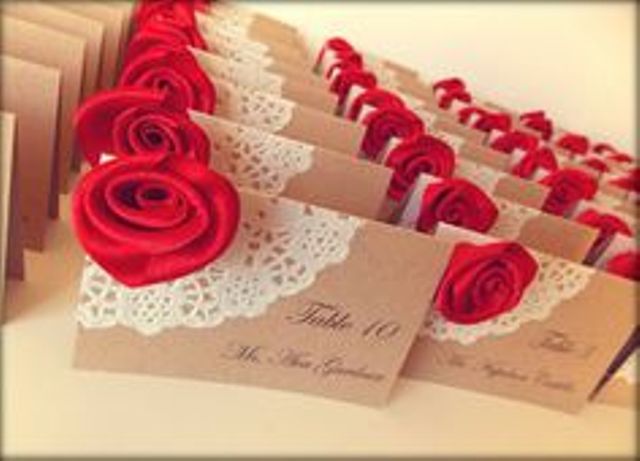 Image source: Pinterest
Add some LOVE to your wedding escort cards with fresh red roses. They are sure to warm up each heart that enters your wedding venue!
2. Use red roses to adorn your seating chart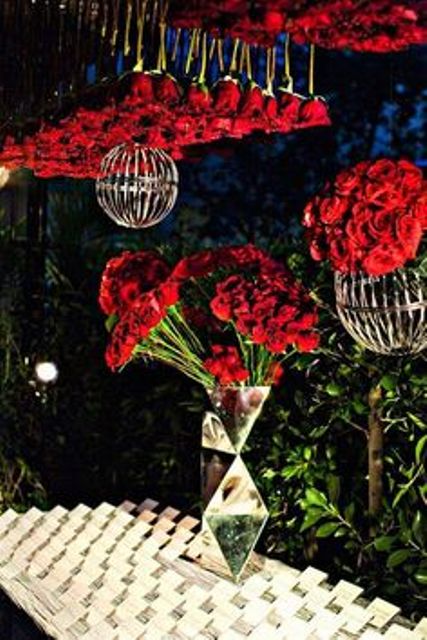 Image source: Pinterest
Your seating arrangement plan can be adorned with lovely red roses arrangements, with branches bursting out or some dramatic additive elements like crystals, pearls, stones or even some other blossoms, so every guest who'd definitely stop by the seating plan shall be impressed by your taste!
3. Include red rose balls as part of the wedding décor
Image source: Pinterest
Red rose pomanders with some roses in complementary hues carefully strewn in are a delight to watch! They are the most simple, yet elegant of décor elements and can make for wonderful allies with crystal droplets, pearl curtains, light banners, monograms and other decorative elements.
4. Use red rose hanging aisle markers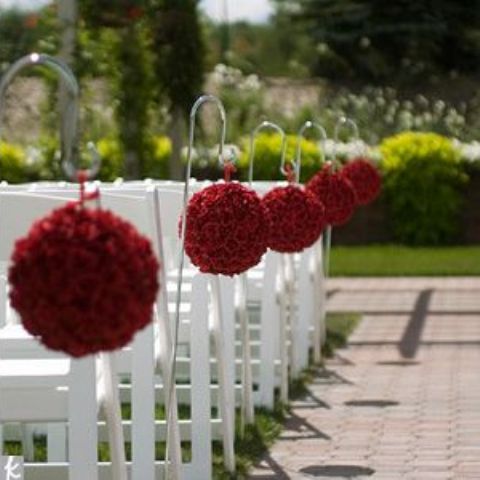 Image source: Pinterest
Using red rose arrangements on long aisle markers, with the blooms hanging off the top is a cheerful way to greet your guests. Nothing says welcome better than a bunch of red roses, smiling in greeting.
5. Have the groom wear red rose boutonnière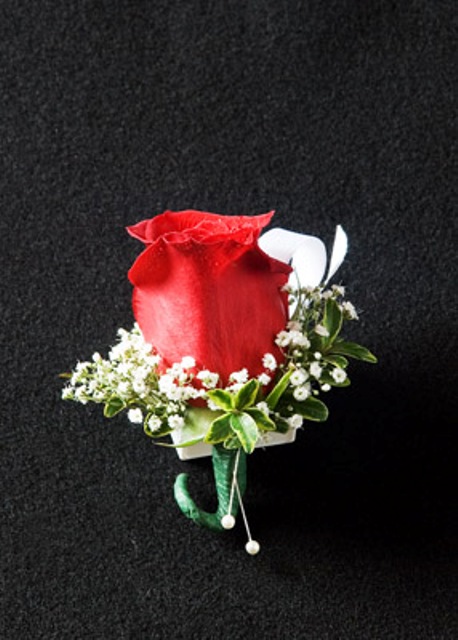 Image source: Pinterest
A pop of red on the groom's ensemble accentuated with other seasonal blooms or berries, tied with some yellow-orange leaves and buds can make for a striking impression. After all, who said the 'I do's need not be bathed in the rosy fragrance!
6. While you can include them in your bridal bouquet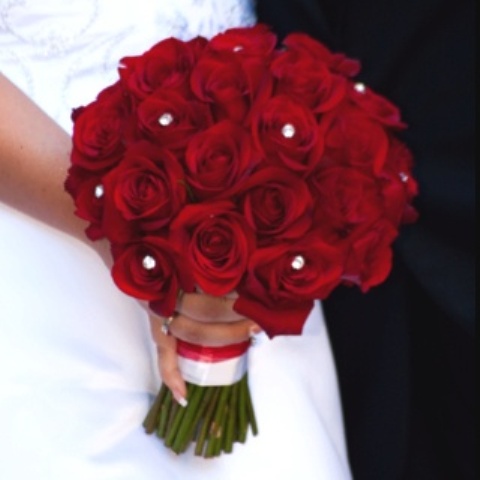 Image source: Pinterest
A classic bunch of red roses is a timeless bridal accessory. But if you are a bride who needs to mix some edgy delight to her blooms, opt for some hydrangeas, lilies or even king proteas and get set to have all eyes riveted on you!
7. Have cascading red rose arrangements on centerpieces, cakes, and fountains
Image source: Pinterest
Cake toppers, fountain accessories, and centerpiece bonanzas are all outmoded. When you can blend it all so well with the roses, why allow anything else. Get your tall vases to hold the bunch of red roses bobs and have the red roses waterfall grace your wedding cake. Let the company of hydrangeas, grapes, and other complementary buddies accentuate the look of the red roses and let these creative mix of florals furnish your fountains too. Add a touch of roses to all the elements and see a rosy smile grace all sets of lips present!
---
Suggested read: Here's how to make your wedding ceremony more meaningful
---
8. Have the bridesmaids wear red rose wedding corsages instead of holding bouquets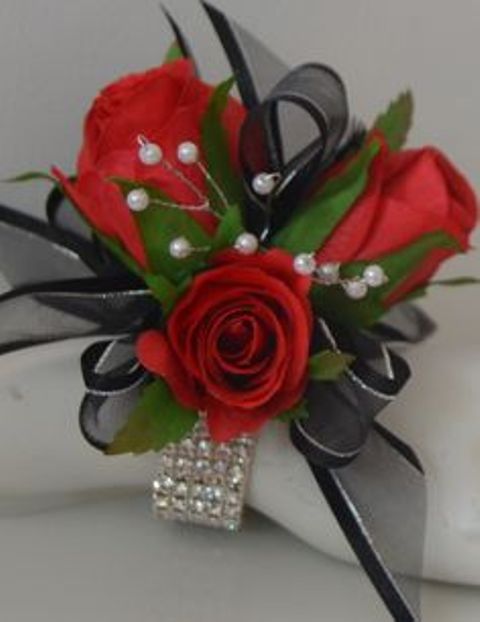 Image source: Pinterest
Having your bridesmaid wear corsages strung from red roses and pearls instead of opting for the traditional bouquet shall not only make a great impression but allow your own bunch of red to pop with extra flair! Win-win!
9. Use red rose floating centerpieces to add a romantic touch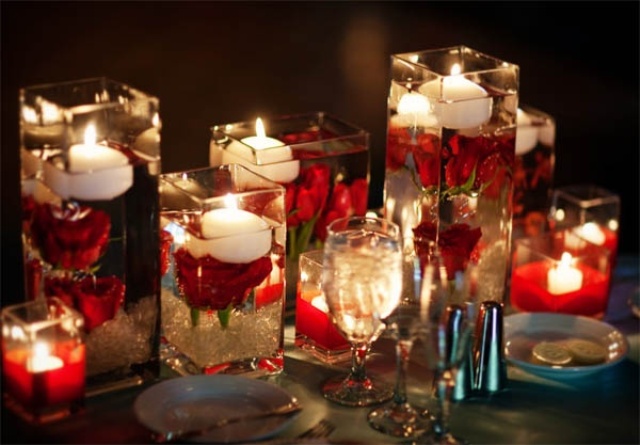 Image source: Pinterest
Floating rose petals with candles or simply red rose pomanders with strung vines atop tall glass candle holders are a sure way to rev up the romantic feel of your venue.
10. Make a wedding aisle rose carpet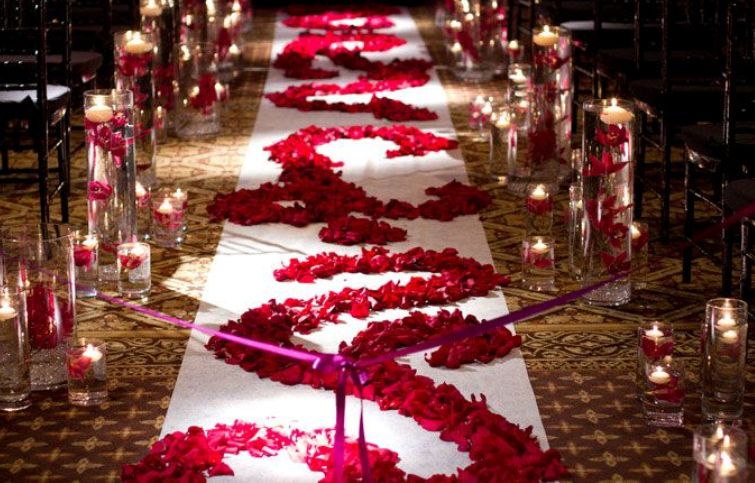 Image source: Pinterest
Laying down a lavish rose carpet for you to walk down the aisle lends an ultra-luxe touch to your journey towards your 'I do's. What could be more magical than floating down a rose-strewn path to a lifetime of happiness!
11. Use the red roses on the chuppah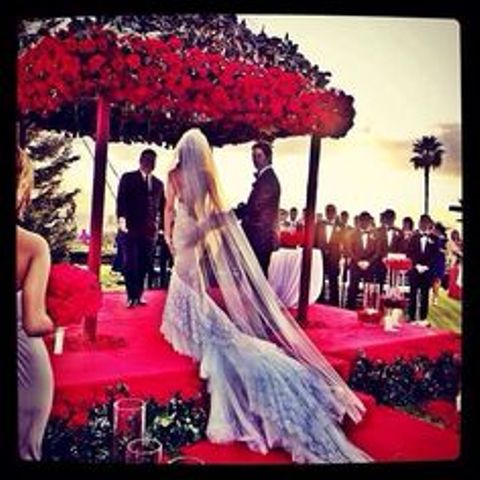 Image source: Pinterest
Create a rustic and romantic look on your chuppah by blending the red roses with sedum, hydrangeas, and scaling vines. You may alternatively opt for red rose pomanders, red rose bouquets, red rose heart arrangements, red rose artwork or even some LOVE-filled messages spelt out by red roses. Make sure to pick the companions of the roses well and you will make a striking statement.
12. Or on the chandelier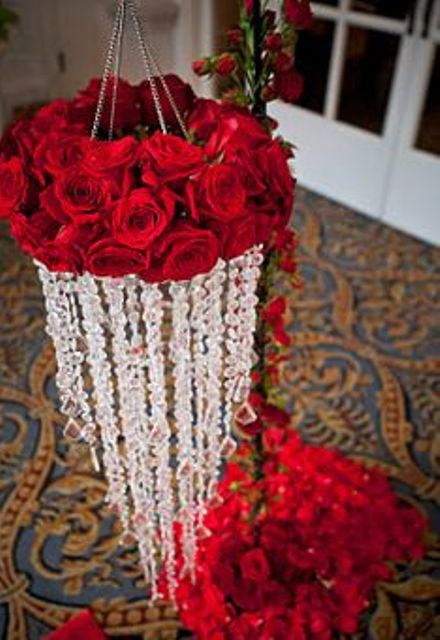 Image source: Pinterest
This one does not even need to be spelt out, does it?
13. Make a red rose photo booth backdrop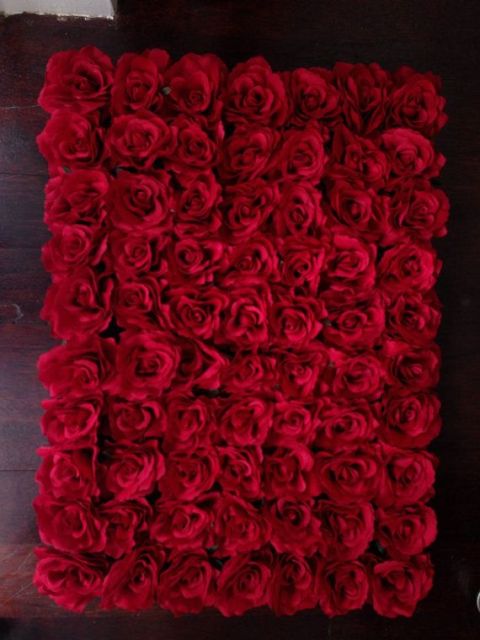 Image source: Pinterest
Red roses will make for a dramatic backdrop for people to capture memories. Let the magic unfold!
14. Use red roses as chair decorations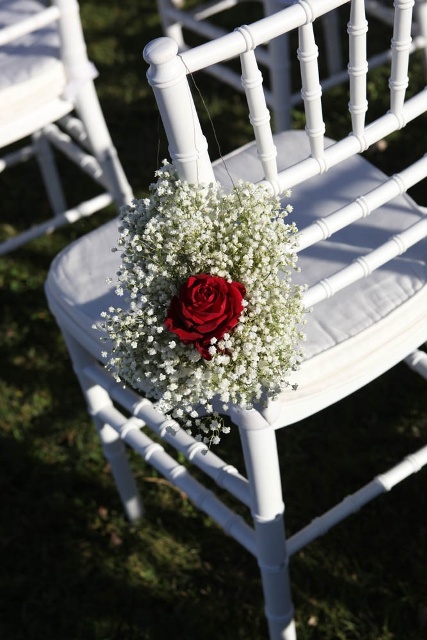 Image source: Pinterest
When paired with some simple leafy greens and a satin bow or berry vines, red roses can add an amazing element of color and drama to the rental chairs. You can also make the chairs of the bride and groom's parents replete with more lush arrangements and the ones for the couple, dressed in red roses!
15. Use red roses to create some wow-worthy installations at strategic places in the venue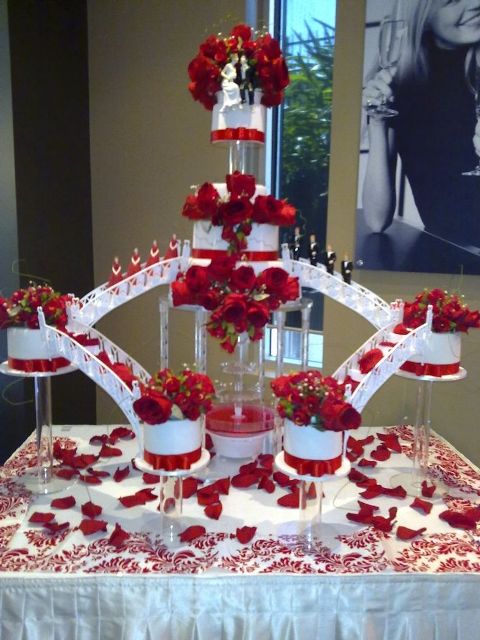 Image source: Pinterest
Mirrored vases, sequined tablecloths, candle holders, entrance signboards, the lamps, centerpieces, vases, suspended glass orbs can all be blended with red roses to give the wedding a coherent theme and structure. The dark red roses shall lend extra credence to the romantic vibes in the milieu and lush, glam versions of red rose arrangements can be installed/combined with all of the above and more to achieve the effect.
---
Suggested read: Want to make your wedding memorable? Here's what to do..
---
16. Wear roses in your hair
Image source: Pinterest
A bride has endless options when it comes to stringing those red roses in her hair. Whether she is opting for a coronet, or wearing them in her side bun or simply using them as adornments on her braid, she will be tressed to impress!
17. Use red roses on your wedding ride
If your wedding ride has been specially arranged to give you a princess feel, why leave red roses out? Decorate your chariot or carriage with red roses or simply let the blooms make their way atop your limo with flowing net weaves sashaying down the sides with stuck individual flowers. It's your day! Bloom with the blooms!
18. And don't forget the rose confetti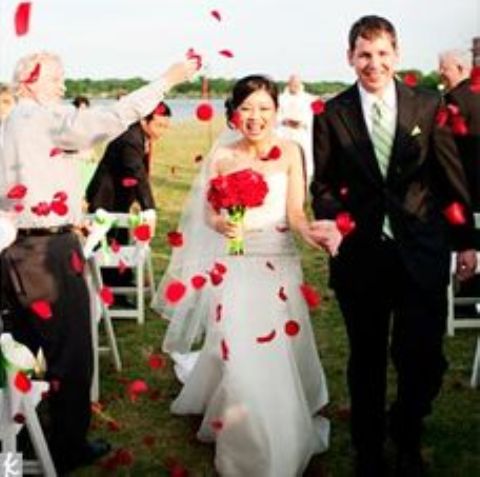 Image source: Pinterest
Yes, the red rose confetti still beats the sparkler, glitter, bubble, and other send-offs. However, mix the rose petal confetti send off with sky lanterns and you have a winsome idea!
19. Integrate roses with the menu too
Image source: Pinterest
Have roses grace the chinaware or float about in pink champagne, cocktails or even fruit punches. Sugared rose cookies or rose pastries are a good way to blend the food into the theme.
20. And well, can you leave out your bridal suite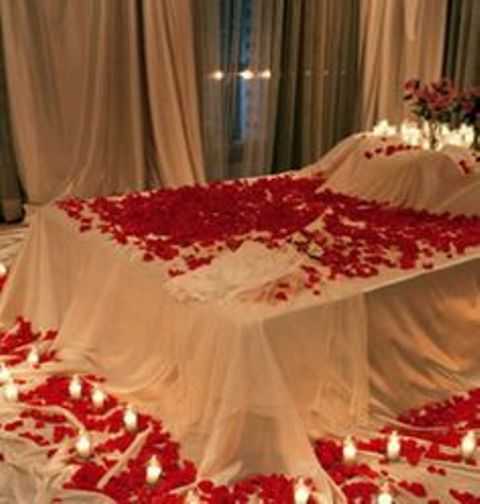 Image source: Pinterest
And we just couldn't help this one. Make your way to a bed full of roses!
Go all the way, dear! We are giving the red roses brides a thumbs up!
Featured image source: Pinterest
Summary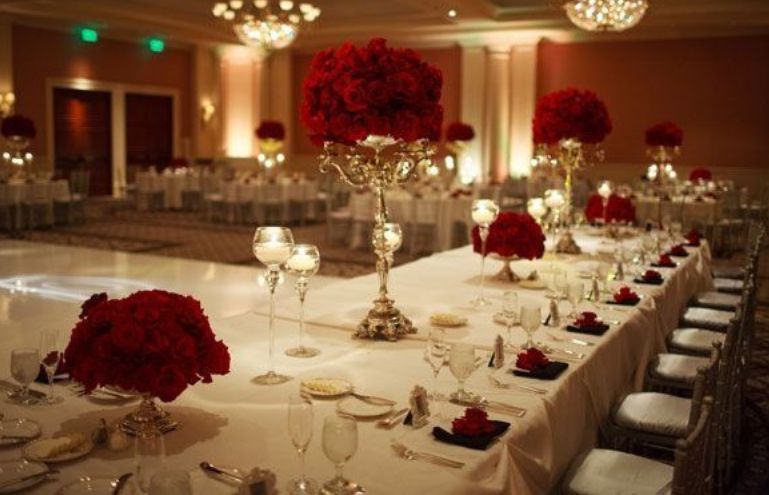 Article Name
20 Elegant Ways To Use Red Roses In Your Wedding
Author
Description
Red roses are timeless beauties. Using them as the face of your wedding can never grow old! Here are some gorgeous ways to use them for your D-day.