That Harry Potter themed wedding that you always wanted to host isn't a dream anymore. What if I tell you that you can have a live 3D projection of a deceased one on your big day, letting you share the most important moment of your life with them? With virtual reality, you can do the impossible and change your idea of a perfect wedding.
Do you want to have the kind of wedding that would be remembered by everyone for the years to come? If your answer is "yes", then you have certainly come to the right place. We have handpicked some of the best virtual reality tricks that can help you give your guest a whole new experience. Not just that, with these modern tools, you can also remember your big day in an unforgettable way. Don't hold yourself anymore and step into the future with us. Give your wedding a personal touch and move past those age-old invitations and wish jars.
---
Suggested read: 10 cheeky tips on how to keep yourself entertained at a boring wedding party
---
1. Click 360-degree pictures
This is one of the best ways to have an everlasting memory of your big day. You can either request your friends to click 360-degree pictures or even insist the wedding photographer to click more pictures like these. One simply needs a mobile phone and an app to click 360-degree pictures. There are a lot of devices that have an inbuilt 360-degree camera as well.
It is the latest trend in social media as well. With the introduction of the new 360-degree Facebook photos, one can certainly capture a moment in all its glory. These pictures will let you have a complete look at your event without any trouble. Click a few of these images by yourself and you will see the astonishing difference.
2. Host VR PlayStation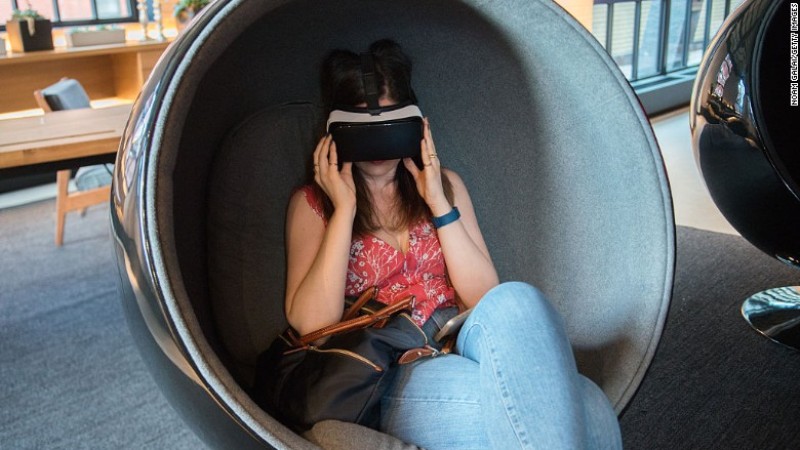 Image source: turner
Instead of letting your guests simply wait or look around, why not come up with something to keep them entertained? You can create mini pods or small PlayStations to let them have a great time. Weddings are a great opportunity to meet new people. While extroverts might simply ask each other over a few drinks, why not give those gaming nerds and introverts a chance to have their own date. Let them pair together and capture an empire while playing a thrilling game.
3. Create a VR storyboard at the wedding
Do you like to share the story of how and your partner met with others, but in a different way? Why not take the assistance of virtual reality and create a personalized storyboard. Let others experience each and every moment of it. Of course, you don't have to give away everything! Just weave an interesting story by collecting your favorite pictures and videos together. This will allow your friends and family members to be a part of your story on your wedding day. You certainly can't ask for anything better than this, right?
4. Send VR invites to your guests
Move over those simple invites and tease your guests with the kind of revolutionary wedding that you are about to host. Record a video invite and mail it to your friends with those readily available 3D glasses. This will let them know how particular you are and they won't be able to stop themselves from coming to your wedding. Not only it will help you save big, but will give your guests something to look forward to as well. Go green and stop following the old fashioned tradition of printing your wedding invites.
5. Instant RSVP
Okay! This is not a direct VR implication, but when you are sending your wedding invite, have a mechanism that will allow your guests to RSVP without facing any trouble. They can simply click the desired action which will let you know their response. You can just add a Google sheet as well in the mail that will make it easier for them. They don't have to go through all that trouble of answering no to an RSVP without feeling guilty.
---
Suggested read: 9 terrible wedding planning tips you MUST avoid at all costs
---
6. Broadcast your wedding
Though people have been broadcasting their wedding for quite some time now, but you can take the help of virtual reality to step up the game. There are plenty of options for streaming your event. One can take the assistance of social media apps like Facebook, Periscope, YouTube, etc. to stream their wedding live. Though, you can also create a dedicated website to stream your wedding in 3D. Ask your viewers to wear special glasses to experience it in the most realistic way.
7. Record HD videos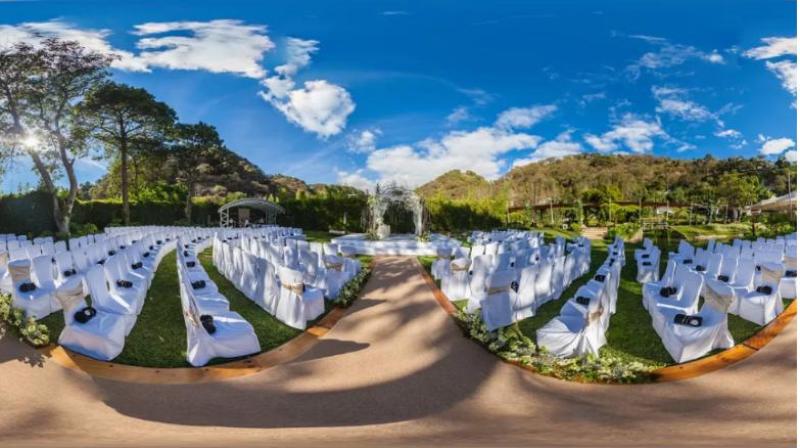 Image source: turner
Not just pictures, you can also create high-definition and interactive videos. They can easily be stored or broadcasted as well. There are plenty of companies out there that will help you record 360-degree videos. This will let you capture every moment of your wedding. In the future, you can simply relive it without any hassle.
8. Create VR wedding albums
Use your 360-degree pictures and videos wisely. There is no harm in having one of those traditional wedding albums. In addition to that, why not come up with an interactive wedding album that would narrate the story of that entire day in a modern way. It might cost you a few extra bucks, but you can easily create a VR photo gallery that would take you back in time to relive that beautiful moment, whenever and wherever you want!
9. Host a futuristic theme
If you are taking the assistance of the latest technology, why not step it up a little and host an entire wedding around it. If a typical fairy tale wedding is not your cup of tea, then why not add a little Star Wars element to it. Virtual reality will make it happen without any trouble!
Let your guests arrive in star troopers and spaceships. Create an overall futuristic theme and give everyone something to remember for a long time.
10. Create a VR 3D environment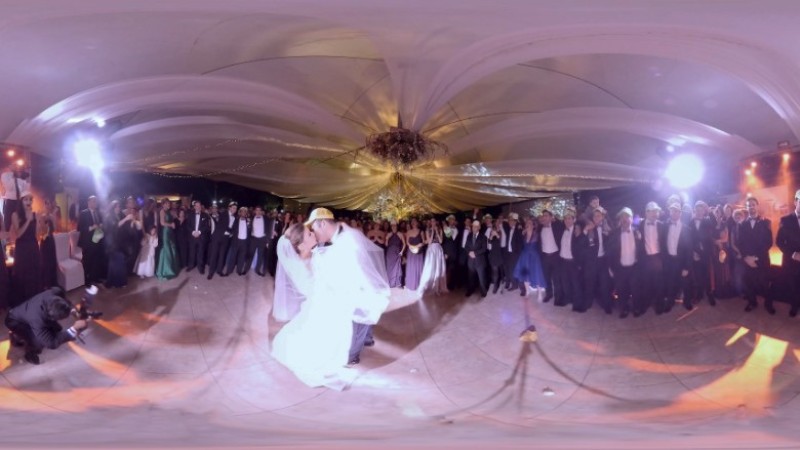 Image source: turner
This is one of the best uses of virtual reality. With some high-end projections, you can change the look of an entire room. Do you want to get married to the love of your life in the middle of the beach or while standing somewhere in the universe? Do you want to convert the entire wedding hall to Hogwarts or would like to take your guests to Narnia? All of this is possible with a 3D environment VR setup.
If you want to have a traditional wedding at the church, then you can have a 3D environment at your reception party as well. This will certainly give your guests something to talk about for days. Not just that, you would be able to live your childhood fantasy. By creating a virtual environment around you, you can be married anywhere you want!
11. Use holographic projections
If you can't afford an overall 3D environment or is hosting your wedding in the middle of the beach or somewhere in the mountains, where creating a 3D environment won't be feasible, then having holographic projections is the next best thing.
Do you want to create a perfect background while exchanging your vows or do you want to cross a river while walking down the aisle? Holographic projections can make it all come true. Instead of converting an entire room into a 3D environment, you can simply add a touch of virtual reality to your wedding. This would look decent enough and will add something different to your big day as well. You can choose something personal and project it during the event to add an element of surprise as well.
---
Suggested read: A complete guide on how to meet someone at a wedding
---
12. Have a virtual presence of a loved one
Weddings can be really emotional at times. If you have a close family member or a friend who is not able to attend the event, then you can always have their 3D virtual reality projection. These projections look almost-real and will let you feel as if your loved ones are present by your side on your big day.
What is so special about these projections is that one can also have the 3D image of a loved one who is no longer alive. If you have lost a close family member or a friend and want to make sure that they stay by your side, then use these projections. If you have lost your father and still want him to walk you down the aisle, then these projections will make that happen. There are only a handful of companies in the industry that can make it happen as of now. These projections look exactly like a real human figure and will let you have a deceased one attending your big day, in its own unique way.
No! It is not a dream anymore. With virtual reality, you can certainly do the impossible. From having interactive invitation cards to bringing your fairy tale theme come to life, the cutting-edge technology can let you make your dreams come true in the blink of an eye. Pick your wedding date wisely and take the help of this new-age tools to make your day even more memorable!
Featured image source: turner
Summary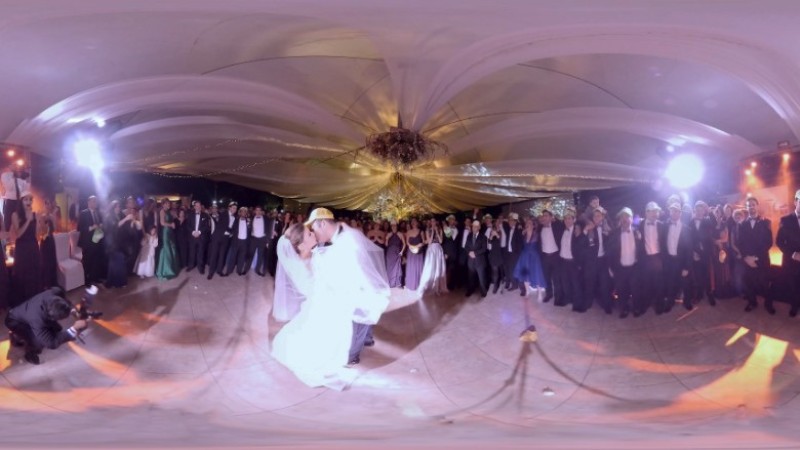 Article Name
12 Clever Ways Of Using Virtual Reality To Make Your Wedding Memorable
Author
Description
Virtual reality is your bae, when it comes to making your 'dream wedding' come true!