Every year, almost ten lakh applicants take up the Indian civil services examinations conducted by the Union Public Service Commission (UPSC), with the hopes of making it to the top. But only about half of them make it to the prelims, and even fewer of these make it to the mains and the final interview round. And then the nail-biting wait happens when the final results are announced. Most years, it's the men who make it to the top, but for the past two years, it's the women who have made it to the top.
While Ira Singhal from Delhi topped the list for 2014, it's Tina Dabi, also from Delhi, who came first in 2015. And the most interesting thing is, this is Tina's first attempt, and she's sailed through it with flying colors!
Image source: ANI
The 22-year-old Lady Shri Ram College graduate was ecstatic, to put it mildly. She said,
"It is indeed a proud moment for me. Patience, focus, discipline and family support worked in my favour. I did expect I would make it to the list because my exams went well, but number 1 – that's something that I would call the stuff of dreams."
Further, a beaming Tina said,
"I am very happy and feel very ecstatic, can't express it in words. My mother is my role model. She wanted me to study political science. I chose it and got through it in the examination. It was one of my main subjects."
The civil services examination topper wants to work towards empowering women. To that effect, she said,
"I always wanted to work in a challenging state. That is why I chose Haryana. We all know the sex ratio of girl and boy child is quite less and that is why I would like to contribute my efforts for the empowerment of women there."
---
Suggested read: Why you need to respect Dr Ruveda Salam, the first woman IPS officer from Kashmir Valley
---
While Tina took home the first position, Railway officer Athar Aamir Ul Shafi Khan, 23, from Jammu & Kashmir secured the second position. This is Athar's second attempt. Athar hails from Anantnag in South Kashmir, and had got Indian Railway Traffic Service (IRTS) in his first attempt in 2014. He is currently undergoing training in Indian Railways Institute of Transport Management, Lucknow.
Image source: Facebook
Talking to PTI, an elated Athar said,
"It is a dream come true. I will not leave any stone unturned to work for the betterment of people. As a civil servant, there are a lot of areas where we can work – be it in terms of general governance, general administration, development, planning. I have opted for Jammu & Kashmir cadre also. I will be happy in case I get a chance to work there. I think there is a lot of scope to fulfill aspirations of people of my state."
Further, he said,
"My grandfather has had a huge inspiration on my career. He is a farmer, hasn't had any education. After seeing his life, his hard work, passion, compassion, I have learnt a lot."
Jasmeet Singh Sandhu, who is an Indian Revenue Service officer, has secured the third position. His father works in the Indian Council of Agricultural Research (ICAR). Jasmeet thanked his parents along with his teachers, for his success. He said,
"It is all because of my family, friends and Mukul Pathak sir (who runs a coaching class) that I could secure third rank in the exam."
Image source: NDTV
This is Jasmeet's fourth attempt, having been selected in 2014 for the Indian Revenue Service (Customs and Central Excise). Currently, he is undergoing training at National Academy of Customs, Excise and Narcotics in Faridabad.
This year, 1078 candidates were recommended for the appointment. Of these, 499 are from general category, 314 from Other Backward Castes, 176 from Scheduled Castes, and 89 from Scheduled Tribes category. Apart from these, 172 others are in the waiting list.
---
Suggested read: Riju Bafna – why this frustrated IAS officer regrets being a woman
---
That sure does seem like a lot of potential to improve our country by infusing the government machinery with young blood who bring fresh perspectives, innovative approaches, and boundless enthusiasm in bringing our country forward. We wish all of the candidates who have made it to the list this year hearty congratulations!
Congratulations, Tina Dabi! And congratulations to Athar and Jasmeet as well!
Featured image source: ANI
Summary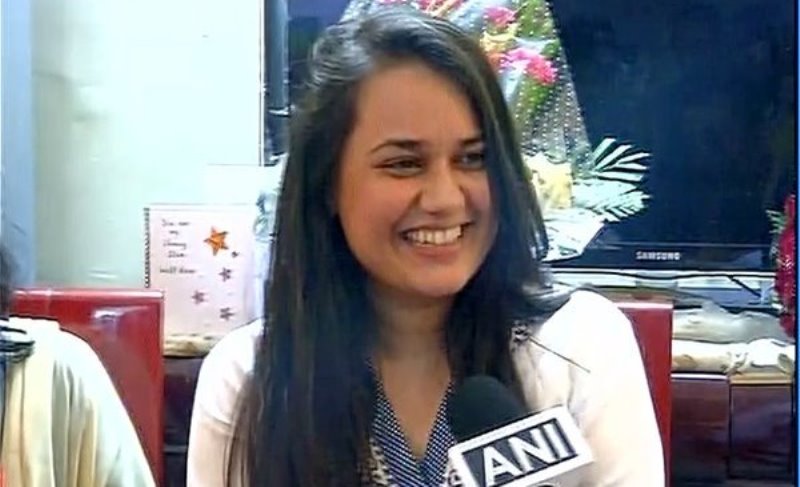 Article Name
Delhi Girl Tina Dabi, 22, Tops The Indian Civil Services Examinations!
Author
Description
22-year-old Tina Dabi from Delhi has emerged as the topper for 2015, in the Indian Civil Services exams conducted by UPSC. Congratulations, Tina!