India's excruciating wait for a medal at the Olympic Games in Rio finally came to an end, after wrestler, Sakshi Malik, clinched a bronze medal in the 58kg category.
#RioWithTOI VIDEO: Sakshi Malik, India's first medal winner in Rio, speaks to the media pic.twitter.com/HZTg5Vs89J

— TOI Sports News (@TOISportsNews) August 18, 2016
In the waking hours of Thursday, India earned its first medal at the Summer Olympics in Rio. And it was Sakshi Malik who seized the bronze medal, through Repêchage, a trial heat; a match in which the best performers, among those who failed to win the heats, fight for an entry into the finals.
After a defeat in the Quarterfinal of the Women's Freestyle Wrestling, where she faced Koblova Zholobowa, the eventual finalist, Malik went on to be the victor in the Repêchage, contesting against Orkhon Purevdorj from Mongolia, and Aisuluu Tynybekova from Kyrgyzstan.
---
Suggested read: Karman Kaur Thandi has just the moves to create history for women's tennis in India
---
This triumph is pictured as all the more momentous since it has come right after Vinesh Phogat, Malik's wrestling cohort in the 48kg category, was required to retire on the heels of getting badly injured early into the semi-final bout yesterday.
Malik scripted history today by becoming the first female wrestler from India to grab a medal at the Games so far, and only the fourth woman athlete from the country to stand at the podium of the grandest sporting arena in the world. On the whole, the girl from Haryana has bagged India's fifth wrestling medal at the Games. Malik's win brought India its 25th medal in Olympics. 
Here's everything you need to know about the gritty woman wrestler.
Name: Sakshi Malik
Age: 23
Weight: 64 kg
Height: 1.62 metres
Born on the 3rd of September, 1992, to parents, Sudesh and Sukhbir, who encouraged and supported her unusual career choice, Malik started training at the tender age of 12. She was guided by Ishwar Dahiya at an 'akhara' in the Chotu Ram stadium. Her grooming included fighting both girls and boys, in an area where wrestling was 'not meant for girls.' In truth, Dahiya had to endure protests from local people when he took Malik under his wing.
Her journey of a thousand miles began when she tasted victory at the age of 18 at the junior-level competitions. She bagged a bronze medal at the Junior World Championship in 2010 in the 59-kg category.
She entered the international spotlight in 2014, when she took home the Gold at the Dave Schultz International Wrestling Tournament in the 60-kg category.
At the Commonwealth Games in Glasgow in 2014, Malik won a silver for India, after two 4-0 bouts. Malik had begun her campaign at the Games, by defeating Edwige Ngono Eyia of Cameroon in the quarterfinal by a 4-0 margin. She faced the Canadian, Braxton Stone, in the semi-finals, and thrashed her 3-1 to nail down a Commonwealth medal. In the closely contested final, her opponent was the Nigerian, Aminat Adeniyi, who beat her by a 4-0 margin.
Malik then took part in the World Wrestling Championship. The Tournament was held in Tashkent, Uzbekistan, on the 10th of September, 2014. Her rival was Anta Sambou Senegal in the Round of 16. Malik white-washed Senegal with a 4-1 win. She, however, crashed out of the Championships, after a 1-3 loss to Finland's Petra Olli.
In Doha, in May 2015, she grabbed a Bronze at the senior Asian Wrestling Championship.
Regarding these victories, she had something to say,
"My silver at the 2014 Commonwealth Games is my personal favorite. Although I displayed some aggressive wrestling at the 2015 Asian Championships and clinched a bronze, my bout at Glasgow was more challenging."
Following that win, Malik booked a seat on the flight to Rio by bagging a Bronze in the Summer Olympics Qualifiers after defeating Lan Zhang of China in the semi-final at Istanbul.
At the Rio Olympics, Malik won the Round of 32 after beating Johanna Mattsson of Sweden, and Round of 16 after thrashing Mariana Cherdivara of Moldova. After she lost to the Russian, Valeria Koblova, Malik qualified for a repêchage. She defeated Pürevdorjiin Orkhon of Mongolia in the first repêchage, and that brings us to today.
Malik donned an orange outfit this time. Her second repêchage was against the girl from Kyrgyzstan, Aisuluu Tynybekova. Malik was nervous with a hollow tense feeling in her stomach. Since she failed to get Tynybekova's measure, she was trailing 0-5 with only 75 seconds to go.
The sinking feeling was setting in again. Indians in the hall, and those who had stayed up late to watch the bout on their TV screens, had lost all hope. But Malik wasn't quite done yet. She battled to get a grip on her rival as her coach, Kuldeep Malik, shouted from the side-lines,
"Haath chhuda ke patka maar (get free from her grip on your hand and topple her)."
Malik broke free from her opponent's clutches, and pitted her on the mat. It was 2-5 now, and then 4-5, and then 8-5, and Malik had won! The stopwatch struck six minutes, and India tasted victory for the first time at the Rio Olympics.
Flashing a relaxed smile that lit up the whole corridor, after the win Malik said,
"I knew the medal was there… it was waiting for me. I had to go for it. I could not let it go."
She also spoke about the tension that had built up since there was not much time left. She said,
"I was not worried. Wrestling is about six minutes. Everything can change in seconds. I changed it in the last eight seconds. I always fight back after trailing, like I did in other fights."
---
Suggested read: Tina Dabi tops the Indian Civil Services examination!
---
Vinesh Phogat's unfortunate defeat and injury had saddened and pained Malik. It even perturbed her about her chances of a win.
"It was a big blow. She would have won a medal in the 48kg and beaten the Chinese who won a bronze. There was a lot of pressure, too many things on my mind. Main confused thi (I was confused). But my coach told me, 'Tum tagdi ho (you are strong). You can beat anyone.' I did not let him and my country down."
Malik is the fourth Indian woman to bag a medal at the Games, after Karnam Malleswari, MC Mary Kom, and Saina Nehwal. According to her,
"It is the first for women's wrestling too. When Geeta (Phogat) first qualified for London 2012, we all got the belief that we girls could go there and fight, and win. I want to thank my coach, my parents, my friends, my colleagues… everyone who has supported me. It is a dream come true. The feeling is still sinking in."
8 seconds changed Malik's life, and it also breathed in a new hope for the nation, its women, and all the people who have slogged in the rings, in courts, and in fields, with very little support from any quarter, but with dreams shining as bright as the medal that now shines around Malik's neck.
Team NLT wishes more power to the Invictus!
Featured image source: Instagram
Summary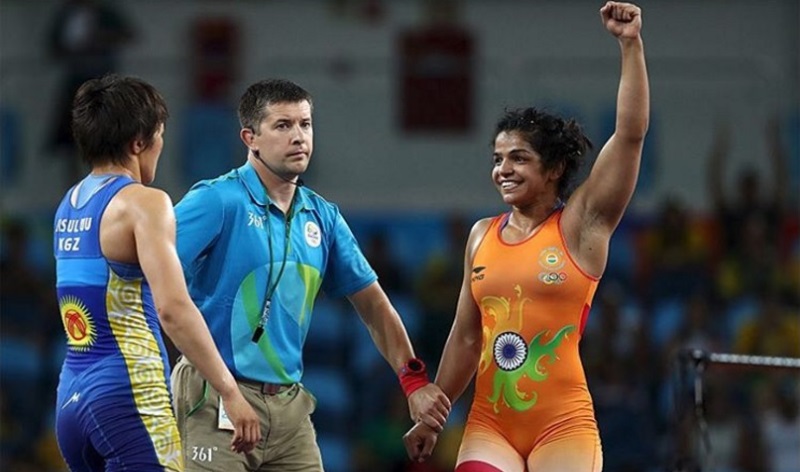 Article Name
Sakshi Malik: The 'Bronze Lining' In The Indian Olympic Cloud
Author
Description
India's excruciating wait for a medal at the Rio Olympics 2016 finally came to an end, after wrestler, Sakshi Malik, clinched a bronze medal.