Few things in life compare to the love that one has for books, if you are into reading. While people are nasty and traitorous and annoying and complicated, books are the friends that you make forever, and are your happy place. What better way to document your love for books and literature than with literary tattoos, which are quaint, beautiful and meaningful? Isn't it infinitely better to get tattoos inspired by your favorite books tattooed on yourself, rather than a lover's?
---
Suggested read: 10 Literary Couples From Classic Literature Who'd Never Last IRL
---
We hunted social media for the most gorgeous and breathtaking literary tattoos, and we know for sure that by the time you are done with the list, you are going to want a tattoo inspired by your favorite book too!
1. From Bell Jar by Sylvia Plath
This tattoo is both so sad and so motivational, and encompasses perfectly the beauty and heartbreak that Plath stood for.
2. From The Little Prince by Antoine de Saint-Exupéry
This tattoo is the perfect reminder that no matter how much we grow up, there will always be a child seeking adventure in our hearts.
3. From the Harry Potter books by J. K. Rowling
If you are into minimalistic tattoos, and Harry Potter changed your life, then this should be your go to design. The Deathly Hallows sign is one of the most popular tattoos amongst book nerds!
4. From the Harry Potter books by J. K. Rowling
This is another tattoo inspired from the Harry Potter books which says so much with so little. 9 ¾ was the entry gate to the magical world of Harry Potter, and it is only fitting that commemorate this life changing experience with this incredible tattoo.
5. From the Harry Potter books my J. K. Rowling….again
As you might have gathered, I am a little obsessed with Harry Potter tattoos, but there are so many incredible options to choose from! You cant be obsessed with Harry Potter if you don't understand the significance of this one word- "always"- and what an incredible tattoo it makes for, right?
6. From A Clockwork Orange by Anthony Burgess
Whether you are obsessed with the original book by Burgess from 1962, or the breathtaking film adaptation by Stanley Kubrick of A Clockwork Orange, this is the perfect tattoo for your obsession. FYI, this is the prisoner number of the protagonist, Alex, in the film's adaptation of this dystopic novel.
7. From Alice in Wonderland by Lewis Carroll
Alice in Wonderland has touched the lives of so many people, and continues to inspire people of all ages to this day. Alice seems like a good idea for a tattoo, but a Cheshire Cat silhouette is just drop-dead-gorgeous, isn't it?
8. From A Song of Ice and Fire by Georg R. R. Martin
A Song of Ice and Fire and Game of Thrones have a cult following of their own, which only means that there are a gazillion brilliant tattoo ideas out there. Of them, possibly the best one is "Valar morghulis" which means "all men must die." So perfect. So profound.
9. From Bluebird by Charles Bukowski
Bukowski's poetry has touched millions of people from various different generations because of their sheer power, candor and beauty. This beautiful line is both impactful and profound, and this chest tattoo is just giving us life.
10. From The Lovesong of J. Alfred Prufrock by T. S. Eliot
T. S. Eliot was not only an exceptional modern poetry, but one of the greatest poets of all time. His poetry was deep, meaningful and incredibly complex, which means that he has also written a number of lines which are worth tattooing on your body perfectly. This one is definitely a top choice for fans of Eliot's work.
Summary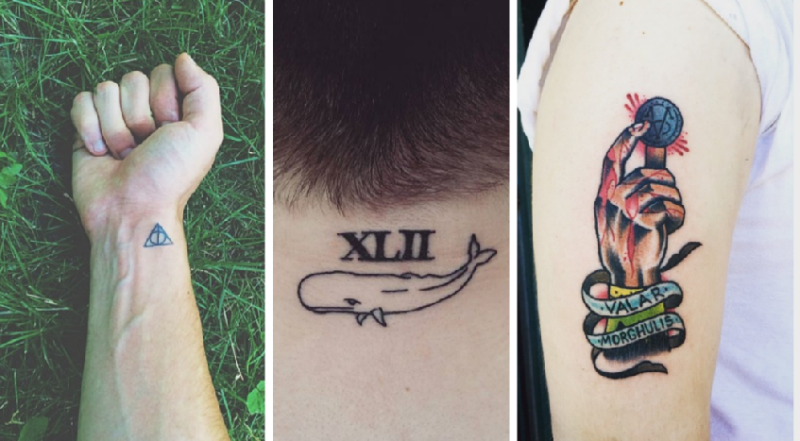 Article Name
23 Gorgeous Literary Tattoos Every Book Nerd Will Love
Author
Description
If you are obsessed with books, and you want to express your love for them, then check out these breathtaking literary tattoos for inspiration!
Read the rest of the article:
Next