Who isn't fascinated with the lives of celebrities? There is a reason why the entertainment media is an industry of its own, because people are always intrigued by what celebs are doing, who they are dating, what new scandal they got embroiled in, etc. There is no death of drama when it comes to celebs, is there? Just like their lives are dramatic AF, there is no dearth of drama when it comes to the most mysterious deaths ever, which almost always happen to be that of Hollywood celebs. This is probably because so many people are invested in their lives, so when they die, the impact is just that much more hard-hitting.
---
Suggested read: 10 Celebrities Who Broke Up In 2017 And Proved Love Is Dead
---
Weirdly enough, there are literally a gazillion Hollywood celebs who have died under mysterious circumstances, whose death have technically remained "unsolved" to this day. Here are some of the most mysterious deaths of celebs that we still haven't been able to get over.
Marilyn Monroe
No list about mysterious Hollywood deaths is complete without mentioning one of the most famous people to ever exist, ever- Marilyn Monroe. The biggest sex symbol and heartthrob of Hollywood was found dead in her home in 1962.
Even though her death was rules as a suicide, traces of poison were also found in her body, along with the sleeping pills which were primarily the cause of death. There are also several conspiracy theories that she was murdered by then President John F. Kennedy and his brother, with whom she was reportedly having affairs.
Natalie Wood
Natalie Wood was one of the biggest super stars of Hollywood back then, and was married to actor Robert Wagner. On the day of her death, she was out on a boat with her husband and her co-star Christopher Walken, when she mysteriously disappeared from deck, and her body was found floating a couple of miles away on the water.
Till date, no one knew how she left the boat, or how she died, especially considering that she was literally afraid of water. Her death was rules an accidental drowning, but pretty much everyone is convinced that there was some foul play involved.
Tupac Shakur
Tupac Shakur was a rapper and artist and is now considered a cult figure, but despite his posthumous fame, his murder still remains unsolved. She was gunned down in 1996 when he was coming out of club in Las Vegas, and till date no one knows who or why he was murdered.
At that time, people suspected Christopher Wallace, a.k.a. Biggie Smalls, a rival rapper but also Tupac's friend to be behind the murder, but he too was murdered in a similar fashion shortly afterwards. Both Tupac and Biggie were 25 at the time of their deaths.
Anna Nicole Smith
Anna Nicole Smith was one of the most recognizable faces on TV during the 90s. She was a TV presenter, an actress and a model and she was also famous for being Playmate of the Year for Playboy Magazine. In the months preceding her death, she was showing irrational behavioral patterns, and her mental breakdown finally occurred when her son died of an overdose of prescribed drugs.
She died 6 months later after drinking a cocktail which was similar to the one her son had drunk, and died consequently. Even though her death was ruled as a suicide, some people believe she was given the drink on purpose.
---
Suggested read: 15 Hollywood Celebrities And Their Love For Their Pets
---
Heath Ledger
Remembered for his iconic role as The Joker in The Dark Knight and his part in Brokeback Mountain, Heath Ledger's death is something that Hollywood is yet to recover from. The official cause of his death is stated as an "accidental overdose," but many, including his mother Kim Ledger, believe that he was driven to the point of suicide because of the insane mental pressure he was feeling due to his method acting.
The role of The Joker is said to have taken such a mental toll on him, that he was driven to psychological breakdown and depression, as revealed in his diary. You can learn more about his death in a documentary called Too Young To Die.
Nicole Brown Simpson
Even though Nicole Brown Simpson wasn't very famous when she was alive, having starred in only one film called Detour to Terror, she became the center of possibly the most famous murder trial in history, when she was brutally murdered along with her boyfriend outside her home.
The only suspect in the case was the infamous O. J. Simpson- her ex-husband, who had the most obvious evidences against him and was sure to be convicted of the crime, when he was famously acquitted of all charges in 1995.
David Carradine
David Carradine was a famous Hollywood actor, famous for his role in the iconic Kill Bill movies. However, what intrigued all of Hollywood was his strange manner of death. He was found in a hotel room closet, with his arms and legs and genitals bound tightly with a rope and a noose around his neck.
His death was ruled autoerotic asphyxiation, but his family members are convinced that his was a case not of suicide, but of cold-blooded murder. Guess we'll never find out.
Brittany Murphy
One of the cutest and most well-loved actresses met her end in one of the strangest Hollywood deaths ever. She starred in a number of cult movies, and was an international sweetheart, which is why her death came as a shock to many.
In the midst of rumors where she was said to be battling cocaine addiction, she gained a lot of weight and momentarily disappeared from the public eye. She was found dead in her shower in 2009, and the cause of death was said to be pneumonia. 6 months later, her husband Simon Monjack died in exactly the same way, which led people to believe that there was something other than natural causes involved in the death of these two people.
Bruce Lee
Bruce Lee starred in several Hollywood classics, and is considered a legend and an icon even today. The worst part is, he was only 32 when he died, and was also at the pinnacle of his career. He was rumored to be dating actress Betty Ting Pei.
In 1973, Lee complained of having severe headaches when he was shooting for his last film, and to help him out, Ting Pei gave him a prescription drug for headaches called Equagesic. He fell asleep after having it, and died in his sleep. No one knows how a painkiller could lead to someone's death, especially someone so fit, but many believe it was either the worK of the Chinese mafia, or the Chinese martial arts community, who didn't like him commercializing their craft.
Grace Kelly
Perhaps one of the most beautiful women to eve live, Grace Kelly lived a colorful and vivacious life, and died in a similarly spectacular fashion. After her stint as one of the most successful actresses in Hollywood ever, she won an Oscar, and then married Prince Rainier III of Monaco.
Even though one would have expected her to live the life of a princess, she was the victim of an unhappy marriage and several other problems. While on a drive with her daughter, Princess Stephanie in 1982, she apparently suffered a heart attack and drove the car off the side of a cliff. A lot of people believe that she was the victim of a political conspiracy.
---
Suggested read: 10 Things That Happened In 2017 That Will Go Down In History
---
Sharon Tate
Sharon Tate was a rising star in Hollywood. However, she was brutally murdered in her home in Hollywood at the age of 26 by the Charlie Manson Family. The weirdest part is, Charlie Manson ordered the killings because the house in which Tate was staying previously belonged to a music producer who refused to give Manson a record deal and he wanted revenge.
The murderers also carved the word "Pig" on the side of the house, to give the murders a racist dimensions, and Manson was hoping the murders would be blamed on the African-American community. A movie about the murder of Sharon Tate is being directed by Quentin Tarantino, slated for release on March, 2019. The movie stars Leonardo di Caprio, Margot Robbie and Brad Pitt in the lead.
These were some of the weirdest, most mysterious deaths that Hollywood has ever seen. Of course, there are a bunch of other people from the film industry and the music industry who sufferer strange and tragic ends, such as Amy Winehouse, George Reeves, Michael Jackson and several others, who passed before their time. However, that is for another day.
Tell us about your favorite mysteries and scandals involving celebs we all know and love in the comments section below, and maybe we'll try to uncover what actually happened. As for the people on this list, we can only hope that their families get the closure they deserve.
Featured image source: Instagram 

Summary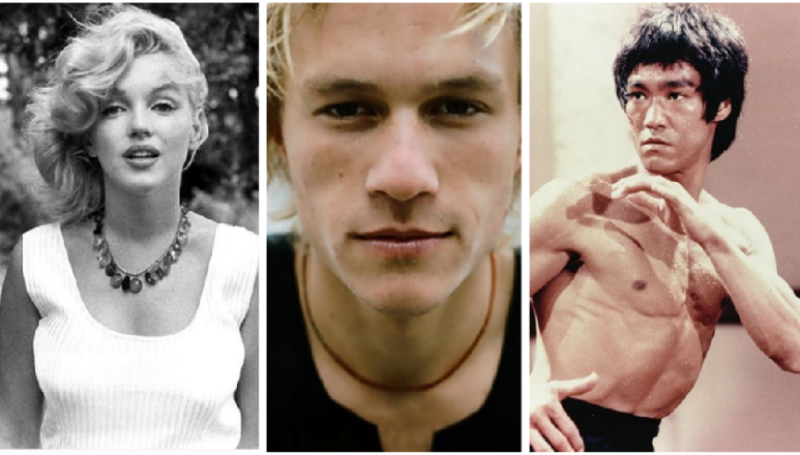 Article Name
11 Most Mysterious Deaths Of Hollywood Celebrities
Author
Description
The lives of Hollywood celebs are always a matter of great intrigue, as is their death. Here are the 11 creepiest and most mysterious deaths of celebs, ever.