There are some shoes which look good, no matter what. Thankfully, some shoemakers, along with conventional footwear, have decided to create the much coveted suede ankle boots, which are literally some of the sexiest shoes out there. Not only are they made with suede, which is a form of rubbed leather which makes a velvety finish, but these boots also come in all types of heels, colors, and cuts, making them some of the most versatile and appealing looking footwear you can get your hands on.
---
Suggested read: 14 dos and don'ts of party shoes you MUST know
---
Here are 24 suede ankle boots we would kill to have in our wardrobe.
1. Basic grey ankle boots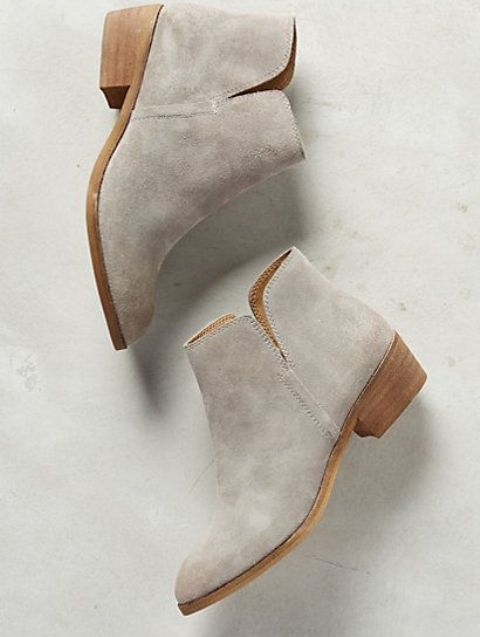 Image source: Pinterest
Grey ankle boots never fail to look good, whether you are wearing jeans, or skirts or anything else actually, because they come in neutral colors, and the wonderful shade of velvet on them draws attention to your feet, in a subtle, sophisticated way. The small, tan block heels ensure that these boots are good-looking and comfortable at the same time.
2. Lacy ankle boots with chunky platform heels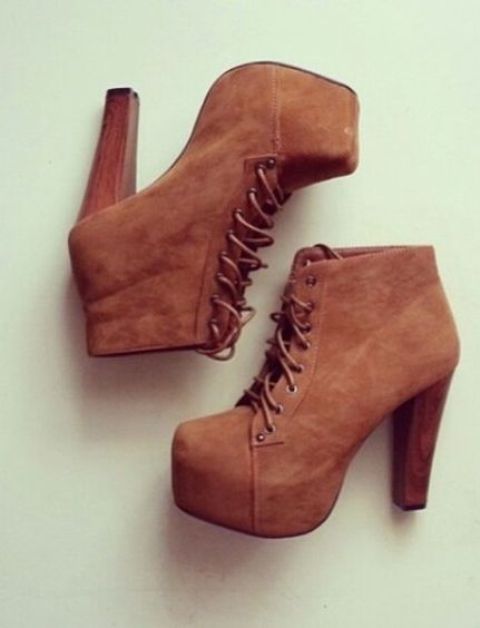 Image source: Pinterest
Most of the time, platform shoes are impossible to walk in for more than 10 minutes. However, these suede ankle boots come with sexy chunky heels and laced up booties in chic brown leather, which would look absolutely stunning with a pair of simple jeans and a crisp white shirt.
3. Stacked plum suede ankle boots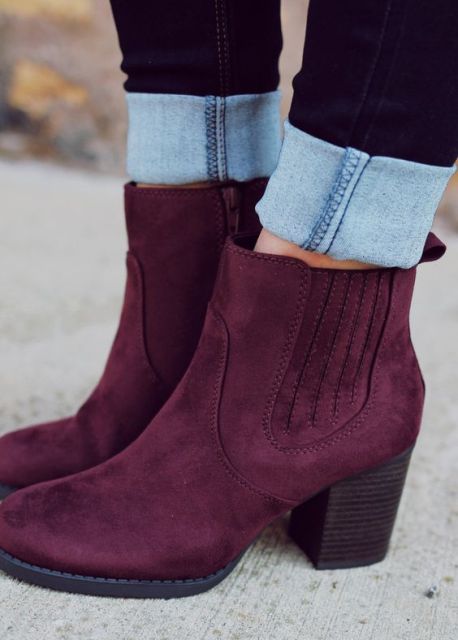 Image source: Pinterest
Finding suede shoes, that too the ankle boots type in unique and quirky colors, can be quite a task. However, when you find beauties like these, there is no letting go. Plush plum ankle boots like these would go wonderfully with all white, or all beige or pastel outfits, for the wonderful contrast it would create.
4. Strappy suede ankle boots in brushed grey leather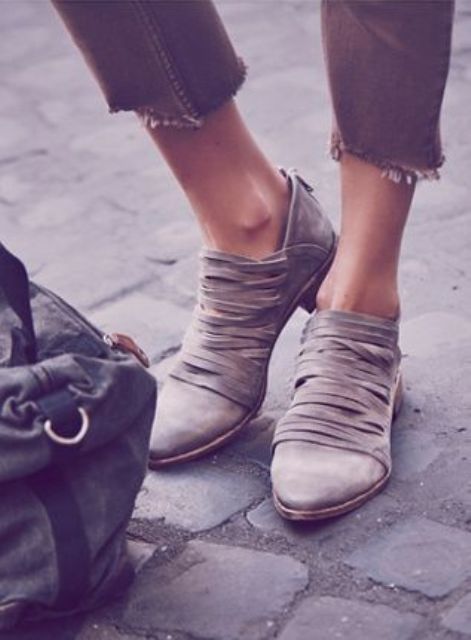 Image source: Pinterest
When you have shoes like these, you can make any outfit look cool as hell. What makes these shoes different from the rest is the usually short stacked heel and of course, the eye-catching body in strapped texture.
5. Vented Roman style high heeled ankle boots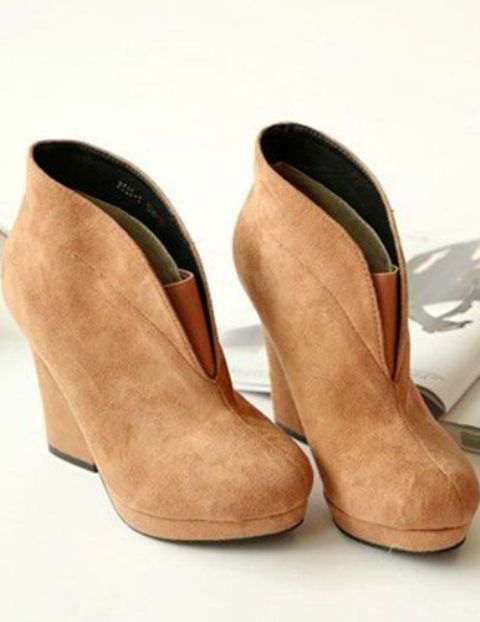 Image source: Pinterest
If you want your boots to look sexy, but at the same time not compromise on the badass look that ankle boots have in general, then this Roman-style vented brown suede boots are your future best friend, and they would look even better with a pair of skinny jeans or a short, knee-length pleated skirt.
6. Embroidered and appliquéd red and grey boots
Image source: Pinterest
Just because you want ankle boots in suede doesn't mean that you have to settle with monochromes and dull neutrals. Spice up your outfit with a sudden burst of stitched fabric on your suede boots in bright red patterns, to make any casual outfit look super remarkable.
7. Black and blue patched boots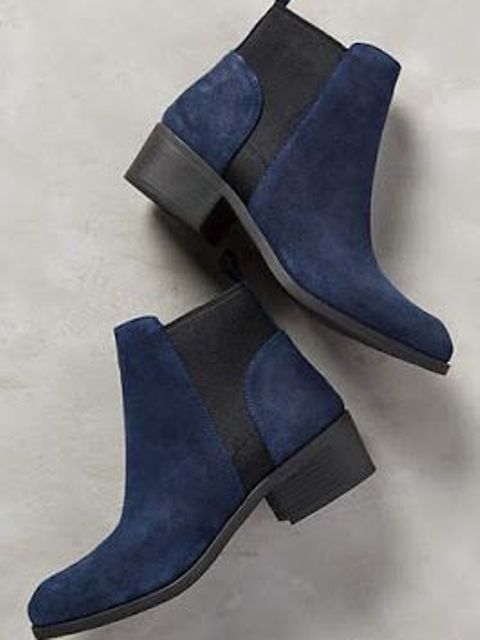 Image source: Pinterest
A patch of black leather in an otherwise smooth, dapper pair of navy blue suede on your ankle boots can add the much-needed wow factor that people crave in their footwear. Pair with a cute skater dress for the perfect blend of the cute and dangerous look.
8. Emerald green boots made to draw attention to your feet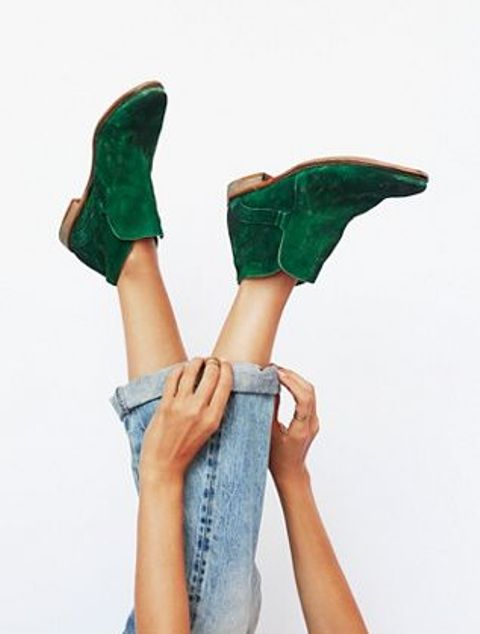 Image source: Pinterest
If you want to really make a statement with your shoes, check out these emerald green stunners, which could spice up any old boring outfit, whether you are dressing for work or for a casual day out.
9. Structured wedge boots in dusty grey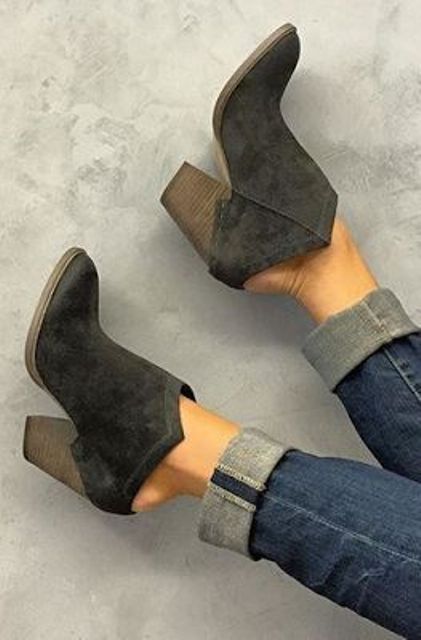 Image source: Pinterest
Another area in which footwear can become remarkable is with the right cuts in the right places. Instead of the normal, boring straight round cuts that ankle boots generally seem to have, this one has a structured, asymmetrical cut around the ankles, which, along with the stacked wedge heels, makes it the perfect addition to our must-have list.
10. Black fold-overs with stunning studded detail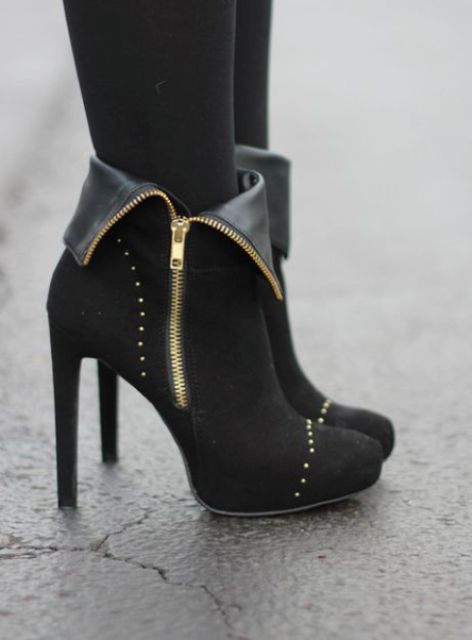 Image source: Pinterest
These are the kind of shoes you cannot help but need in your life, because who wouldn't love that sexy stiletto heel and the smooth black body with the little golden studded details, and of course, the fold-over leather ankle border? Whether you choose to wear it with your party dress or with a pair of ripped jeans and button downs, it's a win-win either way.
11. Fringed blue-grey suede ankle boots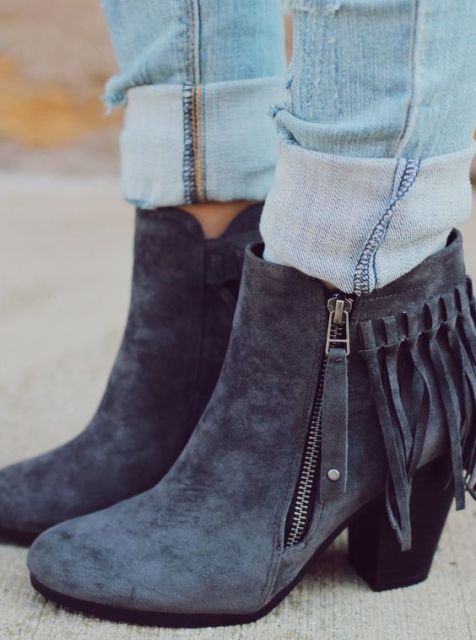 Image source: Pinterest
Fringes give you that cowgirl feel which makes any outfit look rustic but fashionable at the same time, especially if it comes in great colors like this dirty blue-grey. Since there is so much going on with your shoes, it is best to keep the rest of your outfit simple.
---
Suggested read: The 10 must-have shoes in every girl's closet
---
12. Laced up navy blue booties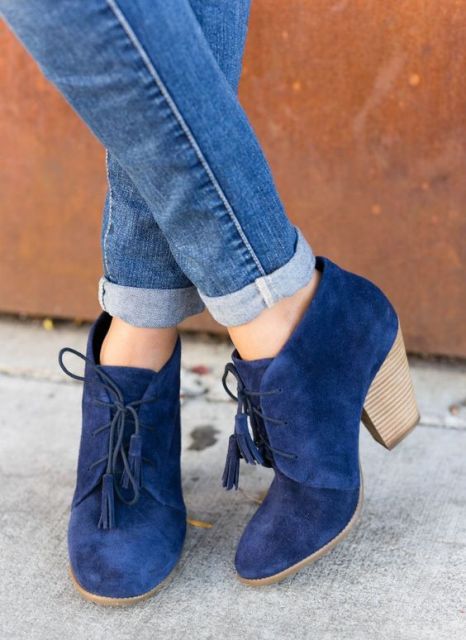 Image source: Pinterest
Boots and laces have always been a great combination, but the addition of heels to them has made them even better, and boots like these you can wear with colorful outfits or even light colors, to enhance the effect of the shoes.
13. Tassled booties with thick wedges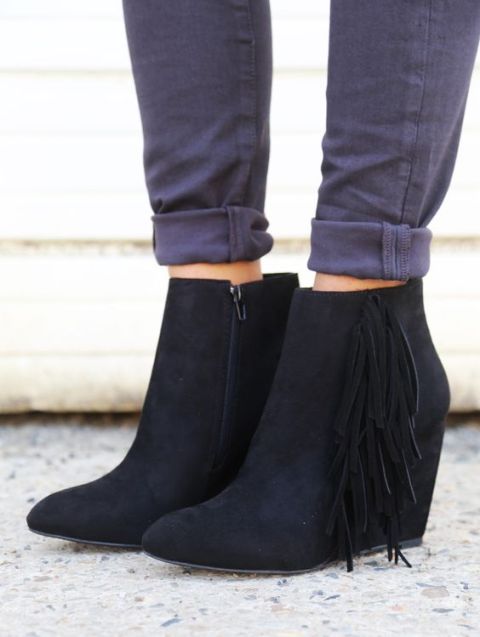 Image source: Pinterest
Recently, all-black outfits seem to be the rage among celebs and fashionistas, for which shoes like these are perfect. Tassled black on black suede gives the shoe an alluring charm, which plain black suede wedges would not have been able to provide.
14. Cut-out textured brown-grey boots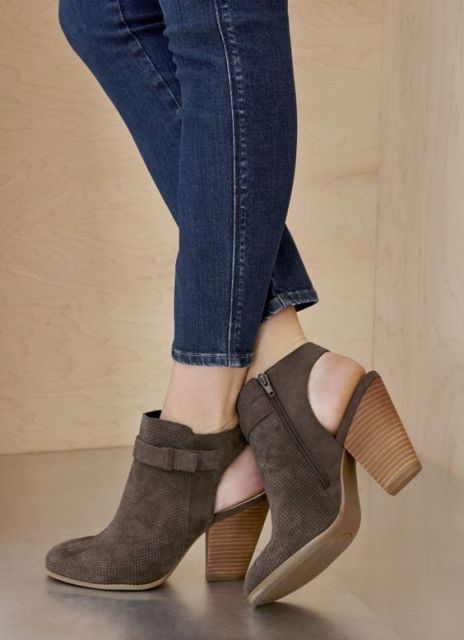 Image source: Pinterest
Cut outs aren't only taking clothes by storm, but shoes as well, which is why it is absolutely necessary to have boots with the sexiest heel cut-outs with a subtle belt and chain detail.
15. Studded Boho boots in brown suede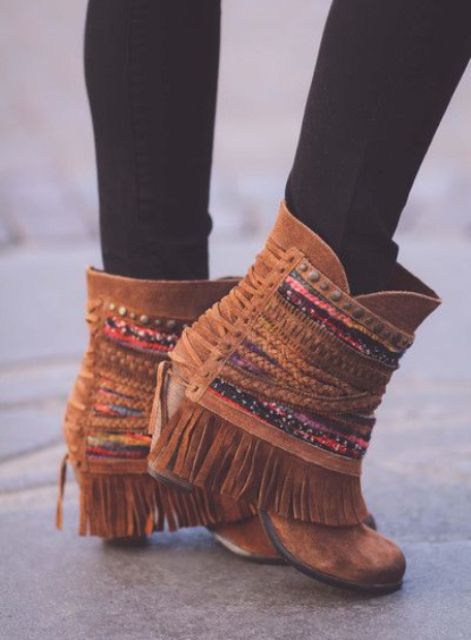 Image source: Pinterest
Some frayed fringes, some tassles, a lot of studded embellished and colorful beads, and you have a pair of boots perfect for your Boho chic outfit, ready for a fun day out in your layered attire.
16. Constellation printed suede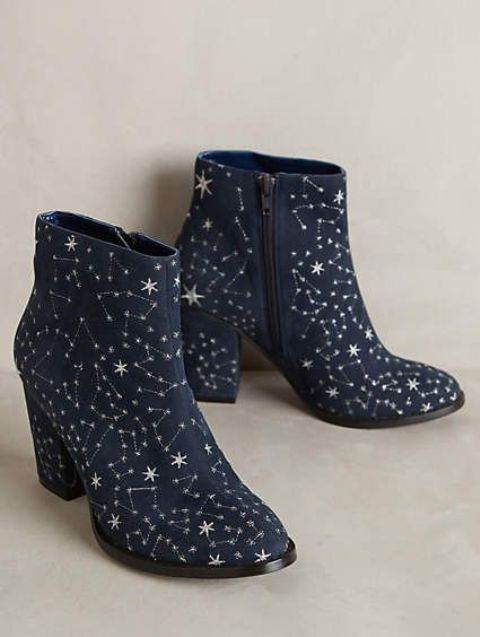 Image source: Pinterest
Printed suedes are not a very common sight, which is why these shoes are bound to stand out, especially if you wear it with a dark outfit.
17. Dusty pink laced up heels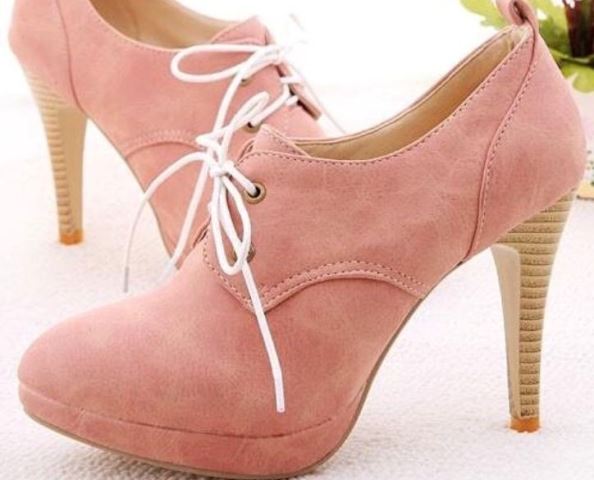 Image source: Pinterest
Pink boots are an avant-garde fashion choice in itself. When you add to that the sexiest kind of high heel and white laces and give it the shape of pumps, you have a winner on your hands. Also, it would look rad with practically any outfit, whatever draws attention to these beauties.
18. Straps and belt in your peep-toe boot heels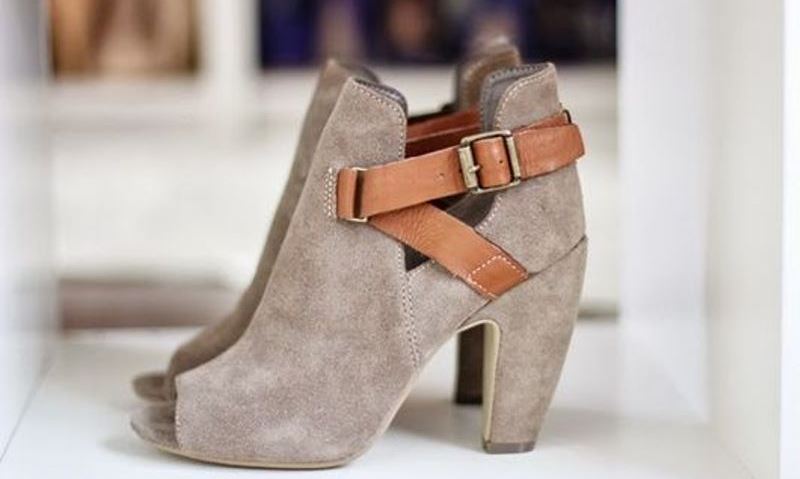 Image source: Pinterest
These tan shoes break out of all the conventional things that boots are supposed to be. But with the addition of peep-toes and chunky heels to this otherwise super cool tan boots with belts and edges, makes this the perfect accessory for outfits that are formal and semi-formal.
19. Minimalistic blue navy boots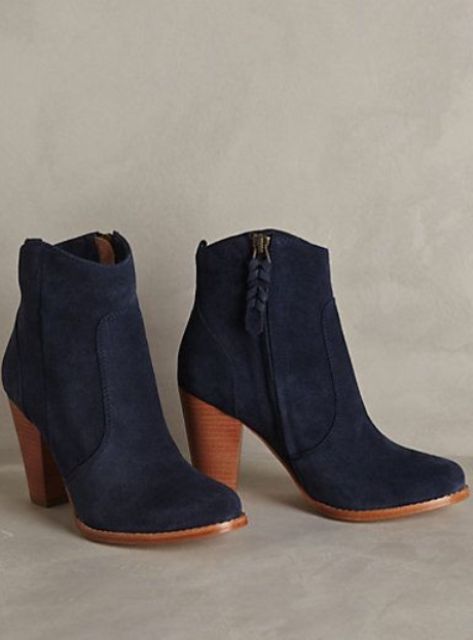 Image source: Pinterest
Very few things can beat the way colorful suede boots can look. When you add to that a simple braided chain detail, it becomes exceptional. The best part is that you could wear these shoes to a party, as well as to your workplace, without breaking a sweat, because not only is it stylish, but also minimalistic, with a comfortable stacked heel.
20. More pump boots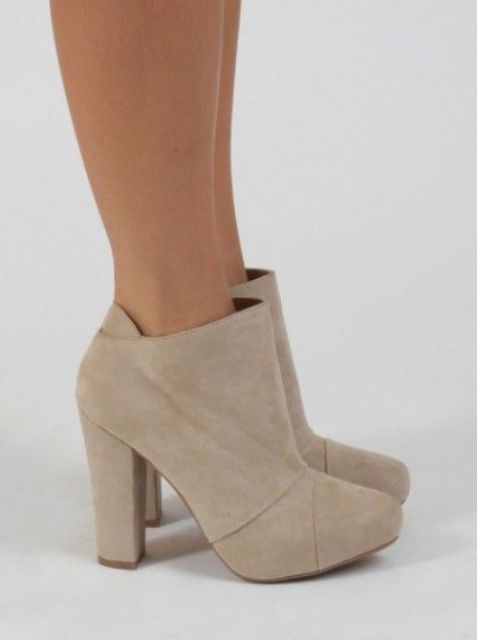 Image source: Pinterest
When you have pumps in nude colors like beige, you are not likely to have any problem choosing the right shoes for your outfit, no matter what it is, because they go with practically everything. However, what could make your nude pumps better is if they came in the boot variety with a sophisticated looking suede finish and an edgy ankle cut, which would just be the icing on the cake.
21. Full black cut-out suede ankle boots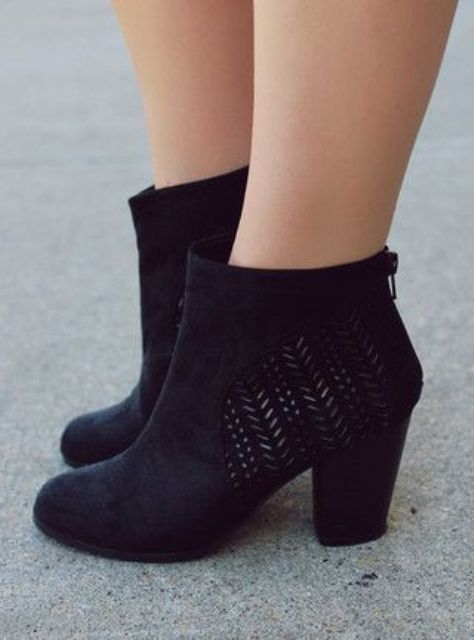 Image source: Pinterest
Cut-outs are usually large sections that have been taken out to add elegance to your footwear, however, when your cut-out comes in stenciled patterns, they make your feet look like a million bucks. To draw attention to your feet, you could wear your boots with a pair of rolled up pants or even a midi-skirt.
22. Fabulous feathery suede boots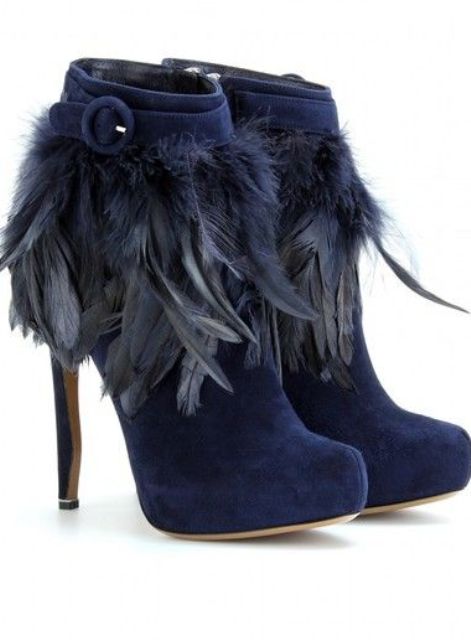 Image source: Pinterest
Suede boots that come in the form of pumps with stiletto heels are gorgeous in themselves, but when you find a pair of the same with fur and feather details, you cannot help but want to sell your soul for a pair of these beauties.
23. Well-fitting suede boots in wine red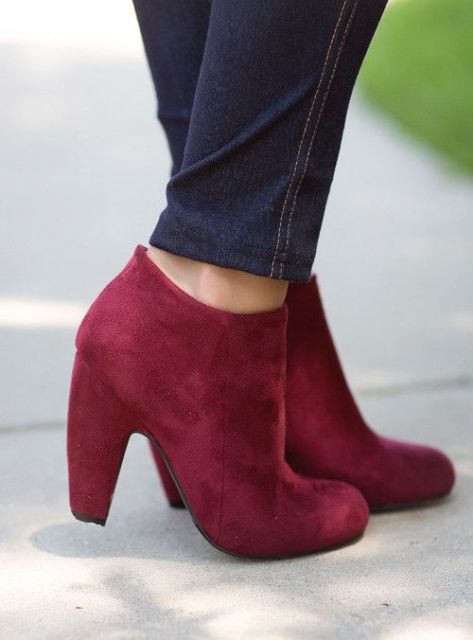 Image source: Pinterest
Imagine walking out of the house in a causal pair of jeans and a simple top, which has been accessorized with nothing but a pair of these well-fitting, wine red beauties. Comfortable heels and the color of these velvet boots is what makes them exceptional.
---
Suggested read: 12 boots you have to try in the winter
---
24. Deep cut out grey boots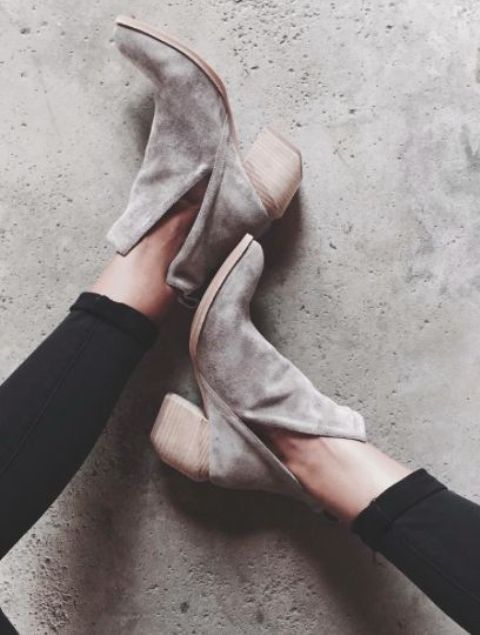 Image source: Pinterest
You have got to love boots like these, with a sexy deep-V cut-out running along the side of your tan suede ankle boots. All you need along with these for the perfect outfit, is a pair of black leggings and a spun grey cotton t-shirt and the coolest pair of shades you can get your hands on.
Suede boots are made in a manner which ensures that they look bad on no-one, and also look good with most kinds of outfits, which is a rare quality amongst footwear in general. These 24 pairs of suede ankle boots have us ready to re-stock our collection with several pairs of the same. What about you?
Summary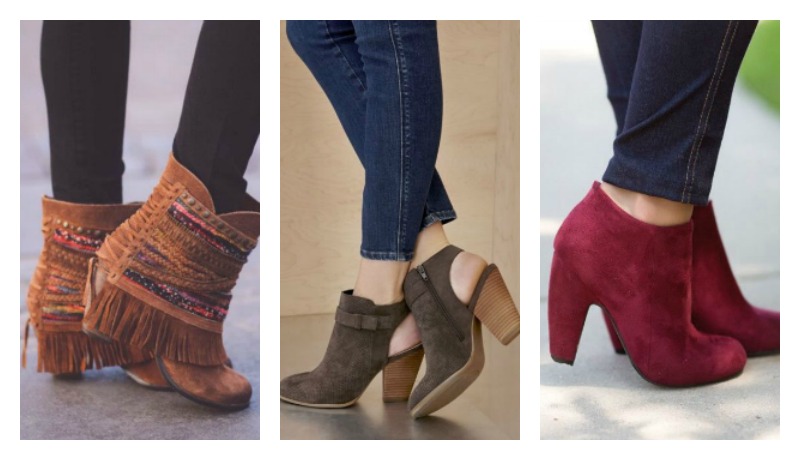 Article Name
24 Suede Ankle Boots We Are Dying To Own
Author
Description
These suede ankle boots are really to die for. Which ones did you looooove?