The LGBT community is one of the most misunderstood and underrepresented communities ever. Hollywood and every other film industry in the world have always had a tendency to glorify heteronormative relationships, explore heteronormative problems and completely forgo the notion of representation in society. Based on the general tendencies of the film industry, problems and issues don't matter unless they are the problems of straight white people in relationship with the opposite sex. Herein lies the importance of some of the best LGBT movies, amongst a slew of attempts at LGBT movies, which I am going to talk about today.
The LGBT community has always been seen as a hyper-sexual body of people. The truth is, LGBT people are after all people, a fact which has been conveniently denied by the society at large. Because of this stereotype, the representation of the community has also been unfair, misinterpreted and absurd.
Lucky for us, there exists a number of excellent films which talk about life and struggles of LGBT people, while still treating them like people and not alien outcasts. These films talk about LGBT issues, but also go beyond and talk about the political, apolitical, emotional, personal, social, financial, psychological and subtle challenges that the community has to face, while at the same time retain their identity in an unforgiving world.
---
Suggested read: 10 Real Life LGBT Love Stories From India That Will Restore Your Faith In Humanity
---
Here are some movies which managed to tap into the true emotions and sentiments of the community, and taught the world a thing or two about love, acceptance, understanding and respect. If you haven't seen them already, I suggest you add these amazing LGBT movies to your playlist immediately.
1. My Own Private Idaho (1991)
My Own Private Idaho is not only an iconic LGBT film, but one of the most iconic films ever because of the unconventional structure, the compelling narrative and the insanely amazing acting. What makes the movie even more surreal is the fact that the lead character is suffers from narcolepsy.
Directed by Gus Van Sant, the movie explores the narrative of two young boards- Mike and Scott played by River Phoenix and Keanu Reeves, and their relationship. The most compelling things about the movie is that their relationship is a peripheral factor in a complicated web of other emotions and relationships.
2. Carol (2016)
Carol, directed by Todd Haynes, is one of the most critically acclaimed movies in recent times. It traces the story of Carol (played by Cate Blanchett) and Therese (played by Rooney Mara) and their intersecting lives, loves and relationship. It is a complicated and philosophical story of journeys and self-discoveries in times which were far from modern, and the complications that arise when one feels a simple, innocent connection with a person, which eventually deepens.
A critic commenting on the nature of the narrative had this to say about the film:
What I love about Carol is the way we're held outside the central relationship. How audacious. How challenging. We are left to our own voyeurism, the seduction of the image. Genius.
3. I Killed My Mother (2009)
Xavier Dolan's debut movie was also written by him, and he also acted in it. It is a semi-autobiographical work about his torrid relationship with his mother, with homosexual undertones in the movie. Even though it is one of the most iconic LGBT movies of all time, it explores themes and concepts more complex than merely same-sex love.
The protagonist has a complicated relationship with his mother, whom he views with disdain and resentment, and feels guilty for it. The very title of the movie suggests a suspense where audience members are constantly on the edge, waiting for the inevitable matricide to occur, and through this edgy adolescent coming out story, Dolan builds a riveting narrative which is unforgettable and immensely moving.
---
Suggested read: This Recreated LGBTQ Version Of Adele's 'Hello' Will Make You Reach Out For The Tissues, And Then, Cry Over Finishing Them All
---
4. Brokeback Mountain (2005)
Brokeback Mountain is one of the more mainstream movies which had Jake Gyllenhaal and Heath Ledger in the lead. Directed by Ang Lee, this stunning specimen of cinematic artistry traces the lives of these two individuals over the course of two years, and how they explore their inexplicable attachment with each other, despite moving on with their lives.
The movie makes use of spaces and silences to communicate more than words ever could, and stands apart as one of the best LGBT movies ever made.
5. Moonlight (2016)
Another highly critically acclaimed film was Moonlight which came out in 2016, and was a surprising success, considering how little commercial success films like these find with mainstream audiences. It is a moving coming-of-age story of a young black boy in America, who grapples with his own sexuality, while simultaneously exploring his complex relationship with his peers, his tutor, his mother.
According to Anwen Crawforn of The Monthly in Australia,
It is tempting to call it a universal story, a timeless story, but this is too comforting, too glib. It is a specific story, of being queer, black and poor in America – still a story that is little told onscreen.
6. Happy Together (1997)
To make a politically charged film with strains of homosexuality in 1997 China was a feat that Wong Kar Wai managed to achieve, and as a result created one of the most brilliant and remember-able movie ever made. The most incredible thing about this film is that it traces the political history of Hong Kong as it was being handed over the to China, and through representation, he shows the relationship between two men stuck in Argentina, and their inability to leave each other.
The mutual co-dependence is laced with violence, emotional turmoil and tragedy, but through it all, he manages to show complex themes without making homosexuality the priority of the film's narrative. This one, you should definitely not miss out on
7. Boys Don't Cry (1999)
The movie is directed by Kimberly Pierce and traces the story of Teena Brandon, a real-life transgender person in America who was brutally murdered in America for his identity. Teena Brandon is born a woman and becomes Brandon Teena and explores her true identity.
Even though Hilary Swank, who plays the lead, got a lot of hate for being cast as Brandon Teena, because she is a cisgender actress, she nonetheless shines in the role, which ultimately got her an Oscar for best actress. It is a moving story about the struggles and challenges of being transgender and was the first of its kind in introducing the idea of female masculinity to mass audiences.
8. Milk (2008)
Milk is another film directed by Gus Van Sant, which has become an iconic addition to list of memorable LGBT films. This biopic shows the story of California's first openly gay person to be elected to office- Harvey Milk- and his consequent assassination by his peers. The role of Milk was played by Sean Penn, which got him an Oscar for Best Actor, and rightly so, for he delivers a powerfully moving portrayal of the famous politician.
Despite the macabre social and political situation, a sense of victory and elation permeates through the entire film, which makes it such a moving watch. It is a message of love, acceptance and courage which changes the face of the LGBT community and people's perception of it forever.
---
Suggested read: More Than LGBT: Sexual Orientations You MUST Know About In Today's Day And Age
---
9. Pariah (2011)
Pariah was a landmark film in terms of black cinema and to tell the story of a black teenage girl in Brooklyn exploring her identity has a lesbian was truly groundbreaking, even in 2011. The story, however, isn't a one dimensional narrative about a girl exploring her identity. He enlists the help of her best friend to find out exactly what it means to be who she is, and her attempts at finding a girlfriend while being at odds with her family members.
It is a wonderful story about coming of age and coming out, and what it means to be black and lesbian. Even after all these years it stands as a hallmark narrative for this genre and it managed to garner critical acclaim worldwide.
You might be wondering why is it at all important to know about the best LGBT movies ever made. The initiation of LGBT movies into the mainstream has been a slow and gradual process, with failed attempts and successful attempts. However, with more and more people accepting the LGBT community as natural part of society, it is becoming increasingly important to use mass media for mass education.
Watching LGBT movies helps people understand the community better and inculcates a sense of normalcy in people. They deep connection that cinema is able to establish with people is effective in showing everyone the real issues and challenges that the community has to face in the hands of the rest of the society. It is a way of social education, as well a crusade for compassion, which is necessary in a world where intolerance is the norm and prejudice is widely prevalent.
Featured image source: Instagram
Summary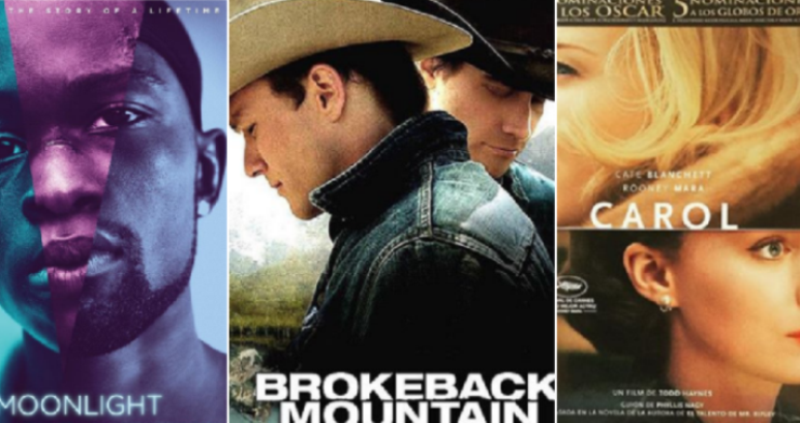 Article Name
9 Of The Best LGBT Movies Everyone Should Watch
Author
Description
Check out the best LGBT movies ever made, and why you should definitely watch them. I promise you, it is going to change your life.