It appalls me to live in a society where all it takes for men to brutally punish a woman is a misplaced, vicious intention to physically and psychologically disfigure her being, sense of self and identity – for rejecting their attempts to exercise the unabashed rights of the 'ever-undeniable' exercise of the male libido! I am not only shocked, but repelled by the continuing instances of crimes that are perpetrated upon the premise, motivated by such a highly misguided sense of entitlement and engendering horrific monstrosities such as rape and acid attacks. However, in a country that is rife with such heinous acts of barbarity every step of the way, it is rather surprising that I should be shocked by the instances that occur, fueled by a misogynistic set of ideals, a fallacious mechanism of exerting power and control and twisted ethico-moral compass that has its needle swinging in a direction the patriarchal ethos wants it to point toward!
It is needless to point out that these acts of uncouth violence are coated with a doubly disappointing veneer of social response to the victim/survivor dichotomy. Not only is the survivor (who has transitioned into one from her 'victim' status by braving the pain with immense grit, determination, and courage) not given justice, but she is also blamed for her 'perceived slight or overture' that brought upon her the vengeance.
---
Suggested read: Your faceless selfie can help acid attack survivors
---
Such is the story of Sonali Mukherjee, an acid attack survivor, who was 'punished' for spurning the advances of a group of men in her locality about twelve years ago. Today, she stands tall in the court room where she has tied the knot with Chittaranjan Tiwari, the love of her life – a blushing, beaming-with-joy bride.
Image source: Facebook
On  the night of April 22, 2003, an 18-year-old Sonali was asleep on the terrace of her house, when some men splashed acid on her, which disfigured her face and impaired her ability to hear. The attack severely burnt her face, neck, the right part of her chest, and lower torso. The incident took place in Dhanbad. The three men responsible were held and two of them were even convicted. But bail was granted to them by the Jharkhand High Court. Since then, Sonali has undergone several reconstructive surgeries and fought a painful battle, facing a shortage of funds to fight the court case against the three accused. She has also appealed to the High Court, in hopes of justice.
However, the courage required by Mukherjee to wage a battle for justice and fight the unjust tenets of society wasn't always hers. There were times when she was so distraught by the pain and suffering that she wanted to give up on her harrowing journey of recovery and demand for justice. She had even pleaded with the government to allow euthanasia, a request that had been denied. It was then, that Sonali picked up the pieces of courage she had stowed away in some remote corner to return to life with renewed energy and vigor. In 2012, she burst into national spotlight by appearing on Kaun Banega Crorepati, hosted by Bollywood superstar Amitabh Bachchan, in a bid to win money for funding her facial reconstruction and burn treatment. The 27-year-old won INR 2.5 million along with her celebrity partner, former Miss Universe and Bollywood actress Lara Dutta.
---
Suggested read: Acid Attack Survivors' Photoshoot for redifining the conventional beauty paradigm
---
It was then, that Tiwari, an electrical engineer, befriended Sonali on Facebook. Deeply moved by her courage and determination, he extended a hand of friendship that soon blossomed into a deep bond of unconditional love. Recalling those moments, Sonali avers,
"My life had come to a standstill but Chittaranjan has brought me back the joy and happiness which was lacking."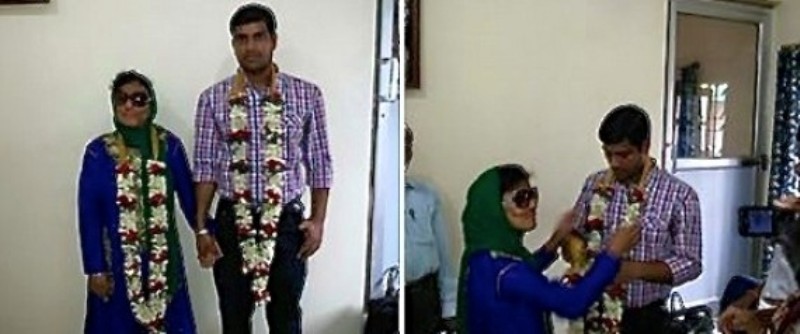 Image source: Facebook
Not only does this story reinstate some faith in a milieu that seemed shorn of all shreds of hope, but it also overturns the fairytale-wheels upon which society's tattered, rugged, and outmoded ideals of romantic love turn. Our 'hero-ine' (I was tempted to use hero, because she truly is one and then, I added the letters that identify her gender because I remembered how the term 'hero' is also a patriarchal linguistic tool, appropriated by society to reinforce that there's something inherently 'masculine' about any feat of incredible courage and tremendous bravery – take your pick!) is no damsel in distress wanting to be rescued, went down on one knee to pop the question to the love of her life and has shown the world that no matter what its unjust corridors hand her, she will continue to forge her path across burnt tarmac roads, beaten down paths, and tortuous, torturous lanes – coz she has an undeniably powerful and brave heart, which she has rightfully bestowed upon one who is worthy of it!
We wish the newlyweds a truly deserved happily-ever-after!
Featured image source: Facebook
Summary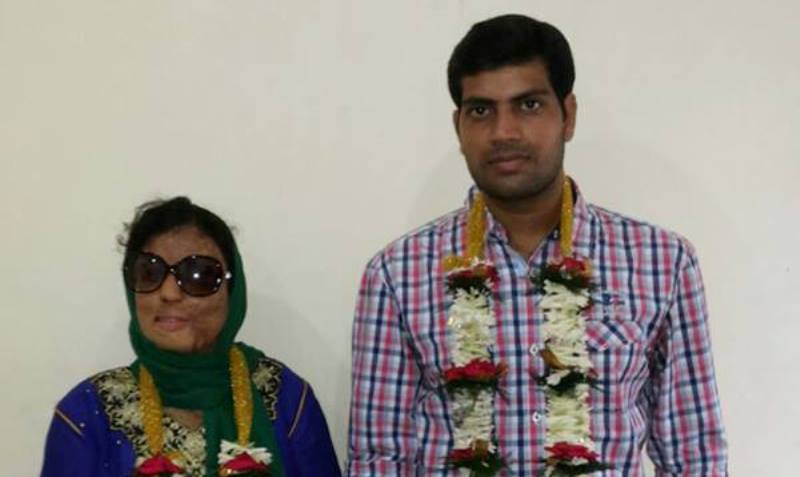 Article Name
Acid Attack Survivor Sonali Mukherjee Marries The Love Of Her Life
Author
Description
12 years after the acid attack, Sonali Mukherjee ties the knot with the love of her life, Chittaranjan Tiwari, an electrical engineer. Read on to know more.