Three nights ago, I had my first Lehenga nightmare. But before I get into details of that, just a quick brief about why I would even dream about Lehengas. My name is Anubha, I am 23 years old, I am an Arts entrepreneur, youngest of 3 daughters and I am going to be a bride in 3 months.  This week I have officially entered bridal panic, I need to order my bridal outfit and to my amazement all of the million designers that Delhi houses have disappointed me. If there is something I like, it doesn't fit my pocket and most of the things that fit my pocket, I just don't like [maybe the problem is with me then!]. I keep telling the sales people, "I am a happy bride, I want a happy lehenga," but nothing I guess has been made that can justify my happiness.
I have been engaged for two months now, but honestly it was not until three nights ago, when I had scary dreams of lehengas walking towards me saying "pick me, pick me", did I realize that my life has changed or is steadily changing. And that is when I decided that this transition is definitely one worth recording. Therefore I present Chronicles of a Junglee Bride.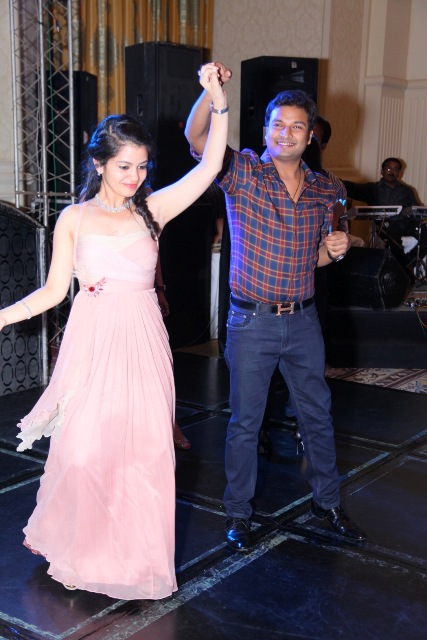 Image courtesy: Anubha Jain Gupta
There are several reasons why I decide to call myself a Junglee Bride: the biggest one being my pictures from the party hosted by my in-laws to announce this engagement. Those who know me, are aware that I am a big believer of decorum, I know how to behave in public, how to sit/stand/smile..I am very socially appropriate. However, the pictures that I saw of the bride to be on her very first big function, were nothing like that girl I knew and to my amazement I was nothing but pleasantly surprised to see this excited new girl in front of me.
This is my transition number 1: I had always hoped to find a partner who would hold the string to my flying kite and that day, that is what I experienced. While I cheered and hooted for my family who performed for us, I saw my partner enjoying my excitement. While I bounced on the dance floor from one group to another, I saw my partner do the same along with me. For the first time [despite my super heavy outfit] I felt so relieved and light. I didn't feel like my freedom was threatened, I felt like I had a companion with whom I could be free.
Transition number 2: My universe has suddenly expanded, I have added to my already full family another set of parents, a sister and a brother in law and two nephews. As young girls, we all day dream about our marriage home, our husband, wedding etc [yes, I am going to finally admit it] but I don't remember what I had in mind when I thought about in-laws. Maybe I was too influenced by all the K serials I was addicted to as a child, so when I accepted my new family I had no idea what was coming my way. I am constantly taken aback by how much warmth and love they have for me and I am truly inspired to find ways of reciprocating the same to them. This is almost an unprecedented transition for me, my new family urges me to take a relook at my expression towards my own family, I learn new things from them everyday and just hope that I can become as exciting for them as they are for me.
Transition number 3: Priorities change. Before my own, I have had the chance to witness the marriages of both my elder sisters very closely.  I have been an on-looker to how they did things, how they took decisions, and inwardly made judgments about how I would definitely do things differently. Now I am in the same boat as them and completely understand why they did what they did [:O]! This has been the hardest transition but one I guess I was most prepared for.  One of the toughest things that I still struggle with is spending my days shopping rather than in office. I hate how I have to prioritize a caterer meeting over my graphic designer meeting. I can't stand the fact that I am not there everyday hounding my researchers for the work they are doing for me. However I realize that this army of people including both my families, the wedding planners, the event managers etc are all coming together to make my wedding the most beautiful day for me and this realization makes me let go. I jokingly tell my parents and sisters that the wedding is yours but the marriage is mine, however I know that letting go is the only way I can repay the debt of gratitude to my family.
Transition number 4 : More than a transition this is a realization, a realization that over 23 [almost 24] years , I have built for myself a constellation of friends who have come together for me to shine like never before. The day I got engaged I made a whatsapp group with all my closest friends and that group has not experienced one silent day. This group has become my biggest cheer-leader and my biggest critique. They reject all the ugly clothes I try, scold me for over working myself, flatter me when I try on sexy outfits and urge me to reach my highest potential all the time. They lookout for me when I am worried, are always suspicious of my fiancé but when it is required, they all stand by me like my biggest strength. In many ways my transition is this realization of this store-house of love and strength for me that I did not previously acknowledge.
I have three months before I become a bride, but until now this trailer into my new life has been very promising. I almost can't wait to get done with this courtship and re-settle, re-start and re-learn everything.
Continued in Part 2 of Junglee Bride…
---
Guest Author bio: Anubha completed her B.A. (Hons) English Literature from Jesus and Mary College, Delhi University in 2010, after which she went to the Courtauld Institute of Art, University of London to pursue her Post Graduation in History of Art. Since then she has worked with a contemporary art gallery, Khoj International Artists' Association and India Art Fair. Currently she is heading, Artsome.co, a not-for-profit first of its kind online portal which attempts to fill the lack of education and exposure to art in the South Asia.
Summary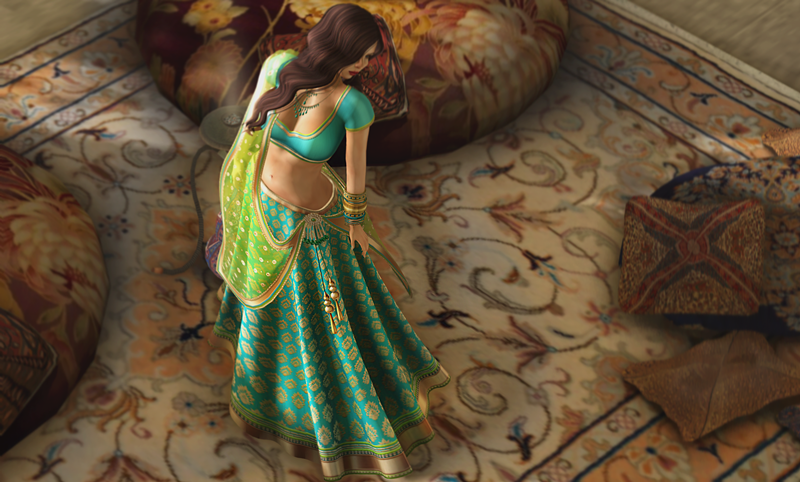 Article Name
#BridalFiles Chronicles of a Junglee Bride Part I - Lehenga Nightmares
Author
Description
I have three months before I become a bride, but until now, this trailer into my new life has been very promising. Would you like to watch it?