"I'd rather wear jewels in my hair than anywhere else. The face should have the advantage of this brilliance." – Heady Lamarr
When it comes to India, all you can think of are colors – in every shade and hue. The same applies to our geography, food, lifestyles, cultures and everything else. Therefore, this is also very much true for weddings across all communities in India. The land of diversity that India is, there is equal diversity in the way bridal looks are brought together across myriad Indian communities. But then, one common thread runs across each, the love for gold!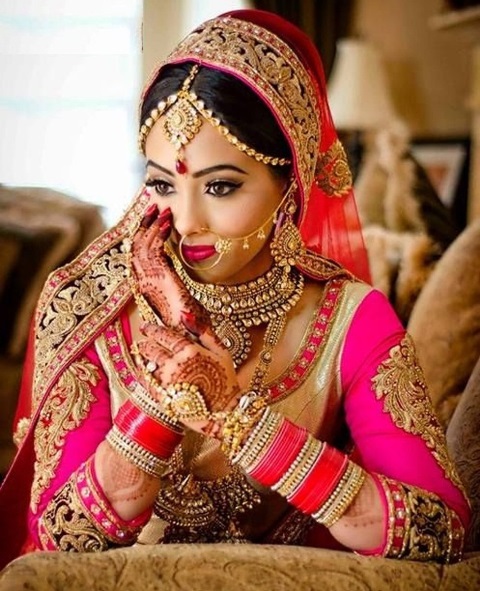 Image source: Pinterest
Yes, traditionally, India is one of the largest markets for gold jewelry, and Indians go to any length to get the right piece of gold jewelry to enhance a bridal look and prep the bridal jewelry collection up! Then again, with my wedding set to happen soon, I realized I am not one of those Indians at all. I do not love gold. Forget love, I cannot even flaunt gold with oomph! But does that make me any less beautiful or stingy? No way. Perhaps this sentiment is echoed by the very many modern age India brides of today too! For an awesome bridal look, you need styles, sense and seductive appeal, not gold.
---
Suggested read: Amazing jewelry worn by Bollywood divas in historical and contemporary movies
---
So it's high time Indians put their intense fascination with this yellow metal and look beyond it. Here's why India needs to move beyond gold and how you can do so!
1. Save the bucks
This is of course, the best every reason to stop hoarding gold. The government too has understood that gold jewelry is no longer an investment and therefore, launched those sovereign bonds. Then why do you actually have to invest in truckloads of gold? More so, the concept of locking up gold jewelry in the locker at bank is a turn off. Why would you waste money buying something for the mere show of it? The security concerns of flaunting gold in daily life too cannot be overlooked. With so many cons of buying gold, why would any bride of today go for heavy gold jewelry? Perhaps you need to buy a little bit of gold to please your family, but then you have interesting options such as platinum, antique gold, brushed gold, and even copper gold.
2. Get more style that is classic
Image source: Google, copyright-free image under Creative Commons License
Contemporary styles of jewelry blend gold of different varieties with precious or semi-precious stones to optimal effect. The resultant style is something more offbeat, yet a classic. Looking at your wedding album a decade down the line must make you feel still relevant. You cannot forego all your fashion sense for the mere love of gold! Pick a statement jewelry piece. For instance, earrings work well when in platinum or silver that can be used to set diamonds or emerald. The point is, you don't need gold for the perfect bridal look. You can achieve it with other precious metals as well.
3. Check the non-desi alternatives
Sterling silver, rose gold, platinum, zircon, uncut diamonds in silver – the list is like a rant that goes on. Oops, we almost forgot the Swarovski crystal jewelry here. With such high-end picks that make you look like a Hollywood diva, why would you appear too stifled in a traditional piece of gold that simply refuses to gel well with anything besides ethnic heavy-dressy stuff?
4. Go the theme way
Image source: Pinterest
Theme jewelry is in vogue. There are wedding vow collections from leading brands, that are not even gold pieces, and monogram jewelry. Etched jewelry, customized jewelry and the like too are only the beginning of your options. With options that are way fancier, classier, and chicer than yellow gold, why would Indians stay restricted to this metal alone? It is only a marketing gimmick that has caused gold to be wowed in terms of value. Other jewelry too has equal value and they do not let you down in terms of outfit-coordination either! So just give jewelry other than gold a chance and see how well it suits your bridal look.
5. Match up in style
Gold jewelry has a certain peculiarity. These do not sit right with modern or Western outfits. We always crave for silver or neutral toned versions of the blingy yellow shine to go with modern outfits. In reality, gold can be used on limited pieces and only chunky gold jewelry looks good. Even if you are out on bridal jewelry, you will have to have good use of the jewelry pieces you buy, or else, they are as good as non-existent! Bridal jewelry has emerged in styles that need more than typical gold!
---
Suggested read: 12 quotes on jewelry that will resonate with women all over the world
---
Gold jewelry is soon turning out to be an investment that lies dumped in your locker. In addition, not all gold styles and jewelry styles are very trendy. Family heirlooms are meant to be preserved, yes, but then, when a bride does not like wearing gold, then why waste money buying these? In fact, costume jewelry too is cool for pre-wedding functions such as sangeet and mehendi. The idea is not to go overboard lest people realize you are not wearing the expensive jewelry pieces as tradition dictates you to. But then, as Judith Miller very aptly said, "The great thing about costume jewelry is that there's something for everyone – there are very humorous pieces and very extravagant and outrageous pieces." So why not give it a shot, eh?
Always remember this line by Anthony Liccione: "It's not what you have on the outside that glitters in light, it's what you have on the inside that shines in the dark." 
Summary
Article Name
The Perfect Indian Bridal Look: 5 Reasons Why Indians Need To Move Beyond Gold
Author
Description
Is it mandatory to stick to gold when it comes to the perfect Indian bridal look? No, not necessarily, and it's high time Indians looked beyond gold.