Best-selling author Jackie Collins,77, passed away of breast cancer. The author of raunchy novels of the rich and famous, all of which have been on the New York Times bestseller list and sold over 500 million copies in 40 countries, embraced the spirit of her wonderfully full life until the very end. In what was her last interview at her Beverley Hills homes, a warm, spirited and peaceful Jackie remarked,
"Looking back, I'm not sorry about anything I did. I did it my way, as Frank Sinatra would say. I've written five books since the diagnosis, I've lived my life, I've travelled all over the world, I have not turned down book tours and no one has ever known until now when I feel as though I should come out with it."
Image source: Getty Images
Diagnosed with stage 4 breast cancer six-and-a-half years ago, Collins chose to keep her illness almost entirely to herself, confiding primarily in her three daughters, Tracy, 54, Tiffany, 48, and Rory, 46. Her treatments over the years included a lumpectomy, radiation and various drug courses and combinations. Always close to her family, she remarked in her last interview how her most treasured joy in life was her sister, actress Joan Collins, her brother Bill, her daughters and her six grandchildren. "I love being with my family," she'd say, "I love sitting out by the pool and watching my [grandkids] play." As for her daughters, she said, "I'm so proud of them" and, her voice breaking, added, "I want them to feel secure and I want them to feel whatever happens, I'll always be there."
---
Suggested read: Tide To Go ad: spoof in support of same-sex marriage
---
When the tragedy hit the Collins', the family statement, announced the loss stating,
"It is with tremendous sadness that we announce the death of our beautiful, dynamic and one of a kind mother, Jackie Collins, who died of breast cancer today."
Image Source: Getty Images
Talking of Collins, the family said,
"She lived a wonderfully full life and was adored by her family, friends and the millions of readers who she has been entertaining for over 4 decades. She was a true inspiration, a trail blazer for women in fiction and a creative force. She will live on through her characters but we already miss her beyond words."
Memorial services in both the United States and the United Kingdom will be held privately. The Collins family asks that in lieu of flowers, donations be sent to the Susan G. Komen Breast Cancer Organization (in the U.S.) and Penny Brohn Cancer Care (in the U.K.).
Shocked and devastated by the loss of such a warm and brilliant soul, Hollywood has been mourning the terrible loss,
So sad to hear about Jackie Collins …Jackie Collins Has Died of Breast Cancer at 77 : http://t.co/hN00wrDMSR Mobile http://t.co/Ov3bsSjHfq

— Hoda Kotb (@hodakotb) September 20, 2015
Shocked & devastated at the death of @JackiejCollins. Loved & respected her. Thoughts & prayers go out to her family. pic.twitter.com/1RfmNEsm5G

— Sharon Osbourne (@MrsSOsbourne) September 20, 2015
Jackie Collins you were a light & it was a pleasure to know you. Thank you for bringing joy to so many. #RIPJackie pic.twitter.com/4zptFms0uw

— Jenny McCarthy (@JennyMcCarthy) September 20, 2015
In Hawaii w my pal. Brilliant, fearless, beautiful, funny, naughty, LOYAL, brave…I'm crushed. @jackiejcollins pic.twitter.com/kZ8r3YNlQU

— Kathy Griffin (@kathygriffin) September 20, 2015
i am devastated at the news about @jackiejcollins i knew her, she was a class act & a lady the diarist of hollywood at it's best & worst

— Sandra Bernhard (@SandraBernhard) September 20, 2015
An amazing woman. Talented. Funny. Kind. One of my very favorite producers ever. She will be deeply missed. http://t.co/FqmKvd97yY

— Melissa Gilbert (@GilbertforMI) September 20, 2015
I am so profoundly saddened by the death of a woman I admired & respected who guided me personally thru many valleys. @jackiejcollins

— Jillian Barberie (@askjillian) September 20, 2015
RIP Jackie Collins – so glamorous, so generous & such fun. The best party host in Hollywood. Such sad news. pic.twitter.com/4Qhd2jTUHn

— Piers Morgan (@piersmorgan) September 20, 2015
Sad to hear about the passing of my friend Jackie Collins. She was just on my show @OnWithMarioLopez & looked great.. pic.twitter.com/zRH7mkua99

— Mario Lopez (@MarioLopezExtra) September 20, 2015
Horribly sad news about Jackie Collins. She was a lovely, very special woman. RIP.

— Elizabeth Hurley (@ElizabethHurley) September 20, 2015
I'm so sad to hear of the passing of Jackie Collins. My heart is broken. 💔💔💔💔💔 What an honor to know her. #RIP pic.twitter.com/EBLcsM5aeC

— lisa rinna (@lisarinna) September 20, 2015
I'm shocked & saddened by Jackie Collins' passing. She was a true talent, a beautiful being & a dear friend.

— Larry King (@kingsthings) September 20, 2015
I'm so sad to hear about the passing of Jackie Collins..my love and prayers go out to her family and… https://t.co/Lfe6naWFZo

— Kris Jenner (@KrisJenner) September 20, 2015
Our deepest condolences to the Collins family in this hard time. RIP Jackie Collins.
Featured image source: Getty Images
Summary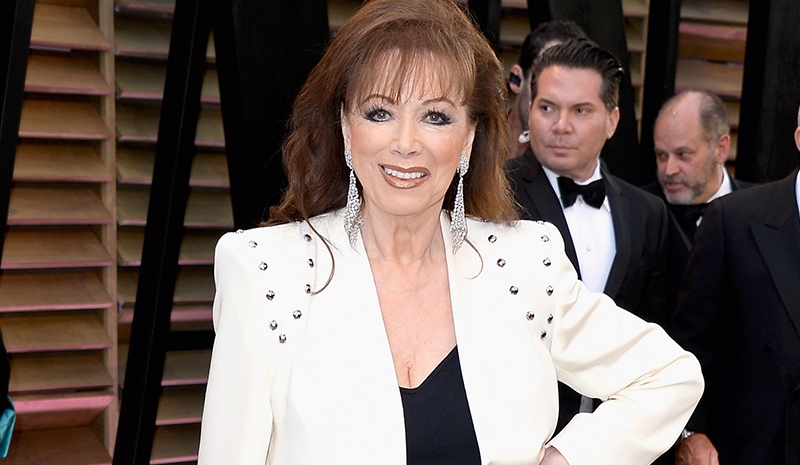 Article Name
Jackie Collins Dies Of Breast Cancer At 77
Author
Description
British bestselling novelist Jackie Collins dies at 77 of breast cancer. May her soul rest in peace.