A couple of days before the much-awaited wedding of Wimbledon champion Andy Murray and his girlfriend of almost a decade, Kim Sears, we decided to flip through the pages of their romance to bring the 'aww' Andy Murray and Kim Sears love story to the lovely people who aren't keen on missing out on a single detail about the lovebirds who shall soon be Mr. and Mrs. Murray.
Image source: Google, copyright-free image under Creative Commons License
The Andy Murray and Kim Sears love story had its beginning at a part for the US Open in 2005, where they met for the first time. At the time, Kim was traveling with her father, Nigel, the then-head of the women's section of the lawn tennis association in England. The tennis pro was instantly drawn to the lovely teenager and an all-consuming whirlwind romance was fanned to flames. Of course, the couple kept the passion flickering like embers, deep and intense but well-hidden from public purview. But life had other plans. The couple's 'keeping-it-all-under-wraps' act was blown to pieces when an ecstatic Murray rushed through the cheering crowds to give his ultimate court-side chic girlfriend a dynamite kiss after his first ever tournament win in San Jose, California.
Image source: Google, copyright-free image under Creative Commons License
Sears was still at school at the time and fondly recalls the memory,
"I went away with him thinking it's fine because he's never going to win so I'll be back in time for school on Monday and then he did!"
She then adds with a stunning smile:
"I remember saying to my mum, you've got to call in and tell them I've got the winter vomiting virus and I won't be in but then it was on the front cover of the paper so I was busted."
Image source: Google, copyright-free image under Creative Commons License
Thereafter, Sears quickly became a part of 'Team Murray' and has been touring with him to show her support for his game. While her tennis superstar husband-to-be has gone on to win major tournaments and has recently been basking in Wimbledon glory, the 27-year-old leggy lass has finished her major in English Literature at the University of Sussex.
Sears has grown up leading a sheltered life in the village of Barcombe, West Sussex with her 53-year-old father, Nigel, South African mother Leonore, 47, and younger brother Scott, 18. Murray is her first serious boyfriend, and having been thrust into the limelight thus, she has put her ambitions and fledgling acting career on hold to become an essential part of his inner circle.
Sears is also credited for having helped the feisty lad control his temper and transforming him from a petulant player to a potential world champion. She has enabled him to explore his softer side and channel his aggression in constructive ways and ward off any instances of destructive explosive outbursts. On their relationship that is almost ten years old now, the tennis ace remarks,
"I work better in a relationship. At the end of a day, especially if I've lost a match, I don't like talking about tennis, so it's nice to have someone to talk to about other stuff."
Image source: Google, copyright-free image under Creative Commons License
He explains how being with Kim has helped him become a better version of himself. Recalling the effect of grappling, coming to terms with and finally accepting the reality of his parents' separation that was thrust on him at a tender age of eleven, he says,
"As I have got older, having gone through my parents' divorce, it has become important to me to work hard at having a successful relationship. I found the divorce difficult."
---
Suggested read: Gwyneth Paltrow and Brad Falchuk debut romance at RDJ's birthday bash with 'Glee'
---
On being asked about the brief split with Sears, he says that loss makes you realize what you had. He says that he values his relationship with Kim even more, owing to the separation he has seen first-hand at his home and the transient one that he had with her.
When the tennis pro was asked about the secret that keeps his relationship thriving, he disclosed that Sears, having grown with tennis coach Nigel Sears, understands the strain placed on their relationship by the demands of his career all too well.
"One thing that, I think, really helps with her is that she really understands the sport because she has been around it from a young age," Murray says, "She was used to her dad traveling on the Tour when she was a kid so she knew what it was like to have that sort of distant relationship and that's obviously helped a lot. It's been seven, coming up to eight years pretty much – bar a few months in the middle – we've been together. It's been a long time."
Image source: Google, copyright-free image under Creative Commons License
Judy Murray, Andy's mother concurs.
"It is the best thing to have ever happened to him," says Judy.
Judy's mom also has similar remarks to make about the symbiotic relationship of Kim and Andy.
"The whole family has taken to Kim," says the 81-year-old. "When you see [Andy and Kim] in their own home together they just seem to be so suited to one another," said grandmother Shirley. "They go out in their welly boots, walking the dogs. We've always seen them as a pair," she smiles.
Image source: Google, copyright-free image under Creative Commons License
The relationship though, has had its own effect on Kim. She is now a prized gem of the TWAG, the Tennis Wives and Girlfriends glitterati – a club whose membership is coveted by many.
"Kim has changed almost beyond recognition," says a friend. "At school she was seen as a bit of a goody-goody who got on with her work and was very reserved. She was very clever but she was quite shy and seemed very innocent. She was pretty but a jeans and jumper kind of girl – not the glamourpuss she is now."
---
Suggested read: Beyoncé and Jay Z complete relationship timeline
---
Of course, the couple has developed a relationship for keeps, a relationship that is making its way to the altar and rightfully so. Andy Murray and Kim Sears have both mentioned how they have journeyed all the way to saying 'I do' by building a relationship founded on the tenets of friendship, connection, confession, compassion and communication. And with the tacit understanding that you see when the dapper tennis boyfriend makes a go at it in the court and looks up to see a cheering Kim, one cannot help but marvel at the love story that is going down in history as a great one! And if such are the effects of love, who's complaining?
Image source: Google, copyright-free image under Creative Commons License
Andy Murray has already gone on record to say that he wants to be a great player and never stop playing, but that he also wants to plan a future with Kim alongside leaving behind a great legacy.
"I'm sure I'll stay involved in tennis in some way, but happiness is the most important thing," he said.
And we sure know that happiness is on its way and shall come in with some beautiful vows of a lifetime!
Featured image source: Google, copyright-free image under Creative Commons License
Summary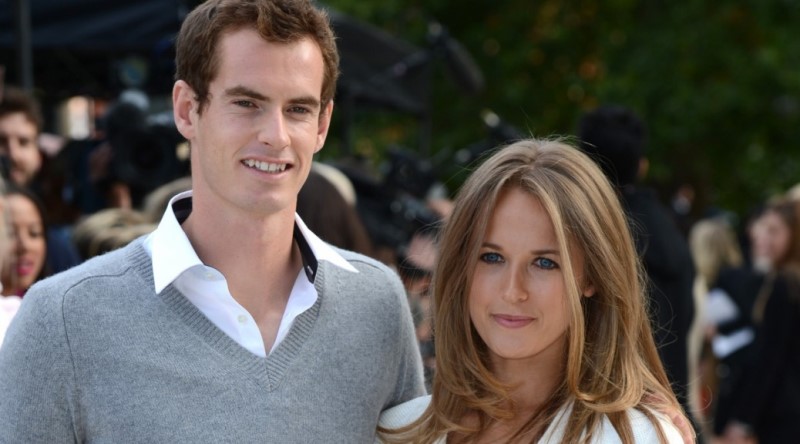 Article Name
Andy Murray and Kim Sears Love Story Timeline
Author
Description
A couple days before their wedding, we bring to you Andy Murray and Kim Sears love story to melt you into a puddle of mush. Enjoy!