Moms are the same everywhere – whether you're a celebrity mum or a regular everyday kind. They want what's best for their kids. And this means, breastfeeding them when their kids are hungry. In fact, these celebrity mums may be more relatable to regular mums than we thought, if these pictures are anything to by.
---
Suggested read: World Breastfeeding Week: Breastfeeding at work is enabling
---
So, without further ado, in honor of World Breastfeeding Week, here's a list of all some cool celebrity moms breastfeeding, who shared some memorable pictures with their fans – willingly or unwittingly (read, paparazzi):
1. Alanis Morissette
Recently, the singer posted a throwback picture way back from 2012, where she's seen nursing her then-2-year-old Ever, when on tour in Europe.
2. Alyssa Milano
Alyssa Milano, the beloved TV star of shows like 'Charmed,' made headlines in fall 2014, when she posted pictures of herself breastfeeding her daughter Elizabella, while getting made up by artists.
3. Angelina Jolie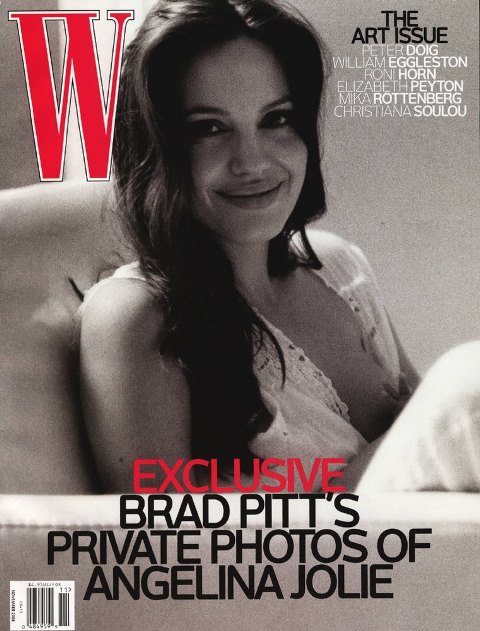 Image source: W
Brad Pitt's better half, Jolie, made the cover of W magazine, back in November 2008, where she's seen nursing. The issue contained several other private photos of the actress shared by her husband.
4. Doutzen Kroes
This Victoria's Secret Angel has posted several pictures of her breastfeeding her child. She even went ahead and posted one photo where she's seen pumping milk, with a caption that says she promotes breastfeeding.
5. Gisele Bündchen
This Brazilian beauty posted a picture of herself nursing her child, while getting her hair and nails done for a shoot. Needless to say, the picture made headlines.
6. Gwen Stefani
In 2014, Stefani posted a sweet picture of herself nursing son Apollo in Switzerland.
7. Jaime King
Jaime King aka Taylor Swift's bestie shared a sweet photo where she's seen nursing her eldest son James, who was eight months old then. She posted the photo with this caption: '#JamesKnight is now 8 months old! These are the moments a mother lives for. Breastfeeding should not be taboo – and bottle feeding should not be judged – it's ALL fun for the whole family:)'
8. Julie Bowen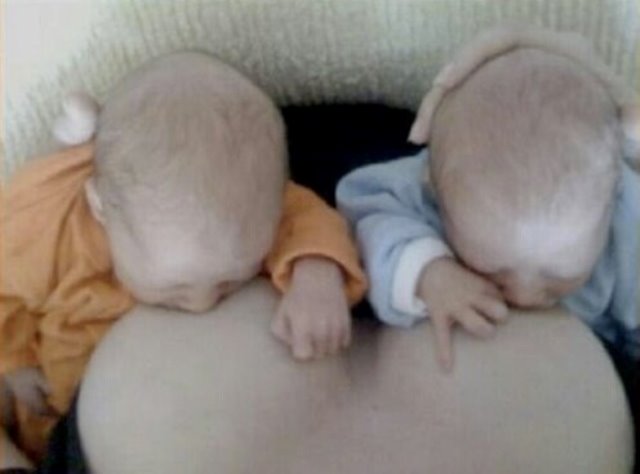 Image source: Twitter
Modern Family's Claire aka Julie Bowen, shared a photo of her nursing her twin boys back in 2010. She shared the picture on the talk show 'Lopez Tonight.'
9. Kourtney Kardashian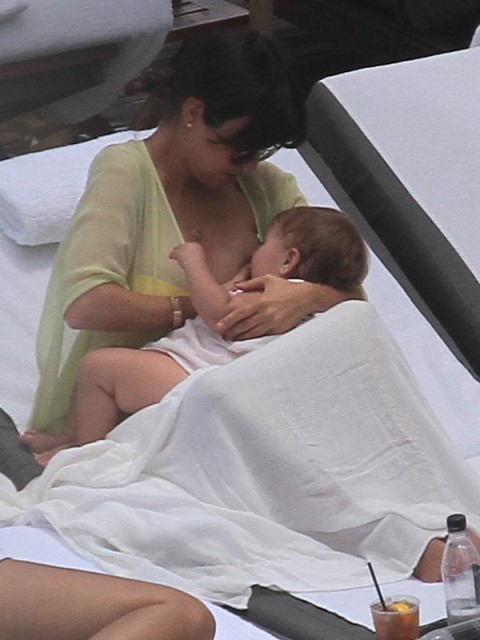 Image source: Splash News
Kim K's elder sister Kourtney's photo of her nursing her one-year-old daughter Penelope while vacationing with her family, was caught by paparazzi.
10. Maggie Gyllenhaal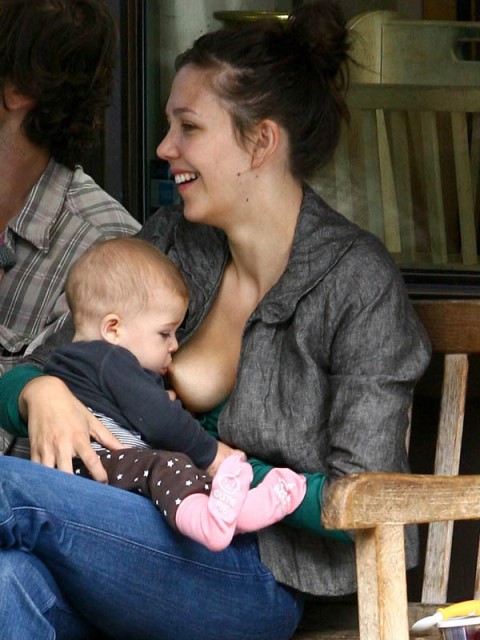 Image source: Splash News
Actress Maggie Gyllenhaal breastfed her daughter, Ramona, while out on a stroll by the Hudson River, back in 2007.
11. Mayim Biyalik
Image source: kveller.com
In September 2011, Big Bang Theory's Amy Farrah Fowler aka Sheldon Cooper's girlfriend, blogged about weaning her 3-year-old son Fred. The post also included a picture of the actress nursing Fred on the New York City subway, which was highly publicized.
12. Miranda Kerr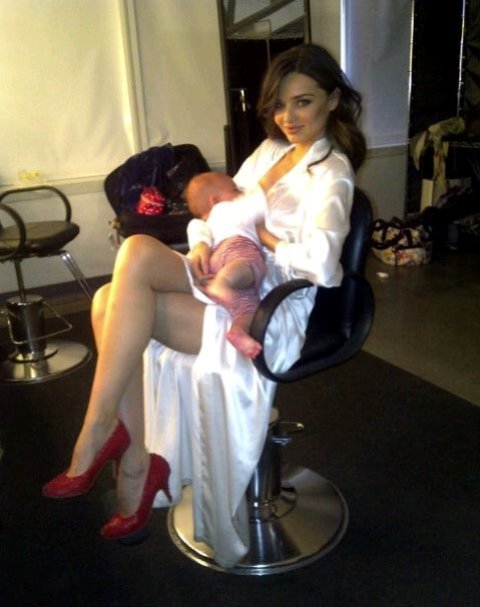 Image source: Twitter
Australian beauty and former spouse of Orlando Bloom, Miranda Kerr, posted a picture on Twitter, of her breastfeeding her son, Flynn, while on the job.
13. Natalia Vodianova
Russian model Natalia Vodianova, shared a photo of herself breastfeeding her one-year-old son, Maxim, to the world in the nude.
14. Olivia Wilde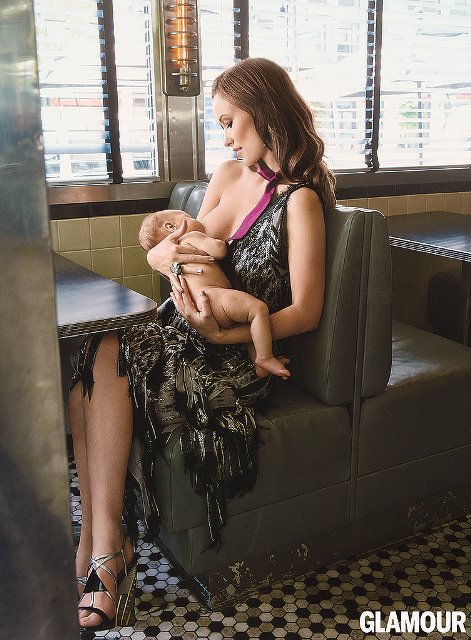 Image source: Glamour
Olivia Wilde aka '13' from the show House MD, was featured in a photo shoot for Glamour with her son Otis, with her nursing him.
15. Pink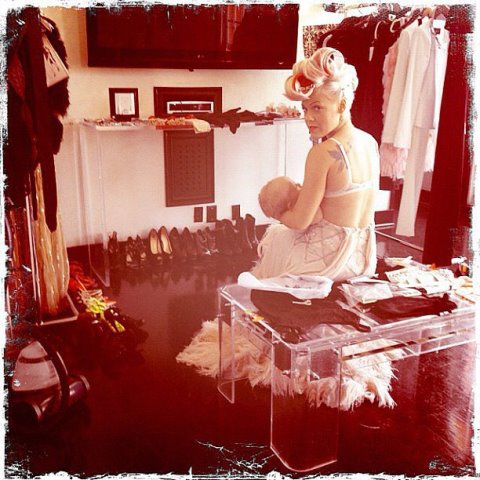 Image source: Twitter
Rocker Pink shared a picture of her breastfeeding her daughter, Willow, with her Twitter followers, with the caption: 'Lunchtime at my album photoshoot. Deborah Anderson takes some purty pictures.:)'
Featured image source: Instagram
Summary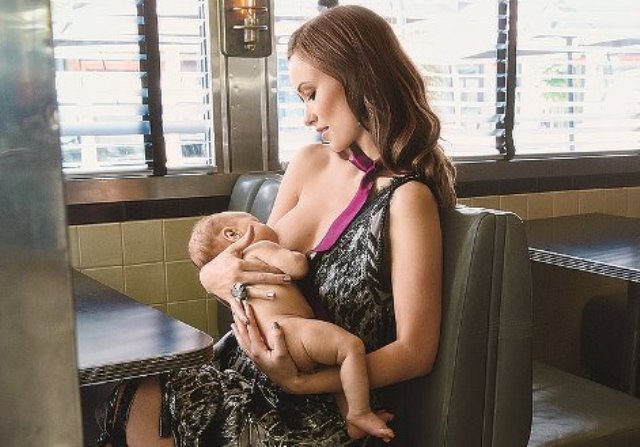 Article Name
15 Celebrity Moms Breastfeeding And Proudly So!
Author
Description
On the occasion of World Breastfeeding Week, check out these 15 celebrity moms breastfeeding their kids, and proudly so!