A celebrity wedding is a huge hoopla! Never has a celebrity wedding been normal – it is either one of the craziest, or it could simply be so hush hush that the world knows only afterward. But what goes behind these either big and fancy, or small and discreet celebrity weddings are the romantic marriage proposals that they make beforehand.
Since they are celebrities, they do everything in style. Some of the worst and best marriage proposals have come out of celebrity couples, and have inspired all of us to try doing things a little more uniquely and creatively.
---
Suggested read: 15 most romantic lines from Hollywood movies
---
Here are 15 such marriage proposals that only celebrities could get away with.
1. The proposal with the tablet shaped ring
Image source: Google, copyright-free image under Creative Commons License
Brad Pitt, before he proposed to Angelina Jolie, called all their six kids, and with a ring that was shaped like a tablet, he asked her to marry him. Rumor has it that she was down in tears and there was no way that she could possibly say no.
The ring had been designed especially for Pitt by famous jeweler Robert Procop.
2. The proposal that took place in an igloo
Image source: Pinterest
It doesn't matter if it was biting cold and both of them were going to freeze to death if they took off their clothes. Seal surprised Heidi Klum with a surprise helicopter ride to a mountain top where he had a well decorated igloo, with rose petals and champagne. We can't say if it was one of the most romantic marriage proposals, but it definitely was different.
As a side note, he could have threatened Klum into marrying him or he would leave her in the snow forever! Just saying. 😛
3. The proposal in the baseball stadium
Image source: Google, copyright-free image under Creative Commons License
The fancy love affair of reality TV star Kim Kardashian with rapper Kanye West was nothing less than a saga. With the excessive PDA and the gossip columns making news of everything they were doing, West decided to make it really big on the day of. He rented out a baseball stadium in San Francisco, where he projected the words "PLEEASE MARRY MEEEEE!" on the big screen with an orchestra.
When she said yes, there were also fireworks and family and friends were out there to meet her. She was surely a lucky bride-to-be.
4. The proposal where he kidnapped her
Image source: Google, copyright-free image under Creative Commons License
Celebrity wedding proposals know no bounds. Nick Cannon kidnapped Mariah Carey, took her on a helicopter ride, and then proposed to her. Mid-air seems to be the best thing to do – she sure loved it. And hold your breath! This was the second time he had proposed to her. The first time was with a ring inside a candy ring pop.
It is said that she always said, "When I was in an unhappy place in life, I always wanted to be kidnapped." Looks like the fairy tale began rather perfectly for them.
5. The proposal where she only had to look out of the window
Image source: Pinterest
The window of what? A private jet plane! Ludacris and Eudoxie Agnan had just taken off from the runway when he knelt on one knee to ask his big question. And how? By projecting it from the plane onto a terrain. We believe that she fell for the proposal so bad that they tied the knot only a few days later. Well, can't blame her. Who could resist a proposal like that?
This is by far one of the most romantic marriage proposals that the world has seen. Way to go Ludacris! You are our dream man.
6. The proposal that happened at Disney World
Image source: Instagram
Corbin Bleu proposed to his girlfriend Sasha Clements in front of the Cinderella House in Disney World in Orlando. It is reported that the engagement ring that he presented to her was in a glass shoe case and was the cutest in the world. For Clements, it would have been the perfect thing to happen as she had recently starred in a Disney Channel movie.
This is the perfect scenario for the madly-in-love couple – it never gets better or more romantic than Cinderella, does it?
---
Suggested read: Best relationship advice from 10 Hollywood celebrity married couples
---
7. The proposal where the ring didn't fit
Image source: Google, copyright-free image under Creative Commons License
Johnny Depp made the blunder and actually got away with it. When he was proposing to current wife Amber Heard, the ring didn't fit her. Guess what he did to make it up? He wore it around to most places he went to, no matter what the media coverage was like. Oh Johnny, you are so adorable, but next time around please keep your wife's sizes in mind. 😉
Think you could get away with the same mistake? Nah! Some things are just for celebrities to perfect.
8. The proposal where the witnesses were animals
Image source: Shutterstock
Go on a forest trip and look out for your life so you come back alive. But the Duke of Cambridge Prince William had other business to take care of. He proposed to girlfriend Kate Middleton when they were off to the Lewa Wildlife Conservancy to celebrate Prince William's graduation from a helicopter course. That is where he popped the ring and the big question.
The ring belongs to his mother, an 18-carat sapphire and diamond ring that accentuates the hand that it decorates. Talk about royal!
9. The proposal that quietly happened at home
Image source: Google, copyright-free image under Creative Commons License
Quiet home dinner dates are common with celebrities as they do not want to get noticed in public, but when it comes to a wedding proposal, they are the ones who are expected to do the best that they can. Eternal bachelor George Clooney decided to keep it really simple and classy when he proposed to his then-girlfriend Amal Alamuddin at home after cooking her a delicious meal.
It is amazing how this man, who could have done it anywhere in the world, did it in the comfort of his home.
10. The proposal that was digital
Image source: Pinterest
So when he proposed, there were no rings, kisses, or even bear hugs! DeadMau5 tweeted, "Will you marry me?" and his girlfriend Kat Von D tweeted back to him saying "Please excuse me while I go squeeze the hell out of my fiancé." And that was done. We are sure there was a ring, kisses, and so much more after, but here is how you do it directly and also keep up with the times.
Well, for the rest of us regular people, do you think she would leave you alive if you simply do it through social media? 😛
11. The proposal that happened on the birthday
Image source: Pinterest
When Justin Theroux proposed to Jennifer Aniston, he did it on his birthday. They were at a restaurant close to their home, and that was where he asked her the big question. They had been dating, so it was likely that she would say yes, but even if she wanted to say no, would she be able to? It was his birthday after all.
This is the most cunning thing to do, and you really think anyone else can get away with something like this?
12. The proposal where simplicity was the jewel
Image source: Pinterest
So Will Smith and Jada Pinkett were simply lying in bed and talking, and Smith suggested that they would be really good if they were married. "Wassup? You wanna marry me?" he asked, and she agreed. She said to the media, "It's really weird when you live the kind of lifestyle that we live: Simplicity becomes the jewel."
It's not only the big things that celebrities can get away with.
13. The proposal that happened at a race pitstop
Singer Pink took matters into her own hands when she stood at a race pit stop in Mammoth, California. She held out a placard saying, "Will you marry me?" Carey Hart didn't respond, so she held another placard that said, "I am serious." This is when he pulled out of the race and went back to pick her up. This is by far the most gutsy a woman has been about her love on international media.
14. The proposal that happened on one knee at a memorable spot
Image source: Google, copyright-free image under Creative Commons License
Neil Patrick Harris and David Burtka have been engaged since 2006, way before gay marriage was legal in the US. But their proposal was also one of the most awww-worthy. They were headed out to an Indian casino, and when they passed by the corner where they had first met, Burtka went down on his knee and proposed to Harris.
Harris also returned the favor by proposing to him in Santa Monica the following year. This is rather normal now, but it was one of the few of its kind when it happened.
---
Suggested read: 10 worst Hollywood pickup lines ever
---
15. The proposal that happened in a scrapbook
Avril Lavigne and Chad Kroeger were dating for a while, and she had been maintaining a scrapbook of her time in the studio. Kroeger very cleverly put a picture of himself holding a ring in the scrapbook and there it was. She opened up the book and was surprised to see the marriage proposal.
This is a rather creative marriage proposal and also makes a memory of it.
From private jets to simple meals, celebrities also do everything they can to keep their loved ones happy. Get inspired lovers, and think big.
Featured image source: Pinterest
Summary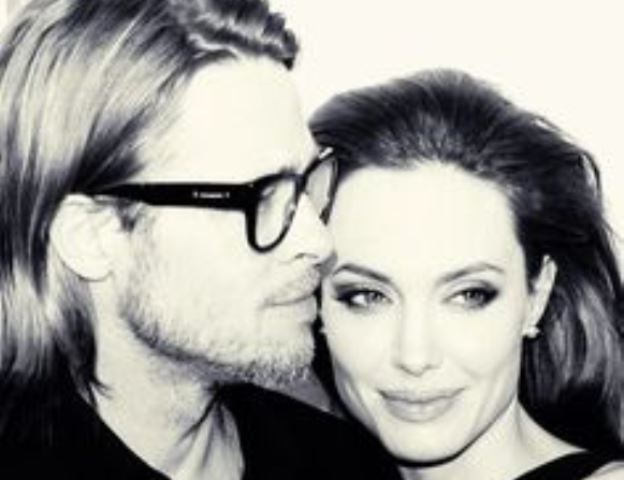 Article Name
15 Celebrity Wedding Proposals That Are Ridiculous
Author
Description
These 15 celebrity wedding proposals are ridiculous yet charming and sweet in their own way. Take a look.