Hollywood loves ink! Our favorite Holly-stars have made tattoos a trend of self-expression by extricating the art from its former caverns of rebellious undertones. From inane self-drawn art to poems and religious scriptures, celebrity tattoos have covered an entire gamut and our beloved celebs keep adding more and more to the club of these delightful and not to forget, hot inked nominals of their personality. Whether they carry some significance, are reminders of indulging a fetish, are carved in ink as a tribute or plainly a style statement, celebrity tattoos never fail to leave a legion gasping and in all likelihood, aping the trend.
---
Suggested read: The hottest vegan celebrities ever!
---
So today, we decided to bring you the best of celebrity tattoos on a sizzling hot platter. Check out these hotttt inked  nominals of sheer delight on our favorite celebs:
1. Angelina Jolie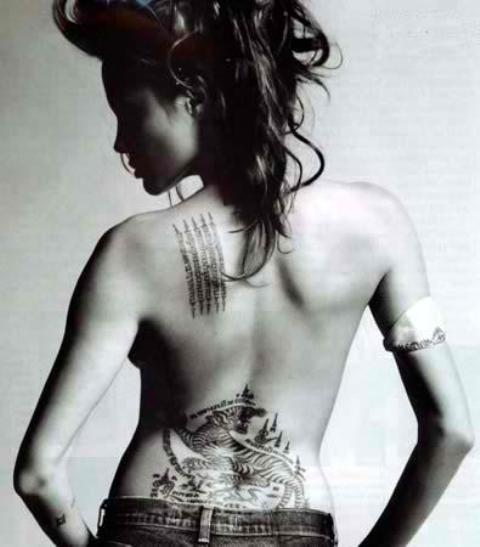 Image source: Google, copyright-free image under Creative Commons License
Well, the woman who captured Brad Pitt's heart has to look magnificent bathed in ink, no? Jolie has the largest assortment of tattoos on her body. After getting Billy Bob's name and a tribute to him removed from her arm and chest, she has gone on to make several additions to her 'carved in ink' repertoire. Almost all of these inked nominals hold special significance to her- some of which include 'Know Your Rights' in Gothic letters inked on her back, right below her nape. This one, sure, is in sync with her role as the Goodwill Ambassador for the United Nations High Commissioner for the Refugees and she definitely holds human rights as a dear cause.
Her shoulder has seen the Buddhist inscription for Protection dedicated to her adopted son, Maddox, inked in traditional Thai style— using long needles manually pushed into the skin by the famous Thai tattoo artist Noo Sompong Kanhphaiin. Jolie had to kneel in prayer during the tattoo process as the ritual demands. The inscription translates as: "May your enemies run away from you. If you acquire riches, may they remain yours always. Your beauty will be that of Apsara. Wherever you may go, many will attend, serve & protect you, surrounding you on all sides." Jolie originally had the Japanese character for "Death" in this spot, but had it removed. Kanhphaiin has also inked the royal Bengal tiger on Jolie's back! That's a one back to die for, no? Rawr! 😉
2. Lady Gaga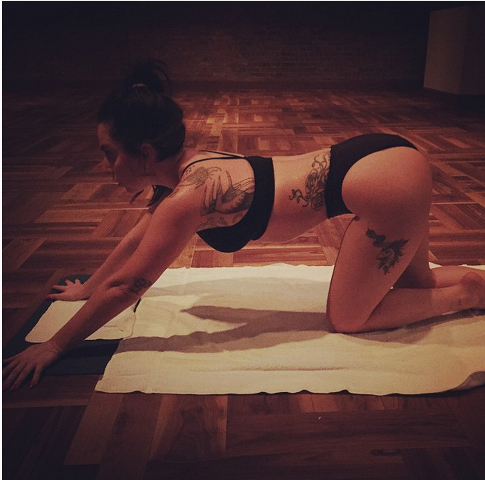 Image source: Instagram
Lady Gaga is another female celeb who has quite a string of tattoos on her being. The most prominent among these are her inner arm tattoo- a quote from German poet Rainer Maria Rilke which translates to: "In the deepest hour of the night, confess to yourself that you would die if you were forbidden to write. And look deep into your heart where it spreads its roots the answer, and ask yourself…Must I write?" with an in-the-end addition of 'Little Monsters' as a tribute to her fans, her thigh Unicorn tattoo with the words 'Born This Way' draped about a banner, a peace sign on her wrist in honor of John Lennon and a heart with 'Dad' written inside on her left shoulder. She avers that only the left side of her body is to be claimed by ink as she must, at "daddy's' behest, keep the Monroe side of herself intact! Aww…
3. Drew Barrymore
And yet another hot actress who sports quite a legion of tattoos on her beautiful body. Barrymore's tattoos include a bouquet of flowers on the left side of her hip, a crescent moon on her pinky toe, a simple black butterfly below the navel, a stylized cross tattoo with vines on her lower right leg, and on her lower back are two angels, each of them bearing her mom's name "Jaid', and the name of her former boyfriend underneath. Barrymore's own description of herself- "I'm free as a Bird" – is inked as a graphic token, a little birdie outline on her wrist. It is claimed that she drew on this one, herself. Talk of self-expression, eh?
4. Adam Levine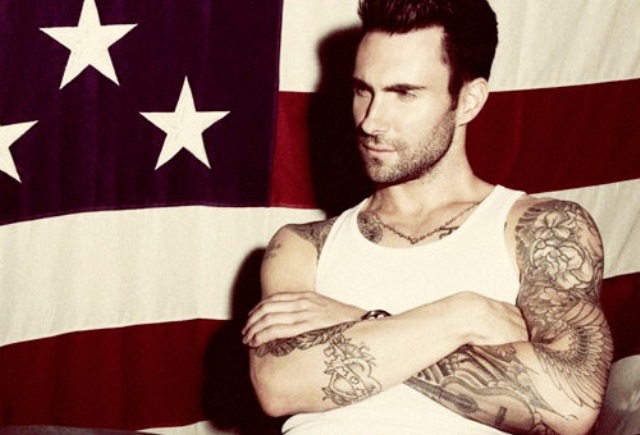 Image source: Google, copyright-free image under Creative Commons License
Did the Maroon 5 frontman not have women flinging their panties up and about already with his naked butt shoots and even more risque Insta-updates that he had to unleash this! The man has quite a many tattoos on his chiseled body and some among the tattoo army are a Sanskrit allusion to yoga on his left side, the 222 on his forearm which is representative of the door number of the very first studio Maroon 5 recorded in, a dove with cherry blossoms as a tribute to all who lost their lives in 9/11, some flowers right above the tribute as a dedication to his mom 'Patsy,' a 'Los Angeles' tattoo on his right bicep and a black bead necklace tattoo added quite recently. Apart from these, there are many more that grace his washboard abs those ohh-so-hot shoulder blades and quite a few dedicated to his beloved mom
5. Megan Fox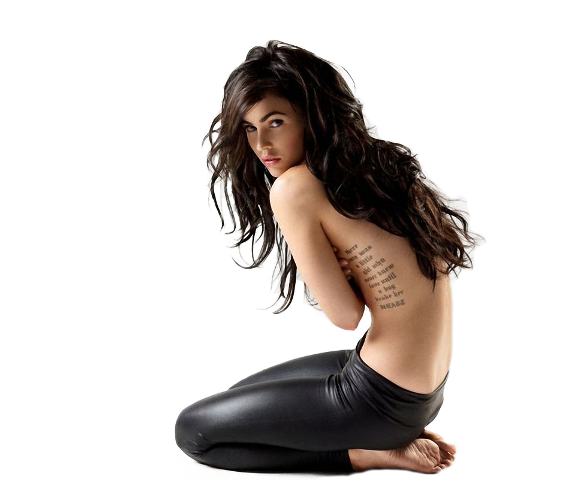 Image source: Google, copyright-free image under Creative Commons License
This hot actress' love for verse is mirrored on her body. The famous "We will all Laugh at gilded butterflies" tattoo on her upper right back shoulder is a quote from Shakespeare's King Lear, done in old english font. When asked what it meant, she said it meant "to not get too caught up in Hollywood because people will end up laughing at you." On the right side of her rib cage another tattoo reads, "And those who were seen dancing were thought to be insane by those who could not hear the music." quoted from the famous philosopher, Friedrich Nietzche. On the left side is another poem that goes, "There was once a little girl who never knew love until a boy broke her HEART." Apart from that she also has other tattoos scattered all over her body, the first one located at the back of her neck—a Japanese symbol for Strength which she had when she was 18 after a bad breakup. She also has a Moon & Star on her inner ankle because it reminds her of her dad who used to read her a book as a child which had a moon & star on the back. It is unbelievable how hott these verses look on her- as if not too many men in the world claimed her to be breathing verse already! 😉
6. Johnny Depp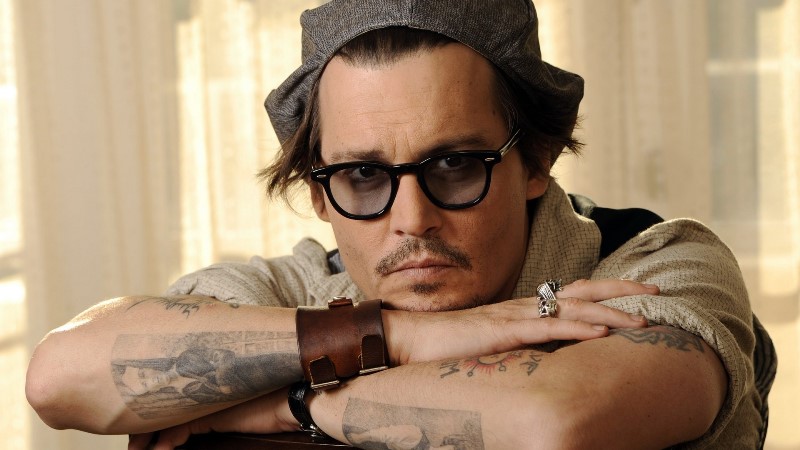 Image source: Google, copyright-free image under Creative Commons License
We didn't really need a reason to fall in love with the man, did we? And then, he flexes his biceps and we see this- ooohh! The pirate is a tattoo afficianado and avers, "My body is my Journal, and my Tattoos are my Story." His first tattoo is that of a Cherokee indian chief above which is a "Wino Forever" banner in honor of his ex Winona Ryder, which has been altered thereafter. Betty Sue, his mother's name, appears on the left arm wrapped in a heart, which, as Johnny himself avers, is a tribute to "the greatest lady in the world." Depp also has the name Lily Rose tattooed right above his heart- a symbol of love for his first born daughter. Jack, his son's name, is tattooed on his arm similar to Captain Jack Sparrow's tattoo of a sparrow in the movie Pirates of the Caribbean. The most recent addition to his inked repertoire is a black crow on the back of his hand, as a token of solidarity and support for the documentary West of Memphis, shared with one of its subjects, Damien Echols. Above the crow is a snake that symbolizes his Native American roots. Among the other tattoos that Depp sports, the number 3 features in quite many. It is a magical number for Depp and is therefore, felt in the three rectangles on his index finger, a tattoo of an I-Ching hexagram and a portrait on his arm.
7. David Beckham
Image source: Google, copyright-free image under Creative Commons License
If half the world wasn't swooning after this star already, he just made it to the most adorable celeb husbands by adding 'Victoria' in Hindi to his left wrist. He has 32 tattoos more and says that he'd never regret getting permanently inked for the one woman he has dedicated his life to. When asked why, David smiles and says, "She's my best friend. Would you ever hurt a best friend?" Well, I don't know about you- but he scores a million goals in my heart for that solo one-woman statement only! More of Beckham's tattoos include an angel on his right upper arm (done in 2004),  a roman number 7 on his right forearm. The number 7 is significant as it represents his jersey number in Machester United & England. It is also the name of their 4th child, Harper Seven. And btw, all of those tattoos are HOTT, just like him!!
8. Victoria Beckham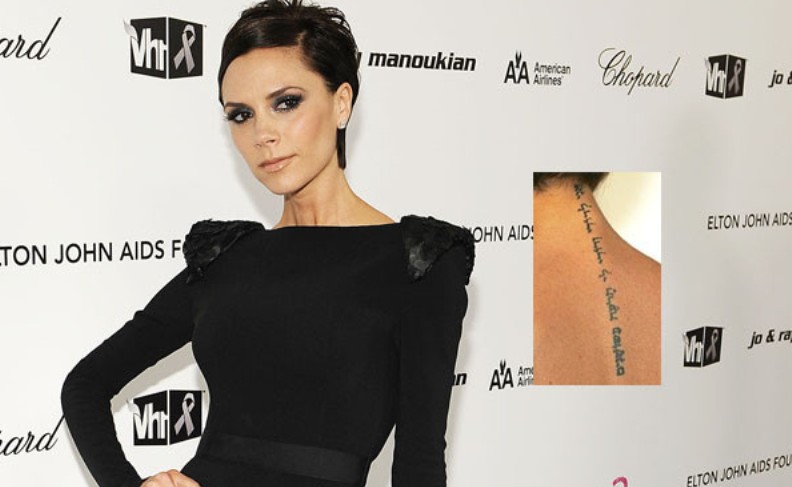 Image source: Getty Images
The woman whose name Beckham has inked is also not far behind in proclaiming her love for dear husband, as a forever inked nominal on her being.
---
Suggested read: Best relationship advice from Hollywood's celeb couples
---
She, too, not unlike hubby has a string of tattoos- the most prominent of which is the one down her spine- an emphatic declaration of love in Hebrew- which translates as "I am my love's and my love's mine." David has an identical one too, gifted as an anniversary present. Could love be more special? I don't think so.
9. Ryan Gosling
Ahh, a hottie who has us swooning- sports a cactus tattoo on his arm- a creative attempt gone wrong! :p Yep, Ryan Gosling was trying to make a monster's hand dropping a bloody heart but ended up making this instead! Never mind, Ryan- we love you still- just drop that shirt please! 😉
10. Rihanna
Image source: Pinterest
Ever since 2006 when Rihanna got her first tattoo- an image of two musical notes- since covered by an Egyptian falcon, the singer and performer has been adding to her tattoo collection. She has more than 15 tattoos to date. Some of her tattoos include a "Shhh" on her index finger, and "Love" on her middle finger, the Egyptian Goddess Isis under her chest, below her breasts, a trail of stars from the back of her neck, a gun under her left armpit, and a Sanskrit inscription which translates to "Forgiveness, Honesty, Suppression & Control" on her right hip, done in 2007.
11. Mike Tyson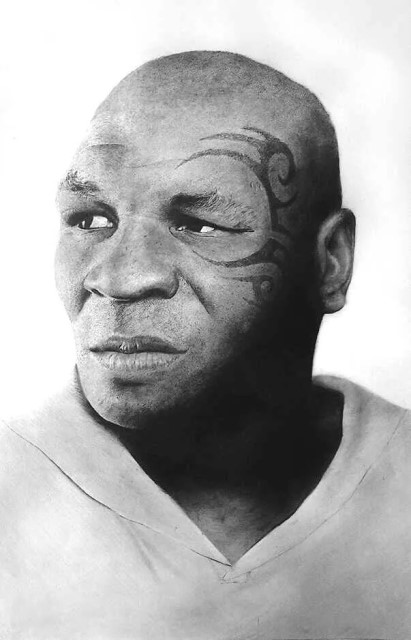 Image source: Google, copyright-free image under Creative Commons License
Ahh the badass- this guy has the infamous tribal tattoo on his face. Tyson avers that the tattoo is indicative of his 'warrior spirit,' just like that of the ancestral tattooed warriors with face tattoos such as the Maoris, Samoans, Polynesians, and so on. Besides the face tattoo, Tyson's also got Mao Tse-Tung & Arthur Ashe tattooed on his arms, and Che Guevara on his abdomen.
---
Suggested read: 10 Hollywood movie notions of love and romance
---
12. Scarlett Johannson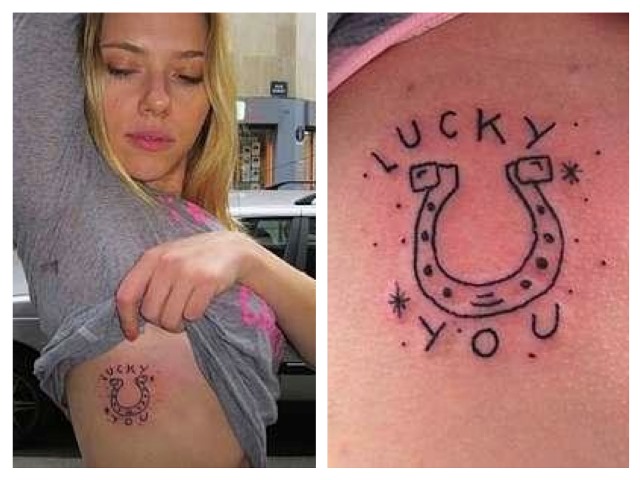 The Avengers star got a horseshoe tattoo from Fuzi Ubtpk, a Parisian artist who specializes in street & tattoo design. The artist is known for his self-described "ignorant style", ditching the idea of well-composed designs & focusing on a more raw, spontaneous design. Scarlett also has a colorful sunrise tattoo on her arm and a "I love NY" tattoo wrapped around her wrist.
13. Miley Cyrus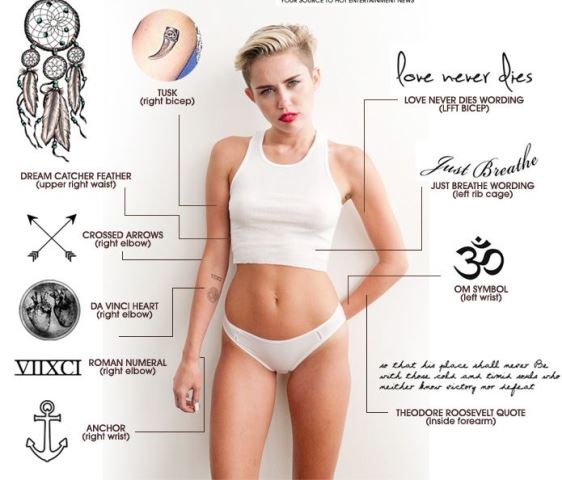 Image source: Pinterest
The singer and actor has more than 20 tattoos on her body. Her first is "Just Breathe", located right under her breast, as a tribute to her friend Vanessa who died of lung disease & her grandfathers who both died of lung cancer. "It reminds me not to take things for granted. I mean breathing—that was something none of them could do, the most basic thing. And i put it near my heart because that's where they'll always be", says Miley. Her 2nd tattoo is the word "Love" located inside of her right ear. "You're only supposed to hear things from people who genuinely love you", she explains. Miley Cyrus shares a heart tattoo on her finger with her family members. Some more of her tattoos include a dreamcatcher on her ribs to represent her 4 brothers & sisters—a symbol of protection, a quote from former American president Theodore Roosevelt on her forearm that reads, "So that this place shall never be with the cold & timid sould who neither know victory nor defeat", from the Citizenship in a Republic speech given out in Paris in 1910. She also has two anatomical hearts done by Kat Von D and her other inked delights are scattered all over from fingers to the soles of her feet!
14. Michelle Branch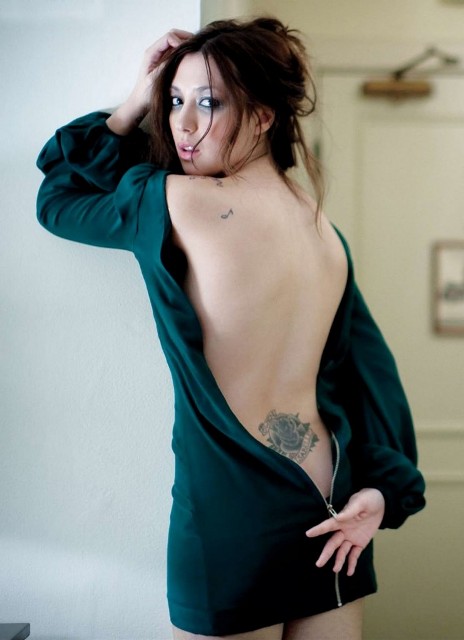 The singer told media that she'd get herself inked to celebrate several milestones in her personal and professional journey. As such, her forearm tattoo of a pin-up cowgirl shooting a gun was a tribute to The Wreckers album, has a heart on her ring finger for husband Teddy Landau and a star tattooed on her right foot in celebration of being nominated for a Grammy. Apart from these she also has the words 'keft' and 'right' inked on her wrists and a feather on her forearm. A music note graces her shoulder blade and a traditional Asian character with black roses and her daughter 'Owen Isabelle's' name covers her lower back. Meaningful and sexy, we'd say!
15. The Rock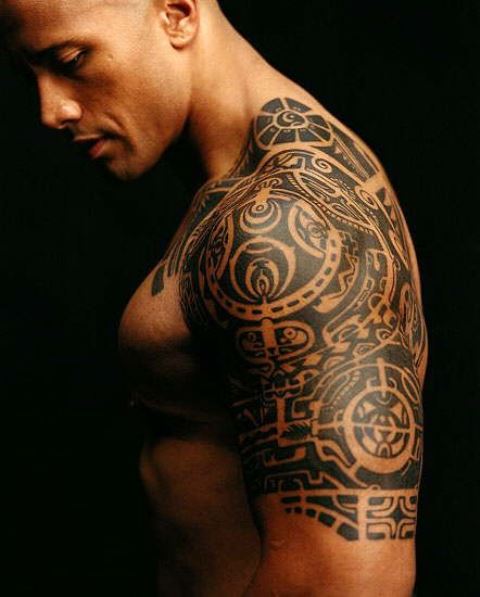 Image source: Pinterest
Dwayne Johnson aka "The Rock" owns a meaningful Samoan tribal tattoo sleeve dedicated to his family & spirituality. The patters that make up the sleeve symbolize different things. Such tattoos contain coconut leaves or niu—a tattoo that denotes a Samoan Chief Warrior, a Sun for good fortune, tattoos about his O lo'u to'a (wife), Dany, and his lo'u afafine (daughter), Simone Alexandra crawling to the chest, next to his heart, descending swirls of past, present & future—with the future becoming bigger, two eyes called "O Mata E Lua" to represent his ancestors watching over his path, the Great Eye—a symbol that allows its bearer to possess the spirit of the enemy, a broken face marked w/ shark teeth—a symbol of his strength & struggles, some stones of achievement & abundance to represent the foundation of life, and a tortoise shell to deflect evil spirits.
16. Eve
Image source: Reuters
Well, we don't really know what rapper Eve was thinking but she has the paws of a dog(?) inked on her precious assets. Yep, they are right there- a token of bow-wow and we'd never know why- save that she wears them with such oomph!
17. Sylvester Stallone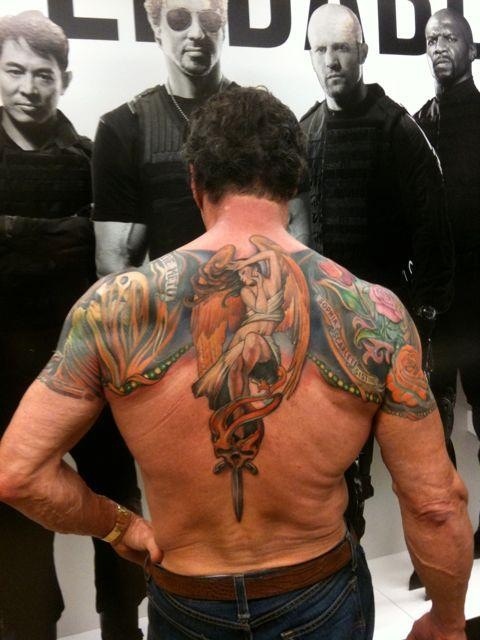 Image source: Pinterest
Sylvester Stallone has this portrait of wife Jennifer Flavin on his shoulder surrounded by three roses for his 3 daughters, whose middle names are all Rose. The Expendables star has been busy sporting a range of tattoos on his chest, back and arms to rev up and maintain his tough guy look and also, as the star himself maintains, are more than a stylistic choice. The intricate designs on his upper back and shoulder are also a way to cover many injuries he has sustained during his stints in action films.
18. Penelope Cruz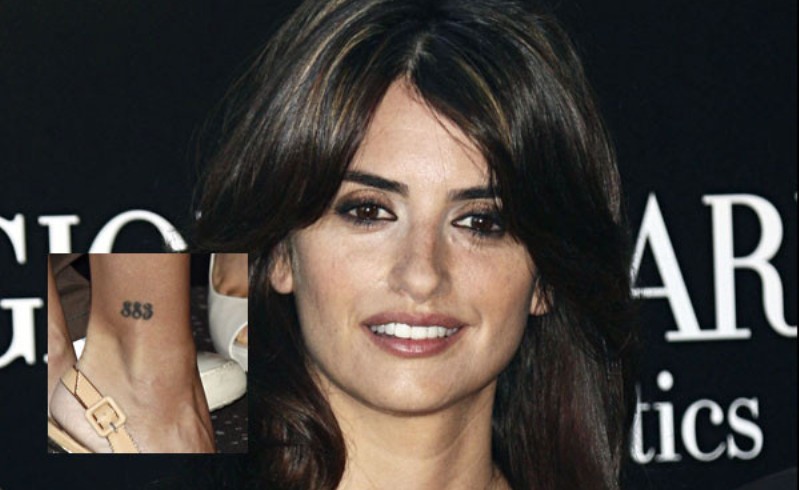 Image source: Photo Agency
This gorgeous woman has garnered much of the attention surrounding her tattoo for the significance rather than the art itself. A simple number 883 inked on her ankle holds some personal significance to her- something she wishes to keep private. All conjectures regarding the number being a a lucky number, Harley maybe(!?!) are disavowed by her. Well, until we know- all we can say is that li'l inked delight sits prettily on her ankles!
---
Suggested read: 15 of the most romantic lines from Hollywood movies
---
19. Nicole Richie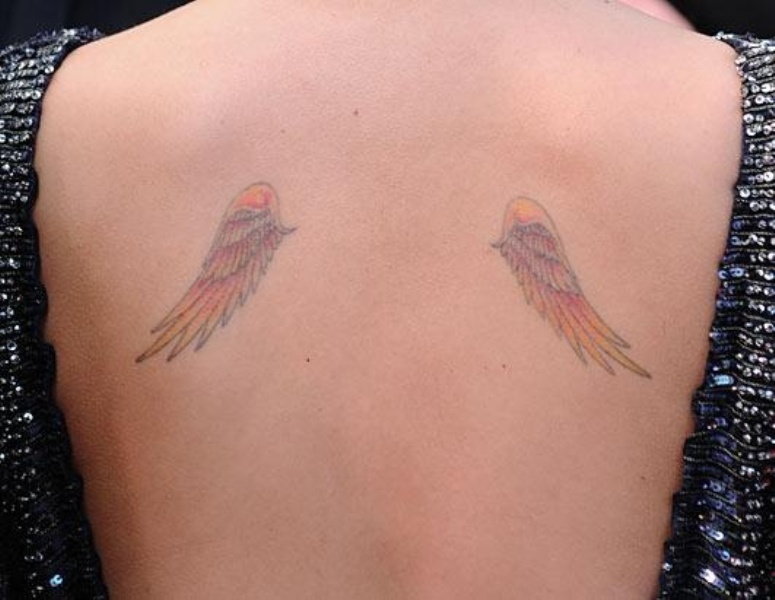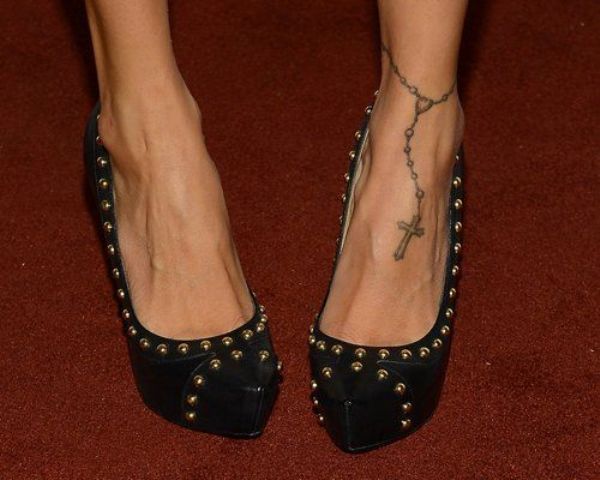 Image source: Pinterest
Nicole has some odd nine tattoos scattered across her body. These include Ballerina slippers on her ankle, a rosary on her foot, angel wings on her shoulder blades, 'Richie' on the rear end of her neck, 'Virgin' on her wrist and a tiara on her hip! Quite an assortment, don't you think?
20. Pink
Alecia Moore or Pink has 22 of these inked tokens! And while her husband Carey Hart has many tattoos in Pink's name, Pink says that it's just not her thing to get a lover's name tattooed and then covered or removed! Some of her tattoos include a tribal music note behind the right ear, a barcode at the back of her neck, a guardian angel on her left back shoulder, pink bow ties on the back of her thighs just below the butt, a razor blade on her inner left wrist, dog tags on her right ankle which represents her dad & brother (and a Chinese infinity symbol next to it), a heart on both big toes, the words "Mr. Pink" on her inner thigh, and a Japanese symbol for Good luck on her ankle.
Tell us about your favorite among these best of the best celebrity tattoos!
Featured image source: Google, copyright-free image under Creative Commons License
Summary
Article Name
20 Best Celebrity Tattoos That Are Smoking Hot
Author
Description
Hollywood celebs have made these inked art tokens an expression of self. Check out the best of celebrity tattoos here, in all their oomph!