Seems like every other week, there are re-imaginations of Disney princesses in one form or the other. From Disney princesses reimagined as bad*ss girls with tattoos and piercings, to real actresses photographed as Disney princesses, to Disney characters become tech-savvy and post selfies on Instagram, we've seen it all.
We've all grown up watching Disney princesses and maybe even taking turns playing them when we were kids. But this is something you've never seen before, and probably, not even imagined it – at all! Why, you ask?
A food site called LuckyPeach has gone and recreated four Disney princesses – Ariel, Belle, Pocahontas, and Rapunzel – into four beautiful and tasty hot dogs. Why didn't anybody else think of this, you wonder, eh? 😉
Image source: Google, copyright-free image under Creative Commons License
The brains behind this innovative project are Anna Hezel and Gabriella Paiella, who have converted generic hot dogs into four of the well-known Disney princesses. Not just recreating these Disney princesses as hot dogs, Hezel and Paiella have also provided recipes to create your own hot dog princesses in the comfort of your home.
Image source: LuckyPeach/Disney
---
Suggested read: 10 awful love lessons Disney movies teaches you
---
Explaining about their project, Anna and Gabriella said,
"We put our heads together and thought about what kinds of Disney princesses would inspire us the most. And obviously we thought of hot dogs. Disney has never created a princess who was a hot dog (dumb, in our opinion). Imagine if all of their princesses were hot dogs. So inspiring. Wow."
Image source: LuckyPeach/Disney
To complete the looks of these Disney princesses, Anna and Gabriella have used various veggies and condiments like lettuce, red onion, Sriracha, mustard, and plastic cheese.
Image source: LuckyPeach/Disney
Check out the recipes here.
Image source: LuckyPeach/Disney
What do you think of these Disney princesses as hot dogs? Did the article make you hungry for hot dogs? Will you try out any of the recipes that Anna and Gabriella have shared? Sound off in the comments below.
Featured image source: Anna Hezel
Summary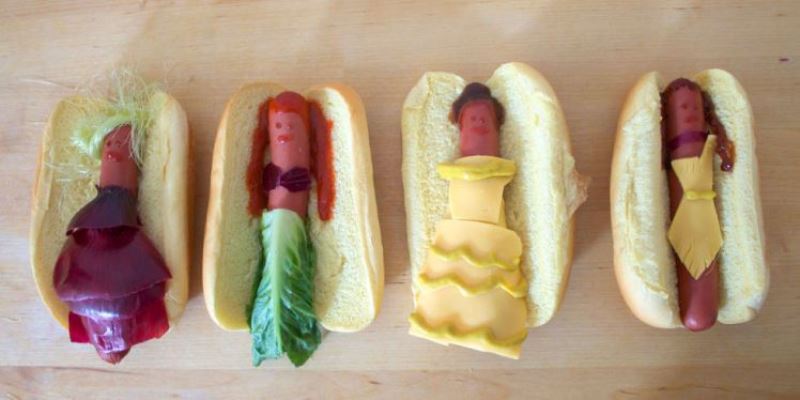 Article Name
Food Site Reimagines Disney Princesses As Hot Dogs
Author
Description
A food site, LuckyPeach, has recreated four Disney princesses as hot dogs! Yum!