A new beauty tool has taken every beauty feed on Instagram by storm. Facial Gua Sha is a facial tool that is putting jade rollers to shame. Also called the natural face lift, this tool is a sophisticated shaped jade and rose quartz crystals that you need to invest in immediately if you love your skin.
This curved device has gained great popularity on social media lately, but you will be surprised to know that it has existed for many centuries now! According to Dr. Lamees Hamdan told Elle this week,
"Gua Sha is an ancient traditional Chinese medicine treatment, where the skin is scraped to intentionally create transitory therapeutic petachiae [bruising]… To scrape the skin, tools are used, and the type and shape of the tool depends on the areas being treated but traditionally buffalo horn, a piece of jade, or even a coin was used as Gua Sha tool."
Dr. Hamdan is a dermatologist and founder & CEO of Shiffa, an anciety beauty line.
Today's practices have been tweaked slightly to make it convenient for today's users. For instance, you will not see someone using a buffalo horn as a gua sha tool, right? However, just because the technique has undergone some transformation, does not in any way mean that its effectiveness has reduced.
---
Suggested read: Great Tips To Choose The Best Toner For Acne-prone Skin
---
Having rightfully praised the facial gua sha, let us now find out what exactly it is!
A tool used for massage, the gua sha works a lot like a jade roller, but its effects on the skin are way better than the latter. According to OrganicOlivia, the benefits of gua sha include,
tones the muscles of the face which can help with sagging skin
firms and hydrates the skin
relaxes muscle tension in the face, contributing to full body stress relief (puts the body in a parasympathetic state, which is wonderful for anyone who has trouble falling asleep)
boosts blood flow & circulation
moves stagnant blood that contributes to dark circles & under-eye bags
helps the skin recover from blemishes & acne scars
prevents wrinkles and helps smooth existing lines
de-puffs and slims the face
instantly lifts and plumps the skin
allows serums to penetrate deeper post-treatment
aids neck pain & headaches brought on by tight muscle or fascia
SELF-CARE!
"Facial gua sha moves lymphatic fluids, releases the fascia so skin can function better, and breaks down adhesions and hardness in muscles, like in the jaw," according to acupuncturist Sandra Lanshin Chiu, owner of Treatment by Lanshin in Williamsburg, Brooklyn, who spoke with Refinery 29. "The net effect is a significant boost of blood and qi to the skin, and an increase in the circulatory flow of blood and fluids." 
"Muscle tension, inflexible fascia, and stagnant lymph are three primary causes for aging which clinical skin care products do not address," said Manhattan celebrity facialist Cecilia Wong, whose clients include Uma Thurman and Zac Posen, to Refinery29. She said that she has used facial gua sha on her clients for years. "What I love most about gua sha is that results are immediate, and you can't say that about everything," says Wong, who started gua sha on herself at the age of 10. "After gua sha, my skin is lifted, tightened, and any puffiness is gone." 
Using gua sha for facials
Gua sha is mainly used to scrub your face, and just the way you use a homemade scrub, try upward strokes for the gua sha. To scrap the skin well, go for long and upward strokes, followed by outward strokes.
Place the flat side of this facial tool on your neck. Slowly stroke upward at a 45-degree angle to your face. In case you want to use a different scrub for your neck (suppose you have a condition), then place the base of the tool on your chin or jaw.
Before using the facial tool, you must oil your skin for better results. You can try an essential oil like St. John's Wort oil, Moringa oil, Meadowfoam seed oil, or Rosehip oil.
If you planning to use the tool anytime soon, there are a few tips to keep in mind, which are likely to come in handy.
You should not use this facial tool in case you have sunburns, cuts, or rashes. Even in case of blood coagulation, it is suggested you stay away from this tool.
You need not store this product in the refrigerator. In fact, if you cool it and then use, your blood vessels are likely to get constricted. For the effectiveness of this technique, it is necessary that your blood comes to the surface.
After every use, clean the tool with a mild soap. After washing it with water and using a sterilizer, make sure you dry it well.
Gua sha tools should not be shared. Find a good sterilizer and keep the tool clean.
---
Suggested read:  An Expert's Tips On Finding The Best Blush For Acne-Prone Skin
---
In case you see the Gua Sha technique is not working for you, there are other ways to get rid of that pesky acne. Here are three quick ones, we would like to share with you:
Make a cucumber pack
Cucumber is a natural astringent, which makes it great for oily skin type. The oat, on the other hand, serves as a mild exfoliator, which also absorbs extra oil that block skin pores. If you want, you can also add honey to this mixture, since it is anti-bacterial in nature.
How about an orange peel face mask?
Orange peel is rich in retinol that helps in the skin renewal process. It also fuels the collagen production, which in turn, repairs and rebuilds your cells' elastin fibers. Orange peel is an amazing home remedy for treating stubborn acne and also lightening the scars left behind by them.
An oatmeal mask works amazingly on acne
Oatmeal, because of its therapeutic properties, is used to treat skin ailments, for years! It comforts the skin by soothing inflammation, outbursts and redness. By adding honey to the oatmeal face mask, you can lend it an anti-bacterial property.
---
Suggested read: Great Tips For Choosing The Best Concealer For Acne-prone Skin
---
That's a wrap from us. Let us know if you found this article helpful or not in the comment section. Also, if you have some topic you would like us to write on, share the ideas with us, we will be more than happy to brew some content for you.
Until next time!
Featured image source: Instagram 
Summary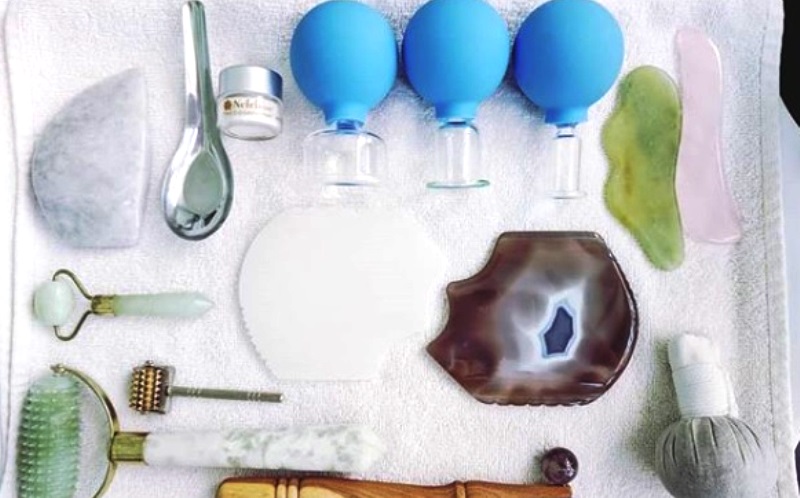 Article Name
Facial Gua Sha Is The Beauty Trend You Should Not Miss Out On!
Author
Description
Facial Gua Sha is a tool that is putting jade rollers to shame. This tool is a shaped jade and rose quartz crystals you should invest in right now.