Right now, you probably might be thinking that this is a bad idea to begin with, that if you have acne-prone skin, there is no way that you could wear blush. However, that isn't the case, because today we will be talking about the best blush for acne-prone skin, which won't lead to a week's worth of breakouts and scarred and marred skin.
People who have sensitive or acne-prone skin often shy away from makeup, which is probably a wise decision, to think of it. Most of the cheap makeup products or the makeup that is found in drugstores contains a number of harmful chemicals and artificial compounds which can trigger your skin and cause even more acne. Furthermore, because you have acne, you need more makeup applied in more layers to cover the marks and blemishes, if you are a makeup addict. Blush can often highlight the acne instead of hiding it.
---
Suggested read: Great Tips To Choose The Best Face Primer For Acne-prone Skin
---
If you are worried that you will never find the perfect blush for you, then think again, because there are a number of blushes out there that are great for your skin, and doesn't lead to any more breakout. They are loaded with good minerals and Vitamins, and are also super pigmented, which can give you the desired results, without any undesirable side effects. Before we can go into the tips for picking the best blush for acne-prone skin, here are some tips that you need to follow, if you want to know about preliminary skin care for your skin type.
Wash your skin with warm water and gentle face wash every day, but not too often. Doing the latter can strip it of too much natural oils, leading to more breakouts.
Do not fidget with your acne, because they are prone to disappearing on their own. The more you touch them, the chances of scaring increases.
Moisturize your skin every time before you apply makeup, and after you take it off at the end of the day. Moisturizing not only keeps your skin healthy, but also provides a protective layer for your skin to handle the makeup that is about to go on.
Whenever you apply makeup on your acne-prone skin, you have to make sure that you use clean brushes. Dirty brushes have accumulated dead skin cells which can aggravate your skin condition and affect the quality of makeup.
Use only high quality, good makeup products which are enriched with minerals, vitamins and other natural, beneficial compounds.
Now that you are prepped and ready to dab on the hint of blush, here is a list of the safest blushes for your skin, ranging from affordable to high end brands. While choosing however, you also have to keep certain other factors in mind, like your skin tone, the occasion you are dressing for, and the texture or formula of the product that you are about to buy. All of this is discussed below.
1. Know your skin tone: There are three types of skin tone- fair, olive or medium and dark. Depending on the category that you fall in, you can check out the best blush, which would shine the brightest on your skin tone. However, just because I am telling you which colors are best for what skin tone, doesn't mean you can't experiment with colors which aren't conventionally recommended for your skin tone. You can wear whatever you feel comfortable in. however, if you have no idea about blush which us good for your sensitive skin, then here is a place where you can start.
If you have relative fair skin, then you should go for good brands which have some of the loveliest shades of soft pink, pale peach, rose and other such light hues, which would pop on your cheeks. You should also check out semi-sheer tones, so that it looks natural. If you are feeling bold, then you can also go for bold reds and plums. Here are some of the brands we love.
Colorbar Flawless Finish Blush
Dior Vibrant Color Powder Blush
Benefit Benetint
If you have olive toned skin, then you have to first determine whether you have cool toned or warm toned skin. If you have slightly dusky, yellow undertones, then you should go for cooler colors like pink, red, plum and the like. However, if you have a bluish undertone to your skin, then you should check out colors like plum, orange, coral, peach, etc. Here are the best brands that have these colors and are also good for sensitive skin.
Makeup Forever High Definition Blush
Laura Geller Beauty Blush-n-Brighten
MAC Powder Blush
If you have dark skin, then your options are endless. Depending on your mood, you can go for bright colors like reds and warm oranges, or if you are feeling more natural and casual, then matte pinks, corals, peach and metallic shades would look wonderful on your skin tone. However, you have to be careful of choosing the brand, so that it doesn't aggravate your acne condition.
Tarte Cheek Stain
NARS The Multiple Stick
Kevyn Aucoin The Pure Powder Glow
2. Know the occasion you are dressing for: depending on whether you are feeling casual or over the top, you can decide on the intensity of your blush. However, the occasion for which you are making up your face is also detrimental of the performance of your blush. It not only affects the color that you should go for, but also the longevity that your makeup provides for you.
If you are dressing down, that is going for a natural beauty kinda look, then you should go easy on the intensity of the color, and how translucent it appears on your skin. You can go for shades like sheer pink, rose, peach and other gentle colors, which will give you that slight hint of a blush to oomph up your makeup look in general. Here are some of the brands we are biased to.
Summary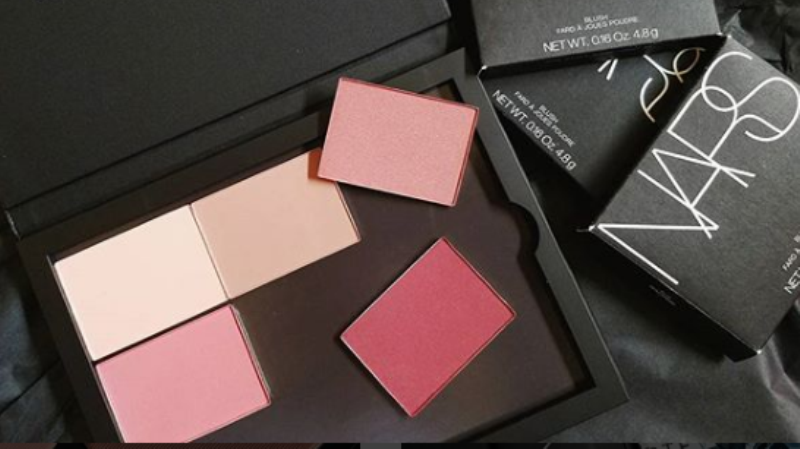 Article Name
Useful Tips On Finding The Best Blush For Acne-Prone Skin
Author
Description
If you have sensitive skin, and have been avoiding makeup, then worry no more! Today, we reveal the tips you need to pick the safest and best blush for acne-prone skin.
Read the rest of the article:
Next