'A father is a daughter's first love and a son's first hero.' – Anonymous
For a daughter – not only is a father the man who teaches his princess to build intricate sand castles on the beach, ride her first bike and be the coolest kid ever, he is also her anchor, her friend, her guidepost and her role model. From playing peek-a-boo with her when she was all of two to attending her pretend weddings, getting her through school troubles, undergoing a badass crazy teen phase all over again to getting overtly protective when you started to hang out with the guys whilst comforting you through heartbreaks and being there through thick and thin, a dad has loved you ever-so-more every single moment right from the time he saw his daughter on the ultrasound.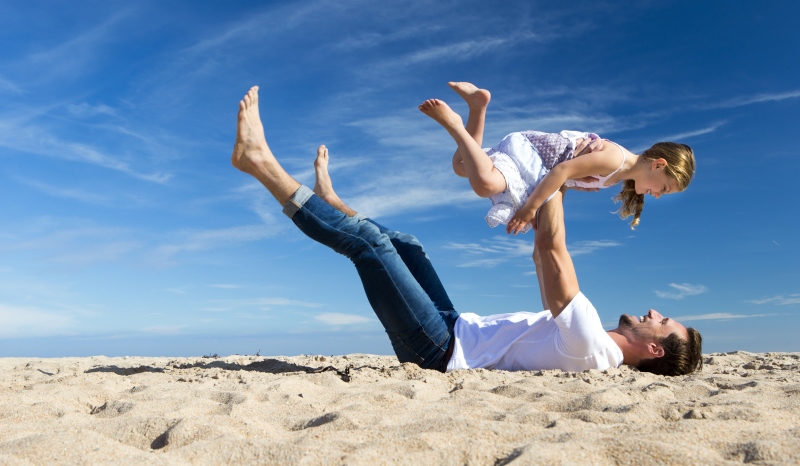 Image source: Shutterstock
And on this beautiful journey, he not only made her who she is but also laid the template for her understanding of self, the world and relationships. In choosing to love her mother, attach to their daughter, celebrate her mind, teach her to love herself, be confident, self-reliant and at ease in her own skin and sexuality, invest respect to earn it and differentiate between how real men and jerks treat women, negotiate differences with them and handle relationships, he became the sterling example of a gentleman to her. As such, how could he not be but the first man she ever loved not because he taught her the 'how to,' but because he showed her how!
---
Suggested read: Why I doff my hat to the women who choose NOT to have kids
---
For a son – a father is the man within whom is mirrored the potential of who he can grow to be. While the bond between a father and son can define who he wants (or does not want) to be, a positive father-son relationship of yesteryears has broken free of the invincible shell of distant respect to one that is brimming with love, care and sharing. Not only do fathers make an attempt to bond early with their sons but they also help them overcome the Freudian phase of competition, by standing firm by their side as a friend, philosopher and guide.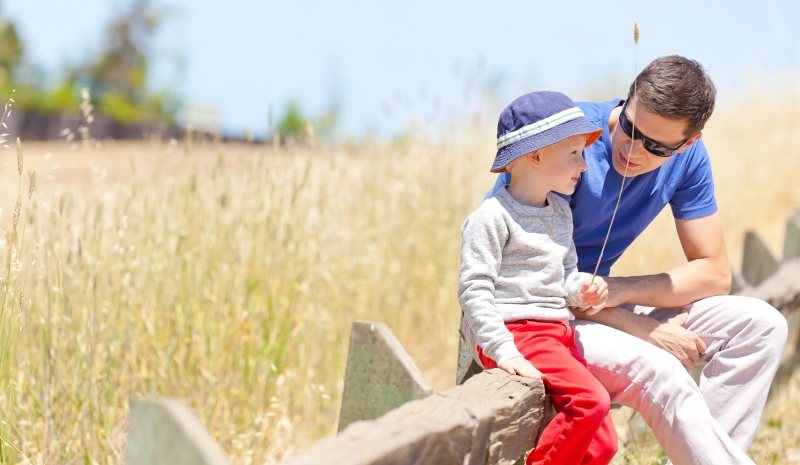 Image source: Shutterstock
In choosing to treat a son as an equal, worthy of strapping on an armor to brave life's troops, a father does not just teach his son to be brave, responsible and courageous, but also paves the path for him to become a true hero, undeterred by any obstacles on the way- not unlike the hero he, himself, is to his son.
By being a role model for his children, a father not only transcends his conventional role as provider but also embroiders delicate and invaluable patterns of the values that would become their guiding compass when he is no longer around. By injecting a perfect complementary parenting style to the blend that his yang nurture makes with mommy's yin care, he makes his children grow under the composite whole of  learning what they live, in place of living what they learn!
This Father's Day, we have decided to string together some of the most famous father's day quotes that celebrate fatherhood. Take a look:
1. "My father gave me the greatest gift anyone could give another person, he believed in me." — Jim Valvano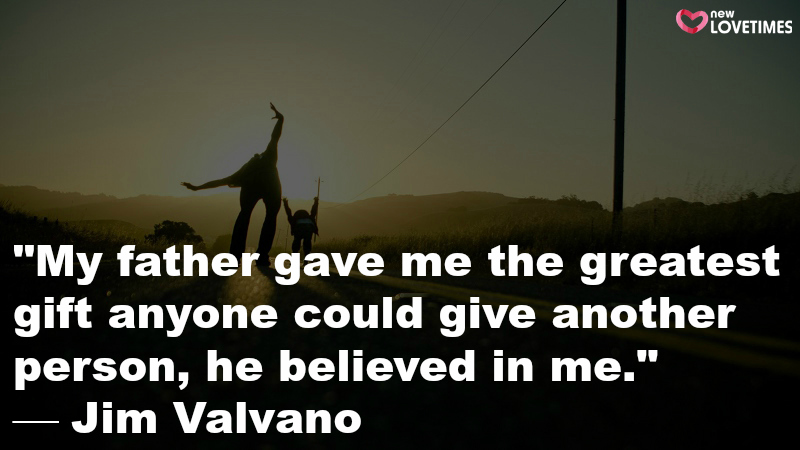 A parent's belief can bolster a child's confidence so much so that he can shoot for the stars, really!
2. "It is much easier to become a father than to be one." — Kent Nerburn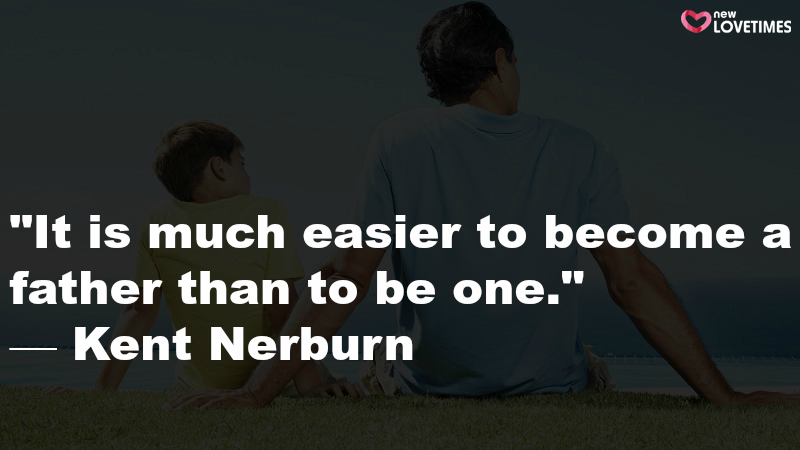 Enough said.
3. "A good father is one of the most unsung, unpraised, unnoticed, and yet one of the most valuable assets in our society." — Billy Graham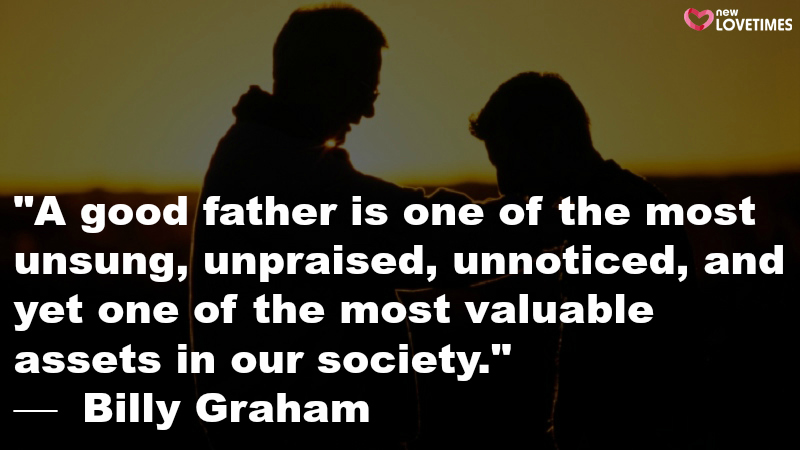 Perhaps one of the most understated relationships in life, a father-child bond is hardly ever celebrated- when it deserves an approbation of the highest order. A father is instrumental in making us who we are.
4. "He didn't tell me how to live; he lived, and let me watch him do it." — Clarence Budington Kelland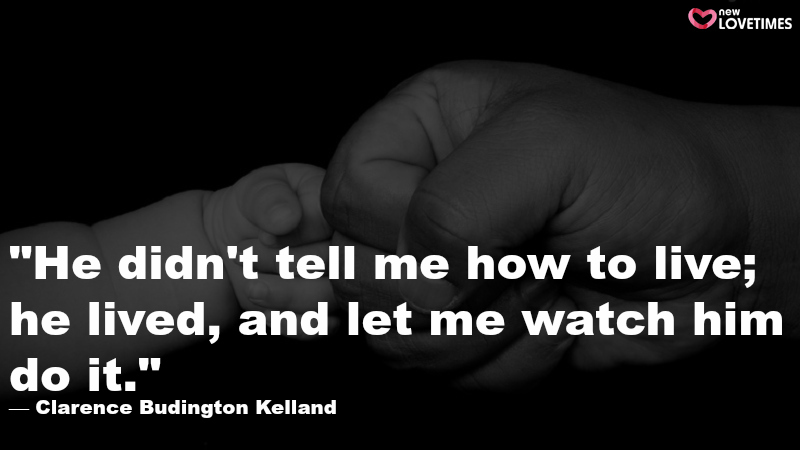 Coz children learn best when they learn what they live. You tell him how and he will forget it, you show him how and he will do it.
---
Suggested read: 25 nuggets of relationship advice from a father to a daughter
---
5. "When a father gives to his son, both laugh; when a son gives to his father, both cry." — William Shakespeare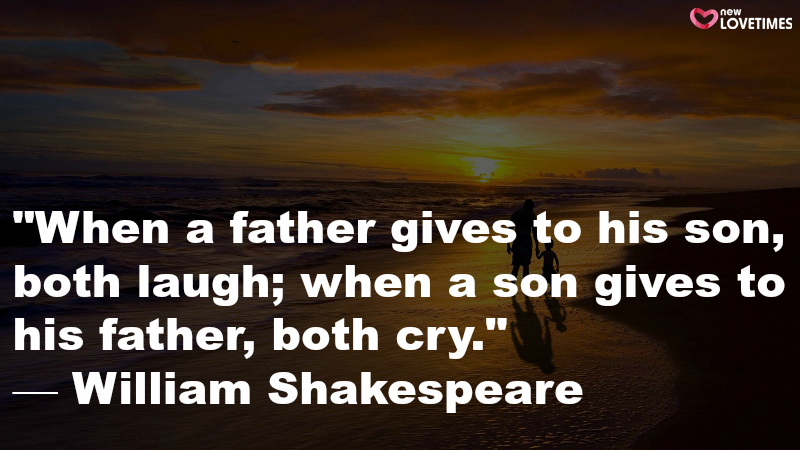 Ahh, one from the bard. It is impossible to fathom how Shakespeare managed to encapsulate a lifetime of the rich father -child bond, in all its vitality in a few words, but capture he did – and behold, the beauty of what a father extends when he is tending to his son and what he expects when the roles reverse. I have smiling tears for both.
6. "Until you have a son of your own… you will never know the joy, the love beyond feeling that resonates in the heart of a father as he looks upon his son."— Kent Nerburn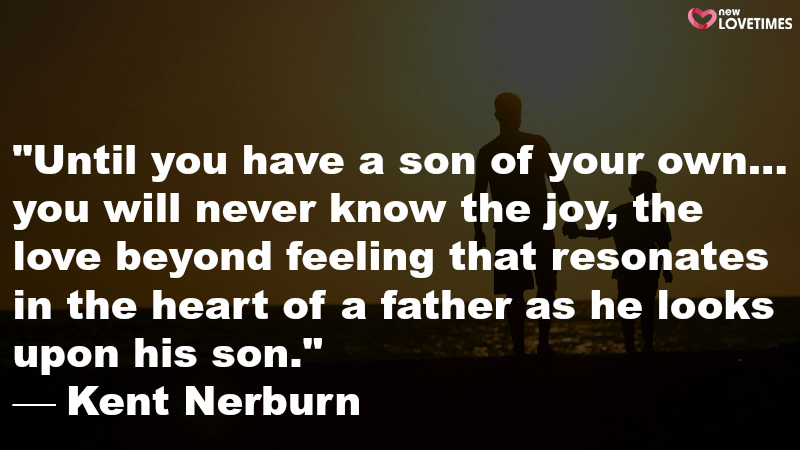 You never know the sweetness of a fruit until you have tasted it. The same is true of fatherhood- and the fruit is full of joyous juices of pride, love, laughter and care.
7. "To a father growing old nothing is dearer than a daughter."— Euripides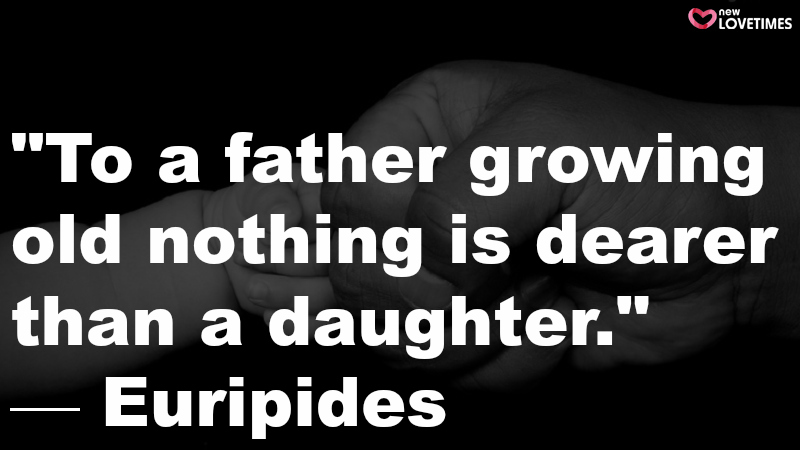 They say what they say about a son being a son until he gets a wife and a daughter being a daughter all her life for a reason! This is it!.
8. "One father is more than a hundred schoolmasters." — George Herbert
Coz the experiential learning embedded in sparking a daughter's creativity when she wanted daddy's tummy to be the canvas and the hands-on knowledge imparted to a son when he wanted to fix the porch swing with daddy dearest cannot be beat by any classroom lesson.
9. "My father used to say that it's never too late to do anything you wanted to do. And he said, 'You never know what you can accomplish until you try.'" — Michael Jordan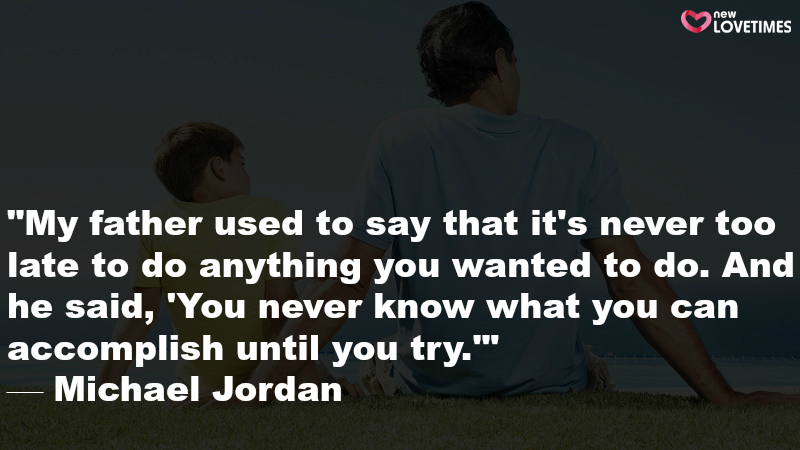 Truer words have never been said – TRY! A true father will encourage you to forge ahead with renewed enthusiasm and vigor even if you are struggling hard to attain your goals.
10. "I think my mom put it best. She said, 'Little girls soften their daddy's hearts.'" —Paul Walker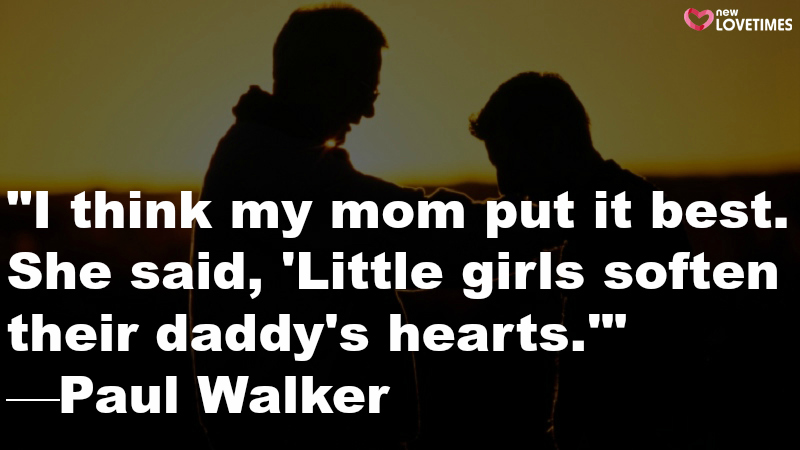 We gave you enough proof of this already! How can she not hold his heart even when she is dripping body fluids on him, swatting the bottle away, eating his shoes, pants, wallets, and belts whilst giving him the evil grin that says, 'it will get even better when I start crawling!' 😛
11. "My dad was my best friend and greatest role model. He was an amazing dad, coach, mentor, soldier, husband and friend." — Tiger Woods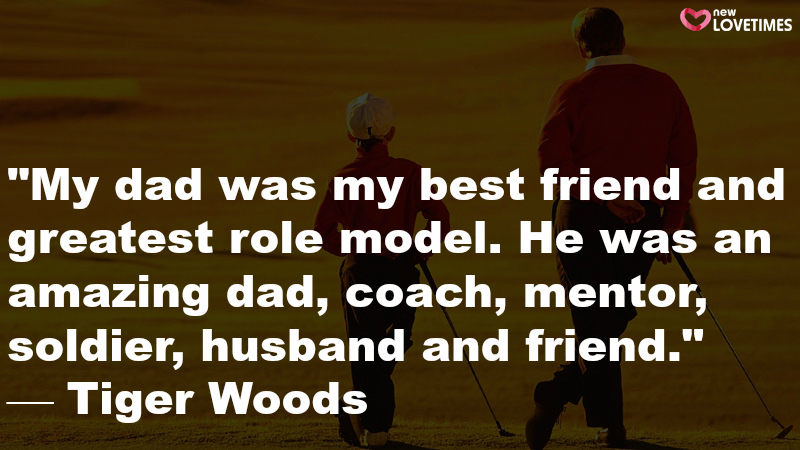 Let it suffice to say a father strives to be the one-stop solution desk for his family!
12. "Father's Day is hopefully a time when the culture says, 'This is our moment to look at who our men and boys are.'" — Michael Gurian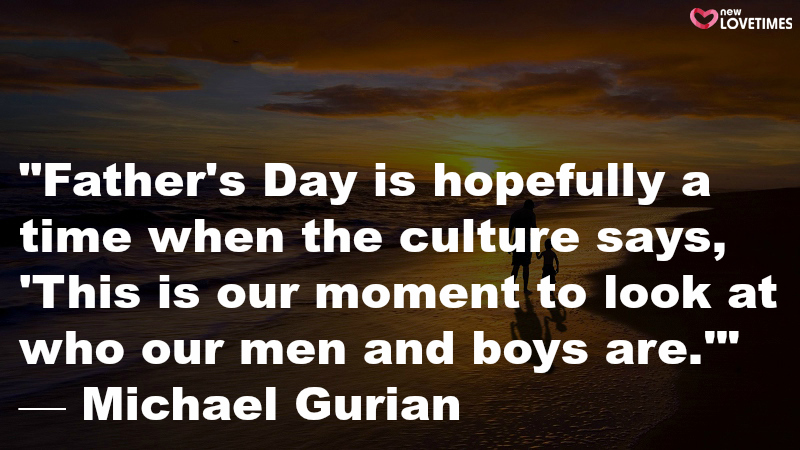 Quite a telling quote, this one speaks for itself by establishing how fathers and their contribution to the family makes for a thriving nation of 'able gentlemen' (or not)!
13. "One of the greatest gifts my father gave me – unintentionally – was witnessing the courage with which he bore adversity. We had a bit of a rollercoaster life with some really challenging financial periods. He was always unshaken, completely tranquil, the same ebullient, laughing, jovial man."—Ben Okri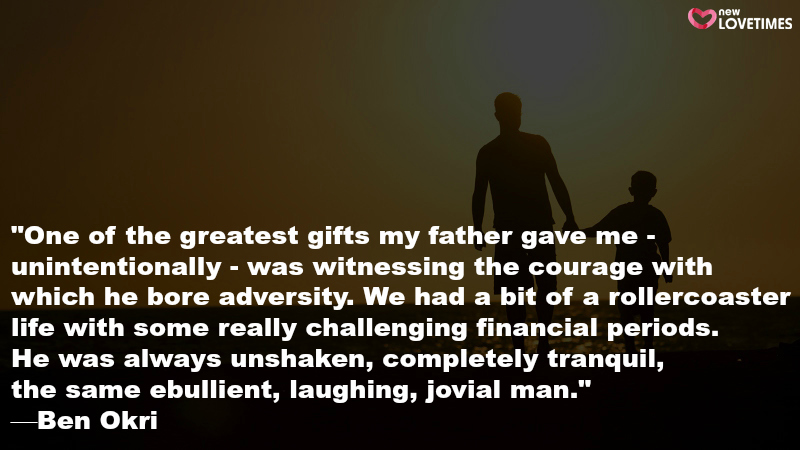 Coz adversity isn't just the acid test of true friendship.
14. "I've had a hard life, but my hardships are nothing against the hardships that my father went through in order to get me to where I started." — Bartrand Hubbard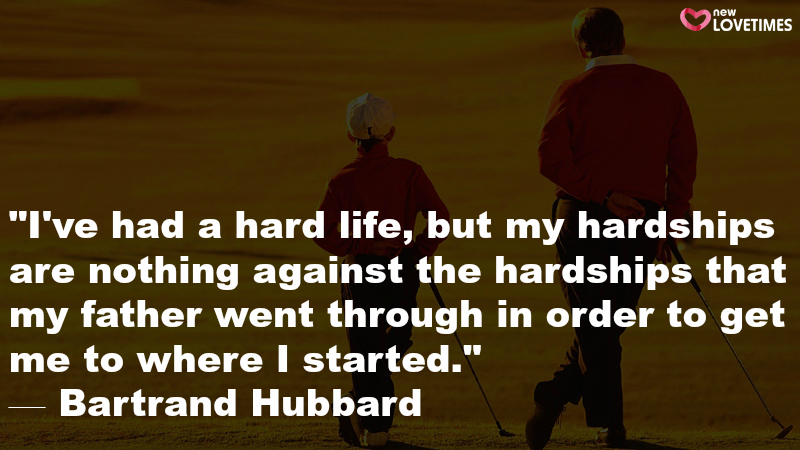 What can be more touching than a grateful acknowledgement of a father's sacrifices to get him to begin to make his own mistakes and learn from them, albeit comfortably!
15. "The father who does not teach his son his duties is equally guilty with the son who neglects them." —Confucius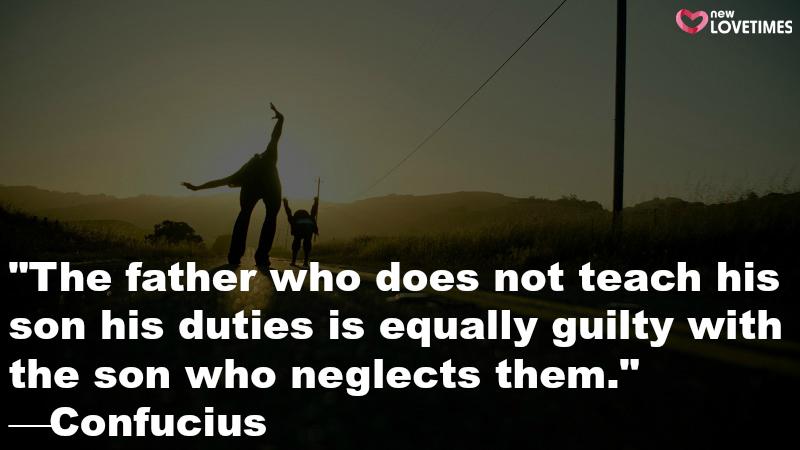 A simplistic follow-up of Michael Gurian's quote earlier!
16. "Fathers, like mothers, are not born. Men grow into fathers and fathering is a very important stage in their development." — David Gottesman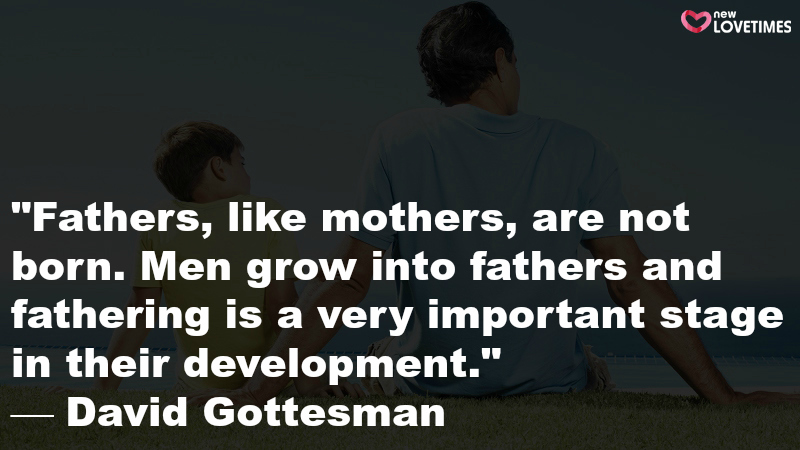 Being responsible for another life does not happen, it is an acquired skill that continues to add on the positives whilst subtracting the rejects, so as to grow into a symbiotic sync with the mother and give their child the best!
17. "I have never been a material girl. My father always told me never to love anything that cannot love you back."—Imelda Marcos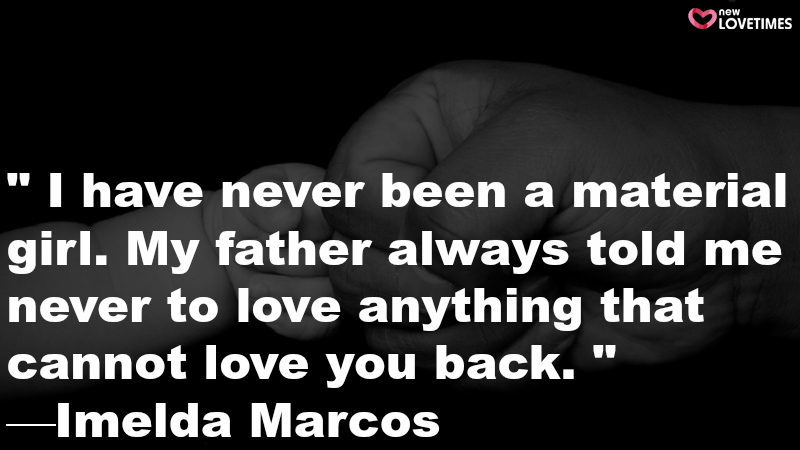 Aha, that says it all!
---
Suggested read: Mother's Day: Dear Mom, I love you …
---
18. "There must always be a struggle between a father and son, while one aims at power and the other at independence." —Samuel Johnson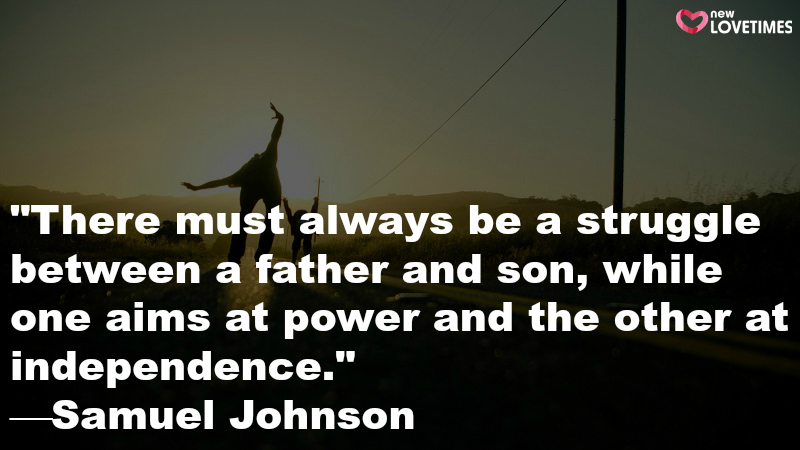 Differences are inevitable and perhaps, imperative – so that the father and the son and their bond can all grow into their own, negotiate the differences well and learn to settle into the peace made, thereafter!
19. "Fatherhood is pretending the present you love most is soap-on-a-rope." —Bill Cosby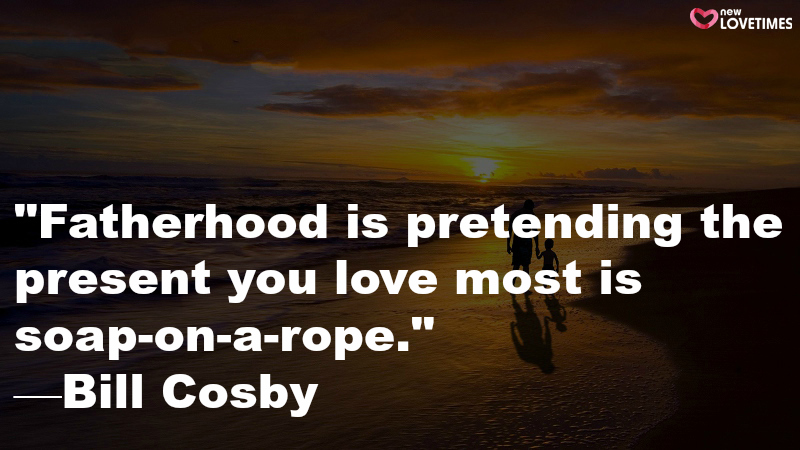 Coz daddy would do anything to turn his child's frowns upside down, won't he? 😉
20. "I think back to the day I drove Michelle and a newborn Malia home from the hospital nearly 13 years ago—crawling along, miles under the speed limit, feeling the weight of my daughter's future resting in my hands. I think about the pledge I made to her that day: that I would give her what I never had—that if I could be anything in life, I would be a good father. I knew that day that my own life wouldn't count for much unless she had every opportunity in hers." —Barack Obama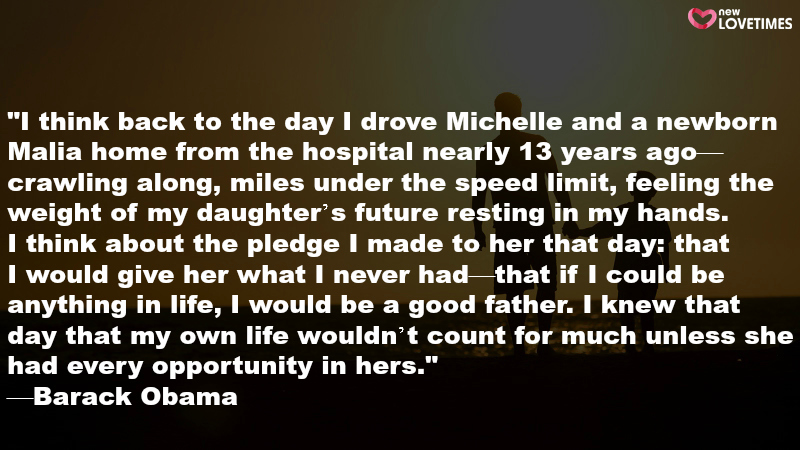 The love of a father is unconditional and knows no boundaries, regardless of distinctions of class, race or nationality.
21. "It's chaos at times, but there's such joy in the house. I look and there's our boy from Vietnam and our daughter from Ethiopia, and our girl was born in Namibia, and our son is from Cambodia, and they're brothers and sisters, man. They're brothers and sisters and it's a sight for elation. We have the capability to give a child a home, and let me tell you it's selfish, too, because the reward has been extraordinary." —Brad Pitt
Coz when home goes from being a place to a person and thereon, even more people you have birthed and brought to life, you wouldn't trade the 'feeling' of being home with anything else.
22. "I decided in my life that I would do nothing that did not reflect positively on my father's life." —Sidney Poitier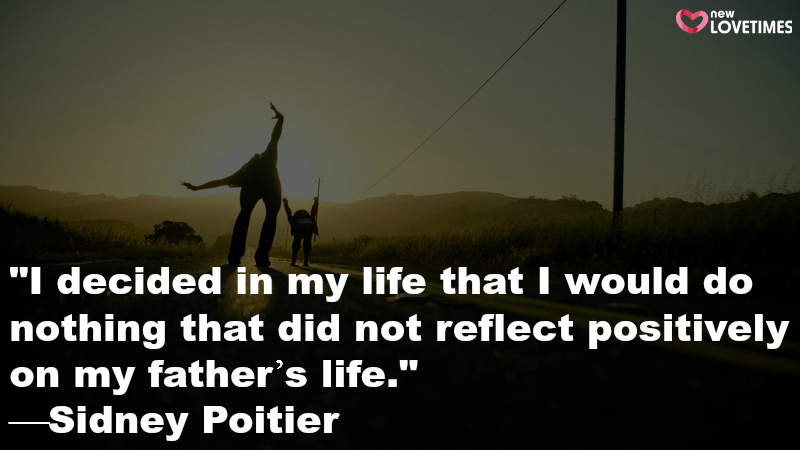 Enough said!
22. "The older I get, the smarter my father seems to get." —Tim Russert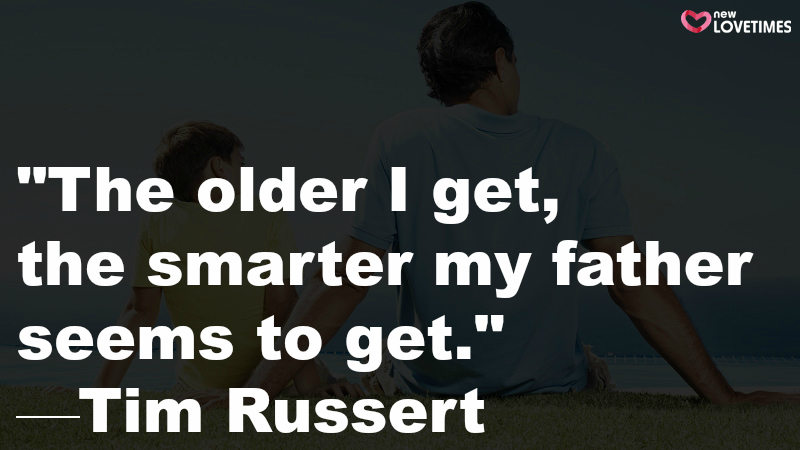 Coz you will always be a child to your parent, no matter how old you get!
24. "I'll never forget the moment I became a dad. It's hard to describe—that level of responsibility, the desire to give such joy, the clarity: Nothing is more important than this." —Tom Cruise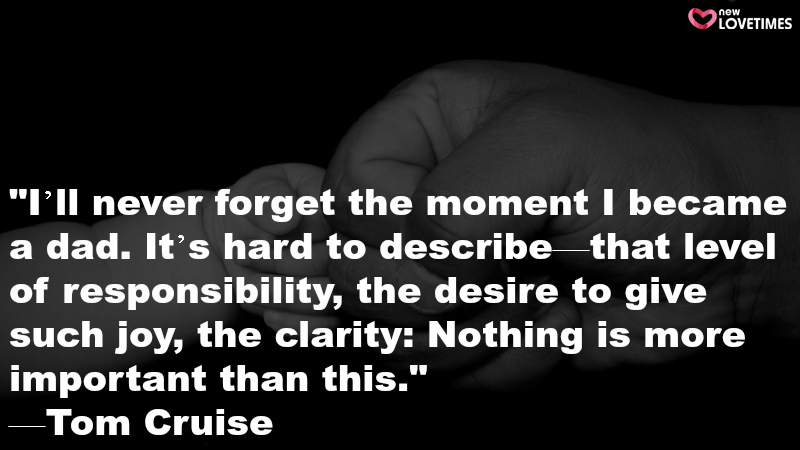 Remember the moment this tiny being who hasn't even opened her eyes yet wraps her tiny palms around your forefinger? Words………..fail me…
25. "I believe that what we become depends on what our fathers teach us at odd moments, when they aren't trying to teach us. We are formed by little scraps of wisdom." —Umberto Eco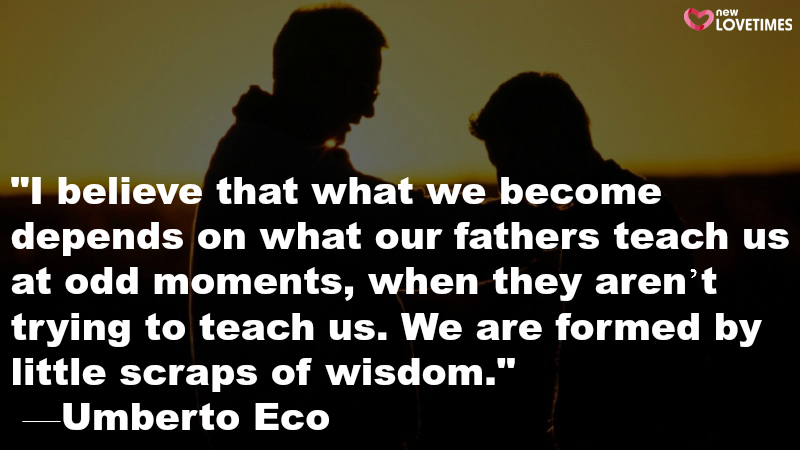 Snippets of life- experiential drops of living- the 'show me how it's done' way!
26. "My father taught me that the only way you can make good at anything is to practice, and then practice some more." —Pete Rose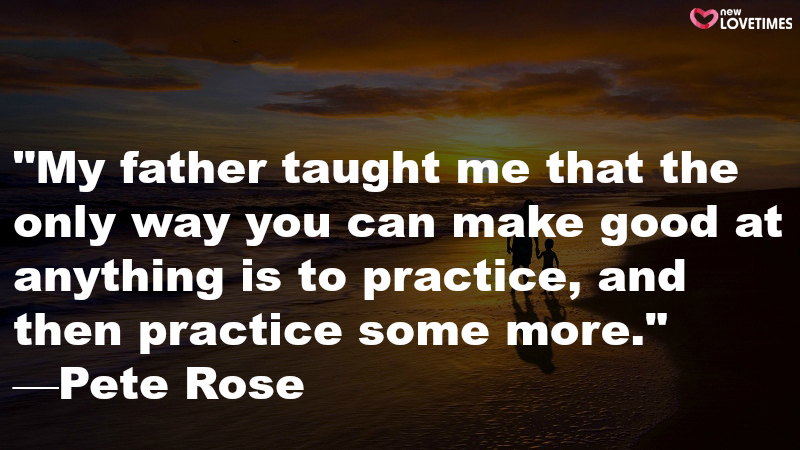 Well, coz practice makes perfect and fathers do know best!
---
Suggested read: 6 lessons every mother should teach her son before getting him married
---
27. "My dad, like any coach, has always stressed the fundamentals. He taught me responsibility, accountability, and the importance of hard work." —Steve Young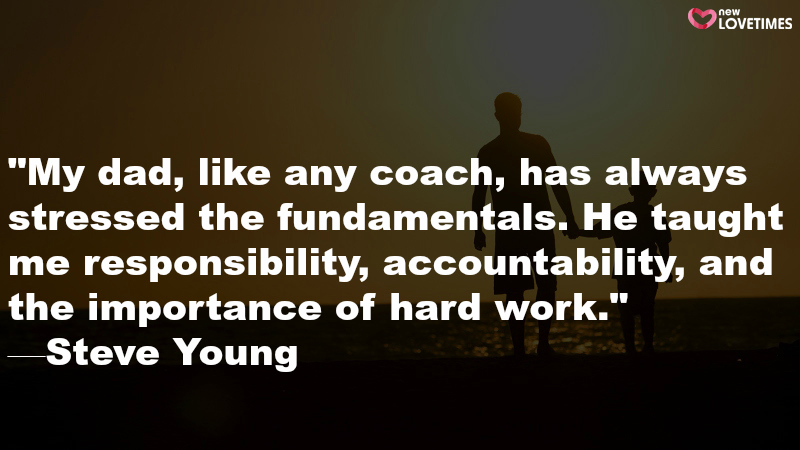 You can't progress until you've got the basics right, right? Learn, coz daddy's teaching!
28. "I think that my strong determination for justice comes from the very strong, dynamic personality of my father … I have rarely ever met a person more fearless and courageous than my father … The thing that I admire most about my dad is his genuine Christian character. He is a man of real integrity, deeply committed to moral and ethical principles. He is conscientious in all of his undertakings … If I had a problem I could always call Daddy." —Martin Luther King, Jr.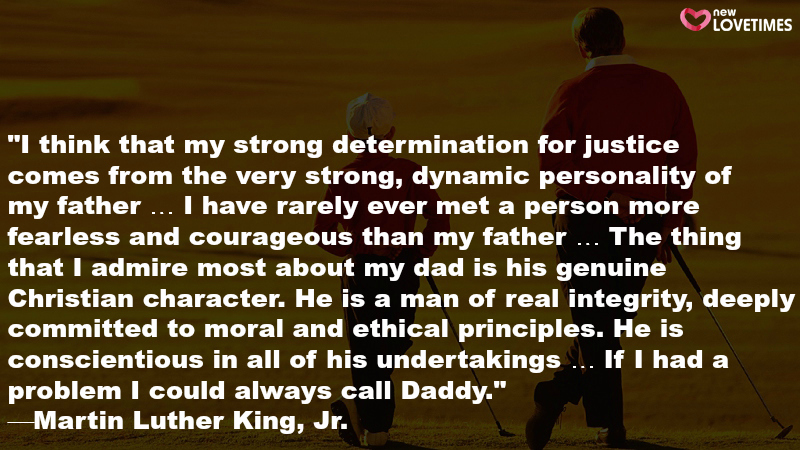 In a father is mirrored the true potential of who his son aspires to be. A good man and consequently, a good father is the sterling nominal and role-model for a son.
29. "He was a father. That's what a father does. Eases the burdens of those he loves. Saves the ones he loves from painful last images that might endure for a lifetime." —George Saunders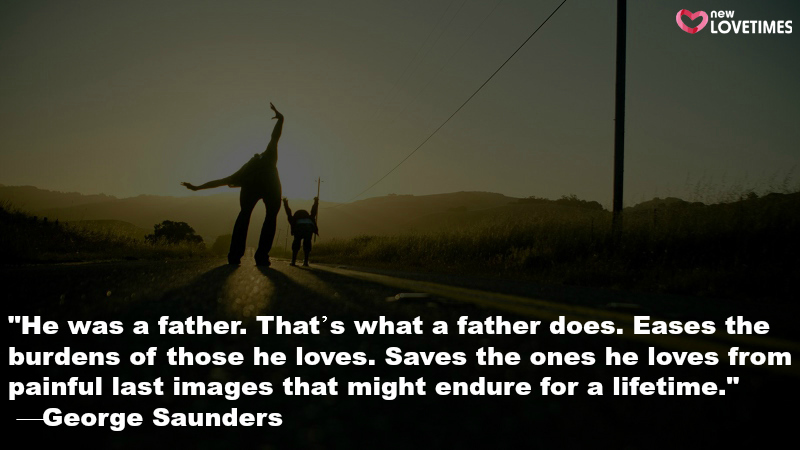 Coz a father shall always be by your side, through the gains and the pains..
30. "It was my father who taught me to value myself. He told me that I was uncommonly beautiful and that I was the most precious thing in his life." —Dawn French.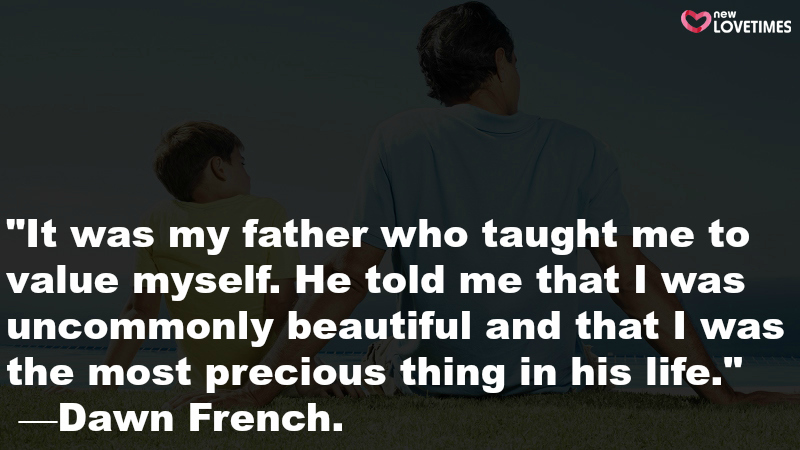 Coz self-love is where it all starts. Only when we learn to value our true worth would we stop handing discounts. And who better to teach you about that then the person who made you who you are. Daddies are the best!
This Father's Day, give a loud cheer for all the loving dads out there.  
What is your gift to your father this Father's Day? Tell us in the comments below!
Featured image source: Google, copyright-free image under Creative Commons License
Summary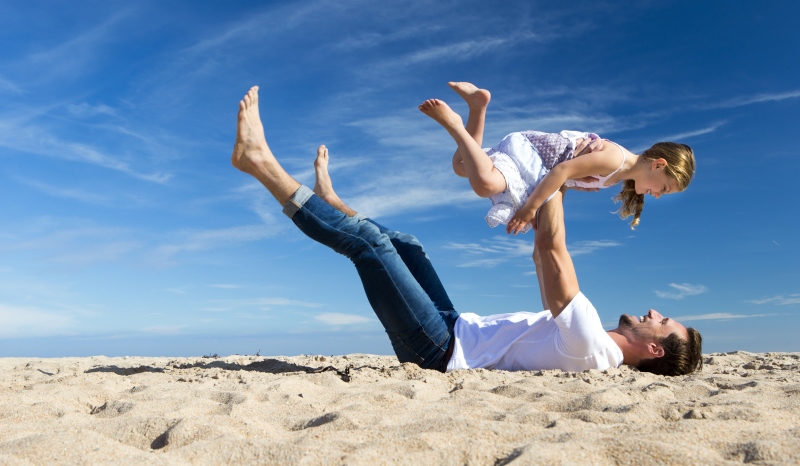 Article Name
Father's Day Special: 30 Quotes Dedicated To Fathers
Author
Description
On the occasion of Father's Day, we're celebrating fatherhood by presenting some of the famous quotes by various personalities and celebrities. Take a look!