In response to a statement that has rubbed women all over the country the wrong way, Nikita Azad, a 20-year-old girl, with 'breasts, hips, and a bleeding vagina' has penned an open letter to the Sabrimala temple authorities that may well, turn their twisted patriarchal shame-game on its head by rightfully shaming them for viewing a natural and healthy symbol of womanhood – menstruation- with unwarranted condescension, repugnance and distaste.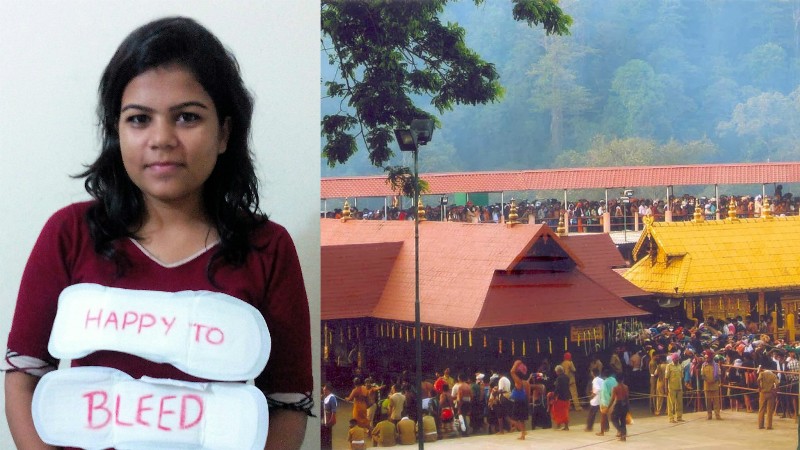 Image source: YouthKiAwaaz
---
Suggested read: #HappyToBleed Indian women protest against 'purity check' machine statement by Sabarimala Board
---
Here's what our young, bleeding woman (happy to bleed) wrote:
Respected Sir,

I am a girl, of 20. I have eyes, nose, ears, lips, arms, legs just as any human on earth. But, unfortunately, I also have breasts, hips, and a bleeding vagina. I recently came to know that my blood pollutes the temple Sabrimala, and I am denied entry into it because I am a woman who menstruates. When questioned, you said, "A time will come when people will ask if all women should be disallowed from entering the temple throughout the year. These days there are machines that scan bodies and check for weapons. There will be a day when a machine is invented to scan if it is the 'right time' (not menstruating) for a woman to enter the temple. When that machine is invented, we will talk about letting women inside."

I am not furious at your statement, but I am saddened.

I come from a Hindu family. My parents always taught me how to bow in front of idols of numerous gods and goddesses. Each year, I go to Chintapurni, Naina Devi, Vaishno Devi, Chamunda Devi, Jawala Ji with my family. My parents have taught me how God created men and women as equals, how all humans are children of God. Your statement has left me dumbstruck, by breaking every belief I had in God.

I have heard my mother say that women don't enter temples during 'that time', but I usually avoided this belief as something stupid until now. I thought that for a particular section, women may become impure by bleeding, but I am shattered to know that for one of the biggest historic temples in India, bleeding is a sin.

I have carried sanitary napkins in a black polythene all my life, so as to protect my honour. I have always carefully placed the napkin so that my dress doesn't absorb blood, have gone into washroom numerous times to check if it is in place during that time. I have silently carried the bag into the washroom and have given shy smiles when asked upon where I am going. I have hurriedly run to the dustbin so that my dad, brother don't see that I am down. I have consciously searched for shops with female shopkeepers for purchasing sanitary napkins. I have tried my best to uphold the sacred culture of our society. I have never offended you.

But, I am sorry. I was not able to end the blood flowing out of my body. I am not able to end my curse, which I obtained by participating in the murder of a Brahmin (that's what the historical justification of menstruation is). Blood flows out. It is my fault, right?

With due respect, I dare to ask a few questions about my fault.

All men who enter the temple are a product of sexual intercourse done by a man and a woman. The woman keeps the baby in her womb for about nine months, provides nutrition through her uterus to the baby, and gives birth to the baby through her vagina. Aren't all the men who enter the temple product of the blood formed in their mothers' uteruses?

As a child, I was worshipped as a Devi on Ashtami. But, as I grew up, I was told that I am impure. My parents were reminded repeatedly that they need to marry me off in order to free themselves of the burden. I was told that my egg must fertilise with a man's sperm chosen by society. If I dare choose the sperm on my own, I will be disowned. Similarly, you have decided that I should not bring my polluted blood inside the temple. But, which God gave somebody the right to choose what I do with my blood?

Sir, I have no interest in entering the temple, for I refuse to believe in a God that considers his own children impure. But, I wish to ask you, with which God's permission are you proposing that my purity be checked? I hope you are well aware of the Devadasi system, once propagated by your God, and which gradually became a system whereby a girl is married to a deity or temple, and then became a prostitute for upper caste communities. We have gotten rid of this casteist, inhuman, patriarchal practice with much difficulty, but I gather that you are proposing another such system by implanting machines that check purity.

We live in a nation, "a democratic nation", where a woman is raped every twenty minutes, and every second woman is subject to domestic violence. According to you, perhaps the reason behind these is also blood. As you have given the solution to protect the sanctity of temple by not allowing bleeding women inside, do you propose that bleeding women should be caged in homes to prevent such incidents? Of course, you do. I hope you miss your friend, Asaram Bapu who said that the rapists of Delhi Gang Rape would have pitied Nirbhaya if she called them Bhaiya.

Last question. You have mocked the entire women community by tagging menstruation as an impure activity. But, at the same time, you have claimed a temple made by my fellow brothers, sisters as your private ancestral property. By which authority, do you call Sabrimala temple, your temple? By what authority, do you decide that I cannot enter the temple?

In the end, I would like to thank you. I thank you for giving women an opportunity to get rid of the utopian-liberal discourse of freedom, and rethink their position in society. Also, I thank you because your statement will not install purity checking machines, rather let women put a fight against such retrogressive, barbaric, and misogynist customs.

In wait of answers

Yours sincerely,
A young, bleeding woman
Mad props to you girl- your voice surely makes our collective voice more strong!
Are you listening, India?
Featured image source: YouthKiAwaaz
Summary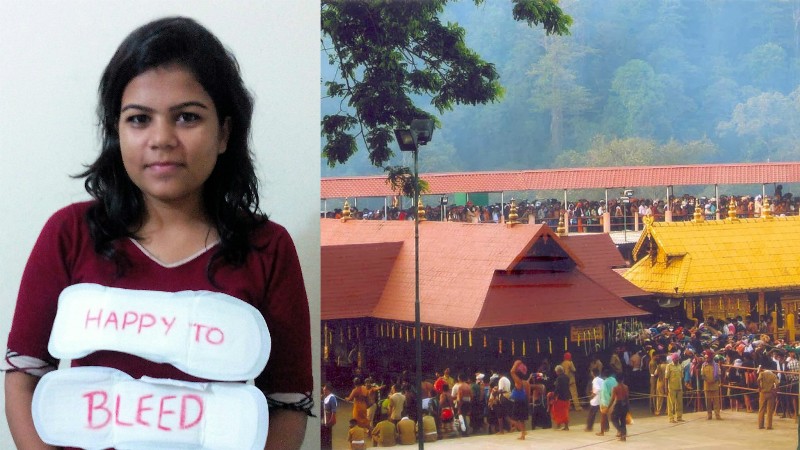 Article Name
#HappyToBleed A 20-year-old Woman Pens A Powerful Response To Sabarimala Authorities
Author
Description
Your voice makes our collective voice stronger, girl. #HappyToBleed