Beach weddings are things that never tend to go out of fashion. However, there is no denying that they are very different from indoor weddings, or even weddings that are organized in gardens or other outdoor spaces. There are a lot of things that you need to take into consideration when you are checking out beach wedding dresses, so that you have the perfect dress to suit the occasion, as well as to satisfy your tastes.
Image source: Instagram
When picking beach wedding dresses, there are some factors that you have to keep in mind. Firstly, there is going to be sand. Whether you are getting married on the actual beach or not, you are going to come into contact with sand at some point or another, so you have to choose the material of your dress very carefully. Also, the colors in your dress and your accessories have to be on-point because you are going to get married in bright daylight. Dusk beach weddings again have different criteria that you need to take into consideration when you are shopping for your wedding dress.
---
Suggested read: 10 low-maintenance dresses to wear to your friend's beach wedding
---
Keeping all these things in mind is sort of difficult, so here are 8 rules you need to follow in order to pick the most perfect beach wedding dress for yourself.
Rule #1: Choose a comfortable dress that fits well
Image source: Pinterest/Bridal Musings
When you are picking out your dress, always remember where you are going to get married, and how comfortable you will feel when you are wearing the dress you have planned to get for your big day. Although it is imperative that brides should get a well-fitted wedding dress irrespective of where they are getting married, it becomes even more important to focus on the fittings of the dress when you are getting married on a beach.
Avoid dresses that are corseted, tight, and closed in places like the sleeves and the neck. The heat and humidity of the beach are going to get to you if your wedding dress doesn't have space for you to breathe, and you definitely don't want to suffocate on your wedding day. The more flowy and fitted and comfortable your dress is, the more chilled out you are likely to be.
Rule #2: Don't forget about the weather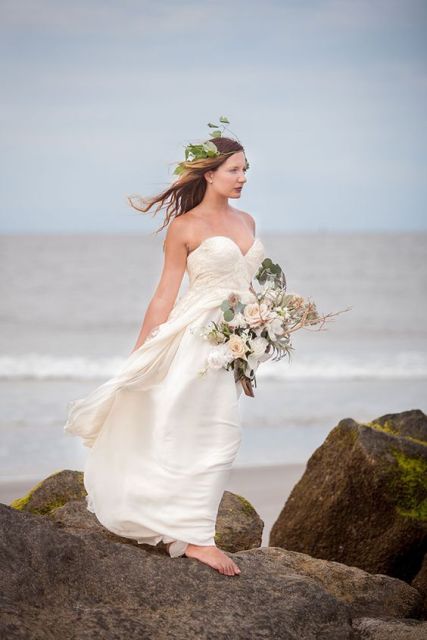 Image source: Pinterest/Storyboard Wedding
Do not take for granted that just because you will be having a beach wedding, the weather is going to be nice and sunny and cloudless. Different beaches have different weather conditions, which also affects the behavior of the water, the tides, and the texture of the sand. You might be confused as to how that will affect your wedding dress. So here goes –
well, first of all, if the beach has very fine sand, then you can wear silk and other such materials, which will glide easily over the beach. However, if the beach has coarse sand, then it would be highly impractical to wear long trains and veils that drag along the ground. Similarly, the humidity also needs to be taken into consideration when you are choosing the material for your dress, so that you ensure minimum perspiration during the ceremony.
Rule #3: Choose the dress according to the theme and style of the wedding  
Image source: Pinterest/Rock My Wedding
Depending on the style of the wedding you have planned for yourself, you have to choose from a selection of beach wedding dresses, which come in different cuts and materials, just like all other wedding dresses. Think about whether you want a formal, elaborate wedding, or an informal wedding, consisting of a small gathering of just your closest associates.
You also need to consider the wedding decor, so that your dress matches the theme of the wedding. If you are planning for a simple bamboo structure laden with wild flowers as a wedding dais, you can go for a short, fun wedding dress with straps and an overall Bohemian look. However, if you have planned an elaborate affair with flourishes and floral canopies and decorated gazebos, you should wear a dress more suited to the occasion to match its sobriety and scale.
---
Suggested read: 20 of the most gorgeous dip dye wedding dresses you have ever seen
---
Rule #4: Choose the fabric of your dress with care
Image source: Pinterest/Ruffledblog
The fabric of your wedding dress depends on the type of wedding you are having, and the type of beach you have chosen for your wedding. However, irrespective of all those specifics, you are going to be outdoors, which is why it is important to choose a lightweight material that is not too difficult to manage.
For greater portability and a feeling of comfort and ease throughout the day, it is best to go with light materials like chiffon, georgette, cotton, crepe, and organza. If you don't want your dress to be composed of just sheer materials, then you can also go for combinations of two or more light fabrics, which can add details to your dress, without making it heavy. It is best to avoid heavy fabric materials like silk.
Rule #5: Choose the length of your dress carefully
Image source: Pinterest/Brides Magazine
If you have chosen a beach to get married in, carefully consider the length of your wedding dress, before you go fawning over an outlandish dress with trailing veils and OTT embellishments. You have to remember that when you are organizing a wedding on a beach, you also have to take into account all the water and mud and the sand that could get into your dress and your accessories, and how much damage you are willing to withstand on your dress.
If you want to save your dress, and look super pretty at the same time, it is advisable to go for short and cute wedding dresses, or even for tea-length wedding dresses, which are as elegant as full-length wedding dresses. You can even choose dresses that have a detachable skirt, so that you have a fully formal dress for the ceremony, which you can then convert into something more comfortable and convenient.
Rule #6: Don't go overboard with your accessories
When you are exposed to some of the most beautiful wedding dress designs in the world, you are bound to get tempted into including some of them in your beach wedding dress as well. My advice is to refrain from doing so. The more accessories and embellishments you add to your wedding dress, the heavier it is going to get. Not only is it going to get heavy, but it will also become unmanageable.
By accessories I mean long veils, trains, sequins, and trailing hemlines. You should also ideally avoid things like tassels and frills and embroidered bodies. If you need to spice things up in your outfit, then you can go for simpler accessories like flower crowns, wide embellished belts, satin belts that drape down the back and even statement jewelry like a neckpiece.
Rule #7: Don't undermine the importance of picking your shoes
Image source: Pinterest/Etsy
Shoes form a major part of your outfit, and you shouldn't underestimate the impact it can have on your dress, and how you feel during your wedding day. It is obviously better if you choose flats or even if you go barefoot on the sand, because no matter how pretty wedding heels look in all the catalogues you have browsed, it will be impossible to walk two feet in them on the sand.
---
Suggested read: 35 on-trend wedding table centerpieces perfect for a minimalist reception
---
Rule #8: The cut and silhouette of your dress are also important
Image source: Pinterest/Wedding Forward
We have already spoken about the importance of choosing the right material for your dress and determining the length of your dress to make it easy to handle. Another factor that you need to figure in when you are going wedding dress shopping is the amount of volume you want in your dress, because you don't want your dress to be weighted down with sediment and water and sand when you are on the beach. The more volume your dress has, which means the more layers there are on your dress, the greater are the chances of that happening.
To avoid that, the best solution is to go for simple, streamlined cuts for your dress like A-lines and shift dresses. If you want to make it a little glamorous in case of a formal beach wedding, you can even go for an understated trumpet structure, but voluminous mermaid skirts, princess skirts, and empire waists are out of the question when you are shopping for your beach wedding dress.
After you have gone through all the rules you need to keep in mind before buying a wedding dress for your beach wedding, you should get a dress that you feel comfortable in. Buying your wedding dress is an experience that should be joyful, and you should be able to do whatever you want, to make your day as special as possible. At the end of the day, your dress should be within your budget, comfortable, beautiful, and ocean-friendly.
Summary
Article Name
8 Rules To Choose From Among The Best Beach Wedding Dresses
Author
Description
You need to take into consideration a lot of things when you're checking out beach wedding dresses, so that you have the perfect dress to suit the occasion.