Your wedding day is among the most important days of your life. A day when you're committing yourself to another person, your other half. You undertake the massive responsibility of completely dedicating yourself to another person and it's no small feat. You've made plans with your partner celebrating your commitment, your love, your happiness in a room full of people who dig you and you dig back which makes it a big deal.
Therefore, you want to have a successful wedding day and what could be better than an outdoor wedding where you swear your love and loyalty to someone under open skies; to enjoy the romantic breezes and the natural decor. Or at least that's how one imagines it to be. However, as opposed to what people might think, planning outdoor weddings isn't as easy as they might seem. Here are some outdoor wedding ideas that will make your special day even more special.
---
Suggested read: 14 Instagram Wedding Photography Accounts You Should Follow Right Now
---
1. The perfect invitation 
The perfect invitation is a part of the perfect wedding. Be sure to make it look as warm and elegant as you can as well as notify the guests of the theme. A little touch of France if it's French themed like a Eiffel Tower key chain and a splash of French or a little bit of high Valyrian and a vial full of blood and flesh if it is a Game of Thrones themed wedding. Either way make sure people know that it's an outdoor wedding so that they be appropriately dressed and be prepared for it.
2. The floral decoration 
Flowers are a huge part of any wedding ceremony, be it indoors or outdoors. Vibrant splashes of shrubbery, potted plants and summer blossoms will make up for most of the aesthetics. Flowers can be used to decorate aisles or be placed in empty light bulbs, bottles or even spare boots to adorn the whole place or they can be draped around arches, gazebos, the bridesmaids' wrists, invitations and well, almost anything.
3. Tiles/cement blocks on rocky roads
Provisions for women who would like to wear their heels and would not want to compromise on their fashion in case the terrain outside includes grass or rocky roads. Tiles or cement blocks may be placed to make cute aisles that give the feel of cobbled stone paths. Or distribute plastic heel protectors.
4. Weather check 
Weather check is an absolute must when it comes to outdoor weddings. One can never be too sure about how hot, cold, sunny, cloudy or rainy it is going to be. That's why there should always be a backup plan like an alternate indoor space or a tent as well as umbrellas should always be available. In the event of a downpour, one must keep ready warm, fluffy towels. Shawls, wraps, scarves, beanies and portable space heaters can also be supplied to keep warm if it's going to be chilly.
5. The scorchers 
Speaking of weather, keep in mind the scorchers as well. High velocity blower fans, cool beverages like Pink lemonades, iced tea or chilled beers and pick me ups like sunglasses, cold bottled water, wet towels, handkerchiefs and towelettes, face wipes, face mists and a florist too keep misting the flowers to keep them cool and fresh. Hand fans with the day's itinerary, seating chart lists and perhaps menu too sounds creative and cool too. One can keep bite-sized sea food on ice as one of the starters as well as boozy ice pops, snow cones and sorbets.
6. Keep the insects at bay 
Insects can be an issue when it comes to outdoor weddings. So supply plenty of insect repellents and cover beverages with cupcake wrappers or netted canopies to keep insects away from cake or tables where the food platters are kept. One can also bring out all the antique furniture, cabinets, ornate dressers, embellish them with flowers, petals and use them to serve snacks, beverages and desserts.
7. Destination weddings 
One has to mention destination weddings if one discusses outdoor wedding ideas. Imagine how glorious it would be to take your vows in front of a humbling mountain or an endless beach.
To get married in a valley strewn with wildflowers and revel in the warmth of a mellow sunshine. One can even keep the ceremony site simple so as to not take away from the beauty of the natural surroundings with simple dark wood chairs. Chairs can be substituted with bales of hay covered with vibrant, colourful blankets and quilts. Tables may be suspended from tree branches with ropes. And at night there can be bonfires to huddle around and sit.
8. The food
A wedding may center around the couple getting married but the importance of food should never be underestimated. Keep your guests full and they will be smiling. Hungry people are cranky. Plenty of finger-food and bite sized appetizers served in elegant little porcelain spoons could be to be passed around along with refreshing, hot and cold beverages, mocktails and cocktails. Make sure the texture of the food and how heavy it is suits the weather. It is usually smarter to avoid food that spoils or goes runny very easily in the outdoors. Moreover, if one can afford it, an ice cream cart at a wedding sounds like the best idea ever!
Food packets, snacks and drinks should be kept aside for all the stressed bride, groom, bridesmaids, maid of honour and basically, all the people who have worked hard and are involved in making sure that the thing doesn't fall apart.
9. Beach wedding 
Beach weddings, however, sounds absolutely dreamy, like the wedding of Jane and Kevin at the end of the romantic comedy, 27 Dresses. The sound of gently lapping waves and the warmth of the sun on your neck: need anyone say more? The day kicks off with fun and games at the beach. Guests can change into bathing suits and lounge chairs laid with striped towels can be provided to set the mood right in with casual appetizers, pizza and a makeshift bar.
---
Suggested read: 17 Wedding Manicure Ideas That Are Perfect For Your Big Day
---
10. Use lights well 
The wedding ceremony could take place at sunset followed by dinner at the beach on tables laid out at the beach and later when they come back to the beach after sunset, the place can be transformed with fairy lights, speakers for the music and drinks for a fun, breezy party. Camping lanterns can be put under table cloths that will give a nice evening glow to for those who prefer to sit, have their drinks quietly overlooking the beach and enjoy the breeze. And people can even light floating lanterns and watch them light up the sky.
11. Don't forget the sunscreen 
Of course, as fun and fantastic a beach wedding may seem, there must be amenities like ample SPF (the sunscreen can be provided in pretty dispensers and sprays), sunglasses, flip flops or even beach balls if you're not on a tight budget for everyone to pick up and you can let the fun begin. The breeze cannot be forgotten so the decor and other arrangements need to wind- proofed. This will be a carefree and fun filled wedding that no one will be able to forget.
12. Choose the venue wisely
If one brings up the subject of outdoor wedding ideas, one has to include venues like gardens, backyards, courtyards, vineyards or even create a chic garden cocktail lounge where one can greet their guests with fresh prosecco and champagne can be served in dainty glasses. A little taste of Napa in the comfort of your own backyard!
13.
One of the best parts of an outdoor wedding is the photography. One can capture the tiniest details of the decor, the people, their countenances in the most well lit environment. You can also make fun signs as well as find cute little photo booths under arches, gazebos or even make one by putting some lace curtains around an arch or simply tying a dangling frame to a branch with some satin ribbons.
14.
And when it comes to creative, fun stuff, everyone likes having a moment post wedding with the microphone to give a speech. It could be the best man, the bride's sister or your loud uncle Sal with the sad jokes after he's had a little too much to drink. For that make sure that the sound system is functioning also in case of a band performance where they might perform a little jazz over some drinks, some soul, some soothing romantic numbers or some death metal if you're that
15.
Speaking of sound system, people might also want to walk down the memory lane and show some very sweet videos or create an album of flashbacks down the years. You'd want to cherish this day as this is something you'd be nostalgic over later in life. There can even be string lights wound around tree trunks and you can attach pictures to create collages to the strings to display memories and even create a family tree over a tree trunk. That would be awesome.
---
Suggested read: The Biggest Wedding Trends Of 2018 Are Here And We Are Digging Them All
---
In all honesty, it will be far more costly to have a wedding outdoors than indoors. While planning a wedding, one has to keep three things in mind- the budget, what the style of the wedding reflects about the couple and how much responsibility are the planners willing to undertake. All in all, it is the one day that you will remember all your life, so why not invest a little bit because it's the little details, the nitty-gritty that really matters.
Featured image source: Instagram
Summary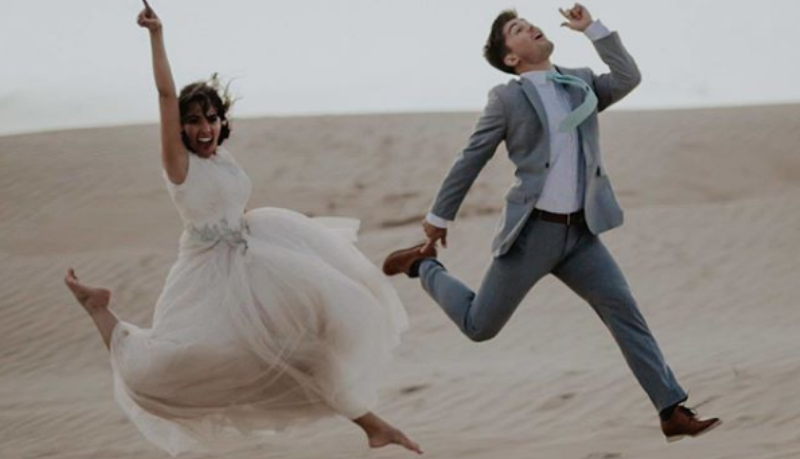 Article Name
15 Absolutely Stunning Outdoor Wedding Ideas For Your Big Day
Author
Description
Here are some outdoor wedding ideas that will make your special day even more special.