From swimsuits to red carpet wears, she makes sexy look easy-peasy! Chrissy Teigen, people!
Just admit it, Miss Teigen is simply awesome. I mean, she is not just gorg (!), and a tremendously popular fashion model, but she is also a daredevil, who says what's on her mind, and does not take anything way too seriously, most importantly, herself! This woman tied the knot with her bff, and has one of the most adorable babies in the world! But the greatest aspect about Chrissy's multifarious personality is her fashion sense! A blend of Cali girl teamed up with classic, crisp lines, Miss Teigen take a bow! She wears the trend like they were invented only for her, say, graphic lines or strobed cheekbones, or even faux bangs!
Here are some styling tips (that we are drooling over!), which you can steal from Chrissy Teigen style choices!
Hair goals!  
Teigen is definitely the poster girl when it comes to balayage! No wonder she is an inspiration to hair colorists all around the globe! Ombre is her signature style, which keeps going from blonde to dark, with flowy waves round her face. When she gives chic boho waves a rest, she likes tying a section of her hair into a top knot, which gives her a casual and cool air.
At the 2012 Grammy Awards, Teigen teased volume into her roots and added a second-day consistency and smoothness through the lengths. She upgraded the high pony game with such a simple move.
---
Suggested read: Chrissy Teigen Instagram: A model and foodie – sounds like an oxymoron?
---
Pro-tip: If you are just getting started at 'drawing inspiration from Chrissy Teigen', go all in for the side-swept hair. Style it with an intense cat-eye, and you will smolder whichever party you are going to!
Blazers and coats
To class her act up, Teigen always relies on her blazers, which she does sport with such panache, I tell you! The model turned Instagram craze, does not shy away from showing some skin when donning a blazer. Her top choices, invariably are, lace camis and shorts. She radiates in the peachy makeup that has subtle references to her outfit, though she avoids the matchy-matchy trend! Her free-flowing hair (I can't get enough of that mane!) underscores her chic look.
The right color
The importance of complementary hues is something every style icon is not only aware of, but also masters with great ease! Chrissy, believes in wearing muted tones with bright shades of white. All the runways have embraced the nude hues, all thanks to Kanye, and Teigen just adds a little bit of bright to reflect the shining personality within.
Red carpet
Flowy + snug = fabulous
An outfit's shape and tailoring are the most important factors that decide whether or not you look good in it. Chrissy Teigen pairs up her tops with ruffle hem to balance the look. Throwing a loose coat over her tight gown, is something we love about her! She used the same style trick when she sported that baby bump on the red carpets, making her outfit more interesting, adding layers to them and giving them more texture.
When it comes to her makeup at the red carpet, Chrissy hearts the red pop lipstick (remember how she clubbed it with a bright yellow gown at the Golden Globes?!). We have also seen her sport the textured lob a couple of times, so she definitely adores that playful look!  
Pro tip: If you want to take cue from this fashion tip, cherry pick a ruffled top or a maxi skirt, and team it up with a fitted top or pant.
Naturally chic
For her makeup, we have seen Chrissy feature the muted look, more than a couple of times. She loves adding a little bit of drama with her highlighter, and gives a touch of the same color to her cheeks as is on her lips. But what is crazily diva-like about this style icon is that whenever she is running some errands or out with her family, she rocks her natural beauty, minus makeup!
So which of Chrissy Teigen style secrets do you want to try? Let us know in the comment section below. ☺
Summary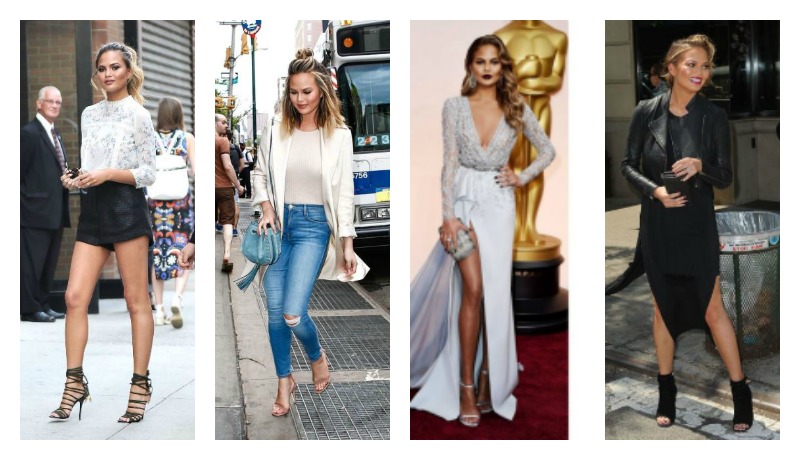 Article Name
Here's Why Chrissy Teigen Style Can Give All Women A Class In Fashion
Author
Description
Because Chrissy Teigen style is unmatched!