The Grammys Red Carpet is as important as the award ceremony itself! Every year, we have the horror of seeing some zany and outright despicable outfits, but also the pleasure of glancing at the elegant and the most chic.
If Oscars are grown-ups going to dinner and lending ears to podcasts (please bear with my analogies!), Grammys are its teenage siblings: defiant and strange and rebellious. Making an impression with the ensemble you decide to slip on becomes very important; whether you want to surprise or delight or shock, is in your hands. Because nitpickers like us are waiting to make judgments! 😉
At the Grammys, we've noticed over the years that the more unruly and disobedient the styles on the red carpet, the better! And the 58th celebrations too, didn't disappoint us! Last night saw music industry's most talented voices draped and clad in some really impressive ensembles. From Justin B's sleek white Yves Saint Laurent tuxedo to Taylor Swift's Atelier Versace's two-piece outfit, the whole shebang was classy AF!
Here are our 12 picks for the most forward fashion ensembles that set the Grammys 2016 red carpet ablaze!
1. Taylor Swift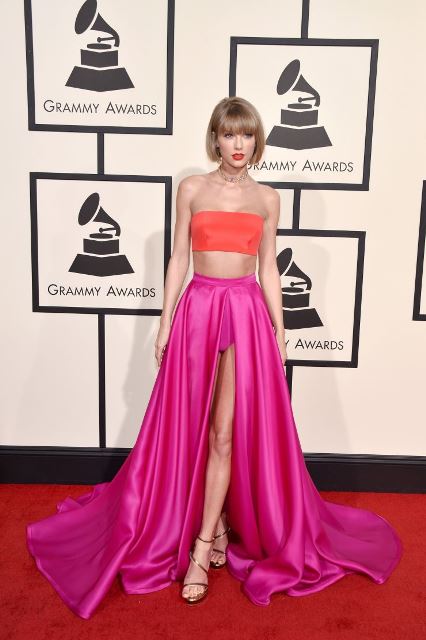 Image source: Grammy
The winner for the Best Album of the Year, Taylor Swift, slayed it with an Atelier Versace two-piece get-up, which featured a full skirt paired with a crop top.
2. Chrissy Teigen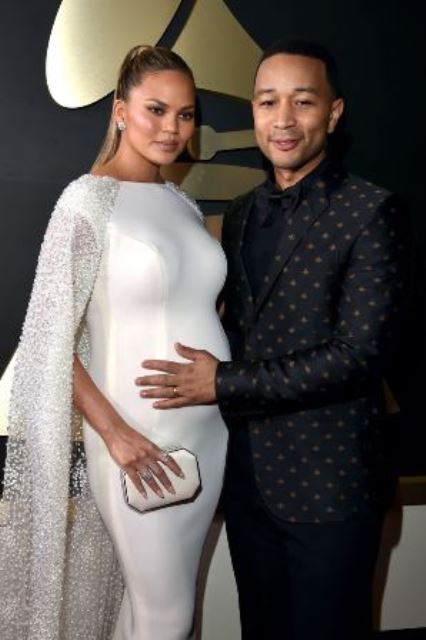 Image source: Grammy
With that motherly glow coming to her rescue, Chrissy Teigen looked stunning in a white Yousef Al-Jasmi gown. The gorgeous cape stole the show.
3. Ciara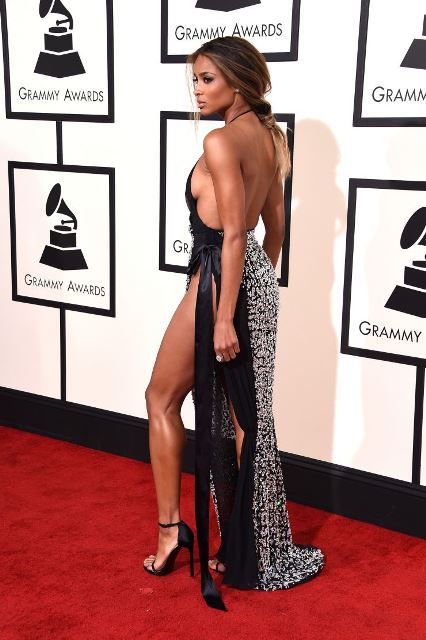 Image source: Grammy
Showing her entire leg off in a stunning Alexandre Vauthier outfit, Ciara looked flawless!
4. Ellie Goulding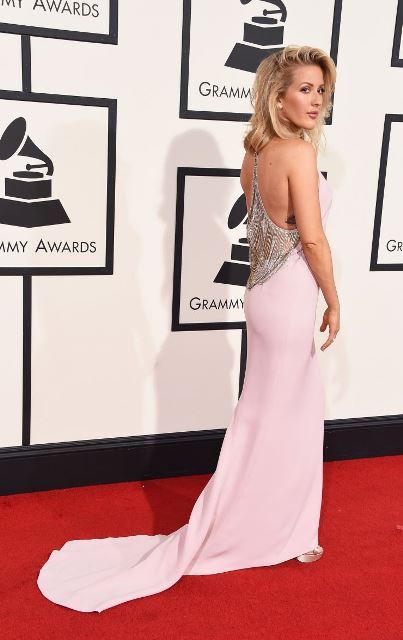 Image source: Grammy
This is what perfection looks like! EG in Stella McCartney!
5. Selena Gomez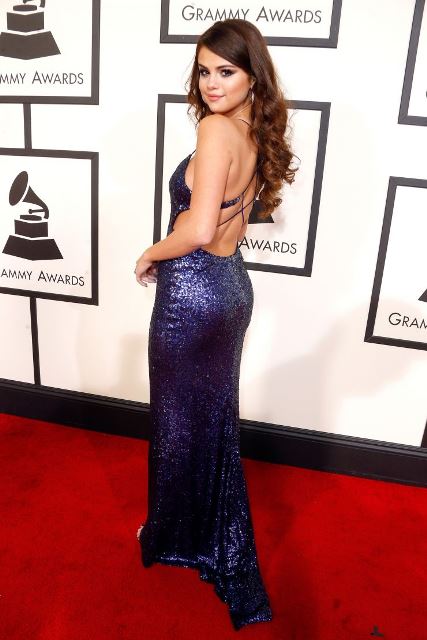 Image source: Grammy
Isn't this one a fashionista?! Selena Gomez shone in an azure number by Calvin Klein.
6. Tori Kelly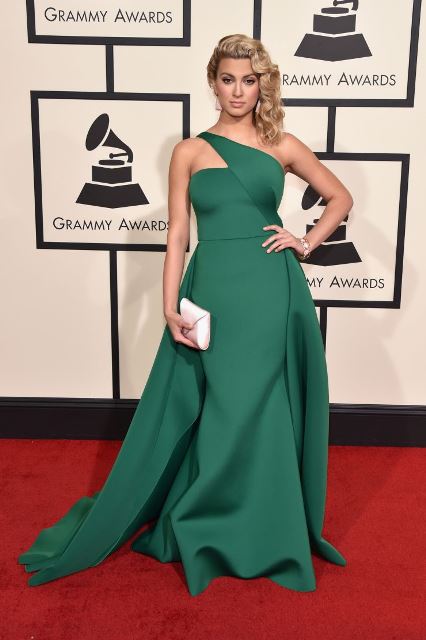 Image source: Grammy
In a pea green Gauri and Manika gown, Tori Kelly caught everyone's eyeballs!
---
Suggested read: Top 10 best dressed ladies at the Emmy Awards 2015 red carpet
---
I am not trying to call them out, but it's true that men play it safe on the red carpet. This year however, we saw some bold moves from the dudes out there. I mean, can everyone get away with a pale pink suit? No, right! Look how Sam Hunt and others left us crestfallen!
1. Sam Hunt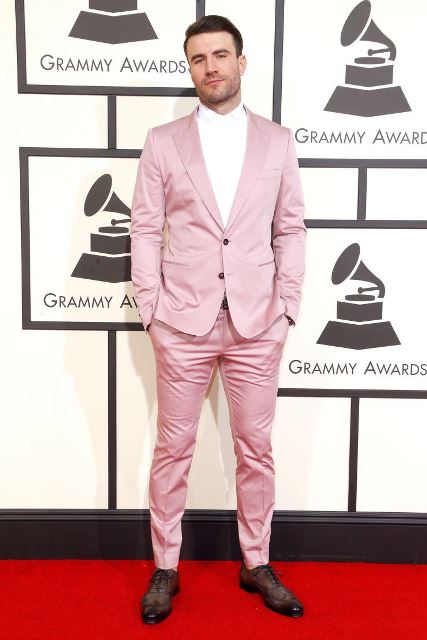 Image source: Grammy
This is the pale pink tuxedo I was telling you about! This was a big risk, but Sam Hunt carried it off like sheer magic!
2. Justin Bieber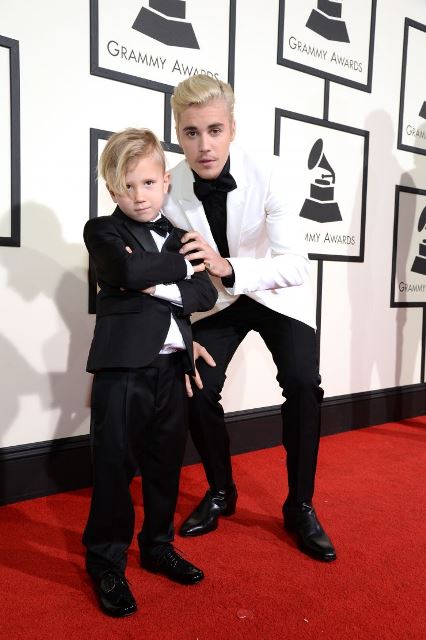 Image source: Grammy
Justin Bieber and his little brother Jaxon Bieber looked adorable in creations by Saint Laurent.
3. The Weeknd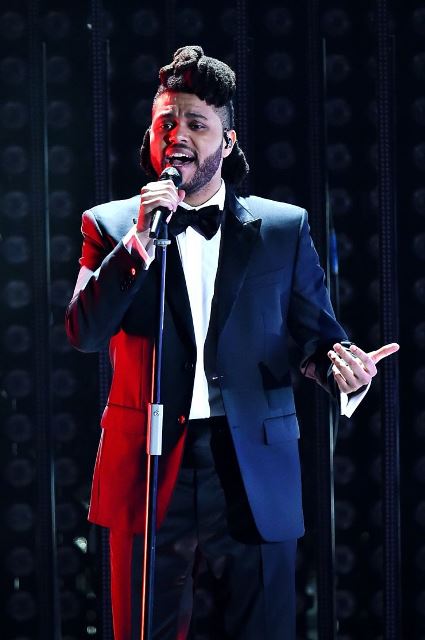 Image source: Grammy
Look at this custom Givenchy tuxedo. Wearing black and yet not looking clichéd, fashion-wise! He looked rad in this, while walking ever so confidently around the red carpet, posing for the shutterbugs.
4. Aloe Blacc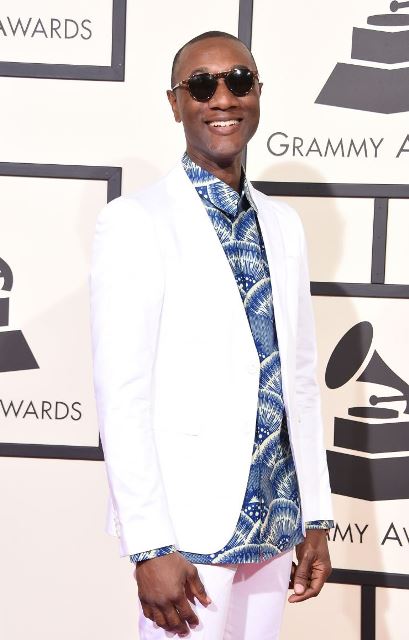 Image source: Grammy
One cool cat of a fella! Aloe Blacc's soulful swagger seems to speak up from the patterned shirt and white blazer that he decided to don for the 58th Grammys!
5. Sam Smith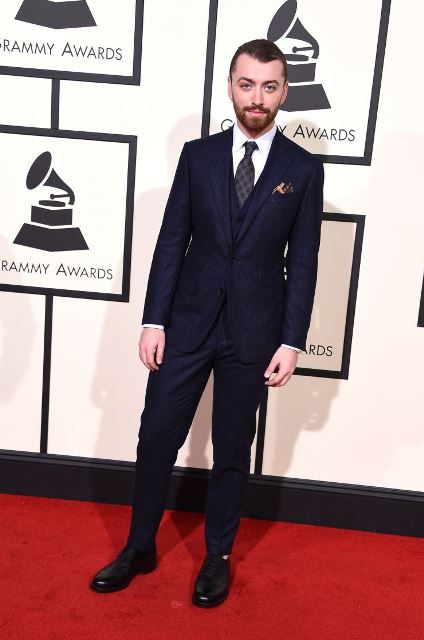 Image source: Grammy
This Thorn Sweeney suit is a three-piece tuxedo which will never ever be out of style. Hmmm… especially if put on like this! 😉
6. Wiz Khalifa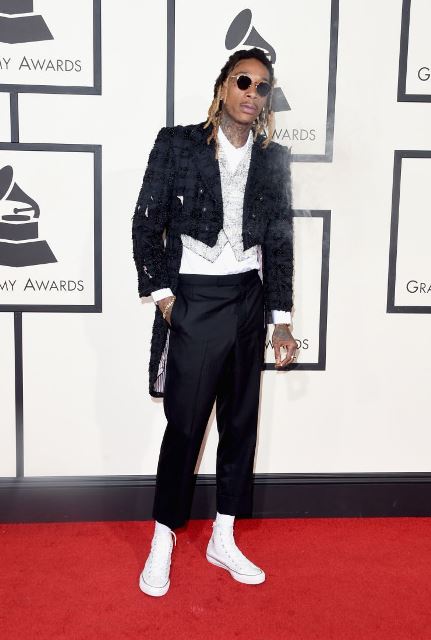 Image source: Grammy
Whenever you think of words like cool, dapper, and spruce, you think of Wiz Khalifa. Last night was no exception. Cheers to Kanye, for telling us #WizWearsCoolPants! 😉
So while low-plunging necklines were the in-thing for the ladies, the men had some fun with colors this year. These 12 stars brought their A-game for music industry's biggest night for Grammys 2016! For those who missed the mark, better luck next time! And those who went overboard (a little?!) we have a different listicle coming up! Stay tuned!
Summary
Article Name
12 Best Dressed Celebrities At Grammys 2016 Red Carpet
Author
Description
Check out the best dressed celebrities from the Grammys 2016 red carpet!