Beauty pageants have become ubiquitous, with every city, every state, and every country hosting one, and the most beautiful of them usually participate in the Miss World and Miss Universe pageants.
The 63rd Miss Universe pageant was held on Sunday night in Miami, Florida. Miss Colombia, Paulina Vega, beat the other 87 contestants to be crowned Miss Universe 2015. Miss USA, Nia Sanchez, was the first runner up, while Miss Ukraine, Diana Harkusha was the second runner up. Miss Jamaica, Kaci Fennell and Miss Netherlands, Yasmi Verheijen, rounded out the top 5 finalists.
Miss Vega of Barranquilla, Colombia, is a 22-year-old student of business administration, and said that she would wear the crown with "pride and excitement." As soon as she was crowned, her fans back home apparently took to the streets to celebrate her win. The young Colombian beauty, who is one of eight children, has an interesting family. Her grandmother, Elvira Castillo, was crowned Miss Atlantico in 1953, while her grandfather is the legendary tenor, Gaston Vega.
The stylish and chic lady, divulged that the contests leading up to Miss Universe were her first, as well as last, because she is eager to get back to complete her business studies. She said,
"It gives me independence. I want to have my own company."
Just earlier in the week, Vega had said,
"It will be a dream come true to represent the woman of today. A woman that not only cares about being beautiful and being glamorous, but also cares about being a professional, intelligent, hard-working person."
Miss Vega, who wore a sparkly silver gown with stripes, was crowned by last year's winner, Miss Venezuela, Gabriela Isler, another Latina. Apparently, beauty pageants are a big deal down south, in Latin America. Girls are groomed from a very young age for the contests, and where women are honored and proud to represent their countries in beauty contests.
Donald Trump, real estate mogul, reality TV star, and owner of Miss Universe pageant, said that many predicted that Vega would win the title a few weeks ago, when the contestants first arrived in Miami. He said,
"From the minute she walked in the building, people said, 'She's a star.'"
First runner up, Miss USA, Nia Sanchez, is from Las Vegas and has a fourth-degree black belt in Tae Kwon Do. Not just that, she has also traveled extensively throughout the country teaching the same to others. During the competition, she spoke about equipping women to defend themselves against crime. She said,
"It's just something that's so prevalent in our society and why not empower women to take control of a dangerous situation into their own hand."
Miss Jamaica, Kaci Fennell, who was among the top 5 finalists, stood out and made her mark with her short, spiky hairdo, and a feisty personality to match her hair. Wearing a long, red, beaded evening gown, Fennell said,
"I don't have long tresses like everyone else. I'm just representing myself, and that's what beauty pageants are all about." She further added, "You don't have to look a certain way … and I feel like I represent that."
Many fans who were disappointed that Miss Fennell wasn't crowned Miss Universe, took to twitter to express their discontent. Here are a couple of tweets from fans:
I love that #MissJamaica is wearing her hair this short length! She's probably the first beauty contestant to do that. #MissUniverse

— Rafaelina Siri (@raphaelacecilja) January 26, 2015
It looks like #MissUniverse's world isn't ready to a black, elegant, short hair and INTELLIGENT woman as #MissJamaica pic.twitter.com/ymuiLaaO4v

— Samy Nemir Olivares (@Samynemir) January 26, 2015
Whatever be the motivation behind the crowning of Miss Colombia as Miss Universe, the new Miss Universe, will receive an undisclosed salary, a wardrobe and numerous beauty products, a luxury apartment in New York, and a one-year scholarship from the New York Film Academy. Phew! Pretty cool digs and perks of being a Miss Universe.
Congratulations, Miss Paulina Vega!
Summary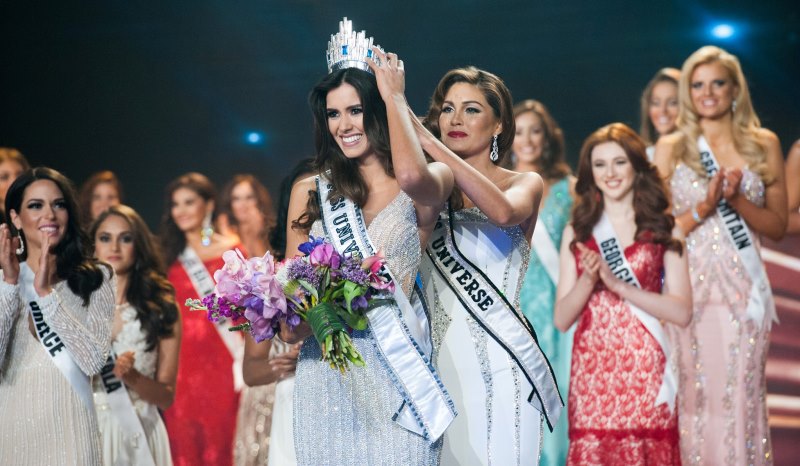 Article Name
A look at the Latin beauty who has won Miss Universe 2015
Author
Description
With another Latin beauty winning the Miss Universe 2015 title, here's a look at the top 5 finalists. Check out the pictures & details of the 5 finalists.