Before the beard stroking video clip from Vegas' World Series of Poker went viral, few had heard of Dan Bilzerian outside of the high-stakes poker sub culture. Okay, if we give the poker playing 'player' some leeway, a core group of fans who kept track were also in the know of who's Dan. However, one year later, this 34-year-old is an Internet star who has a whopping '6M+ and counting' fan base on Instagram. One may well want to know why!
---
Suggested read: How much does Kim Kardashian spend on her selfies?!
---
Here's why:
Rivers of extravagance, avalanche of indulgences, hordes of scantily-clad ladies, suitcases stuffed with wads of green, and gold-plated guns, a home filled with even more of the same green and weaponry, a chain of fastest cars, and an outrageous lifestyle that seems to leap off in trebled doses from a Jason Statham movie – is Dan Bilzerian summed up for you.
This 'Most Interesting Man' on Instagram makes eight-digit bets in poker, carries his 20mm anti-tank gun in a pick-up truck, bought exclusively for the purpose, has his hair cut by bare-breasted women in bow ties, throws off porn stars from his rooftop, has a pet goat named Zeus, flies in his own customized Gulfstream IV jet, and is unabashedly proud of his lavish lifestyle, which is seemingly free of any moral, financial or legal constraints. A self-proclaimed ass***le and overall bada**, this millionaire playboy calls himself the Bill Gates of poker playing. Having won over $50 million through poker alone, with a whopping win of $10.8 million in a single night, this guy eats, breathes, and drinks in dollops of cash. However, the gun fanatic and womanizer asserts that it isn't about the money for him.
"It's all about the freedom and being able to do whatever it is that you want to do," he says.
With his dad put behind bars when he was all of ten, Bilzerian didn't have a happy childhood. He was lonely and stressed which is why he admits,
"Basically I didn't get a ton of attention as a kid, I guess that's why I'm such a flashy lunatic."
---
Suggested read: Spanish artist David Lopera photoshops celebrities into curvier avatars
---
Whilst his dad was in prison, Bilzerian faced ridicule from classmates, and thus began his contempt for authority. He was thrown out of school for having a machine gun on school property. He was also exiled thereafter. He then enlisted himself in the Navy for SEAL training but couldn't rid himself of the grotesque shadows of trouble. Right before he was about to graduate, he got himself into a dispute with one of the administration officers. This got him kicked out of the program after which he enrolled in University of Florida to attain a Master's in business and criminology. And yes, it doesn't take a genius to guess – he didn't complete his master's either. It was during his second year at the University that he went broke and didn't have any access to the assets of which he was a beneficiary. Thus, he returned to the poker world with a pathological focus.
"You have to go broke to respect the money," he has said of his losses. "And I had a style where I could make a lot of money if I had self-control."
He soon learned the tricks of the trade and was minting money. That is when he began to question the 'need' for it all. Looking back on those days, he avers,
"Some weeks I was making, like, $90,000, so I'm looking at these professors, thinking, what am I doing here?"
Whilst there is immense speculation about how much money his dad has left behind for him in trust funds, Bilzerian has never uttered a word about the figures. He does not deny the existence of trust fund money but refuses to dole out exact numbers. Plus, with money flowing in endlessly through his poker dallying, bets and wagers, acting and stuntman stints, and perhaps, his VC stints too, much like the booze and cocaine in his parties, who is keeping tabs anyway? The Instagram feed isn't getting dull, even a tad bit – if anything, it is growing outrageously outrageous by the second. This man, Dan 'Blitz' Bilzerian is enabling millions to vicariously live out 'dreams-beyond-the-dream-zone' in real time.
He has had two heart attacks, thanks to endless partying, snowboarding, gambling, crazy sex, sleep deprivation, and cocaine. However, the gun fanatic has happened to shoot 'em right out the window, much like his perfect aim. Not only that, the Internet icon has got himself into hot waters for trying to throw a porn star into his pool, from his rooftop – a stunt organized by Hustler magazine. The actress, who panicked at the last second, grabbed onto his T-shirt, thereby landing off a bit and breaking her ankle. She filed a lawsuit, which not unlike his carefree ways, Bilzerian blew off with his 'always-smug' attitude and the quip –
"Like your client, the facts of the claim won't, quite, fly."
---
Suggested read: Jamie Brewer of American Horror Story makes fashion history at NYFW
---
Here's the video of him throwing the naked actress off a roof:
He also got himself in trouble in December last year for kicking a woman in the face whilst he was celebrating his birthday at LIV Nightclub in Miami. When the footage hit the headlines and the woman sought legal help, Dan denied the allegations by asserting that he was merely protecting another woman he happened to be with, at the time. The man's uninhibited indulgence does not end there. After a recent arrest at the LAX airport for allegedly being in possession of 'bomb making materials.' do you want to see how our 'Bruce Wayne-meets-Hugh Hefner-of the social media' dismissed it?
"Jail, let's not do that again!"
Cheeky, huh … I'd say, as if it were a lovers' spat!!
Although there is little need to dwell on the details of his lavish lifestyle (his feed is a visual platter that millions devour with unabashed gluttony, much like he lives his life under a twisted form of a 'carpe diem' influence), here are a few details that might well be WTF moments for those of you, who are reading on to know!!
He lives in a gated estate in the Hollywood Hills, with the likes of Leonardo DiCaprio as his neighbors. He is believed to be leasing the home at $35,000 per month from one of the richest men in Singapore. GQ magazine documents a snippet of his LAVISH lifestyle:
The house has a sunken living room, 270-degree views over the city, a pool that hangs out over the hillside, cash-counting machines, poker tables, and a garage for his chrome-plated 1965 AC Cobra (vanity plate: "SUCK IT") and his white-with-black-rims Lamborghini Aventador ("MR GOAT"). He shares the place with his cat, Smushball, and Zeus the goat – plus a new goat, Beatrice, to keep the former company. They sleep on a $700 blanket outside. The 34-year-old poker player is said to have another home in La Jolla, a beach town near Mexico, which resembles Tony Stark's headquarters in Iron Man. And then of course there's his crashpad in Las Vegas, which at one point was an apartment at the Panorama Towers, developed by Britain's Andrew Sasson.
As for the string of women that surround him all the time, Playboy playmate Jessa Hinton has been shown the exit, or if rumors are to be believed our 'playboy' has been 'slapped' and dumped for the unabashed carnival of dope and sex that dominates Bilzerian's private card games and parties. However, that isn't the only disconcerting thing about the man who toys with women. He is accused of being a misogynist who aims at 'possession and conquering.' His cruel depiction infiltrates his social media activity too –"Ugly girls hurt my eyes," he has tweeted, attaching a picture of several females with one of their faces scribbled out in red pen.
One might contest the problems that go into the making of this twisted man (Freudian and more!!), choose to hate him or love him, but he is determined to stay!! And how!!
Whatever might be the endgame of this player, it is clear that his revelry is conferred upon him a celebrity status that has already become a gargantuan force to be reckoned with. Whilst there is a definite space for a critical dialogue to be opened within the ambit of those sex games and poker stakes, one cannot help but notice the nihilistic, complacent, and unabashedly gonzo-esque tone of this wisenheimer who has done well to dissipate the 'abusive' undertones of his 'life and times' under the shiny veneer of the 'blitz' that is becoming of his middle name!!
---
Suggested read: Meet the new Bond girl of 'Spectre' from Mexico
---
Only, he is currently facing a small problem – want to know what? Continue to part two!!
Summary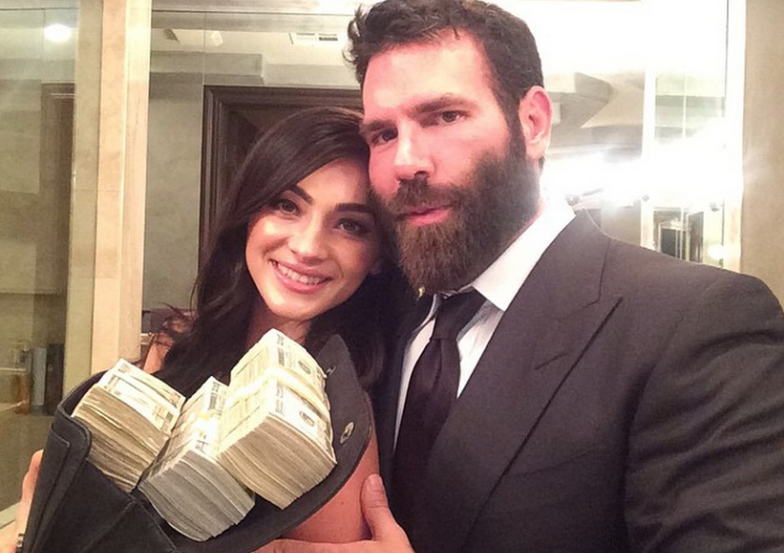 Article Name
Author
Description
Dan Bilzerian, the uncrowned King of Instagram, lives a lavish and outrageously outrageous life. Here's a peek at his ostentatious life.