Your wedding photos are a way of capturing your joy, your happiness, and your union as a couple, to be cherished for 'as long as you both shall live.' Your wedding day is exciting, terrifying, exhilarating, and hopeful – all at the same time! You're tying yourself with one person in front of everyone you love, and it's one of the most beautiful and happy days of your life.
And this momentous occasion was made even more memorable when this wedding photographer slipped and captured an epic wedding photo! He literally went above and beyond his obligation to capture amazing pictures for this couple – by slipping in a puddle and falling over!
The result? One hilarious and epic wedding photograph that captures the reaction of the just-married couple and their bridal party. Check out the picture: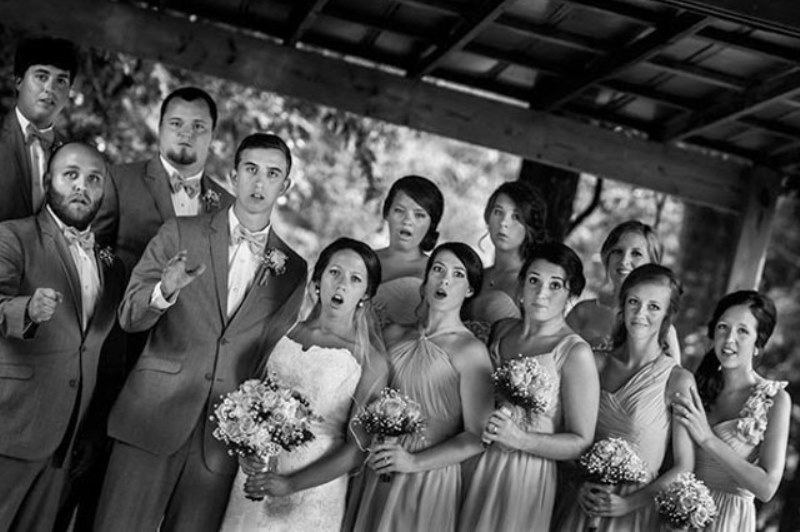 Image source: Chase Richardson via Followell Fotography
If you look closely, you can notice the genuine reactions of the newlywed couple, and most of the other guests in the picture. But the women in the far right, seem to have no reaction at all, except that of smiling for the camera!
---
Suggested read: Groom photobombs wife in epic wedding photo
---
The photographer behind this unique wedding picture is Chase Richardson of Followell Fotography. He fell over while shooting wedding pictures at Mcclain Lodge in Mississippi last year. But the epic picture went viral and made many people smile when Jimmy Fallon, the host of The Tonight Show tweeted it. Of course the picture went viral – Fallon has over 26.7 million followers on Twitter!
Image source: Twitter
Talking to PetaPixel, the photographer, Chase Richardson, said,
"I got set up for the shot, and when I adjusted my stance I slipped in the water and fell. I cut my finger open and broke the camera lens I was using. It made this horrible screeching noise for the rest of the day."
Further, he added,
"It had been raining all morning so I ended up photographing the wedding party under this covered slab of concrete basically. There were puddles everywhere, and when I took a step back to get ready for the photo I just … slipped and fell. Pretty embarrassing."
Although Richardson's camera didn't survive the fall, the photographer came away with a cut on his finger. Later, when he loaded the photos onto his computer, he noticed this epic wedding photo he'd captured –  mid-fall.
Well, even though we're sorry his camera didn't survive the tumble, we sure are happy that he accidentally captured this epic  wedding photo.
Share your comments below!
Featured image source: Chase Richardson via Followell Fotography
Summary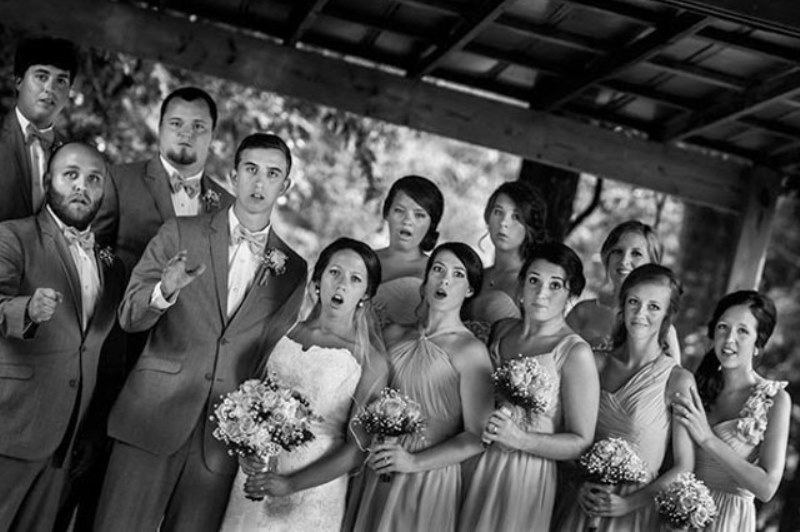 Article Name
Photographer Captured Epic Wedding Photo As He Fell Over!
Author
Description
Slipping on a puddle, this wedding photographer managed to capture an epic wedding photo! Check it out!