Over the years, I have noticed that it is appallingly challenging to put out our most intimate feelings into words. The difficulty level hits the ceiling when the feelings are that of a heartbreak. When I was going through my breakup a few months ago, music came to my rescue. It's strange how I need music to feel every emotion; bliss, exhilaration, passion, feat and even anguish! There is a song for every sentiment, isn't it?!
Here's my list of the tracks that helped me get over the man I thought I couldn't live without. I call it the "Recovery Playlist!" After all, a breakup isn't easy- but music helps sail through it all. Not only did these help me mend my wounded heart but also pepped me up to move on. ☺
---
Suggested read: 25 greatest love songs from 2000 to 2014 that made our heart sing!
---
1. "Gone Gone Gone (Done Moved On)" by Robert Plant and Allison Krauss
Just speed off into the sunset with this track! I used to imagine triumphantly swaggering my stuff in front of my ex who twisted and twirled my heart.
2. "Done" by The Band Perry
This song helped me realize that it's best to keep away from someone's toxic presence even though we still love them!
3. "Tonight I'm Getting Over You" by Carly Rae Jepsen
At this point, all I needed was to get my endorphins flowing! If you feel me, this is your jam.
4. "Nodding Off" by Wavves
Remember how Jude was asked to "take a sad song and make it better"? Well, this is what Nodding Off does!
5. "Little Black Dress" by Sara Bareilles
I still remember the days when it was so gruelling to pull myself out of bed. That's when "Little Black" happened to me.
6. "How To Hide Your Feelings" by Man Overboard
This is a highly commended number. Whenever you feel inundated by emotions, fall back on this melody by Man Overboard.
7. "Ready To Start" by Arcade Fire
A rough patch in the romance department can make you spill your guts to random people. And at the end of all the yapping, you feel worse! Those were the days when "Ready to Start" (though I wasn't, yet) was a good idea.
8. "Your Biggest Mistake" by Ellie Goulding
In my opinion, this tune should be taken with a brisk walk and a cup of hot chocolate!
9. "Love The Way You Lie" by Eminem feat. Rihanna
When you have made peace with the fact that the guy was out-and-out wrong for you. ☺ *Good feels*
10. "Cathy's Clown" by The Everly Brothers
"Or you don't even care?" That line still gives me Goosebumps!
---
Suggested read: The most misunderstood love songs ever…
---
11. "Need You Now" by Lady Antebellum
And even after 2 months of letting go (or trying to), there'd be nights when I just couldn't not wish that he was right next to me, kissing me and telling me that everything'd be alright. How mocking is that!
12. "Someone like you" by Adele
The shame spiraling would go on for a while.
13. "It Must Have Been Love" by Roxette
But I knew that though it was love, it's over and the time had run out.
14. "Love Takes Time" by Mariah Carey
And throughout your 'Recovery Phase' you feel bitterly lonely only to soon enjoy your own company!
15. "Big Girls Don't Cry" by The 4 Seasons
Listen to me. Big girls do cry and it's okay! ☺
16. "Maggie May" by Rod Stewart
Every breakup leaves a person feeling used and exploited by the other. I wonder if he felt hat way too!
17. "I never loved you anyway" by The Corrs
This is the peppiest song on the list. Thinking of gingering up your spirits? Never mind the lyrics.
18. "Somebody that I used to know" by Gotye
I remember chancing upon this at a bar when I was guzzling down pints of beer, trying to forget all that we had been through, the good and the bad. For more feels, check out the video!
---
Suggested read: Done and dusted: Moving on after a breakup
---
19. "Total Eclipse of the Heart" by Bonnie Tyler
This is when I told myself that things fall apart so that better things can fall together!
20. "Irreplaceable" by Beyonce
While going through heartburns, always keep this in mind: No one's irreplaceable! That thought does give some solace. ☺
And then,
21. "We are never ever getting back together" by Taylor Swift
Finally! ☺
How about sharing your recovery playlist with us? How are you moving on after a breakup? Let's go through this together! ☺
Featured image source: taylorhits
Summary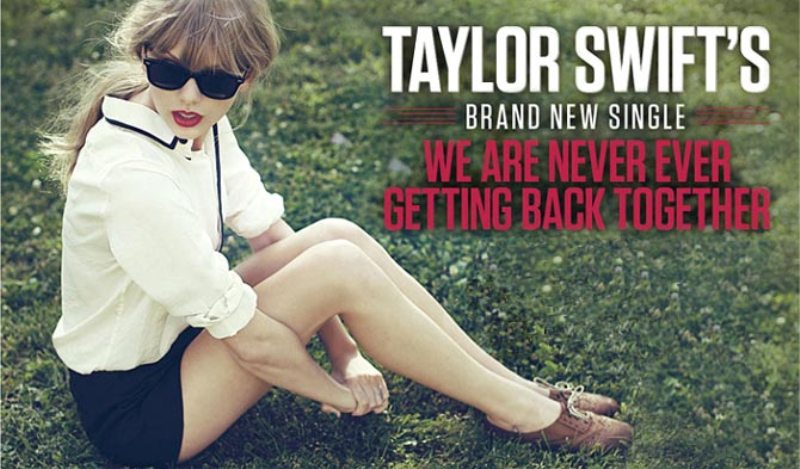 Article Name
Moving On After A Breakup: My Recovery Playlist That Helped Me Get Over You
Author
Description
Because moving on after a breakup isn't easy - music makes it bearable...