Tanishq wedding jewelry has made it a habit of associating a social message with every one of their new design launch. Just like Amul, which is now associated very strongly with topical issues and has made the Amul girl an icon over the past few decades, Tanishq is slowly getting itself associated with spreading a social message in the most subtle and engaging manner possible.
The advertisement shows a Punjabi girl at a Tanishq store buying wedding jewelry with her family in two – her Dadi (grandmaother), parents and younger sister. Of course, the ad also showcases Tanishq's complete range of jewelry styles – Bengali, Punjabi, Marathi, Gujarati, Tamilian and so on. While the family is engrossed in examining the jewelry, Dadi is busy looking elsewhere in the store. She then spots something interesting at the store and immediately forbids her granddaughter from marrying her Punjabi boyfriend. The audience and the family are shocked, of course. She goes on to explain why.
The campaign comes as a breath of fresh air when the '2 States' story is being played out in countless homes across India where inter-caste and inter-state marriages are still frowned upon. Dadi explaining to her granddaughter and cutely trying to convince her as to why her choice of a Punjabi boy for herself is boring is endearing to say the least. She also says this in front of the girl's parents. Instead of becoming preachy she gives matter-of-fact, fun reasons why she should be more experimental and choose a 'South Indian' boy for herself – she can get to have two styles of weddings and she can wear more types of jewelry for her shaadi. Isn't that amazing?
This is not the first time that Tanishq has taken this route to make the brand memorable. There was the memorable wedding jewelry campaign where the little daughter of the bride participates in the wedding ceremony – first getting ready along with her mother and second, taking part in the 'pheras.' This campaign took up two social messages in the most subtle manner possible. One, the idea of widow remarriage and acceptance was shown practically, with the families and the daughter fully engaged in the ceremony like in any other occasion. Two, the model chosen to play the bride / mother, was a dusky woman who defied the conventional fair, svelte, sharp-featured models who are featured in most campaigns. This not only won hearts for the brand but also made the character relatable.
Which is your favorite ad campaign with a social message?
Featured image source: Youtube
Summary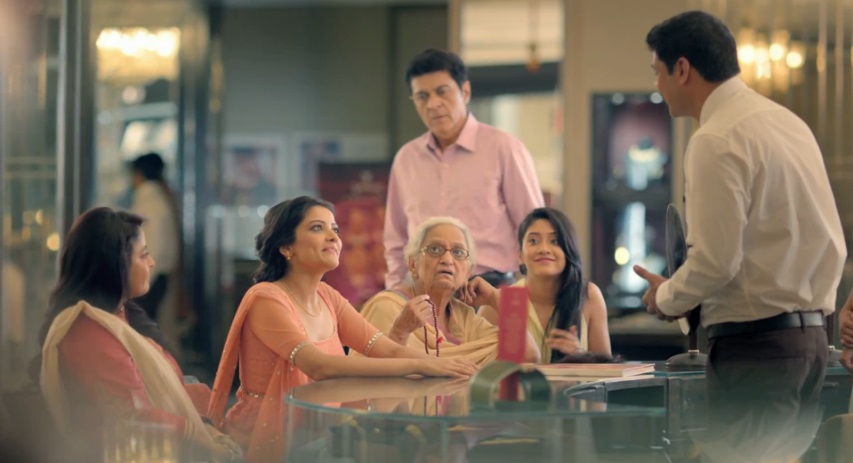 Article Name
This Dadi tells her granddaughter not to have a boring wedding
Author
Description
Tanishq wedding jewelry has come up with an interesting ad where the dadi makes an interesting case for inter-state and inter-caste marriages.