Wedding is once-in-a-lifetime occasion. In addition, with the fashion trends in this present world, every bride would desire to have a blend of tradition and fashion.
When it comes to Punjabi weddings, the rituals are not only elaborate, but are equally vibrant. Each time you think of Punjabi weddings, the image is hardly short of a happy joy ride, merrymaking, while everything in it is grand. Therefore, to add fashion to traditional bridal wear and accessories, let us explore the latest trends that Punjabi brides need to incorporate into their wedding wardrobe.
1. Maang tikas and matha patti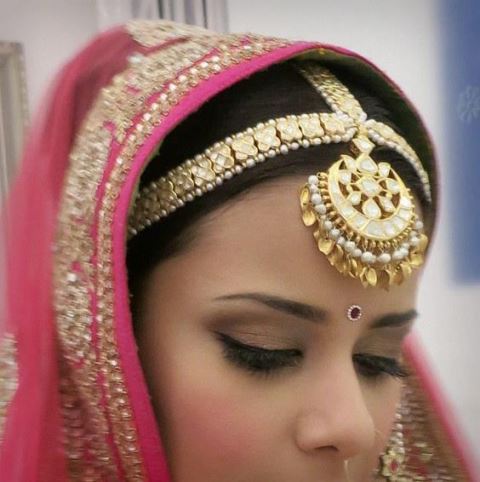 Image source: Pinterest
A captivating pendant for the Punjabi bride's forehead, these usually come together as a set. You can go for a single line matha patti or a double-lined one with some space in between. It adorns the head beautifully. If you have a broad forehead, a better suggestion would be to go for the double-lined one.
---
Suggested read: 15 amazing scientific reasons behind Hindu traditions
---
2. Punjabi mehendi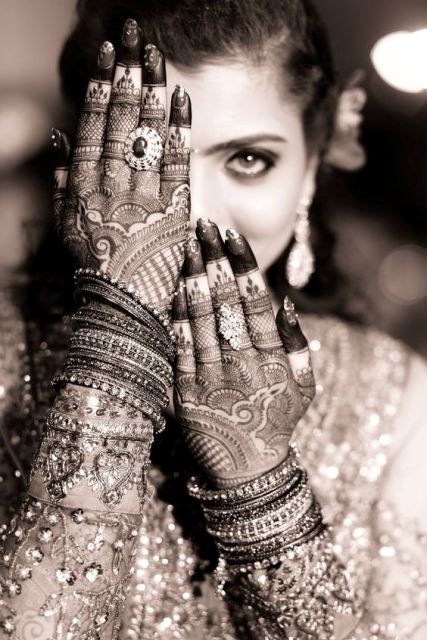 Image source: Pinterest
Punjabi mehendi designs are incredibly detailed and so well drawn, that they glorify the real color and heritage of the traditional aspects of Punjab. These unique designs are detailed and require proper practice to be drawn right without any flaws. Unlike typical Arabic styles of mehendi that are bold or even big on impact, these Punjabi mehendi designs are all about interwoven threads that tell a real story. Punjabi women really adore having mehendi applied on their hands for all possible occasions. From the big weddings to the festive karva chauth to the colorful baisakhi, a Punjabi lady will have the hands and feet decorated with mehendi at any given chance. There must be hardly any Punjabi bride who would want to say no to the wedding designs for mehendi. The popular fashion choice for Punjabi brides is the bridegroom design. It tells a lovely story depicting the bride and the groom. The same also symbolizes love and a coming together of two different souls in the holy bond of matrimony. This exceptional form of art needs a very professional artist to make it look perfect.
3. Beauty of a chooda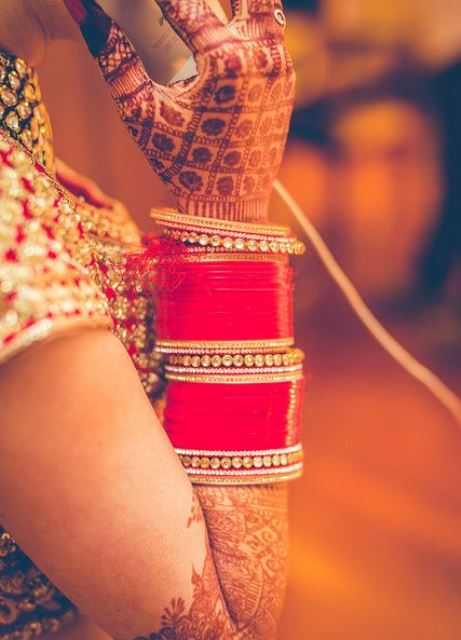 Image source: Pinterest
Among the many essentials of a fat Punjabi wedding, one of the rituals that holds special meaning is what we call the chooda ceremony. As per tradition, a set of bangles in red or even maroon and a dash of ivory is selected for the ceremony by the maternal uncle of the bride.
With a tinge of new age fashion, brides have started opting for different colors for the bangles as well, such as pink, purple, orange and more. In addition, the number of bangles varies depending on different tastes and the bride's personal preference.
4. The promising kalire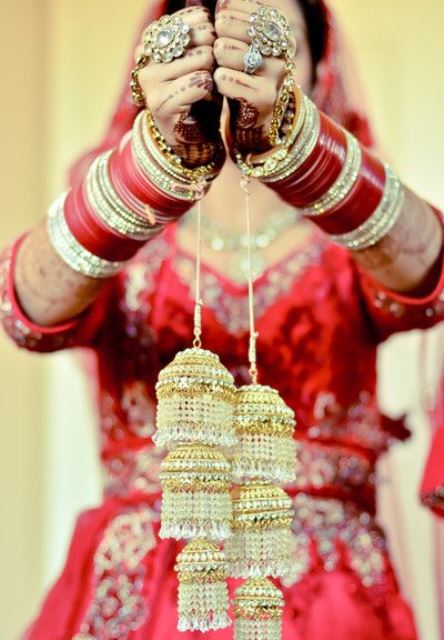 Image source: Pinterest
These metal hangings shaped like umbrella form a unique combination with the Punjabi chooda and the two together signify happiness for the couple and stand for eternal love between the two. The bride's sisters or her friends tie these kalire to her chooda. They are golden or even silver in hue. The main significance is to provide the best wishes to a bride and to remind her of her family and friends who will be left behind as she gets hitched. In addition, the shape of the kalire is also a sign of luck so that she never is short of food in her new home.
5. Bridal lehenga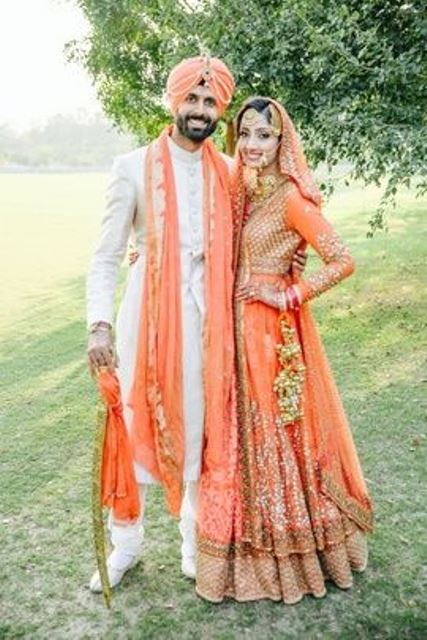 Image source: Pinterest
It is a mix of tradition and the fashion quotient when it comes to choosing this wedding essential. A beautiful mix of pink, red, and orange colors brings eternal joy to the bride. We are never getting over the classic pink, red and orange combination! Punjabi wedding bridal costumes usually include embroidered sarees or lehenga sarees. The wedding picks for the Punjabi ladies are seeing the addition of a sharara too. Likewise, there is a dupatta to overlay the head. A dupatta with long dazzling dresses expands the magnificence of this collection. Heavy ethnic accessories add a dash of vintage with major lusting happening over the jewelry!
6. Heavy necklace (also known as Rani Haar)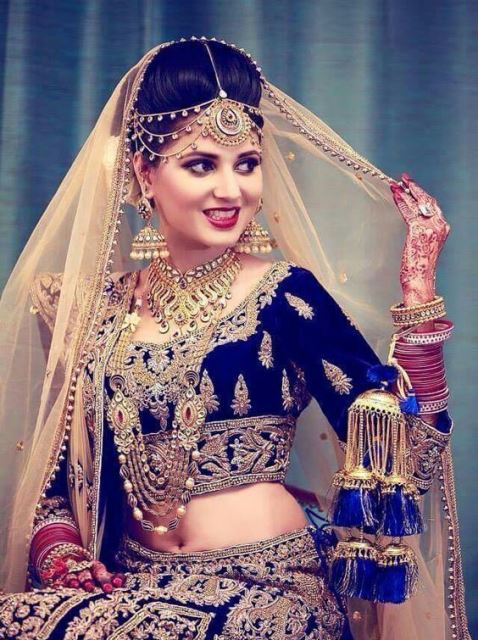 Image source: Pinterest
It is generally one big necklace that falls at the centre of your outfit and renders that royal touch. Remember how diva-like Aishwarya Rai looked in the movie Jodhaa Akbar? Not that all brides need to wear such a heavy neckpiece in precious metal, but yes, something heavy works well since it's your own wedding and not someone's else in which you are a guest. You have to look like a bride after all.
7. Earrings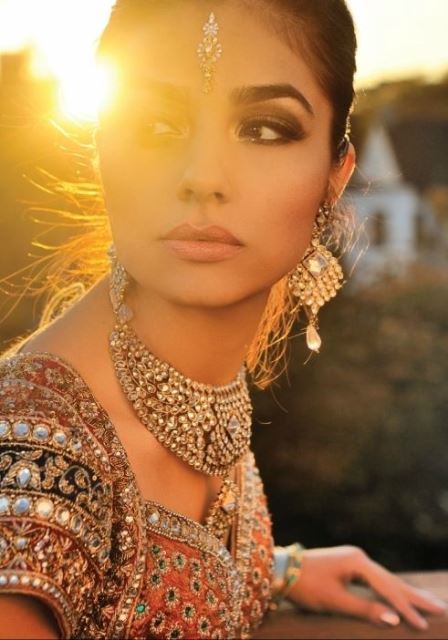 Image source: Pinterest
Of course, matching earrings with the necklace add grace to the Punjabi bride. Go for lighter ones in case you cannot hold up all the weight of these heavy picks for those long wedding hours.
Tip: Stick up some double tape behind your ear lobes to prevent these heavy earrings from folding up your ears or pulling your ear lobes down.
8. Nose ring/nath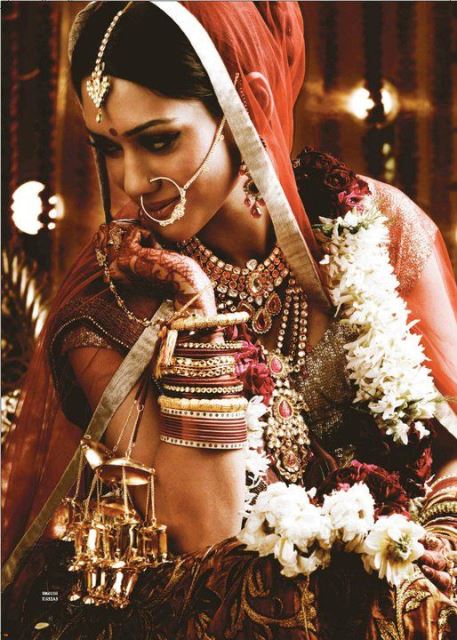 Image source: Pinterest
I know it could be slightly irritating for some of you, but all those who do not have their nose pierced, need not panic. You could always go for a clip on nose ring which are available in various sizes. You can make that pick as per the shape of your face and then decide what suits you best.
---
Suggested read: The bizarre origins of 10 wedding traditions
---
9. Haath panjas and ring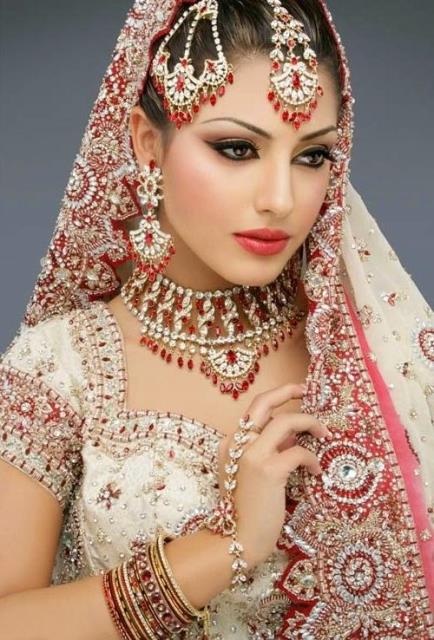 Image source: dreamstream
Again, this comes as a set, where the ring is worn and is attached to the bracelet. This looks beautiful in jadau design or even kundan work.
10. Anklet/payal/leg thong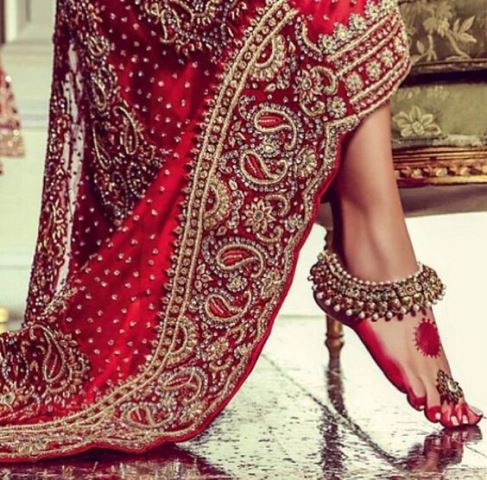 Image source: Pinterest
Anklets or payals are our age old tradition. Usually we have seen our moms wearing silver payals, but currently, we get so many beautiful designs that we are spoilt for choice. There are even some amazing kundan ones too. There are leg thongs available too, and these are quite in vogue these days. These are exactly like a haath panja with small strings worn on the toe ring and then attached back on your ankle using a hook. It adorns the whole foot and indeed looks beautiful with all the mehendi. What more could a ravishing Punjabi bride ask for?
These are some of the must-dos that Punjabi brides need to keep in mind when getting ready to tie the knot.
Summary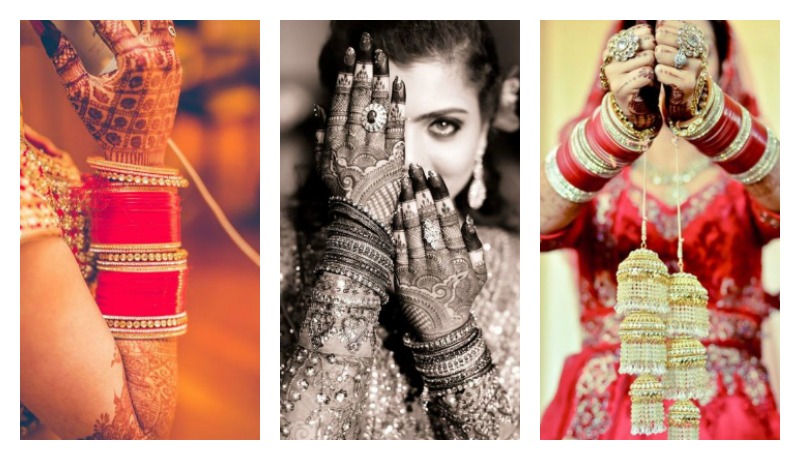 Article Name
10 Fashion Must-dos For Punjabi Brides You Didn't Know About
Author
Description
Did you know that Punjabi brides need to wear ALL these accessories to look like the stunning brides they are?