Dip dye wedding dresses are the trend to look out for in 2017. A lot of brides want to look different without being too ostentatious about their dresses. Dip dyeing your dress ensures that you have a traditional wedding dress with just the right amount of color to brighten things up on your wedding day.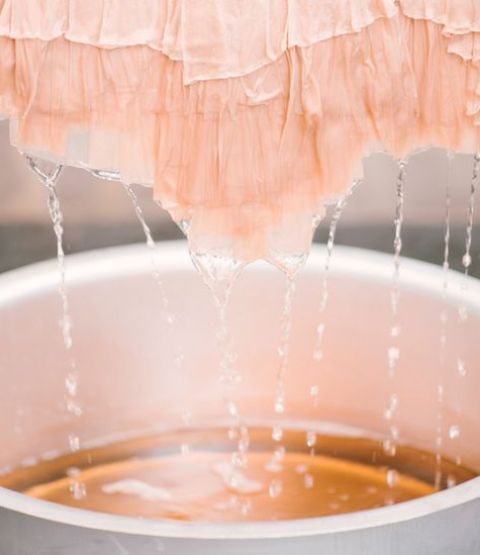 Image source: Pinterest/TheWeddingScoop
---
Suggested read: 13 most memorable movie wedding dresses of ALL time
---
Dip dyeing is a simple process where a section of your dress is colored by dipping it in a dye solution. The longer your dress soaks in the colored water, the deeper the color in going to be, which is why it is quite simple to achieve that ethereal ombré effect you have been lusting for that you've seen on so many dresses.
Here are 20 dip dye wedding dresses that are going to have you drooling and craving for one of your own on your wedding day.
1. Ethereal embellished powder blue dress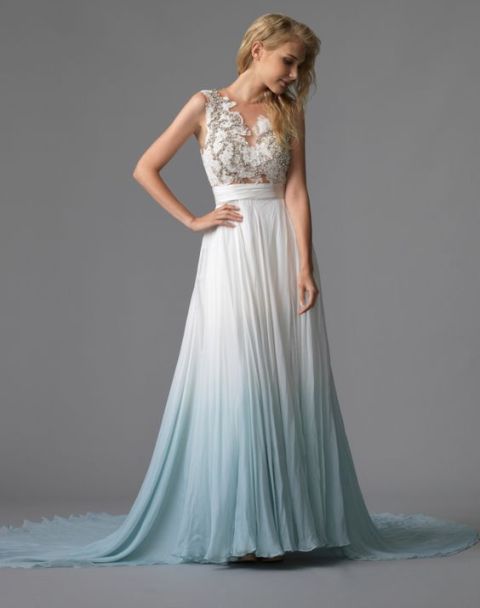 Image source: Pinterest/SingaporeBrides
A simple dip dye job like this is enough to add a unique touch to your gorgeous traditional wedding dress. This A-line lace and ivory silk piece, which is stunning in itself because of the embellished top and the pleated skirt, is made even more attractive because of the light powder-blue hue which lines the bottom half of the skirt. In case you are planning a gorgeous snowy winter wedding, this would truly be the perfect dress for the occasion.
2. Dark off-shoulder vintage-style wedding dress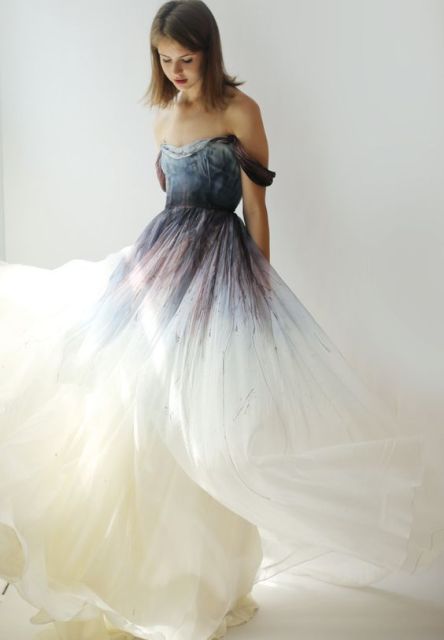 Image source: Pinterest/ModWedding
This romantic dress is the kind that every mystery and drama loving bride would have on their bucket list. Most dip dye wedding dresses are dyed from the bottom. In this dress, the dye job is done on the top, which also leaves a part of the skirt with a stained smoky effect. Also, those vintage vibes on the off-shoulder sleeves work perfectly with the midnight dye.
3. Baby pink dip dye style for an outdoor wedding
Image source: Pinterest/WeddingChicks
Having your dress dip dyed a pale, baby pink is one of the most popular trends as far as dyed dresses go, and this is a reason for its immense popularity. Dresses that have been dyed a light, ombré style pink not only makes you look/feel like a princess, but it also adds a feminine, other-worldly feel to your already dreamy dress.
4. Fiery Boho-chic wedding dress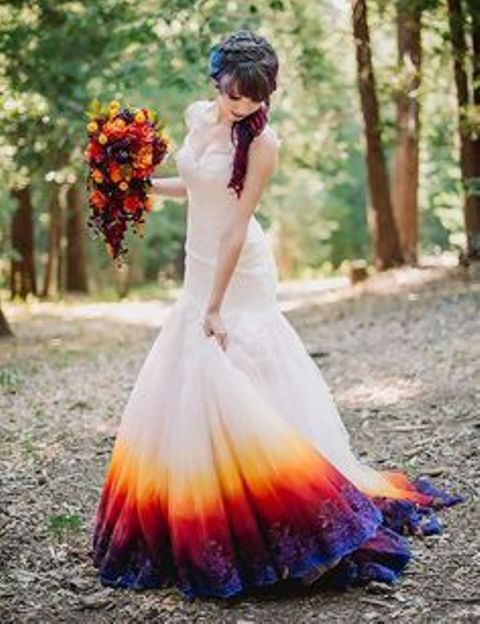 Image source: Pinterest
This dress is testimony to the fact that hardcore, ostentatious, and OTT dip dye jobs can look beautiful as hell, and make your wedding dress a talking point amongst your guests for the rest of eternity. This bride dyed her dress to match her hair color, which is pretty ingenious, and the results are of course, stunning.
5. Grey and blue traditional wedding dress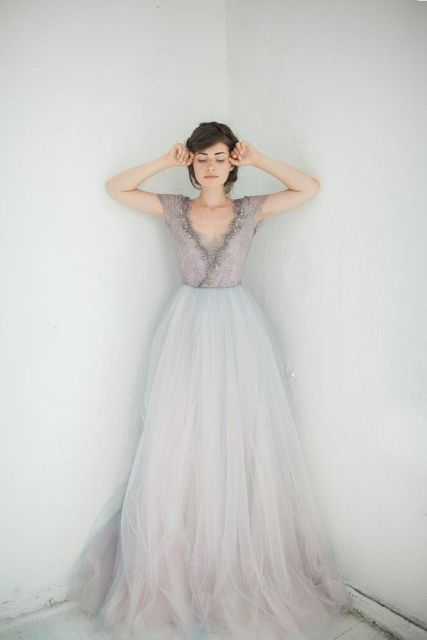 Image source: Pinterest/PaperAndLace
If you are not too keen on changing up the traditional look of your wedding dress, but want to get it dyed anyway, there is no prettier example than this incredible piece, where both the top and the bottom have been dyed an extremely pale and subtle shade of grey and blue respectively, to create a magical effect.
6. Purple ombré wedding dress for those mermaid vibes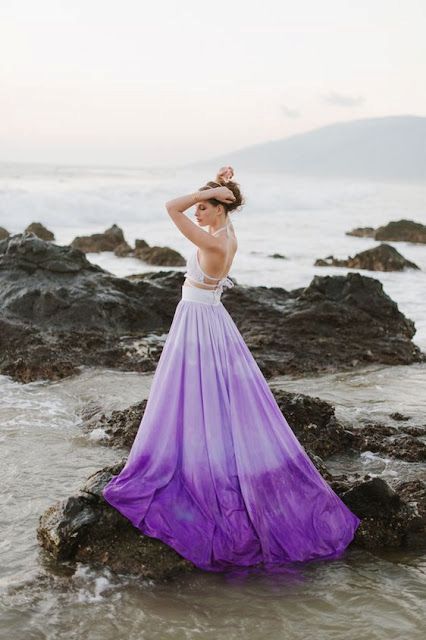 Image source: Pinterest/BridalHairArt
If you are feeling mermaid-y on your wedding day, and you want your wedding dress to reflect your mood on your special day, there is no better example than this purple ombré dress. This dress and this setting also give us major photo shoot goals.
7. Rustic chic white and yellow wedding dress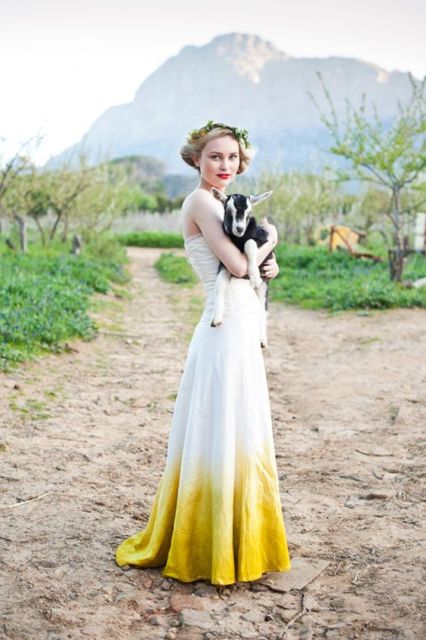 Image source: Pinterest/WantThatWedding
Ombré, dip dyed wedding dresses are great for rustic weddings, because your colors can be made to match your theme, or your surroundings or the sunset or anything else. The pop of dirty yellow at the bottom of this simple A-line wedding dress makes it so incredibly special.
8. Silver ombré wedding dress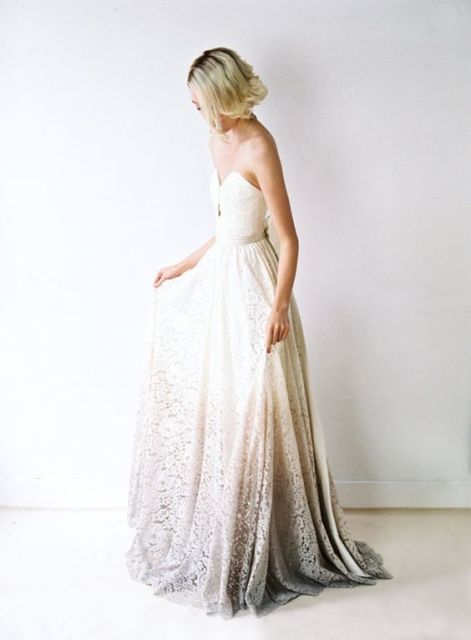 Image source: Pinterest/TheWeddingScoop
Here is proof that unconventional colors like silver when put on your wedding dress can make you look like a gem. The dress is composed of intricate lace details, which are highlighted because of the splash of silver on the hemline of the wedding dress.
9. Ethereal rustic pale pink wedding dress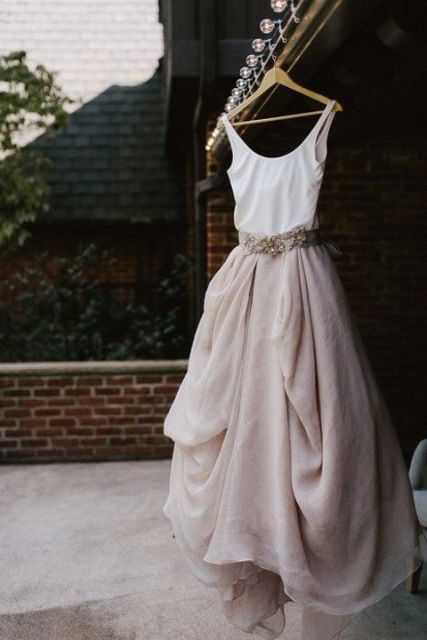 Image source: Pinterest/HappyWedd
There is very little scope for contention when I say this is one of the prettiest wedding dresses ever, and it is so because of the surprisingly subtle hint of blush that the full-skirt is dyed with. It is separated from the casual white top by a stunning wide embellished belt with sequins and floral motifs, making it one of the best looking dresses ever, tbh.
---
Suggested read: 20 bold red wedding dresses that warrior goddess in you will LOVE
---
10. Baby blue dip dyed combination wedding dress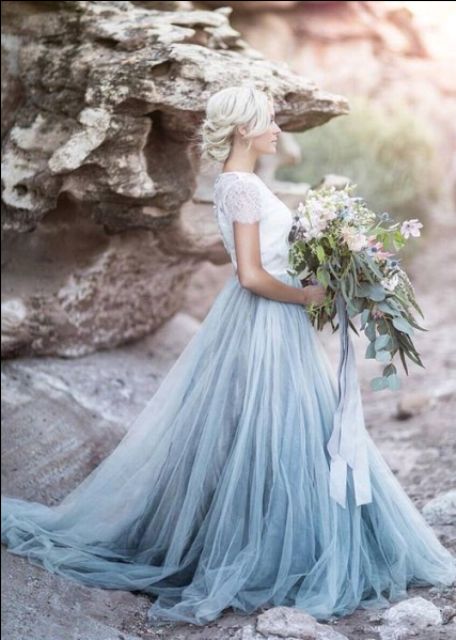 Image source: Pinterest/GreenWeddingShoes
We are totally swooning over that beautiful aquatic blue color that shines through in its various shades in this wedding dress. The full tulle skirt, paired with a short-sleeve, silk top and a sharp structure works towards making this dress a truly memorable one for your wedding.
11. Yellow ombré sunset-inspired wedding dress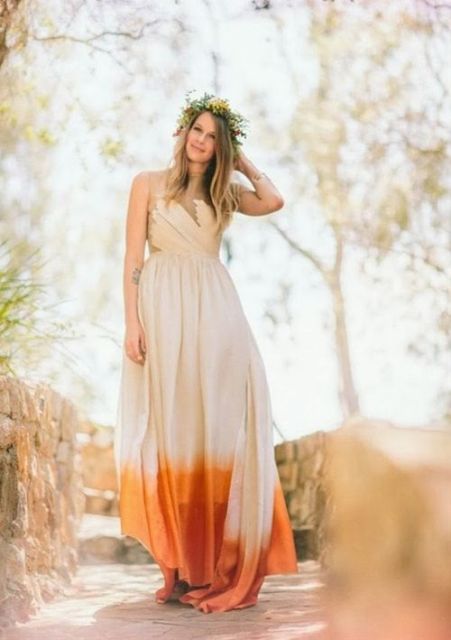 Image source: Pinterest/Postris
If you want to look like a modern day Greek goddess, without compromising on the traditional style of your wedding dress, but at the same time ensuring it is contemporary in its looks, this is the source of your inspiration. This peplum style wedding dress is unique because of the illusion neckline, the tapering structure of the skirt and the incredible beautiful dip dye style of gradually fading orange into cream, reminding one of the sunset.
12. Literally a wedding dress that looks like the Northern Lights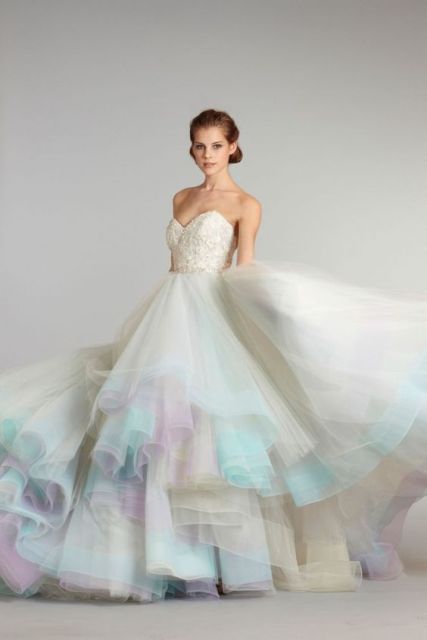 Image source: Pinterest/Brit
This is the reason dip dye wedding dresses are the best – you can actually look like you are wearing the Aurora Borealis on your dress. Even though the top is pretty traditional, with an embroidered bodice and a sweetheart neckline, the full tulle skirt, arranged in cascading pleats and dyed in various cool shades are what make this dress a complete masterpiece.
13. Gorgeous purple dip dye wedding dress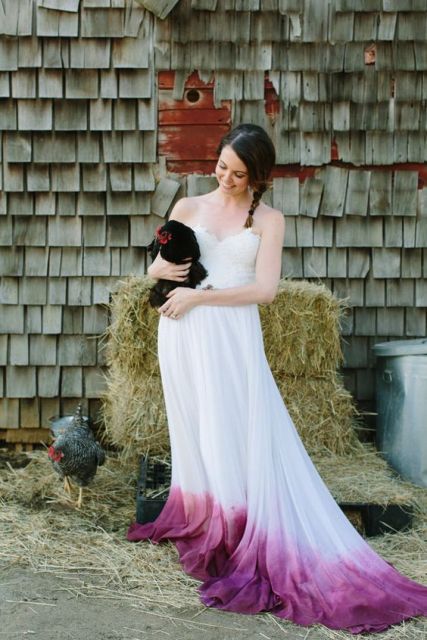 Image source: Pinterest/Etsy
After such a bold statement, if you are looking for a simpler dip dyed wedding dress, this is the one. The color on this dress is simple, beautiful, and it's something you can do yourself! The dark purple is enough to throw the dress into contrast with its surroundings, highlighting the white as well the purple on this beautiful creation.
14. Another masterpiece in magenta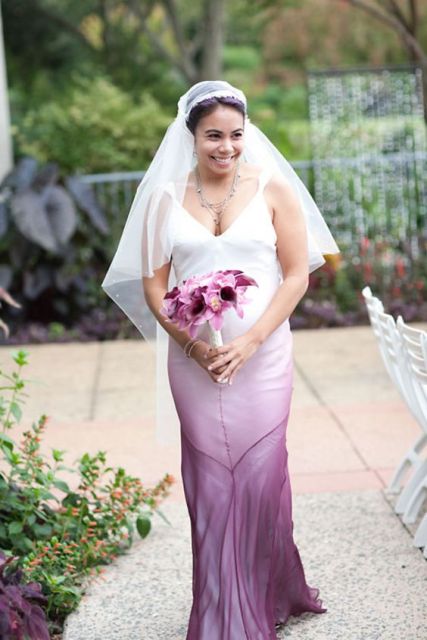 Image source: Pinterest/CapitolRomance
If you are looking for a dreamier and subtler effect, this dress is your #WeddingDressGoals in magenta. It is evident by now that I have a thing for ombré, and the effect is recreated beautifully here, highlighted even more by the bouquet and the traditional style veil.
15. Dip dyed wedding veil for the quintessential hipster bride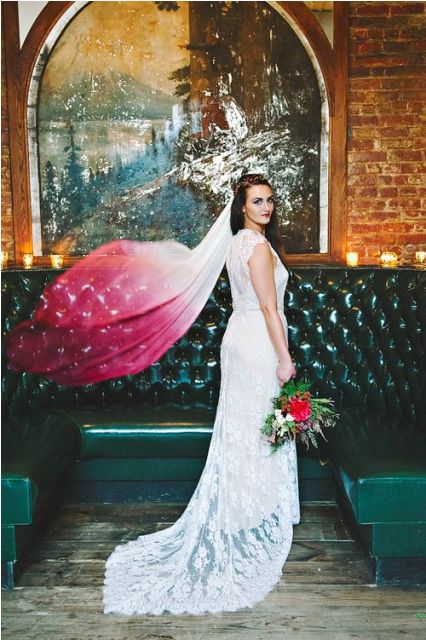 Image source: Pinterest/KerryAnnStokes
If you have been itching for an out-of-box hipster bride kind of look, then this dress is right up your alley because it looks like a fricking dream. Of course, what makes this lace creation even better is the deep red stained veil, which is another great idea if you want to dip dye your wedding dress (or a part of it).
16. Midnight blue reverse dip dyed wedding dress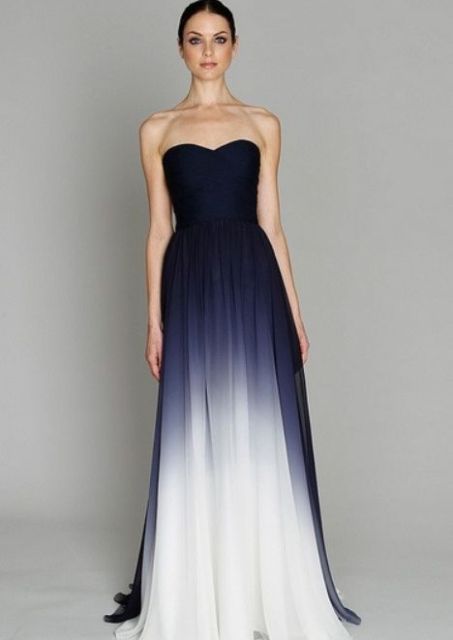 Image source: Pinterest/Weddingomania
Till now, we have seen dip dye styles where the white of your dress remains predominant whereas the dye adds the pop of color. You can reverse that trend completely, and create a magical piece like this one, where the deep midnight blue is offset by the splash of traditional white on your one-of-a-kind dress.
17. Smoky glitter ombré wedding dress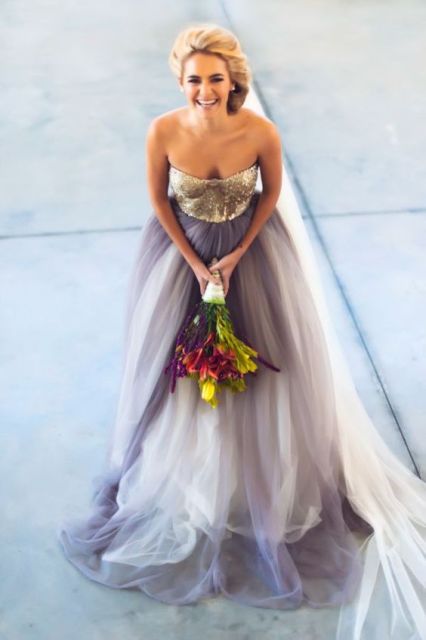 Image source: Pinterest/SwoonedMagazine
This also makes it to my list of all-time favorite dresses, and there is no reason why it shouldn't be the same for you because this dress is perfection. Not only is the dreamy tulle skirt stained blue-grey to create a smoky effect, but it is also enhanced by the sequined top in dull gold.
18. Short violet rustic dress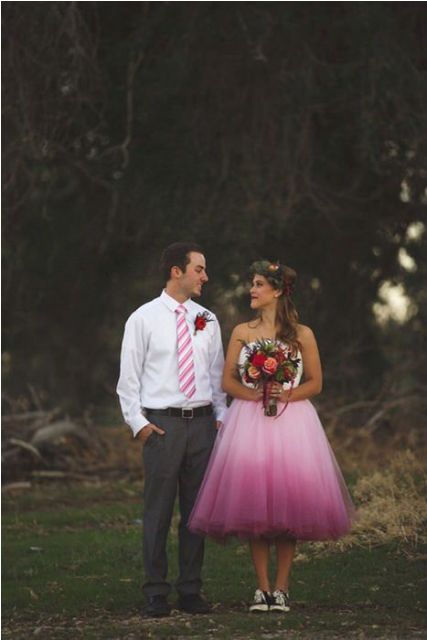 Image source: Pinterest/IntimateWeddings
The dip dye effect looks super cute on short dresses, such as this one with a full organza skirt, which has been dyed a mellow shade of dark pink, which creates violet ombré effect. Also, brownie points to the groom for the matching tie.
19. All things pink and exquisite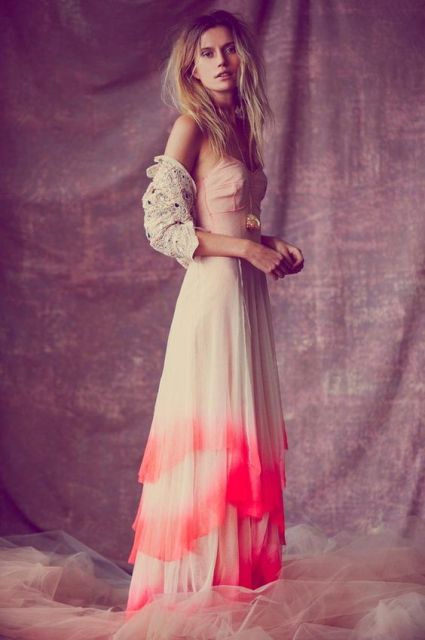 Image source: Tumblr
The Bohemian in me has been itching to find a dress which would be perfect for a casual, rustic, but stunning outdoor wedding, and I may just have found the one. This pretty dress is special because instead of a uniform ombré dye, the various frayed layers in the silk skirt have been dyed a bright shade of coral, which looks really pretty.
---
Suggested read: 28 gorgeous unconventional wedding dresses perfect for a non-conforming bride
---
20. Dip dyed monochrome wedding dress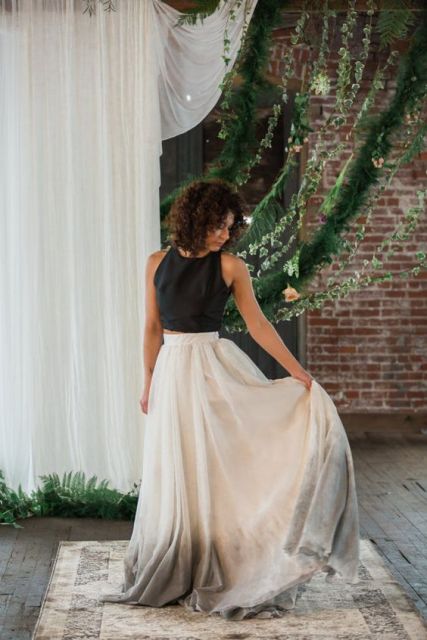 Image source: Pinterest/Etsy
If you are a black and white kinda girl, and you don't want to break your personal tradition even if it is your wedding day, then dip dyeing might be the way to go, as demonstrated by this weirdly beautiful wedding dress. This two-piece stunner is composed of a simple black crop top and a skirt that has been stained grey, with a clinched waist.
If you have been looking for a trendy look to sport on your wedding day without deviating from tradition too much, you now know where to look. The process of dip dyeing is simple, but as we've seen above, the results are absolutely breath-taking!
Summary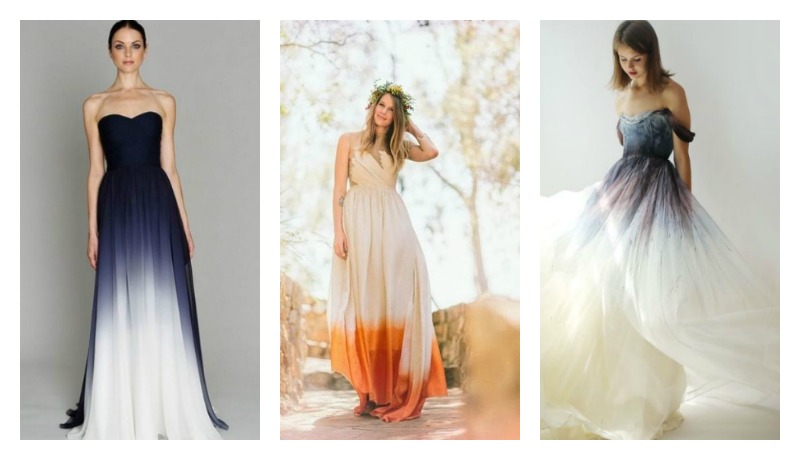 Article Name
20 Gorgeous Dip-dye Wedding Dresses You've EVER Seen!
Author
Description
Dip dye wedding dresses are the trend to look out for in 2017, and you can take all the inspiration you need from these stunning pieces!