About a fortnight ago, I was busy reveling in my 'getting sloshed' hours of the weekly TGIF celebration with a few friends when the seed for this idea was flung at me. Of course, it came in the form of an uninvited and a rather abhorrent 'so, what is it that you are looking for in your 'ideal' man?' question pushed up my nose, and I would be lying if I said that some of my Grey Goose martini didn't quite follow into the nasal passage! I coughed. And I do not know why that was an encouraging gesture to 'not drop the topic.' Overcoming the irresistible urge to give him one of my 'smartass' replies (that has me touted as a 'nasty bitch' BTW, in a few circles!), I told him that I didn't have the bullet points for this one. He laughed and spent the next hour talking about tall, dark, handsome lads with a chiseled jaw, a six-pack, a seven-figure salary, and a few cars! I don't know what made him think I wanted to have this conversation but duh uh, did the alcohol content in my body rise along with the final figure on my bill! :/
The following morning, I vaguely recalled the inane remarks of this self-proclaimed expert on 'desirability quotient,' and kept thinking about what made men desirable to us? A few that popped into my head (all thanks to the hangover!) were intelligence, confidence, curiosity, passion, intellect, and a sense of humor. A shower and a lemonade later, the thoughts became clearer. And being the Bollywood buff I am, I started equating each of the traits in my list to an actor who displayed oodles of the same. So, here's what took shape. Enjoy this list of top 10 desirable Bollywood actors who have hit the nail right on its head when it comes to making the ladies swoon:
1. Ranveer Singh: This hottie of B-town is on the numero uno position purely for the oodles of energy and passion he breathes. For those of you (and I mean the ladies) who haven't missed out on his movies and have caught his stage performances and interviews (including the immensely 'hawwttt' and unforgettable appearance on the last season of Koffee with Karan), you know that the man is brimming with infectious energy and makes you want to do an 'ishqyaon dhishqyaon' with him! 😉
A livewire who is known for his vivaciousness, this awesome actor is passionate about everything 'filmi' and cares about his work with an intensity that you just do not see often! This passion makes him committed to his craft and propels him to be driven towards his goals of achieving a stardom equivalent to that of (maybe, just maybe) a King Khan. Now, that is difficult. But boy, you have the verve and we are all for your enthusiastic quips and dance moves! This year saw him as a 'gunda' who swiftly did what he set out for – 'aankhon ke neeche se kaajal chura loon main!' <blush blush> So for all the girls out there, has this 'lootera' stolen your hearts yet? 😉
Catch him in one of his hottest avatars ever – in the most catchy and ohh-so-hoootttt advertisement of 2014:
Do The Durex
2. Arjun Kapoor: This 'Ishaqzaada' is another hot contender in the 'desirability' race. A 'gunda' of 2014, this charming Punjabi munda can play the angry young man (Gunday) and the adorable geek-in-love (2 States) with equal ease. The reason he occupies this spot on my list is his raw sexual appeal and charming magnetism.
A man who believes in the 'actions speak louder than words' dictum, this young lad has the ability to translate that precept into live examples with stunning dexterity. The dimples are on the list of reasons too! 😉 A man with this lethal a combo of drive, ambition, and the smile that radiates the light of a thousand suns is bound to make your hearts go whhooosshhh, right? 😉
Catch him gyrating to one of the hottest things that hit the 70mm screen this year (and boy, how I wished I knew how to whistle) 😉 :
Jashn-e-ishqa, Gunday
3. Shahrukh Khan: 'Forever desirable,' I was hard-pressed to not be biased and hence, this heart-throb (my heart-throb) is third on my list. Shahrukh Khan, the King of Romance, the 'Baadshah,' is the perfect emblem of 'desirability.' The reasons are just too many to list. But I will try – quick wit, the you-make-my-heart-melt romance, the has-me-in-splits humor, the confidence (even the smugness that becomes him!), and intelligence are just a few.
Add to that his loyalty, his off-screen real avatar of a loving hubby and a doting parent, coupled with his dimples and ohh-somebody-bring-him-to-me signature raised arms gesture – that's the man we wish to have in real life. I know that Happy New Year didn't quite fit the bill, but SRK remains indelibly imprinted on all hearts! And I know that I am not the only one who lip-syncs 'Kisi ka toh hoga hi tu, kyun na tujhe main hi jeetu,' with Deepika when 'Mannwa Laage' plays! <blush blush>
Catch him in one of his let's-play-the-witty-quip game in this funny video:
Barely Speaking with Arnub
4. Salman Khan: Ironically, this 'desirable' and quintessential 'eligible' bachelor of the industry is called 'bhai!' 😛 Not only is he desirable for his washboard abs, the without-the-shirt sequences (whistles), and quirky roles which he lends quite a significant amount of credibility to, but also because of his empathetic nature and big heart. True, he is a blend of opposites – quick to anger and yet so soft at heart, but that is a rather delectable and delicious combination and becomes him.
Image source: Google, copyright-free under Creative Commons License
We love Sallu Bhai not only because he brings in immense 'kick' to our lives but also because he is ready to extend his bracelet-adorned hand to all those who need him! You heard about his sizeable donations to the J&K flood victims, his pledge for organ donations, and Being Human's volunteer work this year, right? Now, that's what we call 'a man of his words'- coz 'ek baar jo sallu ne commitment kar di, toh phir toh who apne aap ki bhi nahi sunta.'
Partake in a bit of the 'kick' here:
Jumme Ki Raat, Kick
5. Shahid Kapoor: This chocolate boy has more than established his footing in the industry after delivering a power-packed performance with the dabangg Sonakshi in R…Rajkumar last year. This year was the year of 'Haider,' and his fans couldn't have asked for more. With hair, without hair, clean shaven or with that sexy beard, this guy has donned them all and killed 'em.
His most endearing qualities are his respect for the veterans of the industry, the keenness to learn and soak in as many novel experiences as possible, learning from failures and translating them into a motivational recipe for success! Time for 'gandi baat,' eh? 😉
Catch a snippet of his most riveting performance of the year here:
Chutzpah, Haider
Summary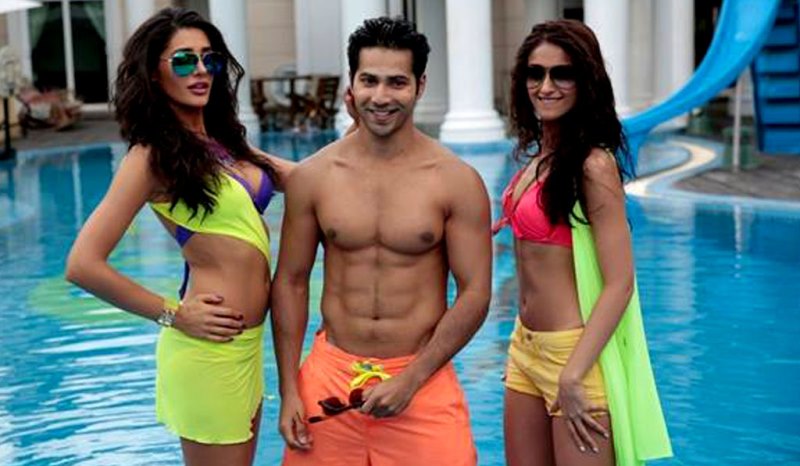 Article Name
Top 10 most desirable Bollywood actors of 2014
Author
Description
There is no dearth of hot, desirable men in our movie industry. Here's a look at the most desirable Bollywood actors of 2014.
Read the rest of the article:
Next