Bollywood has given us the privilege to droll over some of the hottest men and women this country has produced. Even though popular stars who ruled our hearts in the 90s now have kids who are all over Bollywood, looking at pictures of Bollywood celebrities then and now proves how despite being dads and moms, age is treating these celebs good.
---
Suggested read: Bollywood Divas Show How To Work Indie Chic Fashion With The Lehenga Skirt
---
Even though Bollywood has a tendency to cast out actresses the moment they reach their late 30s, there are still a few stalwart actors and actresses who are making their generation, as well as all other succeeding generations thirsty as hell. Here is a list of Bollywood celebrities then and now that will make you fall in love with them all over again.
1. Aamir Khan, 52
When Aamir Khan appeared in his proper debut film- Qayamat Se Qayamat Tak in 1988, he became an instant heartthrob. However, that was only the beginning of his career, because 30 years later, he was to become one of the biggest, most respected stars of the country. He is also one of those stars who debuted young and aged well, because this is what he looks like now:
They probably call him Mr. Perfectionist because he looks perfect as hell, still casually pulling of roles where he is supposed to be 30.
2. Milind Soman, 51
Miling Soman stole hearts the moment he stepped out half naked from a box marked "Made In India" in a music video way back in the 90s. Now, he is one of the hottest, most-gorgeous old men in the country, who is still swimming, still running, and still smashing hearts. Here is what he looks like now:
See what I mean? This level of sexiness is unparalleled.
3. Suniel Shetty, 55
Even though Suniel Shetty was the quite the craze quite some time back, there is no denying that he was never a looker. In fact, he was one of those people who made is Bollywood back when Strugglers were a thing, and you could become a "hero" because you did your own stunts and had muscles. WELL, here is a picture of Suniel Shetty now, and we'll let that sink in:
He has literally become a hot daddy now and that salt and pepper facial hair is an assault upon our collective ovaries.
4. Sridevi, 53
Sridevi has consistently been the Goddess of everything since she joined Bollywood in the late 1970s. She has met with success and adulation all throughout her career, and has worked in several film industries in the south, after which she became the queen of hearts in Bollywood. This is her now:
Not only has her dressing sense improved substantially, but she is one of the most elegant, diva moms in Bollywood right now and the forever muse of some of the best designers in the country.
5. Anil Kapoor, 60
Anil Kapoor, a.k.a. Bollywood's very own Hollywood man who has starred in films like Mission Impossible and Oscar-winning Slumdog Millionaire, once looked like this. Our very own Lakkhan has, however, grown up to be one sexy, suave old gentleman, and here he is now:
To be honest, I don't think there is one other 60 years old man in this country who looks as good.
6. Urmila Matondkar, 43
The rule of nature is that you look your age, most of the time. It is, however, very difficult to lolok 20 years younger than your actual age. In fact, iconic Rangeela actress Urmila Matondkar doesn't look like she has grown a day older, because this is her now:
The only reason people would probably seek her out now, is to find out the location of the secret youth fountain.
---
Suggested read: That's Some Harmless Swooning: 14 Married Hollywood HOTTIES We Have The Hots For
---
7. Madhuri Dixit, 50
Madhuri Dixit is an iconic person, and unless you have been living under a rock for the past two decade, you know who she is. She is a legend in the true sense of the term, and few people will believe it when you say that she is 50 years old, because this is what she looks like now:
Look at this angel from heaven gracing her with her ridiculously good looking smile, impeccable sense of fashion and overall old-school charm.
Summary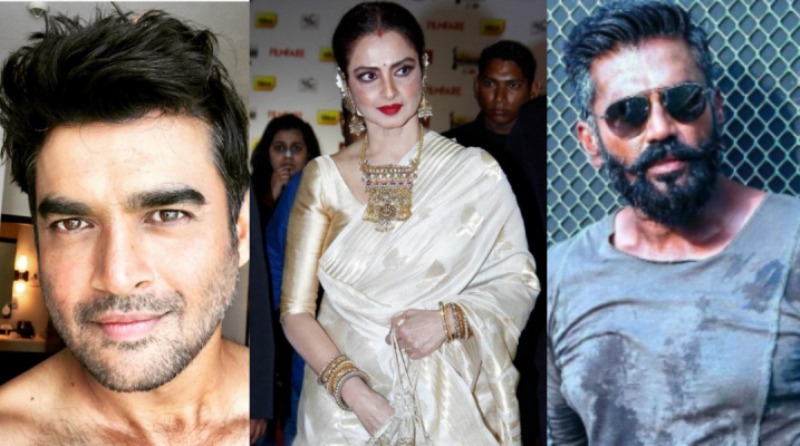 Article Name
14 Iconic Bollywood Celebrities Then And Now (Pics)
Author
Description
Here are some of the most iconic Bollywood celebrities then and now, and how they have aged like fine wine (in pictures)!
Read the rest of the article:
Next