Every bride cherishes her wedding dress, and most hold on to them as keepsakes even if they never wear it again. The wedding dress holds a special memory for the bride – the day she tied the knot and began a new chapter in her life's journey. And one British woman, after deciding that she wouldn't be wearing her wedding dress again, decided to do something with it, instead of just letting it collect dust in her closet. She donated it to a charity organization.
Meet Yvonne Trimble. She is originally from Edinburgh, but currently lives in Cyprus. She sent her wedding dress to Cherished Gowns for Angel Babies, a Kent-based charity that is dedicated to making burial gowns for babies who are stillborn or who pass away shortly after birth. The charity mostly works on donated wedding dresses and other formal attire that its volunteers then turn into miniature burial gowns for the 'Angel Babies.'
Image source: Facebook
According to the charity's website, parents affected by neonatal deaths often find it hard to find suitable burial gowns that fit their tiny babies. That's where the charity comes into play, supplying these parents with burial gowns, free of charge.
---
Suggested read: 10 heartwarming wedding-related stories from around the world
---
And after Trimble's wedding dress was turned into burial gowns for babies, Cherished Gowns sent her photographs of them. She turned to Facebook to express how moved she was by the end results.
She wrote:
Deciding in May 2015 that I would never wear my wedding dress again, I sent it to a charity that turns donated dresses into little gowns for babies who are stillborn or who die shortly after birth.

Yesterday they sent me pictures of what they had made with my dress and a mix of emotions swept over me when I received them; pride that I'd done something good, sadness that it's necessary for these gowns to have to be made, relief that I've never known this heartbreak, and a sense of thankfulness that volunteers around the country give up their time to produce such comforting garments.

I post these pictures not to shout my worth, but to advertise the charity that does this wonderful work; they need volunteers to knit, sew, crochet and they need donations of all manner of stuff, not just dresses, so if you care to look at their website it may be that more little souls will be helped.
This emotional post garnered an outpouring of support from all quarters on Facebook, and was shared more than 100,000 times. Plus, Trimble received 2500 friend requests on Facebook and innumerable messages from parents who've lost babies. Apparently, 4500 wedding dresses have been pledged to be donated to the charity as well.
Image source: Facebook
Trimble also shared one of the messages she received by a parent: "So from the bottom of my heart thank you for givins us mums some relief in the knowledge that our angel babies are forever wrapped in love."
After Trimble's Facebook post went viral, Cherished Gowns charity has received overwhelming response and support. Megan McKay, co-founder of the charity, told Mashable that such a reaction was 'hugely unexpected.'
She said,
"We regularly send out photos to people to show them how we used their dress, so to see this post go viral was quite overwhelming! As a result, we have now closed our waiting list to new dress donations as 8,500 people had joined it offering to send us their dresses."
Further, McKay went on to say,
"Our gowns give parents a huge amount of comfort and it takes away the pressure of having to find something for their precious baby to wear. We cater for babies from 20 weeks gestation and you just can't walk in to a shop and buy something of this size. Parents are always hugely appreciative of our service."
That is truly something, the power of social media helping out this charity that makes burial gowns for babies.
Featured image source: Facebook
Summary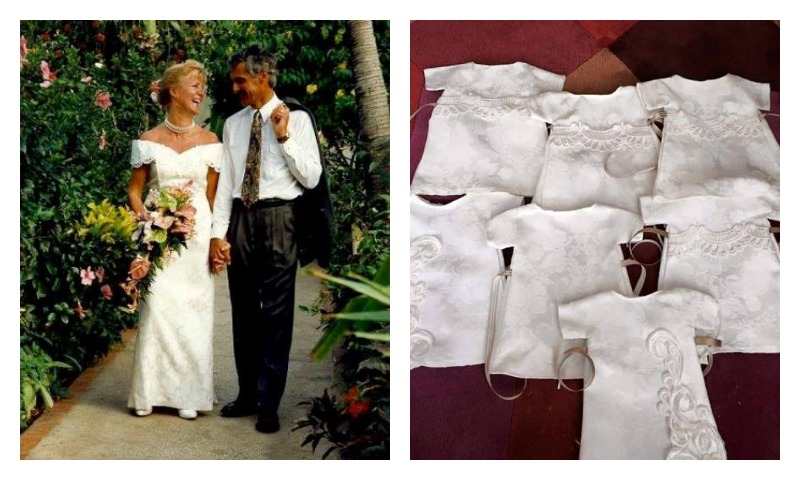 Article Name
Woman's Wedding Dress Repurposed As Burial Gowns For Stillborn Babies
Author
Description
A British woman had her wedding dress repurposed into burial gowns for stillborn babies through a charity.