A conventional wedding image consists of a blushing bride in a splendid white gown, clutching a stunning bouquet while walking down the aisle towards her groom-to-be. However, modern brides have decided it is time to (quite literally) break out of the traditional white wedding dress, and try out blush wedding dresses instead of letting only their countenance do all the blushing. Blush wedding dresses are the new 'in' thing when it comes to choosing one's wedding dress, and there are several stunning options for you to choose from.  
Image source: Pinterest
In fact, before we check out some of the most breathtaking examples of blush-colored wedding dresses, we need to understand what they actually are. A lot of brides tend to think that blush implies pink or colored wedding dresses, but that is not the case. Blush-colored wedding dresses are essentially tinted wedding dresses, digressing from the traditional white with shades such as peachy-pink, ombré , creamy pastels, and baby pink.
---
Suggested read: 20 stunningly sexy sheer wedding dresses that will make you swoon
---
High profile designers such as Vera Wang, Caroline Herrera, Reem Acra, Monique Lhuillier, Hayley Paige, and Valentino have their own lines of blush wedding dresses, while celebrities such as Kaley Cuoco, Portia de Rossi, Anne Hathaway, Reese Witherspoon, and Gwen Stefani have chosen to walk down the aisle in their blush numbers, instead of the traditional (and sometimes boring) white. Here are 15 of the most gorgeous blush wedding dresses for this season.
1. Mermaid style fall wedding dress
Image source: Pinterest
One of the most popular styles for wedding dresses is the mermaid style, which starts out with a bodycon shape until it reaches the knees, and then flares in an A-line shape. This mermaid-style wedding dress comes with a delightful twist, as the asymmetrical tulle and organza bottom is tinted with various shades of blush. Together with the textured bodice and the blunt sweetheart neckline, this dress oozes class and personality.
2. Spunky short wedding number
Image source: Pinterest
This cute little number from The Garden Collection will immediately draw the attention of any urban fashionista who is looking for the perfect wedding dress. Unconventional, cute, and blush pink, this short wedding dress has a fitted textured skirt in a pleasant rosy shade, topped with a sequinned white top with a plain neckline. Paired with the right pair of nude pumps and minimal makeup, this blingy number is perfect for the diva bride.
3. Free-spirited boho style wedding dress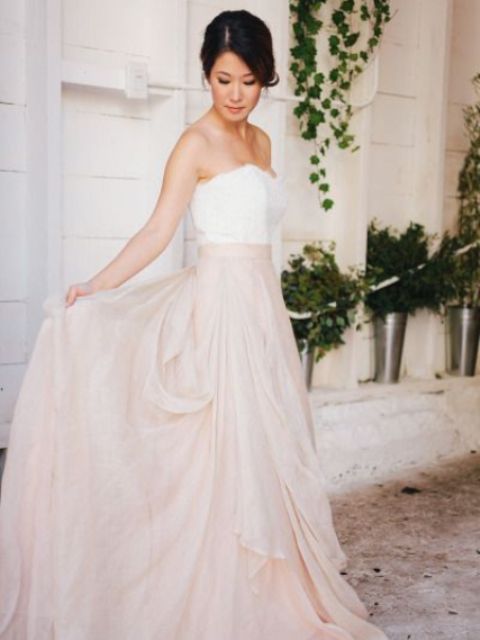 Image source: Pinterest
This Bohemian-style spectacle is made with the most delicate layers of blush tulle, with a simple torso of ivory silk and a fitted sweetheart neckline. Although this may seem simple in some aspects, the light pink and the white work together to form a breathtaking piece, allowing for a lot of free movement, and falls in comfortable folds around the body. This wedding dress is a work of art in itself.
4. Ethereal lace, blush number
Image source: Pinterest
Monique Lhuillier does it again with one of the more eye-catching wedding dresses from her Spring/Summer collection. This wedding dress is masterfully crafted with an illusion neckline and intricate lacework that covers the whole fitted bodice. The plentiful skirt, however, becomes the eye-catcher as it springs forth from the waistline in a brilliant blush color, giving the wedding dress a unique twist on the otherwise vintage princess gown feel.
5. Unconventional purple and peach tinted blush gown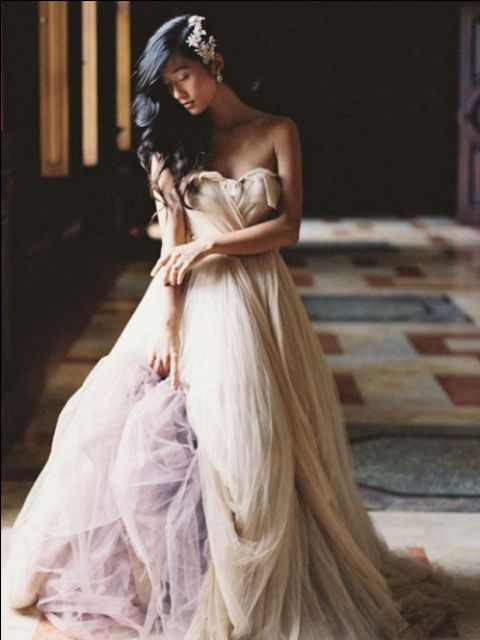 Image source: Pinterest
The whole purpose of a wedding dress is to wear the most special dress in order to commemorate such a special occasion, and this one from Enchanted Bridal Boutique looks like it was made to do just that. Not only does this dress break out of the traditional white dress convention, but it also includes purple and peach tints with a structured neckline, along with the ample tulle and organza empire skirt. This is the kind of wedding dress that takes your breath away when the bride steps into the aisle for the first time, and the blush color only adds to the grandeur.
6. Heavily embroidered enchanting wedding dress
Image source: Pinterest
This mermaid-style wedding dress is the stuff that dreams are made of. The rose gold bodice is hand-embroidered with precious and semi-precious stones and dull gold thread, which makes the dress look spectacular without being too loud. The fit and flare style of the dress gives way to the mermaid skirt of the lightest pink, which looks almost invisible in its subtlety. The capped sleeves and the heavily embroidered neckline are the perfect finishing touches.  
7. Light and airy ball gown wedding dress
Image source: Pinterest
A blush wedding dress with spaghetti straps may raise a few eyebrows, but this wedding dress designed by Hayley Paige is going to remove any doubts that may arise. Another example of the classic white and blush combination, this wedding dress consists of a white torso embroidered with lace and mother-of-pearl, while the middling waistline allows a flurry of light pink organza to fall in asymmetrical cascades in the form of a princess skirt. Perfect for a summer wedding for an urban-chic bride.
---
Suggested read: 25 rustic wedding dresses urban brides would love
---
8. Stunning asymmetrical blush wedding dress
Image source: Pinterest
Krikor Jabotian takes asymmetrical skirts and blush wedding dresses to a whole new level with this example from his 2014 Fall/Winter collection. The simple round neckline and the three-quarters sleeves lead to quite a stunner in the form of an extreme asymmetrical skirt that is well above the knee in front, but allows room for a sprawling tail. The blush pallor of the wedding dress is embroidered with chunky lace and thread work to give it an all-round textured look.
9. Layered ombré wedding dress
Image source: Pinterest
When you are allowed to play around with blush tints, it would be foolish to not make use of the ombré effect you get on your wedding dress. BHLND made use of this exact knowledge and created this subtle masterpiece, which exudes elegance and a simple charm. The various layers of Chantilly lace is tinted with a different shade of peachy pink, with the darkest at the bottom and becoming lighter as the dress works its way up – but you will barely be able to see the transition. A metallic satin belt separates the textured skirt from the strappy top with a plunging neckline for extra effect. Divine.
10. Ballgown blush wedding dress with a princess skirt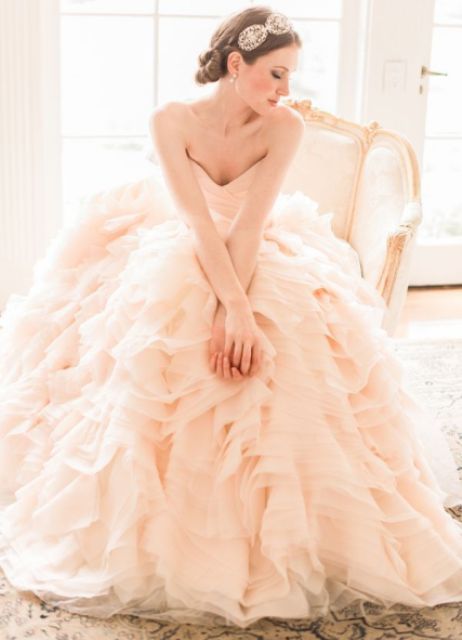 Image source: Pinterest
This wedding dress is exemplary among the many beautiful blush wedding dresses out there. The simple ivory satin bodice with a straight neckline allows the attention to be drawn to the layers and layers of cascading rushed tulle skirt. If this piece from Sareh Nouri's 2014 Collection doesn't make you blush, I don't know what will.
11. Vintage-inspired tulle and silk number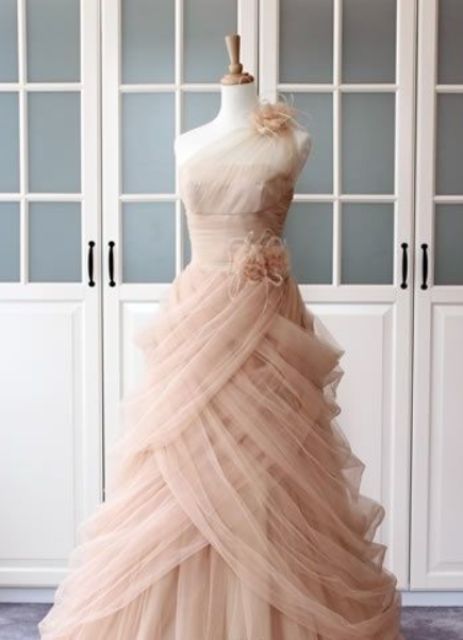 Image source: Pinterest
A lot of modern brides are opting to draw inspiration from the bygone days for their wedding dresses, and the peachy-rose tint only helps to highlight the classic aspects of this wedding dress. The following features of the dress proves that it is absolutely flawless: the A-line skirt which is partly invisible because of the gorgeous tulle-on-tulle criss-cross design, the wide belt with the fabric flower matching that on the shoulder, the illusion neckline which allows the neck to be a vintage ball-gown, and a super chic and modern one-shouldered look as well.
12. Blumarine's blushing peach wedding gown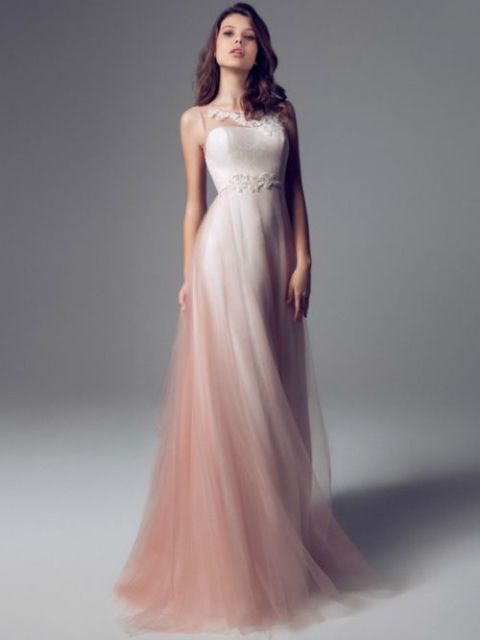 Image source: Pinterest
This wedding dress is sharp and subtle, soft and bold at the same time because the structure, color, and embroidery make it one of the most intelligent blush colored wedding dresses out there. The white and the pink mix perfectly together in this Blumarine number, while add-ons such as the blingy belt and matching blingy details on the illusion neckline also add depth and gravity to the dress, making the bride who wears it look fun and classy at the same time!
13. Bold and unique silk and tulle dress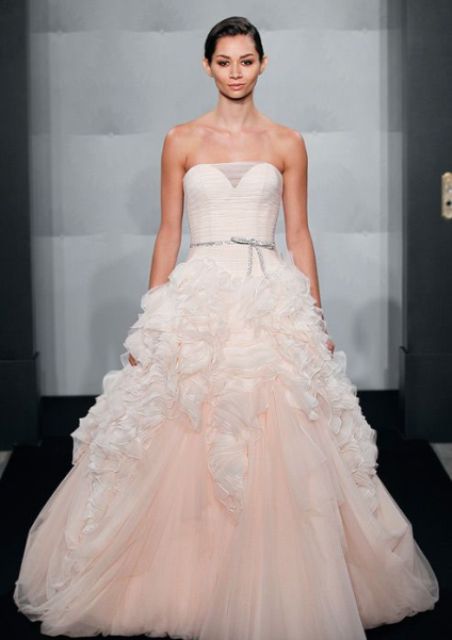 Image source: Pinterest
Everything about this dress is bold and in-your-face when you scrutinize it, but the whole effect is pretty darned stunning. This wedding dress from the house of Mark Zunino has a wide A-line skirt with scrunched up pale pink organza covering the layers of rose-tinted tulle. The top half of the dress is wrapped ivory silk and has a traditional sweetheart neckline with a bold sheathe of tulle in a straight line. Everything is nicely tied together with the use of a sparkly silver bow.
14. Some more Hayley Paige magic
Image source: Pinterest
There is no scenario where this blush pink tulle and lace number would look bad or be the wrong choice. This wedding dress will look stunning anywhere, from the countryside to a church to an urban setting, and everywhere in between. Such is the magic of Hayley Paige. The simple V-neckline plunges to a perfectly alluring level while the A-line skirt in a dull pink ends with a swoon-worthy trail. The dress is brought to life with the unexpected bright white lace detailing instead of a traditional belt, which will take your breath away.
---
Suggested read: 15 stunning long-sleeved wedding dresses that make a statement
---
15. Two-piece country design blush wedding dress
Image source: Pinterest
There has to be an option for the super unconventional bride who wants to look perfect on her wedding day, without adhering to traditional rules. The plain white top with a bikini neckline ends abruptly without embellishment and the skirt is initiated with a cherry red and pink floral belt, continuing with dreamy layers of rose gold skirt. This dress by Mirelle Carmichael is ideal for the fun, country bride with a sense of fashion that is on-point.
Blush wedding dresses are a ticket to becoming one of the most ethereal brides and also looking unforgettable amongst your guests, might I add. Colors always make things much more interesting than they were before, and blush tints in your wedding dress is exactly the kind of excitement you need on your wedding day to feel gorgeous, as well as to take your groom's breath away as you walk down the aisle toward him. There are several stunning options that you can choose from, and because of their versatility, the options are ever increasing!
Happy blushing your way down the aisle!
Featured image source: Pinterest
Summary
Article Name
15 Blush Wedding Dresses That Will Make You Blush With Pleasure
Author
Description
Brides are bound to blush with pleasure when they have a look at these breathtaking blush wedding dresses!