You thought your wedding gown was awesome? Wait till you see this masterpiece of a wedding dress that was unveiled in China.
This amazing and awe-inspiring concoction of a frilly wedding dress debuted on the streets of Shandong Province in China. At first glance, the wedding dress seems like any other wedding dress. It's white, the fabrics used are tulle and lace, along with crystal embellishments that add that extra sparkle to the dress. But it's the back that's legen-wait for it-dary!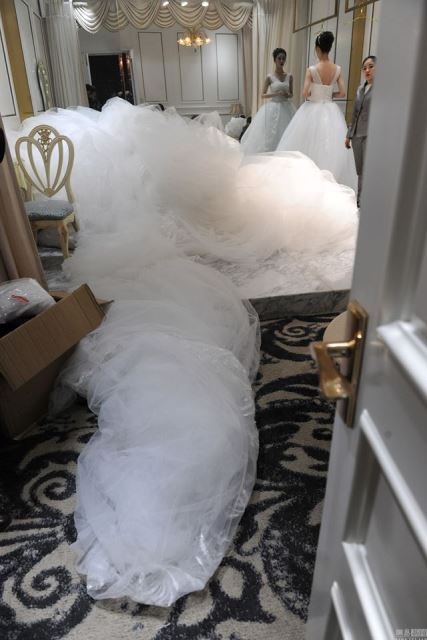 Image source: That'sChina/Facebook
---
Suggested read: Would you wear a 170kg wedding dress?
---
The dress, which was made by a luxury design house, has a train that is 100 meters (328 feet) long! It's no wonder the masterpiece took three months to finish, with 21 skilled craftspeople working on it. And it isn't a surprise that the one of a kind wedding dress is priced at more than 300,000 yuan, that is about $46,200!
Image source: That'sChina/Facebook
And how do you think the dress debuted? It was worn by a model, who then paraded through the city center, with the gorgeous 328-ft long train trailing behind her. To avoid having the train getting caught on things along her parade, she was helped by scores of little kids. Obviously, crowds of people gathered throughout her parade to get their eyefuls of the grand and ostentatious wedding dress.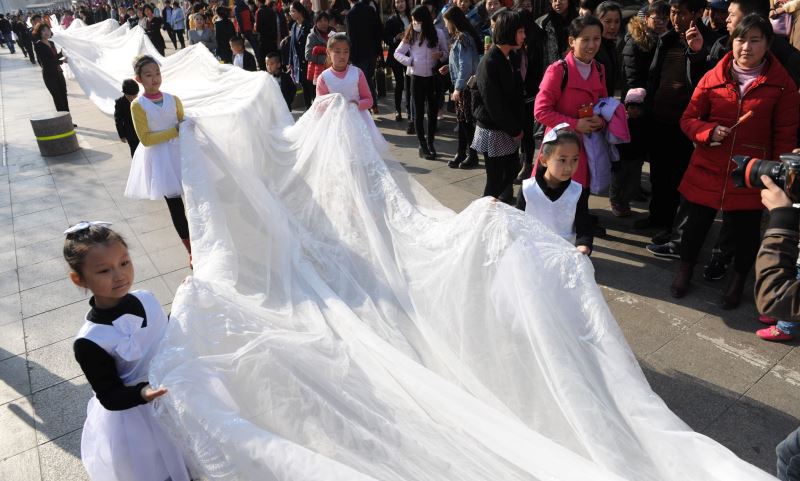 Image source: That'sChina/Facebook
While this is an awesome creation, it doesn't even put a dent on the world record-holding train for being the longest. And this again is from China! The world record for the longest train goes to Jing Mei, who wore a dress with a 3000 meter (1.86 mile)-long train, just for a pre-wedding photoshoot! She apparently had a team of 40 bridesmaids and security guards who helped her lay out her trail in a field! Another wedding dress with a ridiculously long train was worn by actress Angelababy, who wore a Dior custom couture gown that required nearly 115-feet of satin organza, 170 feet of tulle, and a 10-foot long train. Seems like Chinese brides are infatuated with such extravagant, ostentatious, and one of a kind wedding dresses, eh?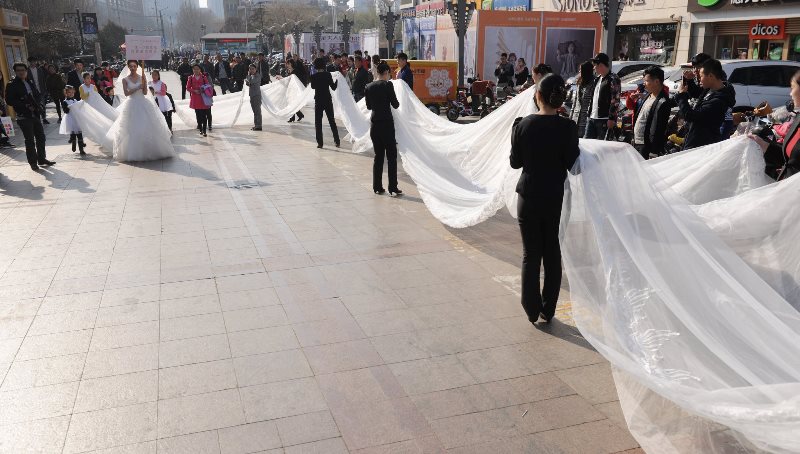 Image source: That'sChina/Facebook
Ah-mazing!
What do you think about this wedding dress with a 328-ft long train? How long was the train on your wedding dress? Share your thoughts with us in the comments below.
Summary
Article Name
This Wedding Dress Is A Masterpiece With A 328-ft Long Train!
Author
Description
This wedding dress with a 328-ft long train will put yours to shame! Take a look.