"I can't understand why men make all this fuss about Everest — it's only a mountain."
In today's post, we are going to talk about another legendary woman who has made all of us gleam with pride: Junko Tabei. Tabei, born on the 22nd of September, 1939, was a Japanese mountaineer. She was the first woman to climb Mt. Everest, the highest peak in the world. She was also the first woman to mount all Seven Summits, , which makes her the first woman to climb the highest peak of every continent in the world.
---
Suggested read: 5 Ismat Chughtai Stories Spoke About Issues That Women Face Even Today
---
Born in Miharu, Fukushima, Tabei was the fifth child of her parents. As a child, she was very frail, but nonetheless, her passion for hiking started taking shape when she was 10 years old. Along with her classmates, Tabei climbed the Mount Nasu. Mountaineering, as you might already know is an expensive hobby, and so, Tabei's parents who were not economically very strong decided to discourage her from pursuing her passion. As a result, Tabei climbed only a few average mountains when she was in high school.
Tabei went to the Showa Women's University from 1958 to 1962. She studied English literature and education. It was at her university that Tabei joined the mountain climbing club. In 1969, Tabei graduated and formed the Ladies Climbing Club: Japan (LCC) in 1969. The slogan of the club was: "Let's go on an overseas expedition by ourselves."
This kind of a club had never been formed before. Later in an interview, Tabei went record to state that the Ladies Climbing Club was formed because of the way Tabei was treated by male mountaineers at that time. She said that some men even blatantly refused to climb with her because she was a woman. Others went ahead to even mock Tabei and say that her interest for climbing was actually a pursuit for a suitable boy that she could get married to.
However, Tabei remained relentless in her pursuit. She said
"There was never a question in my mind that I wanted to climb that mountain, no matter what other people said."
After forming the LCC, Tabei climbed mountains such as Mount Fuji in Japan and the Matterhorn in the Swiss Alps. Junko Tabei became a recognized mountain climber in Japan by 1972.
Tabei's Everest mission
In the Ladies Climbing Club, there was a team called the Japanese Women's Everest Expedition or the JWEE. The leader of this team was Eiko Hisano. The JWEE was training to attempt an Everest climb. JWEE consisted of women from different fields; there were teachers, a juvenile counselor and a computer coder. Two of these women were mothers, and Tabei was one of them. On the 19th of May, 1970, both Tabei and Hiroko Hirakawa climbed Annapurna III, after which the Club decided to summit Mount Everest.
To ascend the Everest Tabei needed funds. She worked a lot to find sponsors; however, more than one of them reminded her that women "should be raising children" and not money for an expedition. In the last minute, Tabei received some funding from Yomiuri Shimbun, a newspaper, and Nippon Television. In spite of this, the members of the group had to chip in an amount that equals Japan's average salary. According to sources, the women, to save money, would make waterproof pouches by sewing recycled car seats as well as over-gloves.
They would but goose feather from China, and then use it to make sleeping bags for the expedition. Some of the students of the two teachers in the group, would bring them unused jam pouches for the climb.
---
Suggested read: #WomenWeLove Celebrating The Achievement And Resilience Of Powerful Women In History And Women Today
---
After training for a long time, the JWEE team started on their expedition in 1975. For the climb, they first traveled to Kathmandu in Nepal. They repeated the same route taken by Tenzing Norgay and Sir Edmund Hillary when they summited the Everest in 1953.
Reports suggest that in the first week of May, the group were camping at 6,300 meters when their camp was struck by an avalanche, which buried the women as well as their guides. Tabei even lost consciousness for 6 minutes. That's when Tabei's Sherpa guide dug her out of the snow and saved her life.
12 days after the first avalanche attack, on 16th May, 1975, Tabei reached the summit of Mount Everest with her guide, Ang Tsering. Soon Tabei was the center of attention. She was flooded with messages from none other than the then King of Nepal and the Government back in Japan. There were TV miniseries made on Tabei and the exhibition. According to Tabei, the attention was not very welcome.
After Everest, Tabei, climber Mount Vinson, the highest mountain in Antarctica. She summited Puncak Jaya on the 28th of June, 1992, becoming the first woman to climb the Seven Summits.
According to Tabei,
"Technique and ability alone do not get you to the top; it is the willpower that is the most important. This willpower you cannot buy with money or be given by others. It rises from your heart."
---
Suggested read: #WonderWomen Vijaya Lakshmi Pandit: A Woman Of Many Firsts
---
That is all we have on today's post on Junko Tabei: the First Woman To Climb The Mount Everest and the Seven Summits. Let us know if you enjoyed reading this and if this was helpful. In case we missed out on some more interesting facts about this remarkable cosmonaut, please add them in the comment section.
See you again soon with another extraordinary woman who has made history and all of us proud. Until then!
Summary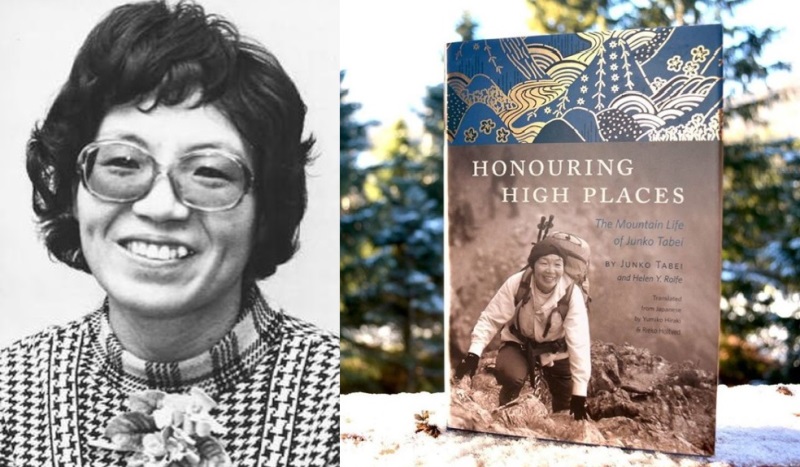 Article Name
#WonderWomen Junko Tabei: The First Woman To Summit Mount Everest
Author
Description
In today's post, we are going to talk about another legendary woman who has made all of us gleam with pride: Junko Tabei.