I first encountered Ismat Chughtai's writing when I read her short story Lihaaf as part of my curriculum in university. Having grown up reading books that were mostly by American or British writers, I never really paid much attention to those writings back at home.  I was at once taken by the unapologetic, simplistic yet bold, writing style of Chughtai, and went on a spree reading everything by her that I could get my hands on.
Ismat Chughtai was the ninth of ten siblings, born into a middle-class household that was well ahead of its times. Born in Badauni, UP (on August 21, 1911), she spent most of her childhood in Jodhpur, where her father was a civil servant. Her older sisters got married when Ismat was still young, and she spent a considerable part of her childhood in the company of her brothers. This contributed greatly to the bold and frank nature of her writing. She grew up thinking herself to be inferior to her brothers in no way whatsoever. Much like the women in her short stories, Chughtai too, never felt that she should be shy and coy, the way women are expected to be.
In an interview with Mahfil in 1972, Chughtai talked about how, even in the hyper-conservative society of pre-partitioned India, conversations about sex were never considered a taboo subject in her household when she and her siblings were growing up. It was this sort of broadminded upbringing which encouraged Chughtai to later bring up these supposedly taboo issues in her writings as well; and gave her the courage to talk about them openly and with such ease, and shocking nonchalance.
---
Suggested read: Raise A Warrior Princess: 8 Children's Books You Should Bring Home To Read To Your Daughter
---
Chughtai was one of the prominent members of the Progressive Writers' Association in India from its very inception. She attended the first meeting of the PWA (also known as the Anjuman Tarraqi Pasand Mussanafin-e-Hind) in 1936 while she was still pursuing her B.A. degree at Isabella Thoburn College, in Lucknow, India. The Progressive Writers' Association was a liberal literary movement that embraced the ideals of Marxism, anti-imperialism; attacked social backwardness and injustices; and sought to usher in an era of humanism through Urdu literature. The Urdu short story was the greatest contribution of this movement, and Chughtai was the master of the short story, alongside Saadat Hasan Manto, Rashid Jahan, Rajinder Singh Bedi and others.
Ismat Chughtai was one of Urdu literature's greatest women writers; writing stories for women and about women that no one had yet bothered to pen down. Her writings were bold, enigmatic, progressive and iconoclastic. She spoke for feminism and the empowerment of women at a time when no one even agreed to acknowledge these issues as social injustices that needed public attention. She was a feminist icon long before the term feminism made its way into common parlance in India and other South Asian countries.
She became a common household name in the Indian subcontinent with the publishing of her short story Lihaaf in 1942 and the controversy surrounding it. At a time when society wasn't even aware of alternative sexualities and turned a blind eye to expression of female sexual desires, Lihaaf cooked up a massive storm with its portrayal of Begum Jaan, married into nobility and neglected by her rich husband (who preferred the company of young boys), and her homoerotic relationship with her masseuse Rabbu, seen through the eyes of her young niece who was spending her holidays with Begum Jaan. Lihaaf transgressed all boundaries of heteronormativity and class; and brought to light the repressive nature of heterosexual marriages.
A suit was filed against Chughtai on the charges of "obscenity" and her editors were bombarded with several angry letters calling her a "dirty woman". The irony lies in the fact that this was the exact hypocritical behavior of the middle-class masses that Chughtai sought to expose through her literary works. As expected, the charges filed against her were denied since the court failed to find anything in the short story that directly amounted to "obscenity".
While Lihaaf went on to become Chughtai's most read and discussed short story, she continued writing fiction that stirred the conservative, orthodox sensibilities of the masses; and shocked them with her portrayal of fierce women who were unafraid to freely express their sexuality. This is why we felt the need to compile this list of short stories by Chughtai that continue to be relevant even in today's day and age. The world may have advanced, but women still have a long way to go since we still have the same problems that women before us have faced a hundred years ago.
Even though Lihaaf is one of the finest examples of Chughtai's writings and her feminism, it ended up defining the large body of work that she produced. Nobody bothered to read and find out more about her life, ideals and the work she did; and that is why, in honor of all that she stands for, we decided to leave Lihaaf out of this list and focus on her other noteworthy short stories. Hence, without further ado, here are five short stories by Chughtai that resonate with women even today.
1. Homemaker
This short story deals with the oppressive nature of the institution of marriage, and how it seeks to curb the liberties of women (sexual and otherwise) under the guise of modesty. Lajo is unashamed of her sexual desires and prides herself for loving all her lovers with equal passion and affection. When she enters Mirza's life, she carves out a space for herself in his life as well as in his household.
Mirza is the epitome of the hypocritical mindset of the middle class intelligentsia- he lusts for Lajo and her body as long as she remains his mistress: but once he marries her out of his own insecurities, Mirza begins to restrain all her freedoms and treats her like an animal that must be controlled. Chughtai deftly sheds light on the oppressive nature of marriage and patriarchy that women across the world suffer from even today; she is a source of sexual objectification when she is unmarried, but once married, the honor of her husband lies in that very sexuality of hers.
2. The Mole
In this short story, Ismat Chughtai focuses on the stigma attached to female promiscuity and society's hypocritical treatment of it. The Mole is the story of Rani- a brazen, illiterate girl who grew up in squalor and is uninhibited in expressing her sexual energies. She is the muse of an artist who wants to paint her to earn five thousand rupees. The mole near her breast is a symbol for female sexuality- Rani is very much aware of the effect it has on all the males she encounters, and is unashamed to use it to her advantage.
She distracts the artist constantly by telling him about the mole and how the other village boys have seen it even though it is in a "bad place". The artist is driven insane with his desire to see the mole with his own eyes, and subsequently immortalizes it in his painting; but the harder he tries to curb those sexual desires, the more frustrated he becomes. Chughtai points out in this story how it is the perverted gaze of the onlooker that sexualizes a woman's body and makes it "obscene" for a woman to take pride in it.
3. Touch Me Not
The patriarchy in our society has always viewed women as nothing more than mere baby-making machines, in order to help in the propagation of the patriarchal system. Failure to push out a child results in the wife being tossed aside in favor of a younger wife, as is the fear of Bhabijan. After several miscarriages, this is her final attempt at securing her husband's affection, saving her marriage as well as herself from being replaced by another bride with greater chances of providing the family with an offspring.
The other female characters in this short story also are obsessed with childbirth and employ all possible means to ensure the birth of a child in the family. When witchcraft and superstitions fail them, they resort to science and medicine. Chughtai has a tendency to depict shocking scenarios in the simplest of language and with an air of nonchalance the way no one else can. The poor woman giving birth on a crowded train leaves the rest of the characters as well as the readers shook to their very core, and is a reminder of how millions of women across the world are forced to give birth in the most adverse conditions with zero assistance and medical support, just for the sake of fulfilling the duty that has been imposed upon them as their sole purpose in life.
---
 Suggested read: By Women, For Women, Of Women: The NLT List Of Books By Women Writers You MUST Read, If You Haven't Already
---
4. The Net
Chughtai speaks of childhood and its innocence with as much tenderness and sensitivity, as she speaks of socially taboo subjects with a generous serving of audaciousness and unabashed honesty. This is the story of Attan and Safiya- two friends brought together by fate; who face life, puberty, the perils of being a girl and everything that lies between, together. The beauty of Chughtai's characters lies in how they are all so relatable, no matter which era or point of time you read them in. The two girls with their bath-time shenanigans, truckload of secrets and their constant support in times of need will remind every reader of their childhood best friend, and how insecurities of adolescence sometimes creates cracks in those friendships.
Chughtai brings to light Attan and Safiya's discovery of their own bodies; there is a hint of sexuality and its awakening. They realize for the first time that they're fat and ugly and all things that society deems unpleasant in a woman. The Net shows how right from the beginning of adolescence, women are taught that their sexuality is something to be ashamed of; they are boxed into specific compartments of beauty and ugliness based on definitions set by society.
5. Kafir
This is the story of Pushkar, a Hindu boy, and Munni, a Muslim girl. They are childhood best friends constantly bickering and quarreling; who grow up to fall in love with each other. Chughtai adds her own quirks and nuances to this common trope in storytelling of the Indian subcontinent, and makes the two characters appear refreshing and real. Once again, she weaves characters that readers all across the world can relate to.
Here are two people in love, but born in the wrong society. Their marriage won't be accepted because they belong to different religions. Chughtai critiques society and its rigidity against interreligious marriages. She even highlights the sexism found in communalism- Munni explains to Pushkar why their marriage is impossible because even though Muslim men in her community are allowed to marry Hindus and Christians; Muslim women are prided over upholding the honor of the community by marrying within its limits only. Even as we stand firmly in the 21st century, people all over the world are hindered from pursuing what they want to simply because of their religion, skin color, caste or sex.
---
Suggested read: Today's Book on #50BooksInAYear: The Bad Feminist By Roxane Gay
---
Chughtai's feminism is one that focuses on the voices of the marginalized women that society has forgotten about. Her feminism stands not just for their rights, but for the freedom of expression of their deepest, most carnal desires as well. Coming from a conservative Muslim community, Chughtai has always spoken loudly and proudly about issues which the people around her were too hypocritical to acknowledge. Whether it was about same sex relationships or prostitution, Chughtai's feminism has carved out living spaces for each and every one of these voices. None of the characters in her stories are ashamed of who they are or the life they lead- they're rebels who have very little to care of what the world thinks of them. The courage that each of her characters so effortlessly embodies leaves readers in awe of them; wishing they had the strength to do the same. Chughtai may have been accused of "not being political enough" by her contemporary authors, but this writer kicked the patriarchy's proverbial ass way before anyone else could even fathom to do so.
We salute her.
Featured image source: Google, copyright-free image under Creative Commons License 
Summary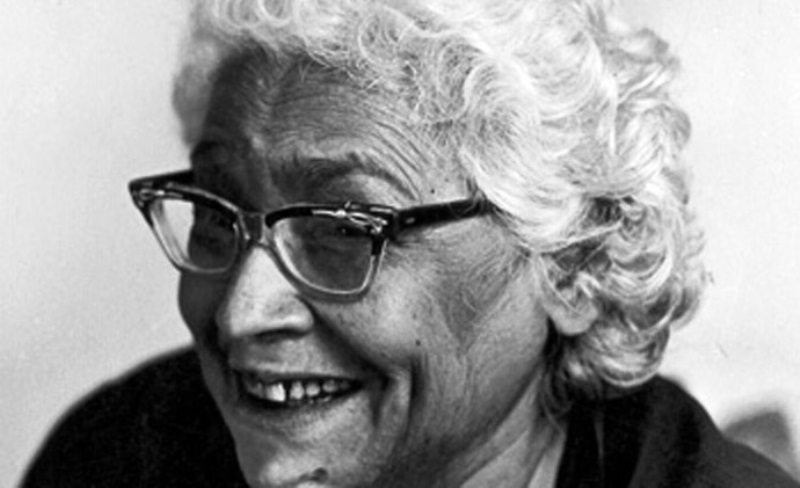 Article Name
5 Ismat Chughtai Stories Spoke About Issues That Women Face Even Today
Author
Description
Ismat Chughtai was one of Urdu literature's greatest women writers; writing stories for women and about women that no one had yet bothered to pen down.