Nancy Roman is an American astronomer. She is popularly called the "Mother of Hubble" because of the crucial role she played in planning the Hubble Space Technology. She was one of the first female executives at NASA, who was also an active public speaker and educator who campaigned for women in sciences.
Born in Nashville, Tennessee to Georgia Smith Roman, a music teacher, and Irwin Roman, a geophysicist, Nancy says that her parents played a very influential role in developing her interest in science. Almost immediately after she was born, her family had to relocate to Oklahoma, and later on to New Jersey and Michigan and Nevada.
---
Suggested read: #WonderWomen Homai Vyarawalla: The Story of India's First Female Photojournalist
---
After 1955, Nancy lived in DC. Roman was not only passionate about science, but also enjoyed attending lectures and concerts. She was also very active in the American Association of University Women.
When Nancy turned 11, she showed great aptitude for astronomy, and so formed a club among her other astronomy enthusiastic friends in Nevada. The members of the club got together once every week to discuss whatever they learnt about constellations from books they read through the week. Though Nancy was discouraged by many, by the time she reached high school, there was no shadow of a doubt in her mind that she wanted to pursue astronomy.
According to her,
A fair number of people who go on to major in astronomy have decided on it certainly by the time they leave junior high, if not during junior high. I think it's somewhat unusual that way. I think most children pick their field quite a bit later, but astronomy seems to catch early, and if it does, it sticks. 
Nancy attended Western High School in Baltimore where she participated in an accelerated program and graduated in three years.
In 1946, Nancy Roman joined Swarthmore College. Here she received her BA in Astronomy. She worked at the Sproul Observatory while getting her Bachelor's degree. In 1949, Roman earned a PhD in astronomy from the University of Chicago.
After completing her PhD, Nancy stayed at the university for six more years. During this time, she worked at the Yerkes Observatory. She also traveled to the Texas, at times, to work at the McDonald Observatory. Here she worked as a research associate along with W.W. Morgan. Since the position of research associate wasn't a permanent one, Nancy started working as an instructor at a university, and later became a professor.
Due to the lack of tenured research positions for females, Nancy had to leave her job at the university, eventually.
At Yerkes Observatory of Chicago University, Nancy worked on star AG Draconis. She discovered that the emission of spectrum from the star had changed since previous observations. When the discovery was published, Nancy called it a stroke of luck, but it certainly raised her profile in the astronomical community.
After her stint at Chicago University, Nancy worked at the Naval Research Lab. Here she entered a radio astronomy program, where she did geodetic work using non-thermal radio spectra. She was made the head of the microwave spectroscopy section here.
---
Suggested read: #WonderWomen Marie Curie: The First Woman To Win A Nobel Prize
---
Nancy was approached by Jack Clark at a lecture by Harold Urey, whether she would be interested in a creating a program at NASA. Nancy thought this was an invitation to apply, but it was an offer to join. She became the first Chief of Astronomy in NASA's Office Of Space Science. She set up the initial program, and became the first woman to hold an executive position at the agency.
At NASA, it was required of Nancy to travel the country and contact various astronomy departments to encourage them to join the program at NASA while it was in development. Nancy was the chief of astronomy and solar physics at the agency for 3 years from 1961 to 1963.
Nancy developed and budgeted many programs at NASA. She played a fundamental role in launching three Orbiting Solar Observatories and three Small Astronomical Satellites, which used ultraviolet and x-ray technology to observe the sun, outer space, and the sky.
Nancy supervised the launch of other Orbiting Astronomical Observatories that used optical and ultraviolet OAO with Dixon Ashworth. Other relatively smaller programs she planned include the Astronomy Rocket Program, High Energy Astronomy Observatories, and the Scout Probe to measure the relativistic gravity redshift.
Nancy's last program at NASA was the Hubble Telescope. Here she set up the committee, and was involved in the early planning and setting up of the structure of the program. According to the Ed Weiler, who became the chief astronomer at NASA later, and worked with Nancy on the Hubble project,
"(Nancy is called) the mother of the Hubble Space Telescope, which is often forgotten by our younger generation of astronomers who make their careers by using Hubble Space Telescope."
He goes on to add,
"Regretfully, history has forgotten a lot in today's Internet age, but it was Nancy in the old days before the Internet and before Google and e-mail and all that stuff, who really helped to sell the Hubble Space Telescope, organize the astronomers, who eventually convinced Congress to fund it."
After making her contributions at NASA for more than two decades, Nancy, until 1997, worked with contractors who supported the Goddard Space Flight Center. She was also a consultant for ORI, Inc for 9 years from 1980 to 1988.
Awards and recognitions
Here's a list of awards and recognitions received by Nancy Roman, according to Wikipedia,
Federal Woman's Award-1962
One of 100 Most Important Young People, Life magazine – 1962
Exceptional Scientific Achievement Medal NASA-1969
William Randolph Lovelace II, American Astronaut Association-1980
Honorary Doctorates from Russell Sage College, Hood College, Bates College and Swarthmore College
The asteroid 2516 Roman is named in her honor
The fellowship, The Nancy Grace Roman Technology Fellowship in Astrophysics, of NASA has been named for her.
In 2017, a "Women of NASA" LEGO set went on sale featuring (among other things) mini-figurines of Roman, Margaret Hamilton, Mae Jemison, and Sally Ride
---
Suggested read: #WonderWomen Bernice Rubens: The First Female Recipient Of The Man Booker Prize
---
That is all we have on today's post on Nancy Grace Roman: First Woman To Hold An Executive Position at NASA. Let us know if you enjoyed reading this and if this was helpful. In case we missed out on some more interesting facts about this remarkable astronomer, please add them in the comment section.
See you again soon with another extraordinary woman who has made history and all of us proud. Until then!
Featured image source: Google, copyright-free image under Creative Commons License 
Summary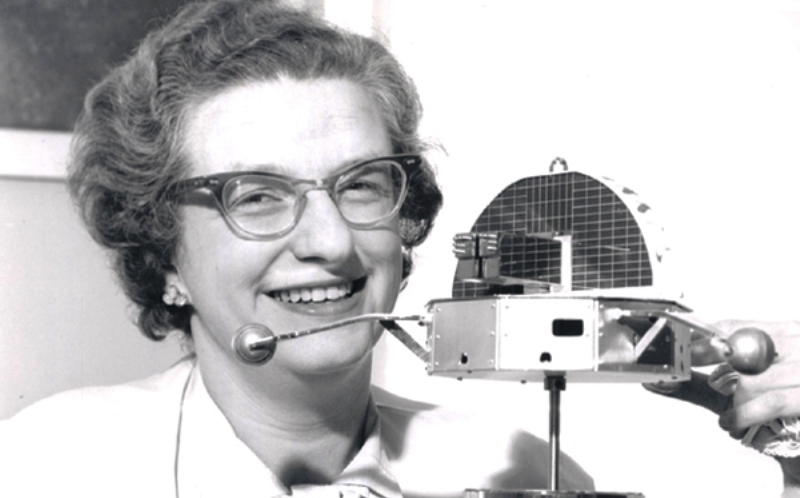 Article Name
#WonderWomen Nancy Roman: First Woman To Hold An Executive Position at NASA
Author
Description
Nancy Roman is an American astronomer, popularly called the "Mother of Hubble" due to her role in planning the Hubble Space Technology.