"If women can be railroad workers in Russia, why can't they fly in space?"
Valentina Vladimirovna, Tereshkova is the first woman to travel into space. Tereshkova was also the first civilian to go to space as she was inducted into the Soviet Air Force, in an honorary manner, so that she could join the Cosmonaut Corps.
---
Suggested read: Riju Bafna – Why This Frustrated IAS Officer Regrets Being A Woman
---
Born on 6th March, 1937, Tereshkova is a retired cosmonaut, engineer and politician from Russia who on 16th June, 1963, aged 26, began her voyage to space on the Vostok 6 after beating 200 applicants and 5 other finalists.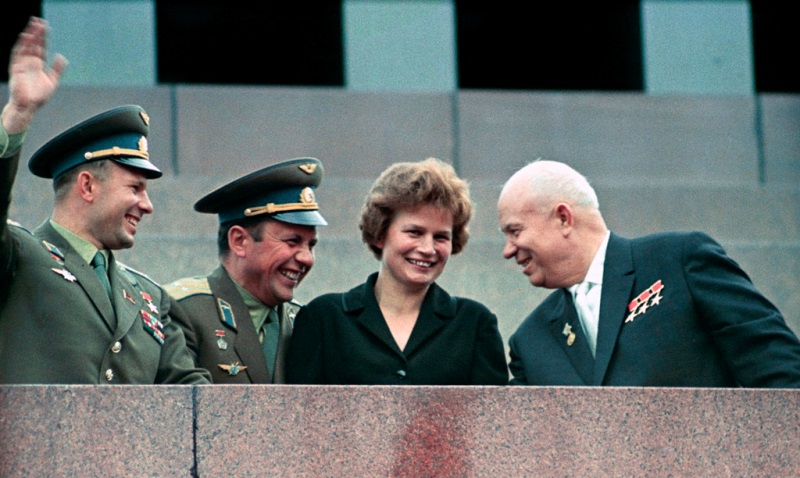 Image source: Google, copyright-free image under Creative Commons License 
Before being recruited as a cosmonaut, Tereshkova worked at a textile factory whose passion was skydiving. The first group of female cosmonauts dissolved in 1969, after which Tereshkova became a member of the Communist Party of the Soviet Union. She was a prominent member who held a number of political offices. Even after the collapse of the Soviet Union in 1991, Tereshkova remained active politically.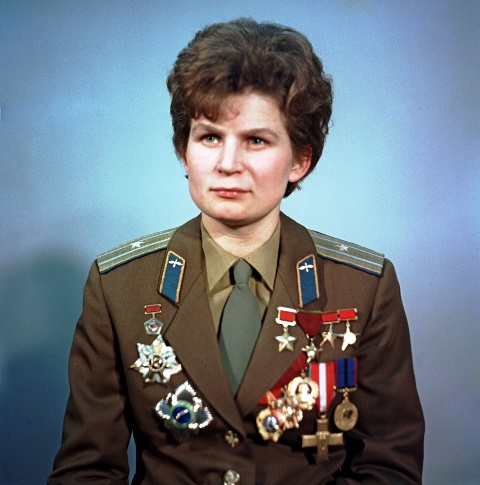 Image source: Google, copyright-free image under Creative Commons License 
Tereshkova is considered a hero in post-Soviet Russia. She is considered an idol in the rest of the world too. Tereshkova orbited the Earth 49 times in the Vostok 6, and is till date the only woman ever to go on a solo space mission.
Tereshkova, in 2013, offered to be the first person to go on a one-way trip to Mars, if given the opportunity. In 2014, we saw her carry the Olympic flag at the Winter Olympics that year.
Born in Maslennikovo, a village in Tutayevsky District, Yaroslavl Oblast, in central Russia, Tereshkova had a rather difficult childhood. Her father was a tractor driver while her mom worked at a textile farm. Tereshkova went to school only after she was 8-yo. She left school once she was 16, and continued her studies through correspondence courses.
Valentina Vladimirovna Tereshkova had an interest in parachuting from a rather young age so much so, she took skydiving lessons at a local Aeroclub. She made her first jump at the age of 22 while working at a local factory as a textile worker. It was this training of skydiving that gave her an edge when she applied to become a cosmonaut.  In 1961, Tereshkova became the Secretary of the Young Communist League or the Komsomol. Later, she joined the Communist Party of Soviet Union.
In 1961, Yuri Gagarin became the first person to travel to space, after which, his chief rocket engineer, devised a plan to put a woman in space. In February 1962, Tereshkova joined the female cosmonaut corps. She beat 400 applicants to become one of the five finalists selected. The other four included, Tatyana Kuznetsova, Irina Solovyova, Zhanna Yorkina, and Valentina Ponomaryova. One of the main skills require to qualify was skydiving. Parachutists under the age of 3, under 5ft 7 in tall, and nder 154 lb in weight were given preference over others.
Valentina Vladimirovna Tereshkova was selected as the worthiest candidate for the first female solo trip to space partially because of her proletariat background. Tereshkova's father was a tank leader sergeant, and therefore a war hero. He died during World War II at the Finnish Winter War when Tereshkova was only 2. When Tereshkova completed her space mission, the Soviet Union requested her to tell them how they could thank her for her service. She asked the government to look for the location where her father was martyred and publish it. Her request was not only honored but the government also erected a monument at the site.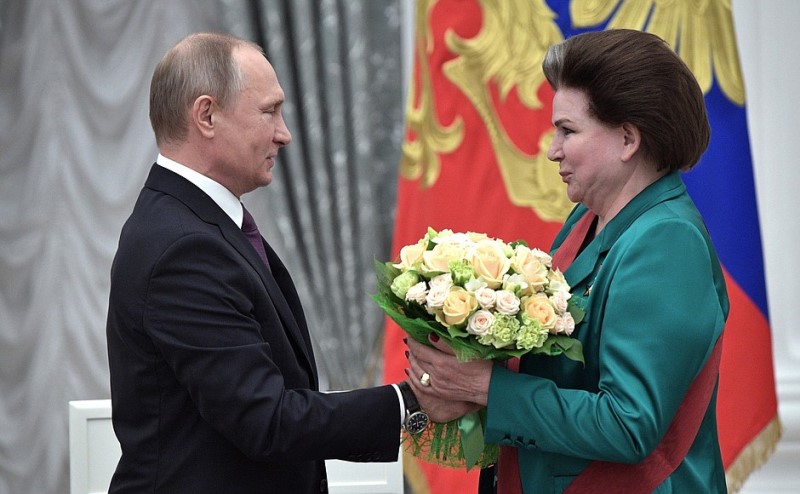 Image source: Google, copyright-free image under Creative Commons License 
Tereshkova's training to become the first woman in space was rigorous. It included weightless flights, rocket theory, 120 parachute jumps, isolation tests, centrifuge tests, and spacecraft engineering. Tereshkova also had to train as a pilot in MiG-15UTI jet fighters.
---
Suggested read: Playboy's October Issue To Feature First Muslim Woman In Hijab, Noor Tagouri
---
Valentina Tereshkova, writes in her book, Valentina Tereshkova: The First Lady of Space: In Her Own Words,
"I often thought: why do I not succeed in everything? I asked my instructor, and got the answer that brought more confidence in me. "Don't be embarrassed, Valya," he tried to persuade me, "You are trying to accomplish a science which is new for you, the science of being a pilot, and it is not as simple as it may look from the ground."
Initially, Ponomaryova was also selected for the mission with Tereshkova. The plan was to launch Tereshkova in Vostok 5, and Ponomaryova in Vostok 6. However, later it was decided that Vostok 5 would carry a male cosmonaut while Vostok 6 would carry one of the two women. In a meeting on 21 May 1963, the State Space Commission nominated Tereshkova to pilot Vostok 6. This was confirmed by Nikita Khrushchev.
After Tereshkova's trip to space, there were many plans to send more women to space. Despite the efforts, it was only after 19 years that the second woman Svetlana Savitskaya travelled to space.
A sound piece of advice that Tereshkova has for her earth buddies is,
"On Earth we get frustrated when our neighbor turns the radio up loud and thus interrupts our leisure. In space you will hardly be able to sleep if the radio is off. It remains the only thread that connects us to all that is so close and dear to our hearts. This can be a warm word of your friend, and a favorite tune, and some important advice." 
---
Suggested read: Cassandra De Pecol Is All Set To Become The 1st Woman To Visit EVERY Nation In The World
---
That is all we have on today's post on Valentina Vladimirovna Tereshkova: The First Woman In Space. Let us know if you enjoyed reading this and if this was helpful. In case we missed out on some more interesting facts about this remarkable cosmonaut, please add them in the comment section.
See you again soon with another extraordinary woman who has made history and all of us proud. Until then!
Featured image source: Google, copyright-free image under Creative Commons License 
Summary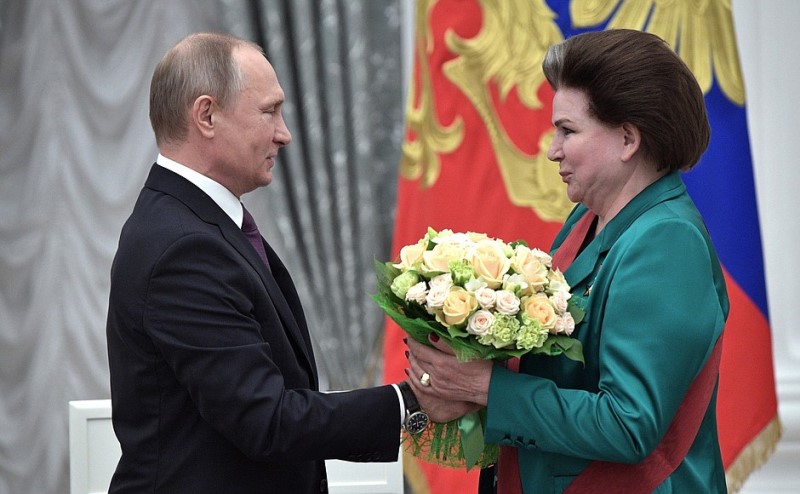 Article Name
#WonderWomen Valentina Vladimirovna Tereshkova: The First Woman In Space
Author
Description
In today's post we look at the incredible journey of Valentina Vladimirovna Tereshkova, the first woman to travel to space.