"I want to see the world."
Almost all of us have announced this, at one point or the other in our lives, right? Well, how many of us actually do it, I mean, how many of us actually see all the countries, in one lifetime? None of us! Well, that is about to change.
---
Suggested read: Czech woman travels the world in her wedding dress after leaving unhappy marriage
---
Cassandra De Pecol is all set to become the first woman globetrotter to visit EVERY nation in the world. She has already ticked off 192 countries from her list, in just 16 months. The 27-year old is living the dream, isn't she? Well, let us dig a little deeper about the explorer.
Who is Cassandra De Pecol?
Cassandra or Cassie De Pecol is a 27-year old woman from Washington Connecticut, who started her voyage in the month of July, 2015, and is about to complete her epic mission of travelling to 193 sovereign nations, plus Taiwan, Kosovo and Palestine. She is an adventure junkie who has been a part of Expedition 196 since July, 2015, and through her travels, is spreading the message of global peace, as the Ambassador of the International Peace Through Tourism Institute.
Cassie grew up in Connecticut, along with Jason De Pecol, her brother, and Mark and Cynthia De Pecol, her parents. She attended public school, Montessori, Waldorf, and was later home schooled by her parents. She returned to public school for her seventh grade, and continued till class 10. She home schooled herself in the 11th standard again, through Keystone National High School, where she took college courses. After being away from her friends and other co-curricular activities at school, she realized that she wanted to make a comeback. She was very enthused about her "Senior Project", which involved Global Warming Awareness Day in Connecticut. According to Cassie, her erratic educational background is the root cause of her passion for travel. In an interview, she told the Daily Mail,
"Since school, I've had this desire to visit every country in the world, intrigued to learn more about every culture, natural habitat, and religion. In America we are lucky to have such a vast melting pot of cultures and people from all over the world who make the country what it is today."
After she attended her first year at the University of Long Island, Cassie got interested in sustainable tourism. At the varsity, the backpacker traveled into the rain forest, visited the indigenous cultures of the area, and studied political affairs and socio-economic situations of countries around the world. This amplified her interest in combining the knowledge of exquisite natural environments, although doing good to the economies of local cultures.
At Green Mountain College, in Vermont, the rover studied tourism, which helped her further her ecological knowledge. At only 19, she plunged into ecotourism by travelling to different countries, where she worked at various hotels to fund her travel plans. When she turned 24, Cassandra De Pecol had already traveled to 24 countries, largely financed by herself. She cleaned floors, waited tables and planted seeds to literally work her way through her travels.
Today, Cassie is attempting to break a world record: To be the first person to travel to all 196 countries in less than 3 years and 3 months. When the Daily Mail asked Cassie about her inspiration for travelling and learning about different people and their cultures, she said,
'I wanted to learn about where these people came from, more specifically, where I came from, with my ancestors originating from Europe. I wondered what existed outside of North America and what it was like. Is the Middle East really like how they say it is on the news? What about the Amazon? Going to every country was for me a personal quest to learn as much as I could about our world, stepping outside my comfort zone and becoming comfortable in the unknown, while also aiming to leave a legacy behind.'
We wish Cassie the best of luck, and hope she breaks the world record sooner.
---
Suggested read: 14 vital tips every woman MUST keep in mind when traveling alone
---
Here are some of her Instagram pictures that you can gawk at, just like we did:
The lone ranger
Writing about managing criticism, Cassandra says,
"It's not okay to let others opinions (good + bad) shape who you are and who you aim to become, but I encourage you to let their words fuel you to pursue a life for yourself that you could have never in your wildest dreams have imagined."
Stubborn on vision, flexible on journey
On her motto, Cassie writes in her Instagram feed,
"It's always been a desire of mine to inspire others that would in turn, inspire myself to create and grow positively in the right direction. My motto has always been, "I want to live an iconic lifestyle where I do what I want, when I want, and inspire those along the way". The negativity I get from this Expedition is vast, and while I'll never know why I've been criticized for my hard work and dedication to make even just a small, positive change in our world or how I travel for that matter, this negativity contradictory, only fuels me to do bigger things and reach higher in order to craft something more vast and impactful to positively enhance our world, while leaving a great legacy behind."
The Girl who has stories to tell
On the road less traveled
Collecting moments, and not things
To travel is to grow
---
Suggested read: Monica Lynn, 25, travels the world for free… here's how…
---
On her 27th birthday, about six months ago, Cassie wrote a very heart-warming post on her Instagram handle, saying,
"Away from wifi, social media and being totally alone tucked away in a remote location with this wild husky and the wild horses for my 27th birthday brought me to the happiest and most peaceful place I'd ever been to on this expedition. For that, I am eternally grateful. And I now know what I want when this expedition is all said and done…"
Like they say, not all who wander are lost!
Featured image source: Pinterest/cheap-travel-hotel.com
Summary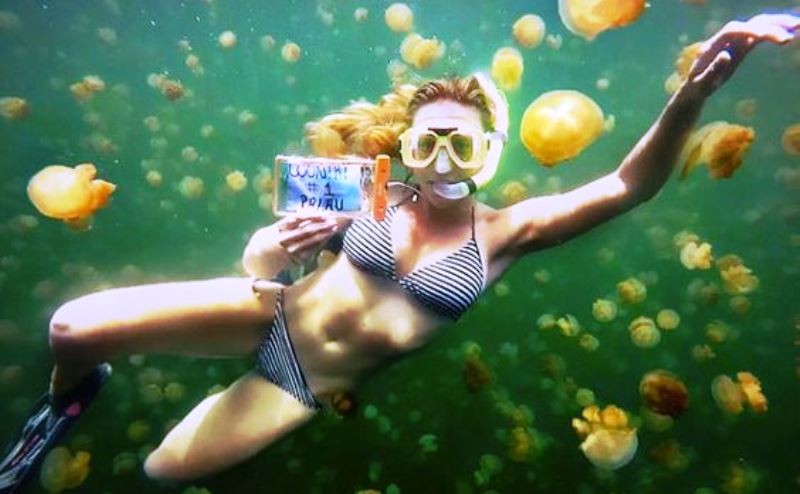 Article Name
Cassandra De Pecol Is All Set To Become The 1st Woman To Visit EVERY Nation In The World
Author
Description
After ticking off 192 countries in 16 months, Cassandra De Pecol is about to become the first woman globetrotter to visit EVERY nation in the world. Read on!