If societal norms are the 'righteous' path, Zenith Irfan, a 20-year-old Pakistani girl is more than happy to be journeying on the 'wrong' routes. Yes, Zenith Irfan started out from Lahore on June 14th riding her faithful Honda 125 and carrying bursting saddlebags to keep her company on her six-day solo trip to Kashmir to fulfill the dreams of her late father, who wished to 'travel the world on a bike,' knowing full well that her trip would defy social mandates of what womanly conduct 'should' be – especially so, in Pakistan.
Image source: Facebook
The trip, a first of its kind, is a breakthrough in the conservative land Zenith hails from, and the young girl acknowledges the challenges that her journey was fraught with. For starters, she mentions the challenge that the mere idea of a woman travelling solo, not to mention, riding a bike posits to societal norms.
"A social taboo is enforced on them (female motorcycle riders), by creating a sense of disgrace and shame," says the 20-year-old.
Next, she mentions the 'public stares' her journey was riddled with. Travelling alone for women, especially a Pakistani woman, was unthinkable to most. She acknowledged the limitations posed by her lineage and mentions how she had 'to calculate her speech and body language.'
Image source: Facebook
But none of these obstacles could deter her from her path. Asserting that she had no resistance when she decided to fulfill the overreaching dream of her father, she talks fondly about her liberal mother who motivated her to ride a motorcycle and pushed her into taking the next step.
---
Suggested read: Samina Baig, the Pakistani climber who conquered peaks and fears
---
Having lost her father when she had only been in the world for ten months, Zenith understood that "some things just don't last forever." Voicing her thoughts on her father's dream and her desire to fulfill the same, she writes,
"I guess it's the whole emotional roller coaster that ignited the inner biker girl. I was 12 when I first rode one. All I could remember saying was, 'How do you stop this? How do you stop this?' With a twist of the throttle, the shift of the gear, I went to places carrying my father's legacy."
Image source: Facebook
While cruising through highways and dragging her bike through dissolved roads all alone has been no easy feat, she wears her solo trip as a worthy token of a 'beginning' of a tribute to her deceased father. She immortalized the same on cyberspace by documenting her achievement in a personal photo blog on Facebook as 'Zenith Irfan: 1 Girl, 2 Wheels.'
Image source: Facebook
While her personal story stirs our hearts, her heroic trip stands as a pioneer model for other women to draw inspiration from. They say 'where there's a will, there's a way,' and we agree! If you so decide, no fetter is too strong to hold you back and no challenge too big to keep you from your goal. By giving us this trip, Zenith proves the same.
Zenith has already put herself on the map, and it is about time all women tied to the narrow confines of their homes showed up too.
Zenith – you go girl, reach the zenith you were meant to!
Featured image source: Facebook
Summary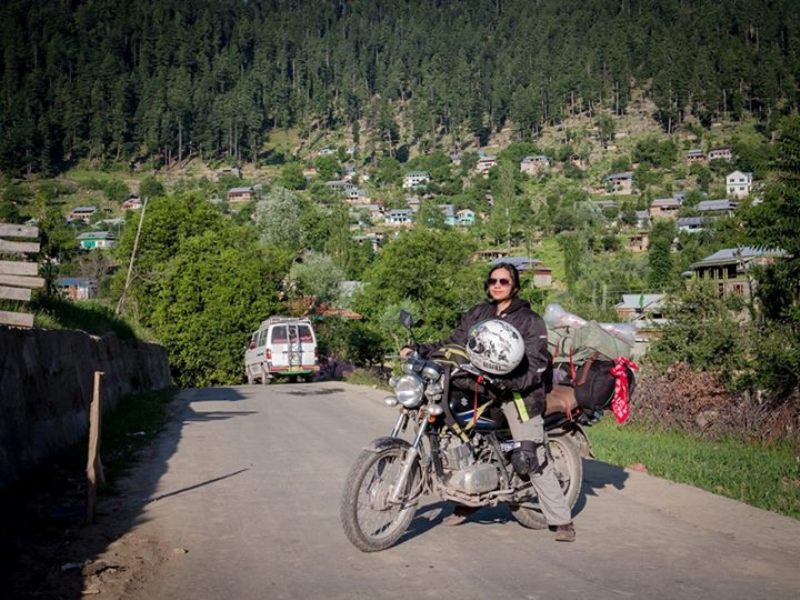 Article Name
Pakistani Zenith Irfan, 20, Rides Motorcycle From Lahore To Kashmir
Author
Description
Zenith Irfan has challenged societal norms by daring to go miles ahead, and on her bike! All as a tribute to her late father. Read her inspiring story here.