You are a couple, but hanging out alone can be really boring at times. Of course you have friends, but sometimes it's nice to be around another couple as well. This is why double dating can be a really healthy part of your relationship. There are so many things that you can do as a 'couple of couples' that will be fun for all of you.
Here are a few double dating ideas that you can use to spice up your relationship, and also have successful double dates.
---
Suggested read: 12 cool double date ideas that will redefine fun
---
1. Go for good meals together.
Image source: Shutterstock
Dinner and drinks is always a good idea when it comes to double dating. It is one of the best things to do as a double date, as there is time, food, and conversation.
Meals together generally create memories and you get to know about their relationship as well. You might even learn a thing or two from that couple that you can further implement in your relationship, and they can do the same. Dinner and drinks can be casual and doesn't really require much planning beforehand.
2. Understand the mood of the other couple.
You and your partner might be really pumped for the double date, but the other couple might really not be in the same mood. Ensure that you are on the same page, and that the double date is not being forced upon the other couple. As healthy as it is for the relationship, there are many couples who are uncomfortable with the idea of double dating.
If you think that the other couple is not in the mood or might want to reschedule, you need to consider their feelings and request. For all you know, they might be in the middle of a fight, and you might add fuel to the fire without really knowing it.
3. Plan vacations together.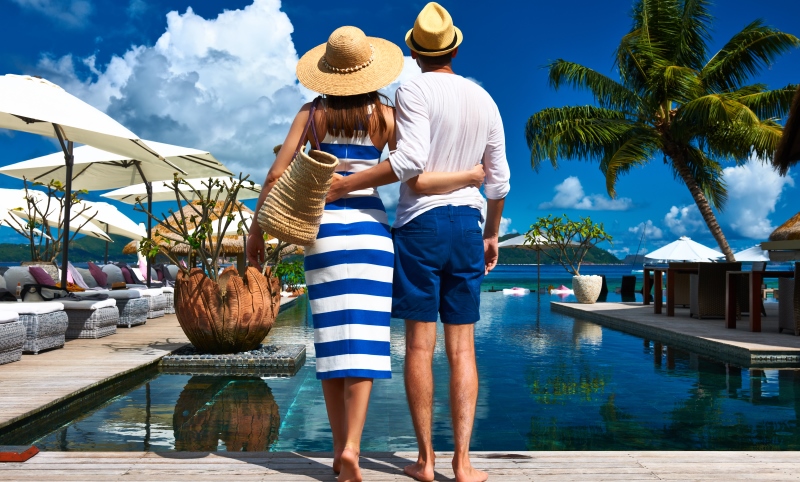 Image source: Shutterstock
Traveling brings people closer, and your relationship will be enriched with some amount of vacationing thrown into it. When you are in a foreign location on a double date, you will get to know the other couple and how they function as well.
This is going to give you a fair idea of how to conduct your relationship and you will also have the freedom to get cozy whenever you get the chance. On these vacations, you are going to have the opportunity to enjoy time together as a group and you can also sneak away whenever you need the time and space to yourself.
4. Pull all-nighters with the other couple.
Sleepovers and all-nighters are not just for college students. Whenever you have the time, maybe over a weekend, plan the night. Ensure that you have food, games (even risqué ones), and other fun things to do throughout the night. You will also have to keep in mind that you need two separate rooms to sleep in after the long night. It is like one of those nights that you had in college where you develop deeper friendships and get to know more about each other.
5. Get a little naughty with your partner.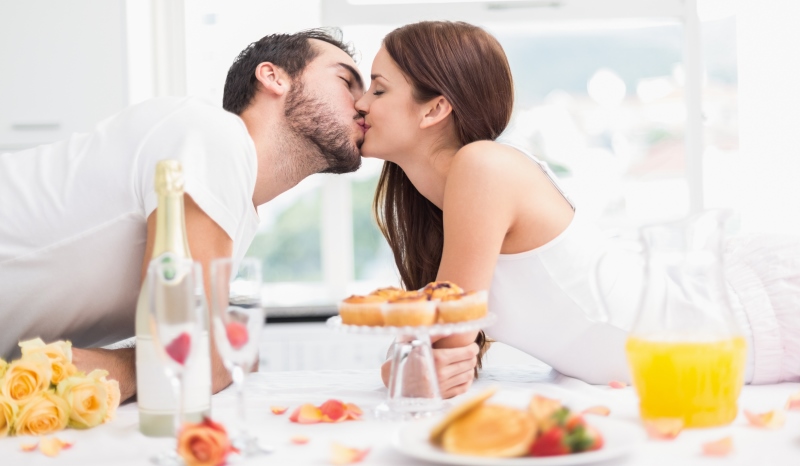 Image source: Shutterstock
The best thing about double dates is that you are allowed to get a little naughty here and there and no one really has a problem with it, unlike hanging out with your single friends.
This is the right time to let your partner know that you have absolutely no problem showing off your love to them. If you are someone who likes to work on impulse and not adhere to social constraints, this is your perfect opportunity.
---
Suggested read: 10 compelling reasons why you should date your wife
---
6. Do not include more company.
When you go out on a date, you do not have any other company, right? The same goes for double dates. It has to be only the two couples and no one else. If there is another person, the purpose of the double date is lost. It can get very awkward for you and especially for the other couple in the picture as well. Understand that it is a double date, and not just friends hanging out.
The trick to a successful double date is that you understand that you are not going as individuals, but as couples. While there is more company to enjoy, your partner and you are a team, and it stays that way no matter what.
7. Do not let the third wheel situation happen to you.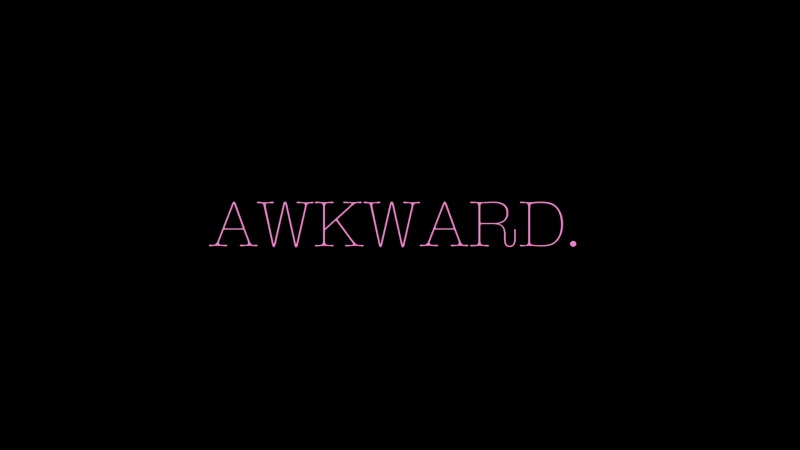 Image source: Google, copyright-free image under Creative Commons License
While in the middle of an awesome double date, there are a bunch of things that can happen. You can become the third wheel when your partner has gone off to attend to an important call, or you can also be stuck with a third wheel. This situation can get awkward.
We will tell you what to do. Do not let it get awkward. You need to strike up a conversation and understand that you are all there together. Even if you do not really know the person, it is best to ensure that no one is getting bored. If anyone is getting bored, that is when you know that the double date has not really served its purpose.
8. Do not just talk about the couple things.
While it is possible for you to just keep talking about the couple things that you do and about each other, you need to understand that the other couple might not be interested in all of that. You also do not want to give them too much detail about your life as a couple.
While it is okay to talk about your coupled life, you cannot just talk about that throughout the double date. Draw the lines and also talk about other things like work, travel experiences, and whatever it is that can keep a conversation going. This will make it a fun experience for everyone and no one couple is going to feel bored at the end of the date.
9. Double dates are not a competition.
Image source: Shutterstock
Everyone thinks that they are in the best relationship ever and there is no one who can beat them, but proving that to the other couple is not the objective of your double date. You might be met with someone who cannot stop making comparisons and is trying to make you feel inferior as a couple. But you need to keep your cool and show them that you are happy for them.
If a double date turns into a competition, it is a waste of time. It will not only leave you in a bad mood, but will also create bitterness between the couple. That is not the end of it, you might also get into fights with your partner with regard to the conversations that have transpired during the date.
---
Suggested read: 10 reasons why you should date a guy with a great sense of humor
---
10. It is not all about solving each other's problems.
Your relationship might be going through a rough patch, and the other couple might be aware of it. Even if you do choose to talk about it, ensure that you don't make it the objective of the date. Understand that your personal relationship baggage is something that you need to sort out on your own, and do not let others intervene.
If the other couple is bickering about something that is personal to them, do not interrupt, but ensure that you let them know that you are not really interested in participating in the conversation. Ensure that you do it subtly.
Double dates are not difficult; you just need to understand the differences between going out as a couple versus going out in a group. If you follow some of the above tips, there is a good chance that you are going to have a good time every time you go out on a double date.
Featured image source: Shutterstock
Summary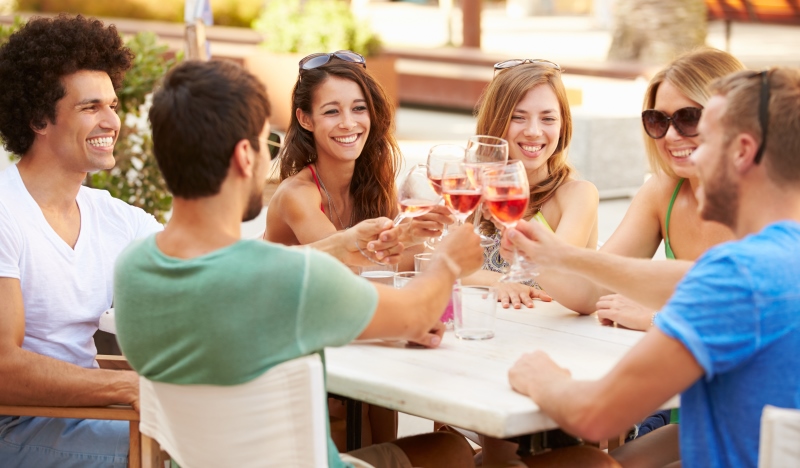 Article Name
10 Double Dating Tips For Couples
Author
Description
Double dating can be fun, if you do it right. Here are 10 tips to make your double dates memorable and fun.