If you're considering how the years have changed, how life has become different… when suddenly it strikes you – then how come your relationship has been the same? If there are no lows to complain about, there haven't been any highs to get high on either. And I totally get how lost and unsure this realization can make you feel. But don't worry, a stagnant relationship is not a terminal disease. Even if it could turn out to be one, I've got you the ultimate cures to play doctor-doctor with your love troubles like a pro.
---
Suggested read: 12 sad signs of a failing relationship
---
So throw away the tissues, find the real root of your issues, and take that relationship advice no questions asked. I promise you the quickest recovery.
1. Maybe you're just not ready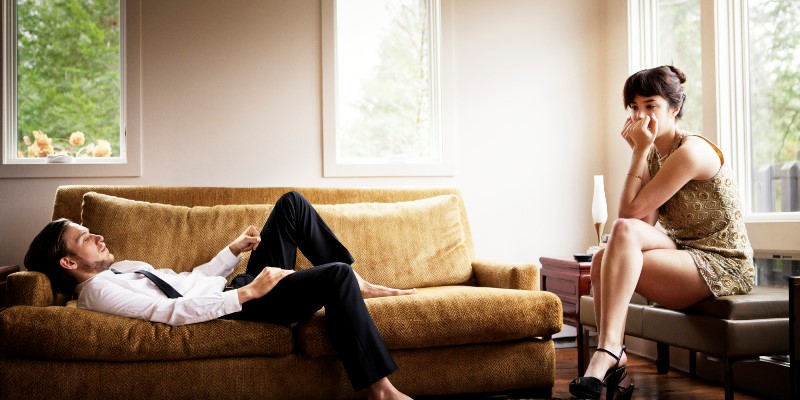 Image source: Google, copyright-free image under Creative Commons License
It could be too soon for you to take the relationship forward, and it's not a crime. But you need to let your partner in on what you're feeling and thinking. Maybe you think it could be another responsibility you're not ready to take on, or you might be scared of living up to some expectations, or you're just not that into your partner. So why rush the big step?
When you share your trouble with them, it'll be gone before you know it, and together you can take your time and help each other get ready for the next step.
2. You have other priorities
Every person has a different outlook on life and has different needs. This might come as a shock to some, but 'love' is not everyone's top priority. It could be your passion, your career, or even your wish to succeed that is more important than your love life.
So if love is not your lover's top priority, know that it's okay (given you are on their priority list!). You can support them while other priorities are addressed. And for those not interested in a relationship – it's alright for you too. But never forget that any joy of life is better when you have that special someone to share it with!
3. It doesn't feel like 'the' relationship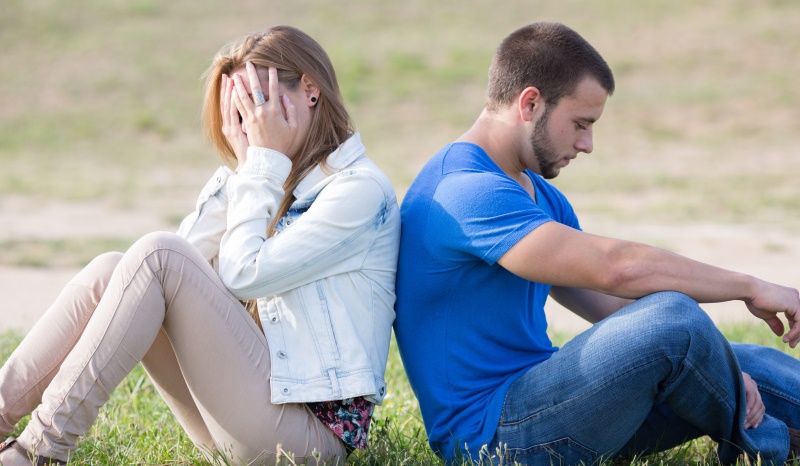 Image source: Dollarphotoclub
Oh, this is so sad, and true in many cases! Life can be so different from what we want it or expect it to be. Some of us grow up wishing to find a fairytale kind of love and others end up setting their love life goals based on movies and television. But the trouble starts when what you finally get in real life doesn't remotely match to what you've always wanted.
You know what, just let this one go! Ask yourself – am I happy in this relationship? Do I love them? Do I want our relationship to be any different?
Now, if the answers to the first two questions are a 'yes' each, you don't even have to bother about what of the third. Let go of what's weighing you down and fly away with your lover.
4. You don't feel the need to take the next step
This (thankfully) is not one of all the other danger signs I've got here. But, there are always two sides to everything. Feeling comfortable with where you are in your relationship is a good thing when we count its blessings of comfort and forever after love. However, it's also keeping you from the taste of so much more. I view satisfaction as the very first goal in every relationship, but there's no denying that excitement and the possibility of 'new' also has a great role to play.
You need to keep on pushing both of yourselves, otherwise how will you explore all that you could be together? So, remember that being happy in a relationship is a 'green' sign to step up to the next level. If you don't gift each other some thrill, your love life could become a little monotonous, aka, NOT moving forward! And you don't want that now, right?
5. There's a communication gap between you two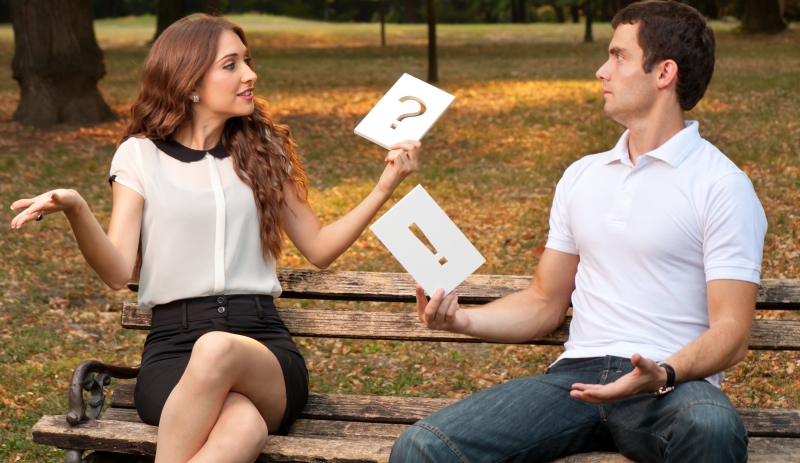 Image source: Shutterstock
Not being able to express and convey your feelings to each other is one of the major issues that results in sad relationship troubles. You need to understand that the two of you are not apart anymore and it's okay to let someone in sometimes.
It might take some courage at first, but you need to bridge the communication gap right away. And trust me, when you can talk about any and everything with them, your relationship will be better, and the inexpressible ease you will feel around them is the best you will ever feel. You'll be forged fresh as new with love!
---
Suggested read: 10 sad signs you're in a one-sided relationship
---
6. You have not shared nor built future dreams together
Sounding a little bookish with the feel I just captioned it, it is an even more romantic exercise in reality. There are these lazy, sweet moments where you spread your heart clear as a crystal – baring all your hopes and dreams with your partner. It's a very powerful bonding that gives your relationship a direction to move forward.
So, if you have not had one of these amazing sweet truth moments, you need one right now. And when you know what the both of you want from love and life, there won't be a stagnant relationship to worry about.
7. You are not on the same page in your relationship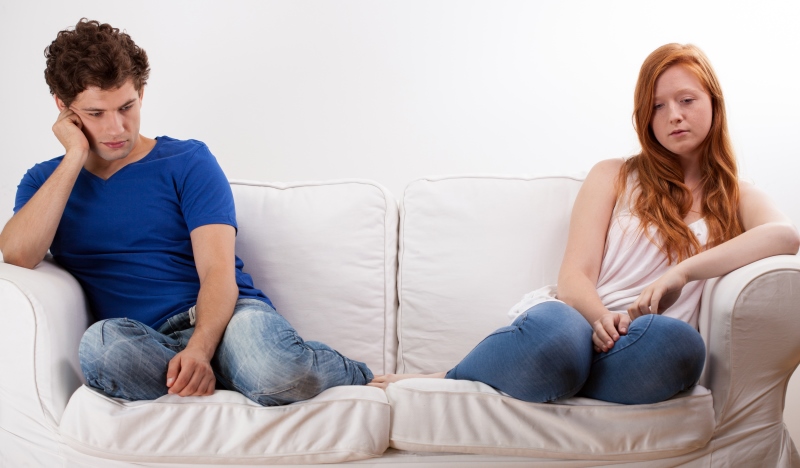 Image source: Shutterstock
This is a very common situation in relationships today. Being on different pages is something you can solve easily. But, it all starts by accepting it first. When two different people come together with a promise of loving and respecting each other, appreciating them more for their differences is the best-ever relationship.
All you need to understand is a difference in involvement and attachment is just the same. It doesn't wrong your prospects of a happy togetherness at all. But if you feel like it's bugging you, it's fine if you talk about it and take your relationship forward at a pace that works for the both of you!
8. You still have some unaddressed and unresolved relationship issues
This is very applicable in most of relationships. With our 'good' intentions to wrap things up without any mess, we overlook the little troubles all the time. This feels remarkable for that very moment, but what you don't realize is that you closing your eyes doesn't mean those little things that irritate or anger you don't exist! They do and they are holding back your relationship as well.
So, if you don't like the way they open the box of cookies, hang up without fifteen minutes of lovey-dovey on and off goodbyes, or order the dessert before the main course – tell them! Trust me, they deserve to know and so do you. Most of the time, it's only a matter of not knowing on their part and nothing more. Just that.
9.  You're not sure about your relationship (insecurities)
Image source: Shutterstock
First of all, take comfort from knowing that you are not the only one with insecurity and trust issues. It's okay to not be sure about a big decision like this (at times, not always)! But what is the way out of something as important as insecurities holding you back from walking into the sunset with your beloved? Nothing but confronting what's troubling you.
Ask yourself where's the insecurity coming from? Is it them, maybe you are not sure they love you back (which is probably a more common reason), or are you having second thoughts on your own part (meaning, do you think you want or could get someone better than them)? If it's them, buckle up, and go ask them lovingly and frankly. But, if it's you, GROW UP! See, here's the deal – if you ever want a strong growing relationship, loyalty and commitment is what practically fuels it.
---
Suggested read: 10 terrible relationship traits you need to kick – NOW!
---
10. You just don't know you're in a stagnant relationship yet
Well, not before reading the above nine 'ouch' signs that may have given you the obvious hints by now. There are many times in your life when the detail of what's happening and where your relationship is going seems to evade you. This might not be your fault, but with a little effort and help from your partner, you can figure this one out as well.
The first step here is to talk with them and conclude that yes, the love life frame is frozen right now, and go on hitting play on your exciting love story video and ending only at a happily ever after. And everything will start getting better as soon as you realize they can!
Now that you have weighed and analyzed all the symptoms and causes of your stagnant relationship syndrome, I hope you're going to follow the remedy regime sincerely and get your love train right on track again. Get well soon!
Featured image source: Shutterstock
Summary
Article Name
10 Real Reasons You're Stuck In A Stagnant Relationship
Author
Description
Has your relationship been stuck for a long time now? No idea where it's headed? Beware, you may be stuck in a stagnant relationship.