We already know of the saying that a dog is a (wo)man's best friend. But there's another phrase that's not as popular, but that doesn't take away from the truth it holds: women who love dogs make the best girlfriends! What, that's not a phrase? Well, I will give you 10 reasons why it should be!
A dog loving person has an enormous heart to begin with. Also, these people never run away from commitment. Like having a dog is a commitment for life, dog lovers extend the same idea of loyalty to their relationships. They know how to have a ball and also not crib over petty issues. But most importantly, a dog lover loves fiercely! Ingredients for a perfect girlfriend, eh?
---
Suggested read: 15 movies that will make you want to cuddle up with your pet
---
Read on to know more!
1. She loves playing and fooling around!
Image source: Pixabay, under Creative Commons License
Yes, playing: Running aimlessly, getting wet in the rain, falling on the ground and rolling in mud, all of it. The idea of playing is something that evades us as we grow older. We have to be driven by reason to do everything. We forget how it is to be like children; to do things because they are fun. As simple as that. There is no give and take, and yet it is pure bliss! Since adults lose this spark, it stifles their creativeness and joie de vivre!
But women who love dogs do not fall into this category which is the majority. To have a pup is to be able to instantly let go of whatever you are doing at the moment, even if you are neck-deep in work, and play! Life is too short to be boring! Your woman will know this pretty well and will value happiness of the soul over materialistic joys.
2. She knows that there can never be a substitute for love
You may feed your doggy the costliest food, exercise it on a regular basis, take him to the groomer, but if the emotion of love is missing, he is sure to be morose and soon miserable! Girls who adore dogs know very well that it is essential for them to take quality time out for their four-legged buddy. They absolutely need to snuggle and cuddle with their dog and spoil it rotten if possible. As they say, actions speak louder than words, and in case of pets, the phrase becomes only truer! You need to display your affection tangibly. Expressing your love to your dog then makes you a loving person quite naturally. You shower your significant other with affection and ardor and that makes you the best girlfriend!
3. She knows that, at times, a Scooby snack is essential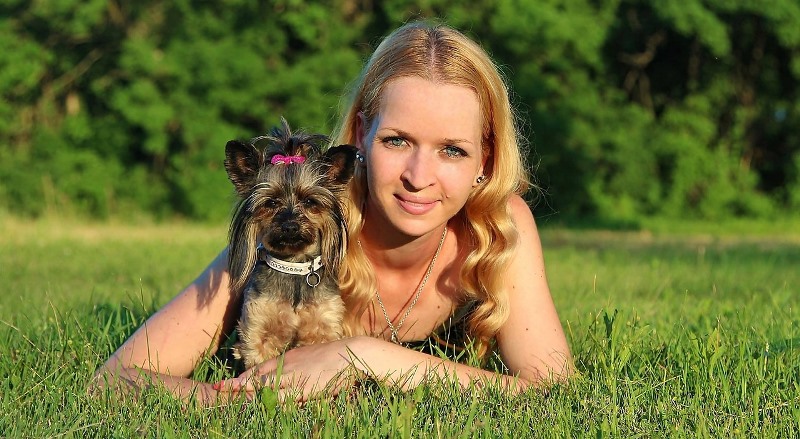 Image source: Pixabay, under Creative Commons License
A treat is an absolute must! Sure, it could be that the adorb doggy did nothing to earn this, but one treat does not hurt anybody. And another. And the other! 😉
Women loving dogs know when it is vital to let them indulge because they have been good boys, and when to give, just for the simple joy of giving something to someone you love. She may make you jiggle or roll over first, but she is just trying to make certain that you are paying attention.
4. She is a doting one!
There is a scientific reason behind this. When you look at a dog, you cannot help but want to take good care of them! According to Konrad Lorenz, an Austrian zoologist, dog faces have something called an infant schema, which is a baby-like attribute. Hence, whenever you look at them, they remind you of a baby who you would want to parent. Being a pup mom (cleaning poop and pee all the time!) requires quite a few attributes which are complimentary to being a good gf: patience and respect.
---
Suggested read: 20 pet quotes that will make you feel grateful for your pet
---
5. She will crave adventure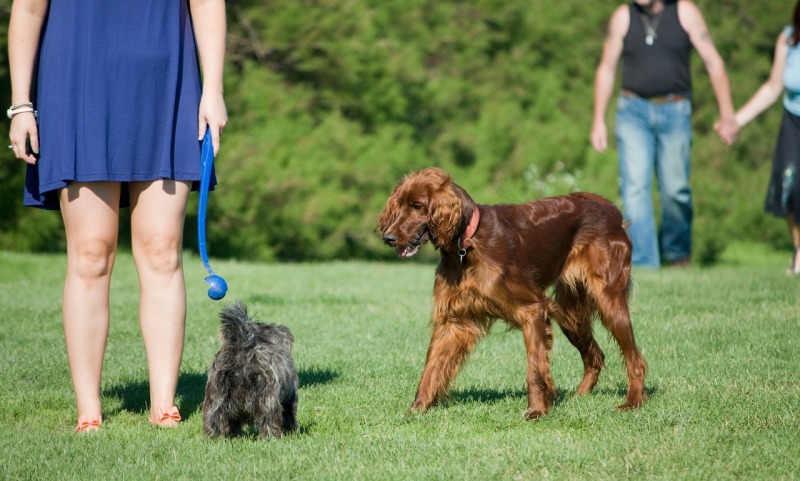 Image source: Pixabay, under Creative Commons License
The dog-loving breed of women (;)), hanker for that adrenaline rush! What was a dog born for if not to go along with you up the steepest slopes and be audience to the most breath-taking views, right?! Dog-doting women are extroverts. They love the outside world as much as they love being at home, tucked in a blanket watching "Marley and Me" with her Marley! She loves exploring new things, sniffing at all different ways of doing the same thing, and in the process, absorbing all of life's most pleasurable quests! Sure, one can walk on the same taken path for years and years together, but this girl won't tolerate that even for a couple of days! She has to push the envelope and look for brand new paths! Maybe the end also changes when one changes their path, eh?
Can you imagine how exhilarating your life will be when dating such a free spirited girl?!
6. She does not sweat on the small, insignificant stuff!
So what, you got a little dirty because the dog jumped on you after wallowing in mud for a while or you found a dog hair (or 7) in your food? What's the big deal? It's all a part of a life shared with a 'floofy' being! Things spill, clothes get dirty all the time, hair was meant to be messy… who cribs about all that?! She knows that these muddled situations are necessary because they are cyphers that you are together and alive! Now, extend these glitches to life and you will know why she is the one for you!
7. She is constantly learning new tricks!
Image source: Pixabay, under Creative Commons License
Girls who are crazy about doggies are never satisfied with who they were yesterday. If she has mastered all her current tricks, she will automatically be on the look-out for something new and better. She is the kind who signs up for a dance class, a cooking class, floats a boat in a raging river, or tries her hand at a brand new graphic novel. This woman of yours has lived with and loved a dog, and so knows how much they like being occupied. What good is a brain if you can't use it, eh?! These girls have a thing for a relentless erudition and will certainly value whatever it is that she will learn from you.
8. She defines loyalty
Women who love dogs know that loyalty is the key to love. Once you make it into their hearts, you are going to stay there for good. There will, undoubtedly, be times when things won't work out as expected. However, as long as you don't betray them, they will always reserve that special place for you! Just don't cheat on her, and if you do, look out for teeth! 😉
A girlfriend who also loves dogs, is someone who will always have your back. She will (even if the only one) stand up for you! Women loving dogs understand responsibility very well and they know that in love, the responsibility is to protect each other. These girlfriends will untiringly champion you when you prove that you are worthy of their love!
9. She is friendly (very!)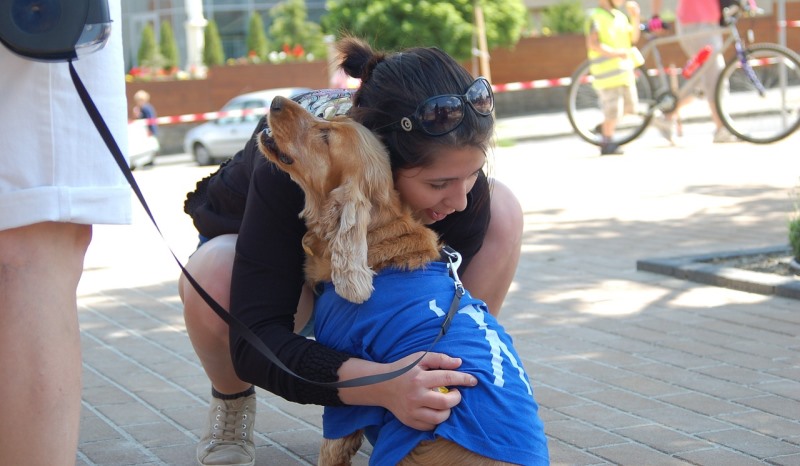 Image source: Google, copyright-free image under Creative Commons License
A dog-lover has to be someone who can make friends easily! She is someone who will include everybody in her plans and make each one feel very comfortable. Like I told you that she doesn't sweat the small stuff, she understands that some people might not hold the same opinion as hers and might growl at things that she is comfortable with. If having your bestie or bunch of friends like your gf is an issue for you, a dog-loving girl, who sees happiness in every wagging tail and wet snout, does that easy-peasy! She can make connections in a jiffy!
She is certainly a beautiful breed, I tell you! And if you are fortunate enough, you will experience what it feels like to have a gf who jogs beside you with a doggie that licks your face! What more could anyone ask for?!
---
Suggested read: 15 Hollywood celebrities and their love for their pets
---
10. She sticks to plans and yet is laid back!
While dogs run around like maniacs, the girl who keeps them has to be level-headed. Patience is vital to train a new pup. But she knows that being stuck up and owning a dog is just not possible. Animals hate being 'owned' by someone. If you want to see the worst behavior a dog is capable of, try to be its master. It will rip off your couch or chew off your shoes! A woman with a dog has to learn how to sit back and relax. She won't yell at you for spilling some wine on the carpet! Nonetheless, this easygoing woman is very particular when it comes to sticking with plans. She knows the significance of a schedule. A woman with a dog must take out some time to walk her furry pal, feed him, clean him, and play with him. And if she doesn't, he is sure to throw a fit!
And you know what?! I can tell you that she will also be a fabulous wife and a doting mother to your kids. Whether she has raised her dogs right from the time they were pups or not, she knows how difficult it is to take care of animals we love like our own babies! Being with them when they are sick, doing the 3 AM feedings, remaining sane when they are crying or throwing a fit, she is more than trained to be the perfect human being!
Featured image source: Pixabay, under Creative Commons License
Summary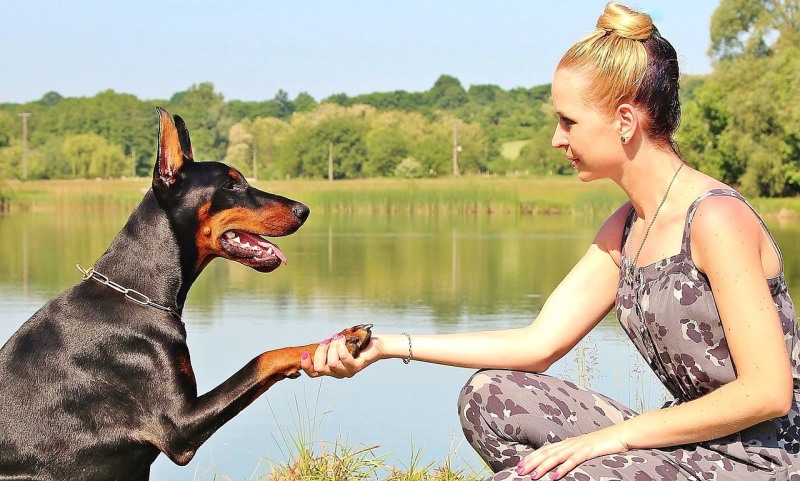 Article Name
10 Reasons Why Women Who Love Dogs Make The Best Girlfriends
Author
Description
Women who love dogs are a special breed, and you're lucky if your girlfriend is a dog lover too. Here are 10 reasons why dog loving women are awesome!