When it comes to the Oscars Red Carpet, not everyone nails it. This year too followed the same rule! In a display of intricate personalized creations, the biggest celebs transformed the Red Carpet into a fashion runway! However, there were some who got it all wrong!
Leading this pack of the worst dressed on the Oscars Red Carpet 2016 was former model Heidi Klum. In a flowy purple gown, she looked more like a florist's garage than a star! This was not expected from the red carpet veteran. Read on to know more!
1. Heidi Klum
Puff and pomp! The supermodel blended too much material in this curling lavender chiffon evening gown. The gaudy fabric flowers and racy cleavage peek-a-boo just added to the horror show!
2. Kate Winslet
The oh-so-beautiful Kate Winslet stumbled on the Oscars Red Carpet at the Academy Awards 2016, in this black strapless gown. This glossy gown looked like a trash bag that's oil-slicked! All that glitters is after all not gold, but in this case it was out-and-out bad! However, we still heart this picture of Leo and Kate. Their hearts indeed will go on!
3. Whoopi Goldberg
Whoopi, 60, wore this black off-shoulder unflattering gown on the Oscars Red Carpet. Flaunting that tacky shoulder tattoo, are we?! Cinched-in waist with fur-trimmed sleeves, that's the recipe for a fashion disaster! As if that was not enough, Goldberg adorned a set of creepy jewelry that consisted of Savan Bachachi's bracelet-ring combination (?), which had a huge silver octopus on top!
4. Mindy Kaling
Mindy Kaling, otherwise chicly dressed, looked constrained in an off-shoulder gown which went on to expose the shape of her bra! However, the most hideous part of the entire ensemble was the wrinkled curtain-like blue fabric! Tying the thing at the back and walking with it trailing behind you? God save you!
The dress was too tight and Kaling looked like she was stuck in a drape! Not a pleasant sight at all!
5. Orlando Jones
Orlando Jones, the former MADtv star, walked on the Oscars Red Carpet in a, was it Gold? No, Silver? Nope. Nah, it was bronze… Ah! Forget it!
This super shiny tuxedo that Jones had donned made him look like a gift wrap and not a star! Ouch!
---
Suggested read: 10 best dressed celebrities on the Oscars Red Carpet 2016
---
6. Nischelle Turner
Snow White much? That flowy material is just getting on my nerves! Next, please!
7. Shira Piven
Shira Piven, made an entry on the Oscars Red Carpet in a black gown that was spilling over with needless and pointless fabric! To add to our woe, her ruffles and that cape was on the wrong side of her body!! Unflattering, awkward dress which looked more like a fancy funeral gown!
8. Amy Poehler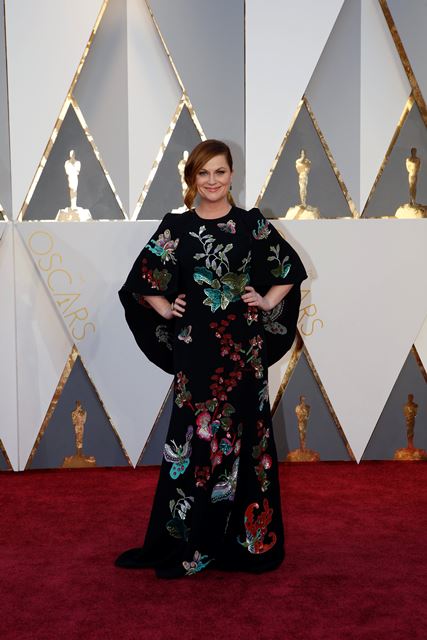 Image source: Oscar.go
The zany Amy Poehler could have taken off any moment from the Red Carpet! This blown up winged dress also embraced a multi-hued embroidery of butterflies and flowers. What the eff!
9. Sofia Vergara
The Modern Family actress waltzed onto the Oscars Red Carpet in a blue Marchesa gown. Though she toned down her otherwise sex kitty avatar, there was something seriously wrong with her neckline! The 'stripper boobs,' as the star has fondly dubbed her you-know-what, could have made an appearance any time!
10. Jennifer Jason Leigh
The Hateful Eight actress looked pretty uncomfortable in the Marchesa gown that she wore on the Oscars Red Carpet 2016. The dress is very pretty, with the folds and the exquisite chiffon. However, on her, it was a drag!
See you again next year with the best and the worst dressed at the Academy Awards. Until then, be good and stay stylish!
Summary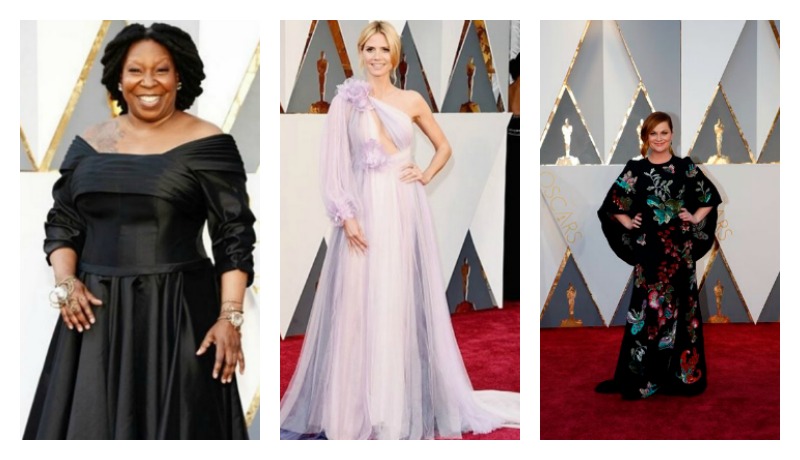 Article Name
10 Worst Dressed Celebrities On The Oscars Red Carpet 2016
Author
Description
With the good comes the bad. And it's time to pick out the worst dressed celebrities on the Oscars Red Carpet 2016. Some of these are horrible *shudder*