Oscars Red Carpet is taken as an occasion by many to make a fashion statement. However, some celebs do cross the line in an attempt to grab eyeballs and steal the show. Their ballsy dresses are nothing less than hideous and disappointing, which make the stars wearing them unforgettable but in a very bad way!
Remember Barbara Streisand causing a stir when she wore (without meaning to) a sequined Scaasi pyjama-style set in 1969? She spoke about the horror later, saying, "I didn't realize the outfit was so see-through; you couldn't tell that in the dressing room." Cher (twice on our list) waltzed on the Oscars Red Carpet in a Bob Mackie outfit  that had a cape and a tower headpiece (around 2 feet high!). She had recruited Bob to design an outfit that was showgirl-worthy. So he drew together more than 800 rooster feathers for the same! And we can never forget Bjork, who in 2001, walked the Oscars Red Carpet in a swan dress! Designer Marjan Pejoski was the man behind the disaster! Bjork had a swan face dangling on her shoulder which was enough to drop rotten eggs on the Oscar Red Carpet!
---
Suggested read: 10 worst dressed celebrities on the Oscars Red Carpet 2016
---
Fashion horrors galore, that's how I would describe this list of the most outrageous dresses worn by celebrities on the Oscars Red Carpet. Even the most chic of the stars have made some blunders that I am sure they wouldn't like being reminded of! Sorry that we are ringing the bell, all over again! 😉
With Academy Awards 2016, just done let's relive the fashion nightmares that some personalities have been over the years!
1. Barbara Streisand
Image source: Pinterest
Barbara Streisand exposed more than she had bargained for when she walked the Oscars Red Carpet in 1969, wearing a sequined Scaasi Evening pyjama. Yes, we trust her when she says that she didn't realize it was all that see-through (almost bare, if you ask me!). May be the lighting in the dressing room did not reveal what the dress exposed in front of thousands of paparazzi and millions watching her on television! Thank God that she had an eye-catching flamboyant accessory to hide all that skin show: her Academy award for Best Actress in the movie Funny Girl!
2. Diana Ross
Image source: Pinterest
On the Oscars Red Carpet in 1973 Diana Ross donned a specially made satin Bob Mackie and Ray Aghayan dress for her 'Lady Sing the Blues' move. When Bob was asked the reason behind this (hideous) outfit, he said, "Diana had a little boy's body. She was bone thin and looked wonderful in pants." Well, wonderful is under a great question mark now because of this fashion blunder!
3. Cher 
Image source: Pinterest
There is just nothing right or good about this look that Cher flaunted on the Oscars Red Carpet in 1988. She did win the Best Actress award for Moonstruck, but imagine the dreadfulness of wearing that and going up on stage to take your trophy!! *the horror* As if this Bob Mackie creation was not enough, the extra-long scarf added enormously to a Fashion Nazi's pain and distress!
This show-girl-worthy (tell me about it?!) ornate black outfit had a cashmere cape, sparkly loincloth, and a soaring 2-foot headpiece that was made from 800 rooster feathers! Somebody kill me now! Making her infamous appearance on the Oscars Red Carpet, Cher said, "As you can see, I did receive my Academy booklet on how to dress like a serious actress."
4. Demi Moore
Image source: Pinterest
How does taking a chance on an unknown stylist look? Exactly like this! In 1989, Demi Moore made the biggest (style-wise) mistake of her life by betting on this rather novice designer who sent her on the Oscars Red Carpet in a tapestry-lined gown and a lace-edged biker shorts. Rumors have it that Moore also had a hand in the designing of whatever it is that this was!
5. Kim Basinger
Image source: Pinterest
Presenter Kim Basinger designed this all-white satin ensemble herself. Why, is a question everyone wants to ask her! The full-skirted evening dress was outdone with a half-jacket. This jacket had a cryptic lettering down its sole sleeve. We guess that it was a tribute to her symbol-adoring then-beau Prince? Rumors have it! 😉
6. Geena Davis  
Image source: Pinterest
In 1992, we saw Geena Davis, nominated for her amazing performance in Thelma and Louise, saunter on the Oscars Red Carpet in a ruffled mini dress! This outfit was a game-baring gown courtesy Ruth Meyers and Bill Hargate. Hope the duo is reading this!
7. Whoopi Goldberg
Image source: Pinterest
Who doesn't love Whoopi Goldberg? But what she wore in 1993 on the Oscars Red Carpet is unpardonable! The Sister Act actress decided to go neon as the presenter of Oscars that year. Ouch! While the coat was the deepest shade of purple from outside, Goldberg flashed the inner green color of the ensemble! The disgracefully patterned slim brocade pants were a heartbreaker! Whoopi later told the media that this creepy outfit was purchased at a Beverly Hills boutique! God help them!
---
Suggested read: Top 15 bizarre fashion trends of 2015
---
8. Jada Pinkett Smith
Image source: Pinterest
Yes, Jada, we know that with abs like that, anybody would want to flaunt them. But there are better ways, no?
In 1997, Jada Pinkett Smith wore a mesh metal Versace two-piece on the Oscars Red Carpet. She did reveal her faultless shape and ballsy fashion sense, but it looked outrageous to say the slightest!
9. Cher
Image source: Pinterest
Bob Mackie again! Cher slipped on this beaded headpiece for the Oscars Red Carpet in 1998! The 'If I could turn back time' singer must be wishing that she could just do that and erase this Oscar fashion blunder of the past!
After making two appearances on our list of the most outrageous dresses on the Oscars Red Carpet, we can say for certain that if ever there was a patron saint for the worst outfits, it would be Cher!
10. Celine Dion
Image source: Pinterest
Keeping up with the pantsuit trend of the late 90s, Celine Dion slipped on this white ensemble on the Oscars Red Carpet. With trousers that looked 2 sizes, if not more, bigger than her, and a blazer that was backwards (?), most people had no clue what the Canadian singer had brought to the table, I mean, carpet!
However, believe it or not, Celine wore this for a charity. In her words, "Ray-Ban said if I wore these they would give $50,000 to my cystic fibrosis charity, so you better believe I wore them." We have nothing to say to that!
11. Angelina Jolie
Image source: Pinterest
Though Vampires were not very popular in 2000, Angelina Jolie would have been the perfect cast if someone had made a movie! In this black dress and equally black hair, Jolie made headlines for smooching her brother and announcing in her acceptance speech just how much in love she was with him! Uh-oh!
Though winning an Oscar for Girl Interrupted, the trophy added a little glow to her otherwise gloomy almost gothic Versace gown and pitch-black hair extensions!
12. Bjork
Image source: Pinterest
In 2001, Bjork walked the Red Carpet in an infamous swan dress that was stranger than the Icelandic crooner herself. This Marjan Pejoski creation not only collected awful reviews from humans, but also from birds who gave it two wings up!
The envelope-pushing, ballsy Bjork routed her inner swan in this ensemble and dropped golden eggs along the Oscars Red Carpet.  Time to leave the planet!
13. Kate Hudson
Image source: Pinterest
In 2001, Kate Hudson was nominated for Almost Famous, but she became almost infamous for donning a bizarre Stella McCartney fringe outfit teamed with a curly updo! Sadly, neither of these was anything close to flattering!
This is what she had to say about it, "I was 21 years old and to have Stella McCartney dressing me, well, I felt like the hippest, coolest girl in the world. I woke up the next morning, turned on the television to find out I was on every Worst Dressed list. So I called Stella and we just laughed our arses off."
14. Gwyneth Paltrow
Image source: Pinterest
In 2002, Paltrow, decided to do without both a stylist and a bra on the Oscars Red Carpet. This gothic Alexander McQueen ensemble was sheer above the waist and lay bare more than what Paltrow had gambled for!
Contrary to her appealing pink ball gown that she wore in 1999 on the Oscars Red Carpet, this sheer black top, gathered taffeta skirt, and stiletto boot combination was a piss off! When the designer was asked why Paltrow's dress was hurled with criticisms, he said, "She looked incredible!" So you know!
15. Halle Berry
Image source: Pinterest
2002 Oscars Red Carpet also saw Halle Berry win an Oscar for Monster's Ball. However, people spoke more about what a nightmare her outfit was! A peek-a-boo blown up evening gown by the then upcoming designer Elie Saab, was a ruin!
---
Suggested read: 12 worst dressed celebrities at Grammys 2016
---
16. Faith Hill
Image source: Pinterest
On the Oscars Red Carpet, we saw Faith Hill, the country star look like a marshmallow picked out of a box of Lucky Charms rather than a celebrity. Well, she was going to sing "Somewhere over the Rainbow," but does that justify this sorbet-hued gown? "Since she was wearing black onstage, we wanted to do something colorful for the carpet," said her stylist for the night, Garth Condit.
To know all about the worst and best dressed at the Academy Awards 2016, stay tuned!
Summary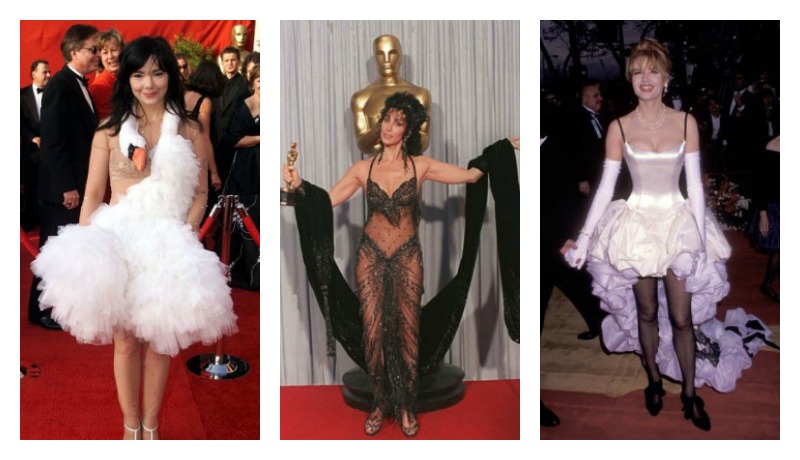 Article Name
Oscars Red Carpet: 16 Most Outrageous Dresses EVER
Author
Description
The dresses on the Oscars Red Carpet always surprise and stun us. And some even shock us! So let's check out the most outrageous outfits worn on the Carpet!