"Happy phony, romanticized, overly commercial, sucks to be single, pretend that it's love, day!" – Unknown
Not many people notice this, but Valentine's Day is the most polarizing holiday ever! You see adults (in size alone) swooning over things like red heart-shaped balloons, heart-shaped chocolates, and bouquets of roses, shaped like, *any guesses? * effing hearts! The PDA that's everywhere for you to stomach seems like a far-from-gentle reminder of why you are still single!
---
Suggested read: 15 Anti-Valentine's Day movies you can watch to get over the never-ending love fest
---
14th Feb stinks, right? Well, who said you cannot celebrate how much it sucks! If like me, you hate V-Day's gut, and wish that it came with a fast-forward button, you need to get yourself these anti-valentine's day gifts NOW!
1. The Break up Survival Kit
If you are single because you had a break up recently, you need to get the Break Up Survival Kit. We all know that, more than often break ups are chaotic and messy, leaving us craving for something that will get our minds off the whole love game. And there enters Valentine's Day staring your face, mocking you of what a romantic failure you are! Keeping this in mind, we present to you the Break Up Survival Kit, which is a creative and playful, but also powerful, kit that with help you cope with the romantic avalanche, in style! This one has a 32-page long book that offers advice (read: creative advice) on how to move on. The kit also contains a heart eraser, a self-asserting mirror compact with a comb, and a "DO NOT CROSS" caution tape that you can use to tie up your telephone or mobile when you need to fight the temptation of calling your ex up. In the kit, you will also find stickers that let you deface your ex in old photographs, and a poster that will present you with the top 10 reasons on why you are better off without that jerk! You can thank me later!
2. T-Shirt
If you are sick to the gut with people wearing t-shirts with not just love quotes printed on them, but also, in many tragic cases, pictures of their lovers embossed on the tee, you need an 'an-tee' Valentine's Day vest for yourself!
3. The Emo Anti-Valentine's Day Collection
Valentine's Day is a highly commercialized, bourgeois holiday; a conspiracy by companies to sell us douche-y flowers, which die, chocolates, that make us fat, greeting cards, that are only used to write phone numbers on, post V-Day, because you are too poor to even afford normal paper by then! The Emo Anti-Valentine Day Collection contains 14 hardcore, string quartet tributes to legendary artists of emo. Love, most of the time, disappoints; this won't!
4. Vibrator
You NEED the OhMiBod, people! This vibrator is powered by your Iphone, and can detect the beat of the music you play and vibrate according to it. So now whatever song it is that brings tears to your eyes, will bring you pleasure, in more ways than one, if you know what I mean! 😉
---
Suggested read: Why having a Valentine's Day birthday is the worst thing ever!
---
5. Voodoo Doll
A voodoo doll that is 9 inches tall, and stuffed can be used to pin the "Win a Sedan" area for those who have been good to you through the year, while you can also pin it in the "get a bum boil" area for those people whose existence you do not quite enjoy!
6. The Ex Unique Knife Set
This knife holder with its amazing, but wicked, design makes it way more 'edgy' than a standard holder you find in every kitchen cabinet. If you have a friend who just broke up, it is your responsibility to get them this piece of art!
7. Did U Fart Anti Valentine Classic Thong
Are you a drama queen who has also been eaten up alive by anxiety? You got to gift yourself this graphic that best describes theatre enthusiasts.
8. Girlfriend Pillow from Amazon
A pillow that imitates the contour of a woman makes for an ultimate anti-valentine's day gift. If you still miss the embrace of a woman (and her b**bs!), you need this pillow, and not that ex who broke your heart into pieces!
9. Anti-love bracelets and neckpieces
I don't know about love, but Valentine's Day turns you into a cold-hearted b*ch for sure! You can get one of these bracelets with the same stamped on them for yourself, or for the person who was the object of your affection and slurpy kisses, once upon a Valentine's Day!
10. Sarcastic Candy Hearts
If you tired with people professing the grandeur that is love, you are in great need of these candy hearts. These candies, also called Sarcastic Candies, come with some of the most disconsolate, dumped and dysfunctional message engraved on them. In my sarcastic opinion, this makes for a perfect anti-Valentine's Day gift!
---
Suggested read: I hate my boyfriend: 10 surefire tips to get HIM to dump YOU
---
11. USB Humping Dog
This, according to me, is one of the best anti-Valentine's Day gifts out there coz even if you don't get laid, this 14th, someone will! Get this for yourself, and if you want to gift it to someone, you need to make sure that they have a good sense of humor!
12. Quirky Slippers
After you are drunk AF (you need the Boos, considering all the V-Day bullsh*t around you!), high heels don't drop you home safe. Your best friend on such nights are these slippers that come in meagre 10 dollars!
"If you're sad about being alone on Valentine's Day, just remember that nobody loves you on any other day of the year either."
A man needs no one; he can love himself!
That's a wrap on anti-valentine's day gifts that you should get for yourself, this V-Day, to make it a little less crappy! Hasta lavista!
Summary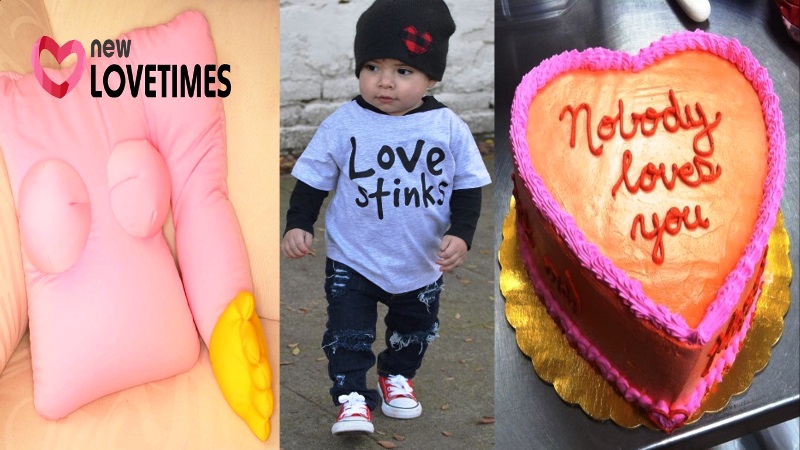 Article Name
12 Anti-Valentine's Day Gifts For Those Who Hate V-Day's Gut! 
Author
Description
If, like me, you hate V-Day's gut, and wish that it came with a fast-forward button, you need to get yourself these anti-valentine's day gifts NOW!